Review: 'Sandhogs'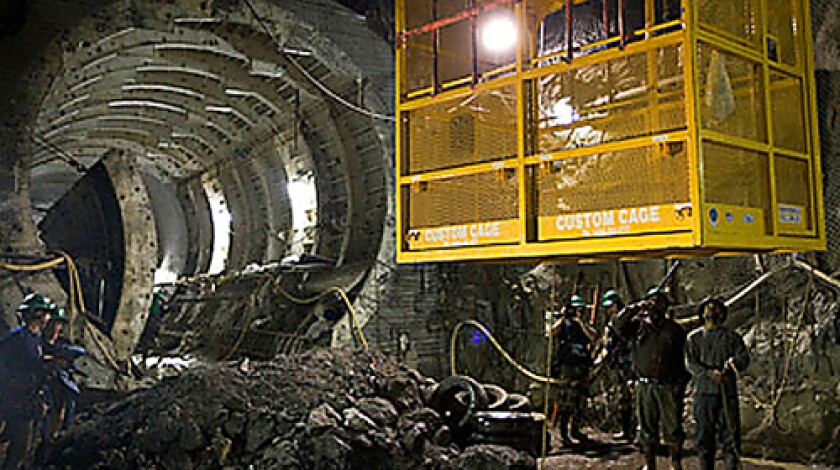 Los Angeles Times Staff Writer
As the name suggests, a sandhog does not live a life of quiet refinement and delicacy.
The "Sandhogs" of the 11-part History series are the urban miners who dig, drill, blast and bore the tunnels of New York City to keep its water, sewage, transit system and other necessities flowing. It's a job that is hot, cold, dirty, sweaty and dangerous.
"Mother Nature does not like to be upset, and we go down there and blow her up every day," says Chickie Donohue, one larger-than-life figure the series will follow.
The technology has changed through the decades. But the need for grit and stamina remains unchanged. It is a job that calls to immigrants, a job that is sometimes passed down from father to son.
"We find out five feet at a time what this Earth is made of," says sandhog Anthony Aviles.
"Sandhogs" takes viewers where few have ventured: the dark, dank, claustrophobic work sites of Water Tunnel No. 3, the Croton Water Filtration Plant, the East Side (rail) Access, and the 7 Subway Line Extension.
Sandhogs talk directly to the camera. They boast and gripe.
One of the more appealing characters is Morgan Curran, a "walking boss" on the swing shift at the Croton job. He left school in the sixth grade in his native Ireland to begin digging tunnels.
Curran's specialty is dynamite and blasting. To watch him instructing younger sandhogs is to see the DNA of a risky trade being passed to a new generation.
Will "Sandhogs" have the same success as "Ice Road Truckers," which has achieved cable-television cult status? Probably not.
The ice truckers are wildcatters, individualists willing to take seemingly insane risks on the frozen lakes of Alaska in hopes of a big payoff. The sandhogs, by contrast, work in heavily regulated, strictly unionized jobs, with assured benefits and pensions.
Still, "Sandhogs" makes a point sometimes lost in modern society: Those who build things have a pride in their work and a brotherhood that few high-rise paper pushers can imagine.
The version of the first episode sent to reviewers contained the real-life earthy language used by sandhogs. Not surprisingly, the F-word gets a vigorous workout.
The version to be shown Sunday will be scrubbed clean of what History calls "offensive language." Too bad. Sometimes reality isn't pretty, but it is real.
---
The complete guide to home viewing
Get Screen Gab for weekly recommendations, analysis, interviews and irreverent discussion of the TV and streaming movies everyone's talking about.
You may occasionally receive promotional content from the Los Angeles Times.