There's room for all in Hollywood's buying frenzy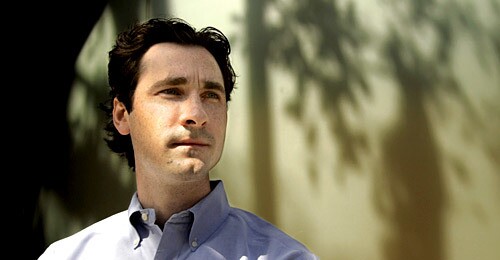 NEWCOMER:
Brad Ingelsby, 27, has been working at his father's insurance agency in the Philadelphia area and writing scripts at night. "I really never expected it to be like this," he says.
(Mel Melcon / Los Angeles Times)
Special to The Times
For a while there, the spec market was starting to look as undernourished as your average Hollywood starlet. Well, the industry's body of original work seems to be upping the carbs. When Sony picked up Roland Emmerich and Harald Kloser's apocalyptic "2012" right after the Writers Guild strike ended in February, it was a good, but unsurprising, sign. But when 27-year-old unknown Brad Ingelsby recently sold his revenge thriller "The Low Dweller" to Relativity Media for $650,000 against $1.1 million (if it is produced), it announced in flashing neon that Hollywood buyers were still very interested in spending big money on original material.
Veterans and newcomers alike have benefited from the loosened purse strings in recent weeks. Columbia purchased "The Long Run," a political drama written by playwright Stephen Belber ("The Laramie Project") for low seven figures for to produce; Touchstone Pictures bought "Home Free," a comedy from brothers Alexi and Noah Hawley, for mid-six figures; and Dimension picked up "Janky Promoters," a music-biz comedy written by Ice Cube ("Friday").
DreamWorks in particular has been snapping up specs. The studio bought "C.O.D.," a thriller penned by neophyte Lars Jacobson, for mid-six figures; "Imaginary Friends," a fantasy adventure by first-timers Cornelius Uliano and Bryan Schulz; and "Hereafter," a thriller from Oscar-nominated screenwriter Peter Morgan ("The Queen"), in a multimillion-dollar package.
Relativity outbid several other suitors, including Warner Bros. and Sony, for Ingelsby's dark drama about an ex-con avenging his brother's death in 1986 Indiana. It certainly helped that the ubiquitous Leonardo DiCaprio and Ridley Scott were attached, but even disinterested readers say Ingelsby's screenplay merits a comparison to the tone and nature of the Coen brothers' Oscar-winning "No Country for Old Men" and praise for its lived-in regional dialogue.
Ingelsby, an American Film Institute graduate, has been living with his parents in the Philadelphia area and working at his father's insurance company while tapping the keyboard every night. He remembers that when he left AFI, where he began writing "Low Dweller," one professor said that any graduate actually making money as a screenwriter within the first six or seven years should consider himself lucky.
"It's an unnerving experience already," says Ingelsby, very aware of his good fortune. "I really never expected it to be like this. It's amazing. It's overwhelming."
Writer's lucky pitch to Disney
From Leatherface to Eliza Doolittle -- now that's the life of a Hollywood screenwriter.
Sheldon Turner, whose last produced screenplay was for the genre reboot "The Texas Chainsaw Massacre: The Beginning" in 2006, has just closed a high six-figure deal to write "a male Pygmalion story" for Disney called "Advance Man."
With an echo of "Trading Places," Turner's original comedy pitch concerns a revered, aging New York City publicist who, disgusted with the "wet nurse" state of his profession, bets a rival at his agency that he can train the next person through the door to do his job. He has his work cut out for him when a young, uncouth bike messenger suddenly enters the office.
Turner had pitched the idea to friend and Tapestry Films producer Andrew Panay back in October. Panay, who was in the process of producing the Disney comedy "Old Dogs," pitched it on set to the film's director, Walt Becker. Becker liked the tale enough to spin it to his star, John Travolta, whom he had also directed in that year's global Disney hit "Wild Hogs."
With Becker and Travolta attached, Disney executive Kristin Burr and production president Oren Aviv bought Turner and Panay's pitch in the room a week before the strike began (the deal just recently closed).
"You've got to have a lot of leverage," Turner says of the current market for original ideas. "I won't go out with a pitch without an element now," meaning an attached star or director.
Turner will juggle this new, lighter story along with a bundle of darker material he's been developing, including "Conspiracy of Fools," his adaptation of the Kurt Eichenwald book about Enron Corp. for director Robert Schwentke at Warner Bros.; "Orbit," an adaptation of John Nance's abandoned-in-space novel for director Thomas Bezucha at Fox 2000; and "Magneto," his potential X-Men spinoff franchise for director David Goyer at Fox.
'Shining City' right on time
Seth Greenland's "Shining City" has taken on a little more shine, if in a tawdry sort of way.
The linking of Eliot Spitzer to a high-priced (OK, astronomically priced) prostitution ring may have been a spectacularly bad turn of events for the crusading New York governor, who has since resigned. But it also inadvertently provided a titillating marketing hook for Greenland's novel about a schlubby, debt-ridden suburban dad named Marcus Ripps who unwittingly inherits a similar business from his shady, estranged brother.
A playwright ("Jungle Rot"), TV writer ("Arli$$") and screenwriter ("Who's the Man?"), Greenland sold the film rights to his comic novel, which Bloomsbury publishes in July, to Warner Bros. for $1 million back in early October. Jarrad Paul and Andrew Mogel, who recently worked on the script for the Jim Carrey comedy "Yes Man," have been writing the adaptation.
As everyone surely knows by now, the ludicrously chest-thumping name of the organization that Spitzer allegedly patronized was Emperor's Club VIP. In Greenland's novel, it is Ripps' once-icy wife who warms to the idea of running the West Hollywood escort service and dubs it Smart Tarts. Together, the strained couple revive their marriage by turning it into a thriving Web-based company that offers its employees -- among them Mistress Verlaine and Xiomara -- health insurance and retirement benefits.
Hey, Alan Horn, put this one on the fast track. Between the primary election debate over healthcare, our dreadful lack of strong family-values role models and the ongoing Pellicano and Spitzer circuses (wait -- there's more!), this one pretty much hits the zeitgeist G-spot.
You may just have a lot of customers lining up to pay for it.
Scriptland is a weekly feature on the work and professional lives of screenwriters. Please e-mail any tips or comments to fernandez_jay@hotmail.com.
---
From the Oscars to the Emmys.
Get the Envelope newsletter for exclusive awards season coverage, behind-the-scenes stories from the Envelope podcast and columnist Glenn Whipp's must-read analysis.
You may occasionally receive promotional content from the Los Angeles Times.