Watch 'Spider-Man' star Tom Holland rescue puppies with Stephen Colbert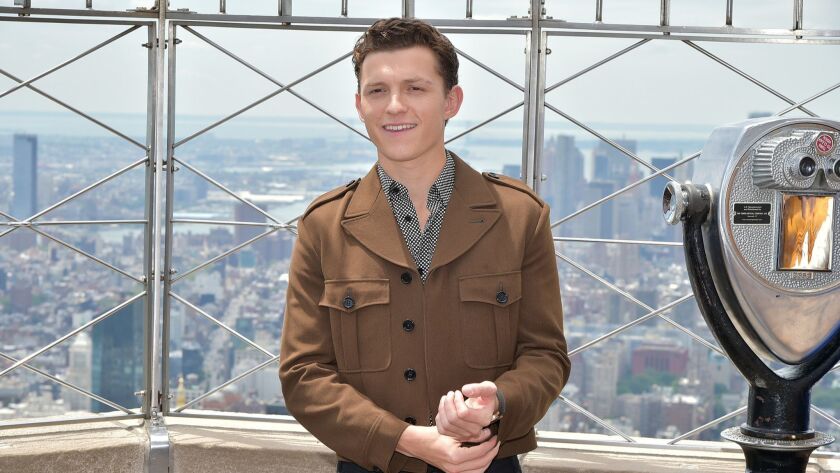 Spider-Man may be far from home in Marvel's latest summer tentpole. But thanks to star Tom Holland, a lucky bunch of rescue puppies are finding homes of their own.
During Monday night's episode of "The Late Show With Stephen Colbert," the host paged Spidey himself for his latest "Rescue Dog Rescue" segment, courtesy of North Shore Animal League America. Together, the pair presented a group of pups, with some Marvel-ous names, for adoption.
"While it's usually pretty easy to get people excited about puppies, there's something else everyone else is even more excited about right now, and it's superhero movies," Colbert said. "So I thought, why not combine puppies and superheroes for a very special edition of 'Rescue Dog Rescue'?"
On cue, Holland dropped in to save the day.
"Say no more, Stephen," he said. "I will rescue these dogs."
Colbert and his famous guest then presented puppy after super-cute puppy. Among the litter were Spider-Pup, J. Bone-ah Jameson, Black Widdle, Nick Furry and Captain Americuddles, who was once "part of a super secret mission in the '40s to pee on Hitler's leg."
"This is Peter Barker," Holland said, cradling his canine mini-me. "He may look like an ordinary dachshund, but he actually gained superpowers after being bitten by a genetically modified schnauzer. That's right. He's a dog that gained the abilities of a different dog, and that's why his superhero name is Dog-Dog."
By the end of the segment, the puppy Avengers were fully assembled. And, of course, the young Brit couldn't resist going off script for the occasional "Good boy!" and "Come here, buddy!"
Holland's latest Marvel project, "Spider-Man: Far From Home," swings into theaters on July 2.
---
From the Oscars to the Emmys.
Get the Envelope newsletter for exclusive awards season coverage, behind-the-scenes stories from the Envelope podcast and columnist Glenn Whipp's must-read analysis.
You may occasionally receive promotional content from the Los Angeles Times.