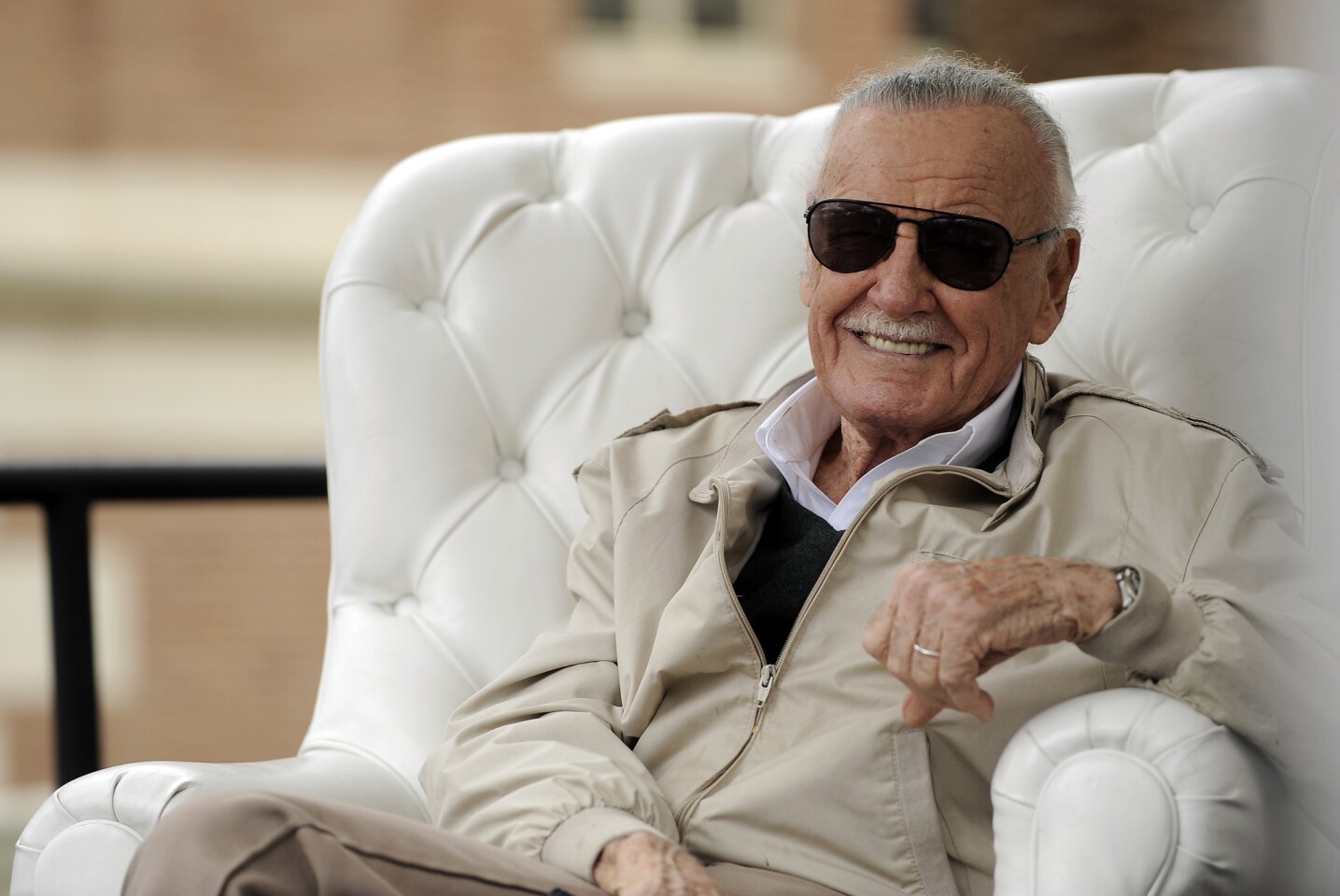 18 Images
Stan Lee's Excelsior life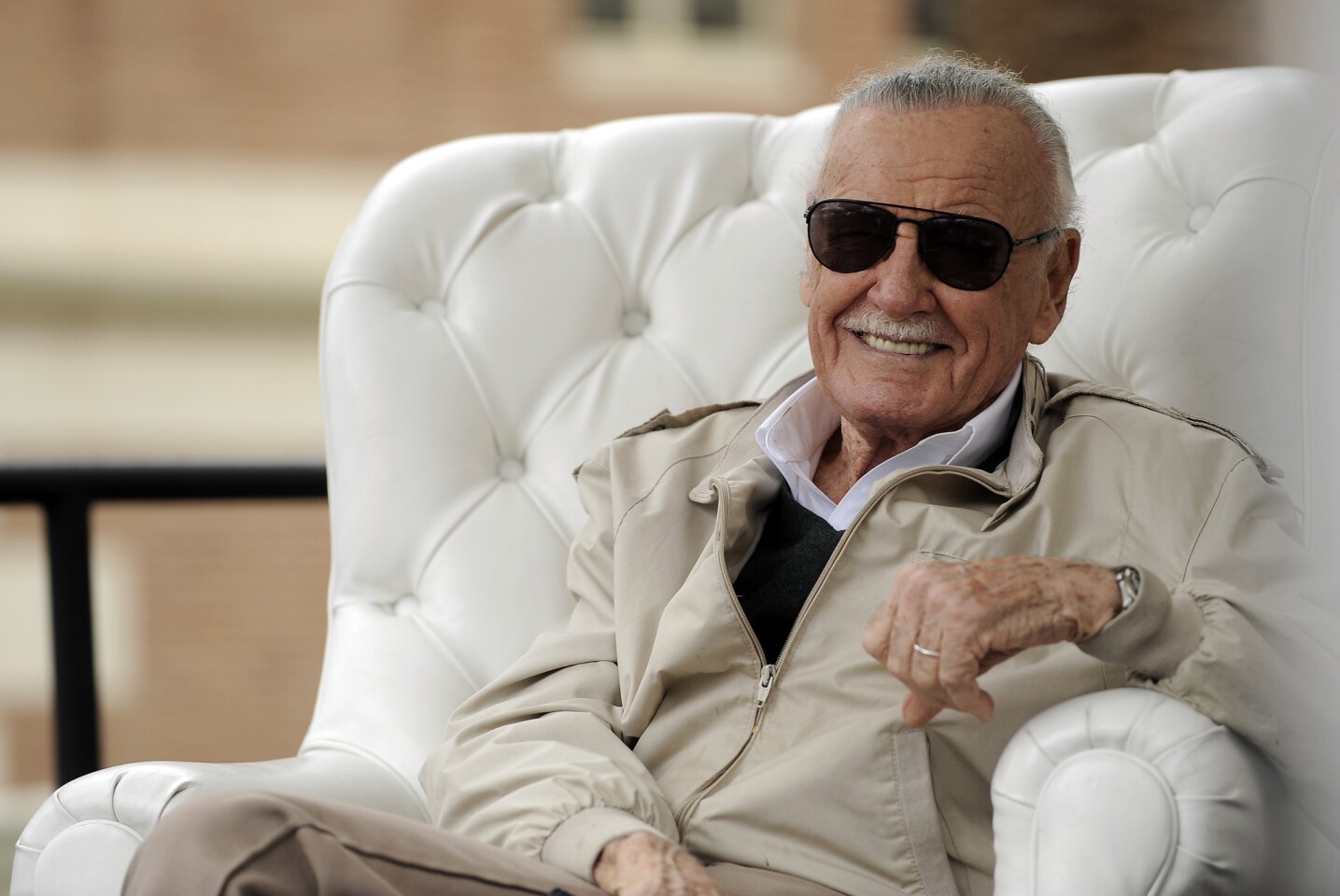 Comic book icon Stan Lee has a relaxed chat during the 2016 Festival of Books in Los Angeles.
(Mariah Tauger / For The Times)
Stan Lee, a renowned creator of many classic Marvel Comics characters, puts his handprints and footprints in cement at the TCL Chinese Theatre IMAX (formerly the Grauman's Chinese Theatre) along Hollywood Boulevard in Los Angeles on July 18, 2017.
(Gary Coronado / Los Angeles Times)
Comic book legend Stan Lee, left, co-creator of the Black Panther superhero, poses with Chadwick Boseman, who stars as the character on screen, at the "Black Panther" film premiere at the Dolby Theatre on Jan. 29, 2018, in Los Angeles.
(Chris Pizzello / Invision / Associated Press)
Stan Lee poses for photographers on the red carpet, left, and on stage at the world premiere of Marvel Studios' "Doctor Strange" in Los Angeles in 2016.
(Frederic J. Brown / AFP/Getty Images | Rich Polk/Getty Images)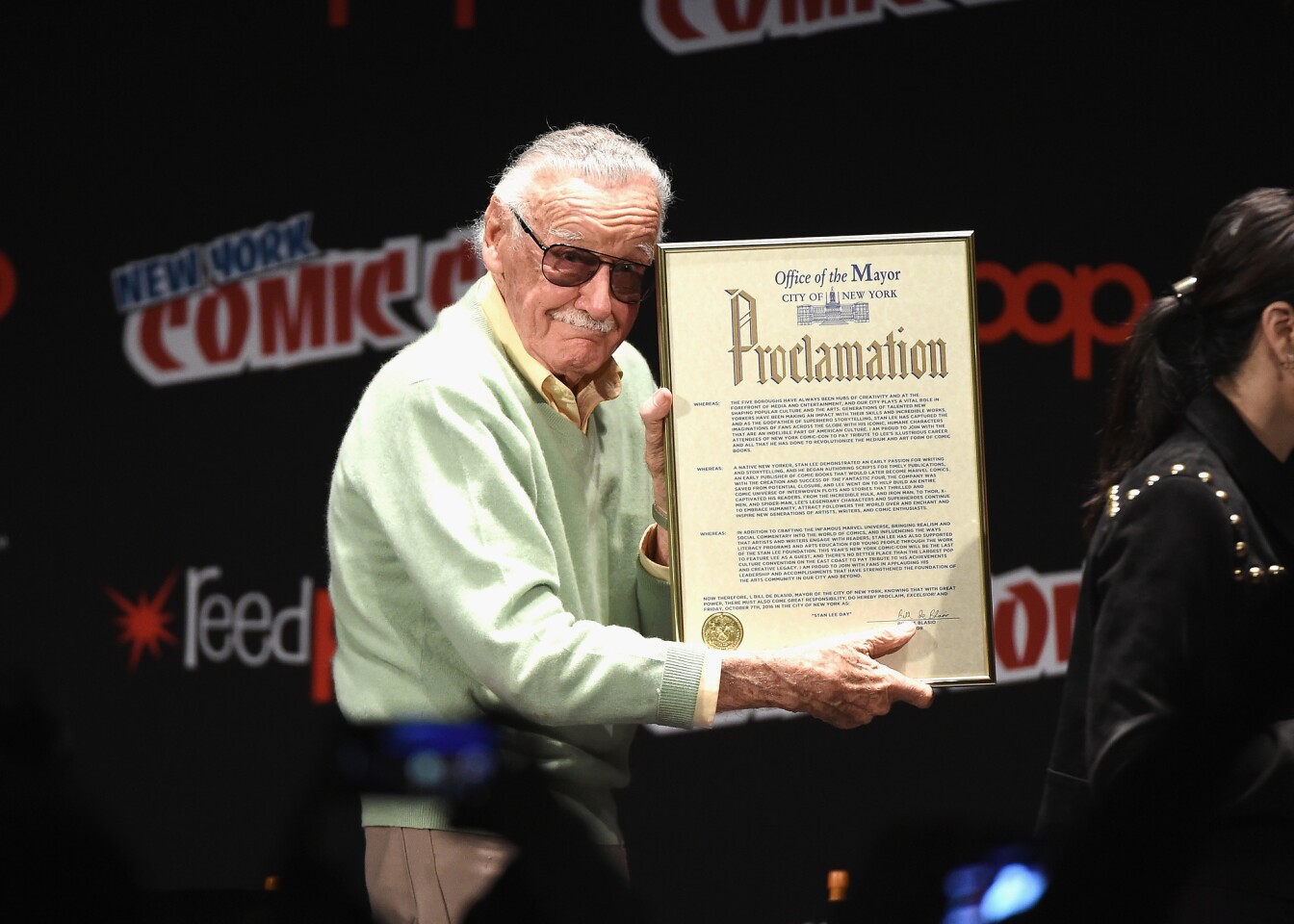 Stan Lee holds a proclamation for Stan Lee Day —Oct. 7, 2016 — by the city of New York onstage at Madison Square Garden.
(Nicholas Hunt / Getty Images)
Josh Reddick of the Los Angeles Dodgers poses for a photo with comic book writer Stan Lee after Lee threw out the first pitch before a game against the Colorado Rockies at Dodger Stadium in 2016.
(Harry How / Getty Images)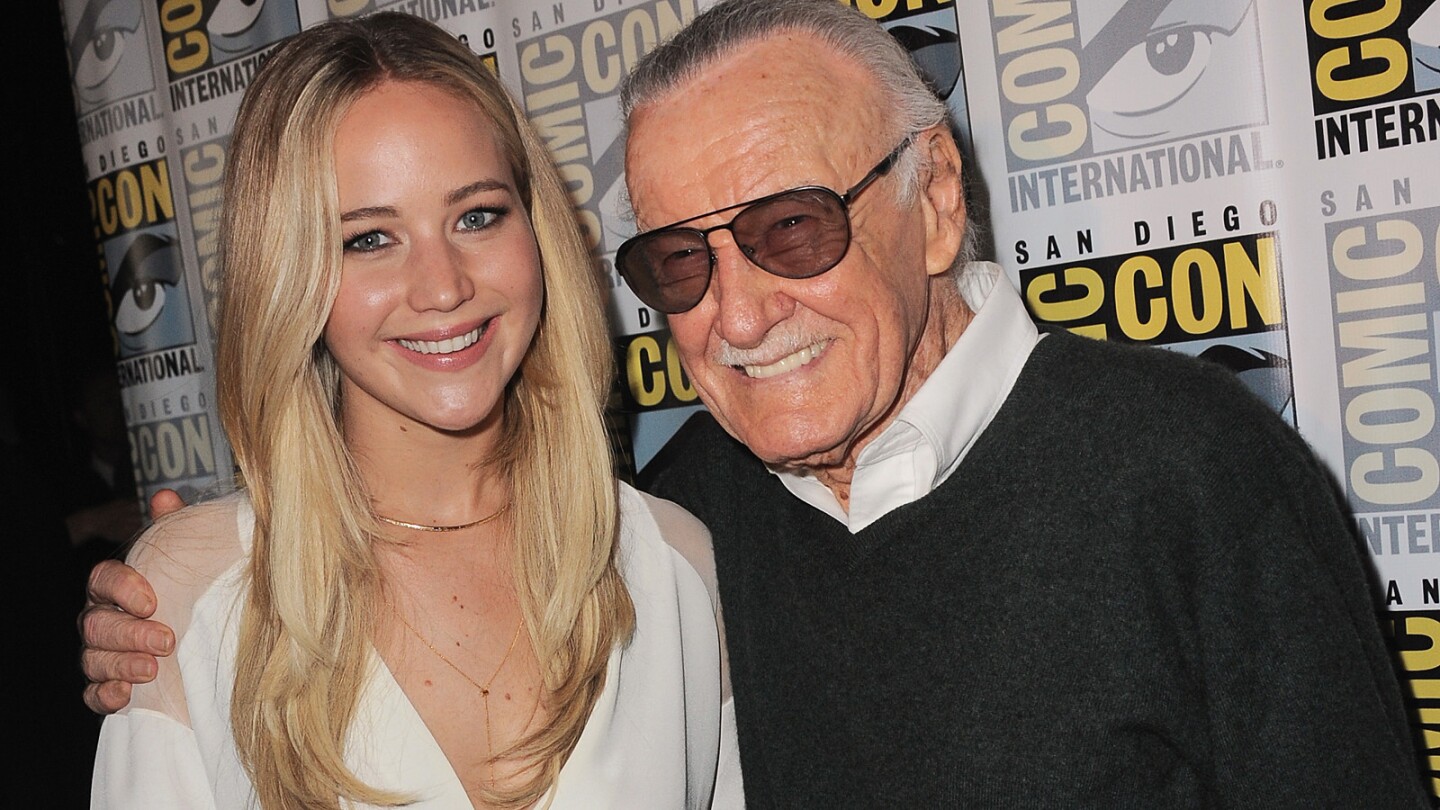 Actress Jennifer Lawrence and Stan Lee attend the 20th Century Fox panel during Comic-Con International 2015 at the San Diego Convention Center.
(Albert L. Ortega / Getty Images)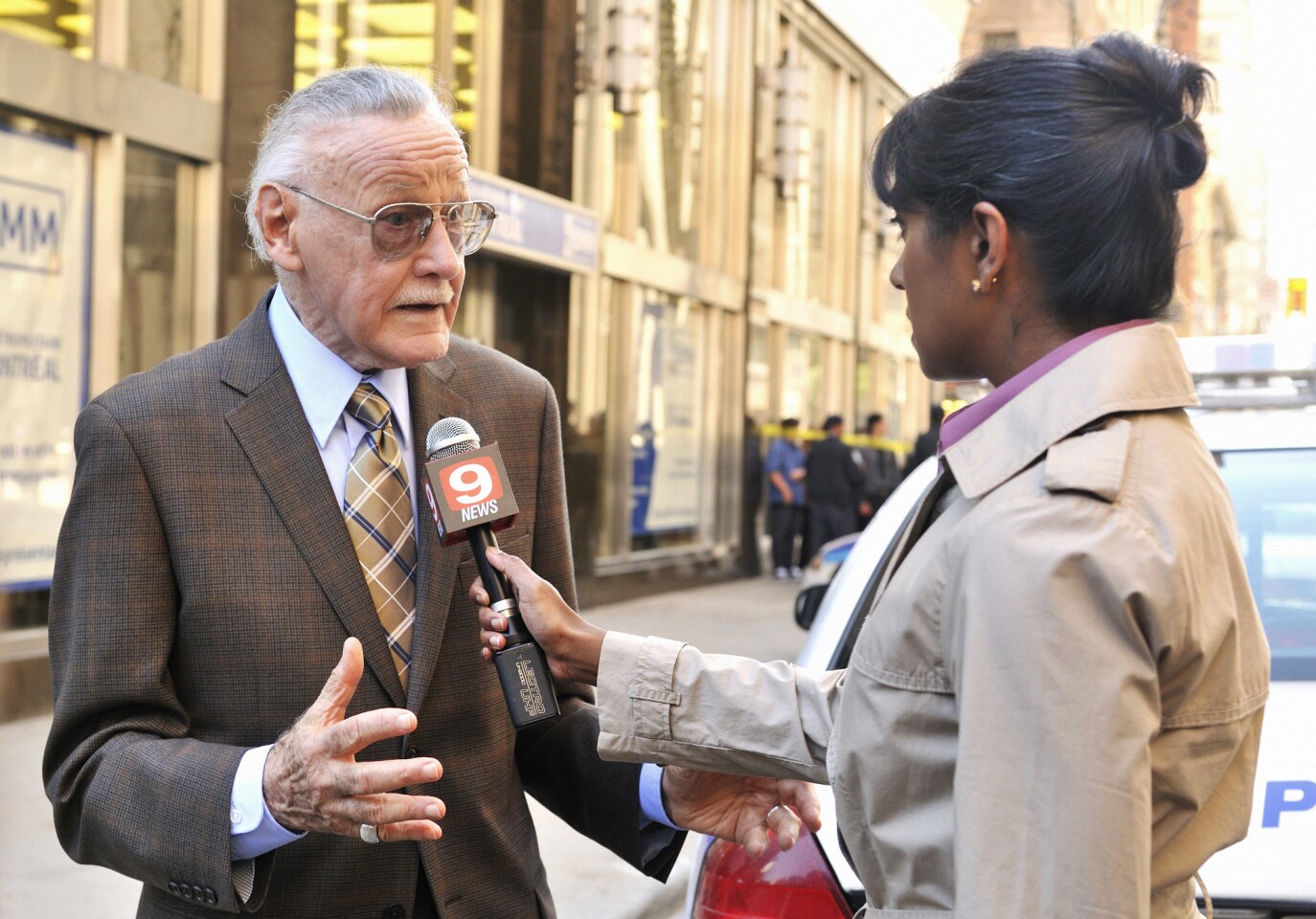 Stan Lee guest stars as a distinguished bystander and Imali Perera as the reporter in the CW show "Nikita" in an episode called "The Guardian."
(Ben Mark Holzberg / The CW)
In "The Big Bang Theory" episode "The Excelsior Acquisition," the cast (clockwise from left: Johnny Galecki, Simon Helberg, Kunal Nayyar, Jim Parsons and Kaley Cuoco) pose with Stan Lee, who guest stars as himself.
(Cliff Lipson / CBS)
Writer and comics legend Stan Lee attends the 2011 premiere of Marvel Studios' "Marvel's the Avengers" at the El Capitan Theatre.
(David Livingston / Getty Images)
Pamela Anderson, left, voices the character Stripperella on "Stan Lee's Stripperella," which ran on Spike TV.
(Spike TV)
Stan Lee arives at the premiere of Paramount Pictures' and Marvel's "Thor" at the El Capitan Theatre in 2011.
(Kevin Winter / Getty Images)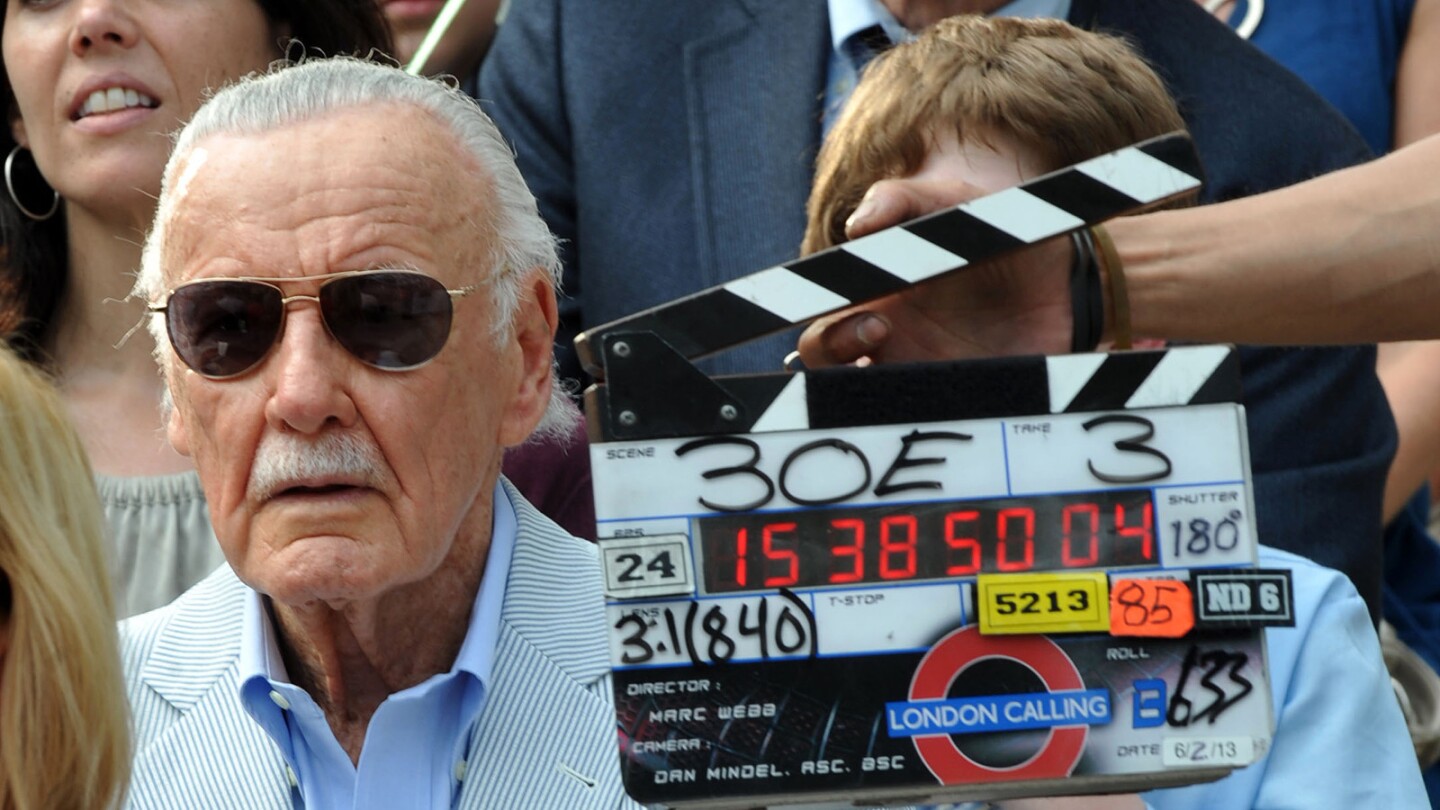 Marvel comic creator Stan Lee films a cameo for "The Amazing Spider-Man 2."
(Steve Sands / Getty Images)
Stan Lee is pictured in front of a backdrop promo for the show "Who Wants to Be a Superhero?"
(F. Scott Schafer / Sci Fi)
"Wolverine" actor Hugh Jackman, left, talks to legendary comic book creator Stan Lee after an interview at Comic-Con International 2008 in San Diego.
(Denis Poroy / Associated Press)
Marvel Comics legend — and co–creator of "The Fantastic Four" comics — Stan Lee has a special cameo role as mailman Willie Lumpkin in the 2005 movie "Fantastic Four."
(Kerry Hayes / Twentieth Century Fox)
Using the medium he's famous for, Stan Lee helped create "Amazing Fantastic Incredible: A Marvelous Memoir," an account of his life.
(Simon and Schuster)
Marvel comic book creator Stan Lee poses with a painting of himself and Spider-Man at his home in Los Angeles in 2002.
(Genaro Molina / Los Angeles Times)