Seinfeld, Spielberg and more celebrate Lady Gaga and Bradley Cooper at 'A Star Is Born' premiere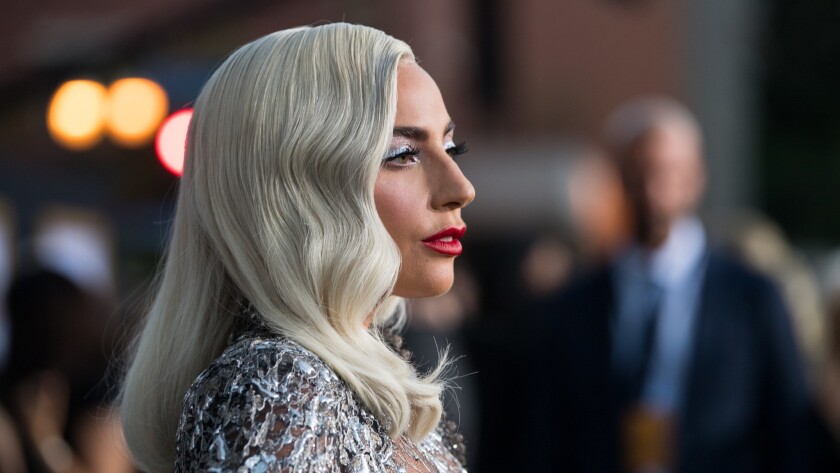 Drag queens. Comics. College kids, hoping to immerse themselves in Hollywood, if only for the night. An eclectic group descended upon the Shrine Auditorium and Expo Hall on Monday for the L.A. premiere of "A Star Is Born."
Steven Spielberg, hand in hand with his wife Kate Capshaw, navigated the crowds that gathered just outside the USC Shoah Foundation he founded. "This Is Us" actress Chrissy Metz was smiling wide at the premiere, hours before her own (Season 3 of the NBC series debuts Tuesday).
It was fitting for the event to render such a wide variety of attendees. The film itself has been generating steady awards buzz since debuting at the Venice Film Festival last month and features a mix of industry talent. The movie marks Oscar-nominated actor Bradley Cooper's directorial debut. He's billed as one of the writers and also stars alongside pop superstar turned Golden Globe-winning actress Lady Gaga (née Stefani Germanotta).
Referring to himself as a friend of "Bradley and Stefani," even Jerry Seinfeld made an appearance. But the comedy legend teased that his so-called pals should not expect an invitation to his "Comedians in Cars Getting Coffee" anytime soon. "You gotta be a comedian to get that job."
But if there was one theme that stood out most Monday night, it was the power of career transitions.
"It looks like the pigeon-hole days are over," comedian and actor Eddie Griffin, who plays a pastor in the film, summed it up best. He's juggling promotion of this drama with the "Eddie Griffin Experience" comedy tour in Las Vegas.
"Comedians don't have to just stay in comedy clubs. Actors don't have to just stay acting. They can actually get behind the camera," Griffin asserted. "Times are changing, and people are expressing themselves fully, 360 degrees."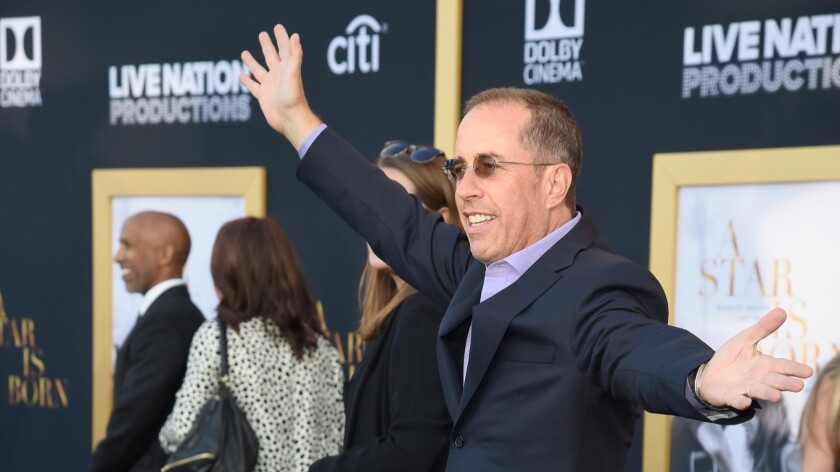 Seinfeld couldn't agree more. "We've always known [Cooper] as a funny guy, charming actor. Now we can see the larger, creative force." Then, he confidently made a prediction: "I think this is going to happen. He's going to become a great director. She's going to become an actress."
As someone who made his own shift from stand-up comedian to Golden Globe-winning actor, perhaps Seinfeld sees himself in some of the comics demonstrating their acting chops in the film. Along with Griffin, "A Star Is Born" features funnymen Dave Chappelle as a friend to Cooper's country superstar Jackson and Andrew Dice Clay as the father of Gaga's insecure ingenue Ally. The latter even previewed 20 minutes of his new comedy material on the set, recalls co-star Michael Harney ("Orange Is the New Black"). "I was crying, I was laughing so hard," Harney told The Times.
When "A Star Is Born" hits U.S. theaters Oct. 5, it will also showcase musicians and drag queens pivoting from the stage to the big screen for the first time. Dennis Tong said the opportunity still feels like "a ridiculous dream." We meet Tong and other drag actors, including "RuPaul's Drag Race" alumni Shangela Laquifa Wadley and Willam Belli, in a drag bar scene. That's where Jackson first meets Ally. The leading lady supported the inclusion of the drag moment, for which Tong and Belli are especially grateful.
"Growing up, it was kind of hard to embrace this," Tong gestured to his intricate makeup, hair and nylon dress. "You're taught as a guy to be this way, this masculine ... to actually be able to do this and be celebrated and be part of a movie is just incredible."
"Anytime there's drag, it's a good thing," Belli added. "It's mainly people that aren't afraid to step outside the box, and that's very Gaga."
If stepping outside the box is very Gaga, then thinking outside the box is very Cooper. The director scouted for musicians to include in the film at small L.A. venues, like the Troubadour in West Hollywood. That's where he found New Zealander Marlon Williams, after hearing about the show on the local radio station KCRW. Williams didn't hesitate to play himself in the film. "It was so wild and so crazy an opportunity to pass up. It's a mad world."
The soundtrack also features Lukas Nelson and Diane Warren collaborations. Cooper met Nelson at Desert Trip in 2016, a festival that takes place in the same Indio, Calif., venue later used in the movie. Warren previously worked with Gaga on the song "Till It Happens to You," which scored a 2016 Oscar nomination. She says she had her fingers crossed then for an Oscar win. Maybe she and the team will get lucky and take home the gold this year.
But speaking with reporters, Cooper made it clear he does not care to keep up with the awards season talk or reviews, even when they're positive. He's just happy to hear that moviegoers are "seeing the movie the way that I wanted them to. That's all you can hope for."
As for Gaga, she just smirked and timidly shook her head as reporters posed the Oscar question. Yet draped in a Givenchy dress and a matching cloak, she presented herself with conviction as a force to be reckoned with and a true star that's just been born.
Read More: Lady Gaga on letting go for 'A Star Is Born' and what Bradley Cooper insisted she do before filming »
---
Get our daily Entertainment newsletter
Get the day's top stories on Hollywood, film, television, music, arts, culture and more.
You may occasionally receive promotional content from the Los Angeles Times.