Robin Antin's Pussycat Dolls: Running hurdles in high heels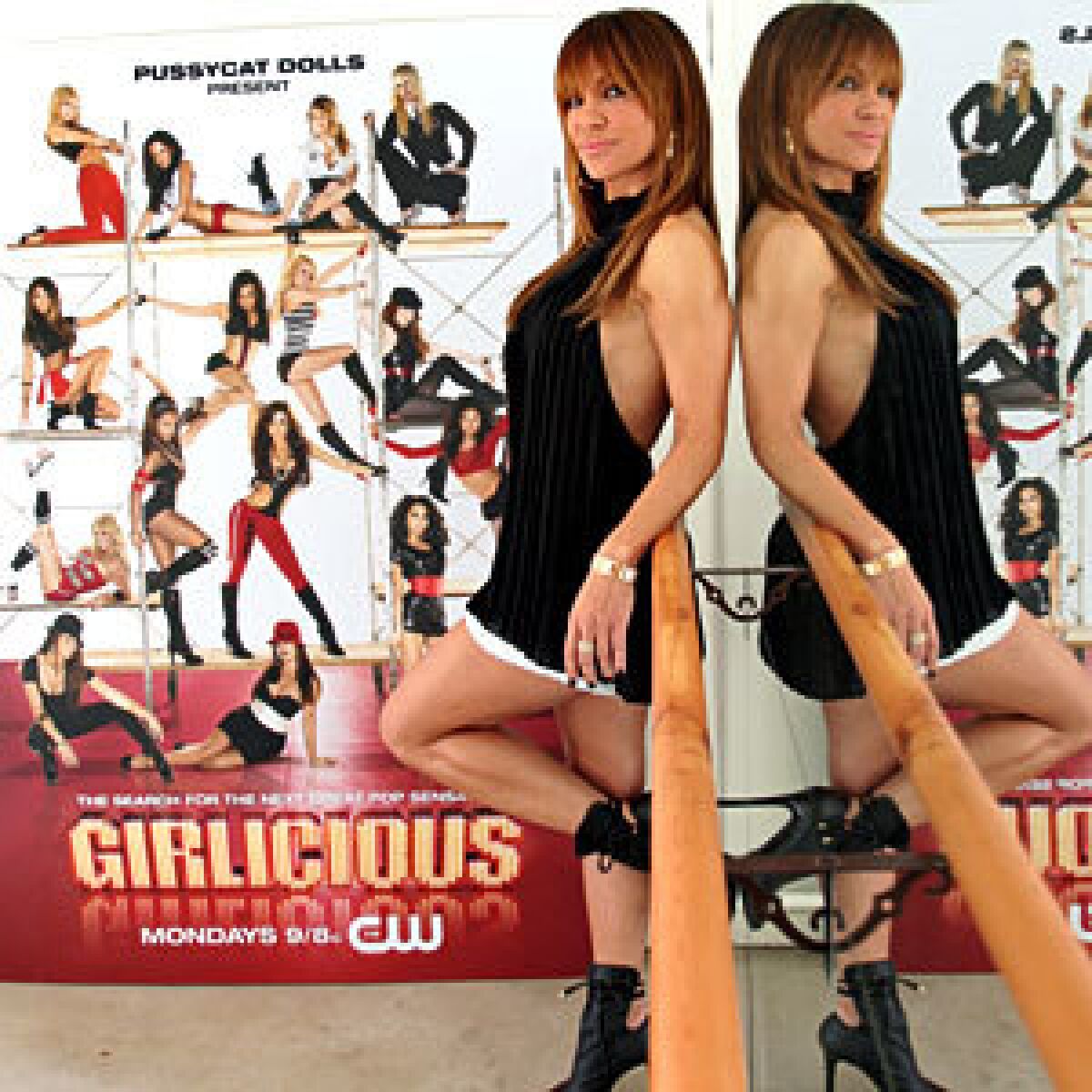 Los Angeles Times Staff Writer
By all appearances, "The Pussycat Dolls Present: Girlicious" is like any other competitive reality show. The grand prize is a spot in a new group, contestants must face a judges' panel, and celebrities such as N'Sync's JC Chasez are treated like royalty.
But there was a moment in the CW series' third episode when Robin Antin, the choreography maven who dreamed up the burlesque troupe in West Hollywood clubs in the mid-'90s, cut to the heart of the major-label music business in 2008.
Eleven female contestants -- all about age 20 and competing for places in Girlicious, the Pussycat Dolls spinoff group the show will found -- were to perform to an audience of tween girls, the age group that made Miley Cyrus so popular that she was an Oscar presenter this year.
"This is part of the key demographic you want buying your CDs," intoned Antin. "They're the ones that dictate the future of music."
And the music industry needs them, if only because the tweens are largely believed to still purchase CDs. If junior high kids weren't entirely responsible for what Nielsen SoundScan estimates as 2.8 million copies sold of "PCD," the debut album from the Pussycat Dolls that contained the (still) inescapable single "Don't Cha," Antin knows they accounted for a sizable percentage.
"If you go to a Pussycat Dolls concert, it's all these little girls, and they all have on their hoodies," Antin said recently in the family room of her modest one-story West Hollywood home. "When I first started the Pussycat Dolls, I never would have imagined that would become our target audience. But it makes so much sense. My idea, from the very beginning, was to have sort of live dolls, dancing and singing. That's what these girls relate to."
Antin passionately talks of the young women she employs, be it the Pussycat Dolls who record for Interscope Records or those who dance in her Las Vegas club in Caesars, as real-life dolls, creations she can accessorize with workout DVDs, lingerie lines and Broadway shows. Broadway and workout videos are not yet realities, but the lingerie line has officially launched, and Antin said she's close to opening up a Pussycat Dolls Lounge in Los Angeles (the Las Vegas club opened in 2005).
But after about 13 years of growing and orchestrating her brand, are some tears starting to show in the Pussycat Dolls' high-class fishnets?
"I guess the first sign of concern was the difficulty in getting the solo record from the frontwoman out," said Geoff Mayfield, Billboard's director of charts, referring to the fact that the Dolls' star, Nicole Scherzinger, couldn't get her solo album off the ground.
And the group is now three years removed from its smash debut. The Dolls' return, Mayfield pointed out, would be greeted with excitement by the record business. "The shelf life on that first Pussycat Dolls record was reminiscent of days of yore," he said.
Based on those successes, Antin is confident the Pussycat Dolls haven't worn out their nine lives, and Ron Fair, the chairman of Geffen Records who has pledged to release the debut from Girlicious, is betting on her being right. The reason: ancillary revenue. As the music business looks to new models, much talk has been made of the "360 deal," which is structured in such a way that Interscope/Geffen/A&M takes a cut of multiple aspects of the Pussycat Dolls brand.
"The architect of the 360 deal was Berry Gordy," Fair said, referring to the founder of Motown Records. "He started it before there was a label for it, since Motown was a one-stop shop where you signed as an artist and you signed as a writer. . . . [This] truly is one of these Berry Gordy type of 360 deals."
And even though a Girlicious album isn't out yet, Antin's mind is racing through future projects. It's all, she said, in the name of "female empowerment," which she defines via a mix of sexiness and confidence.
"It's not what life is about, but it's a part of life," Antin said. "We all want to feel good. We all want to feel healthy. What can you do to feel your best? Can't go to the gym? Go outside and run down the street. There's a lot you can do. I definitely plan on writing a book about that, helping women and inspiring women and possibly even doing a show."
When Antin started the Pussycat Dolls she had a roommate in actress Christina Applegate, and a day job choreographing fashion shows and music videos. You can see some of her early work, and some original Pussycat Dolls, in the video for the Barenaked Ladies' pop hit "One Week."
"I would go and work and make money, and all my money would be put into the Pussycat Dolls," Antin said. "It was put into the costumes. It was put into the sets."
Antin received encouragement from her brother, actor-turned-producer-turned-writer/director Steve (Antin's other brother, Jonathan, is the celebrity hairstylist followed in Bravo's reality series "Blow Out"). Steve filmed early Pussycat Dolls shows at the Viper Room, pitching the project as a film/soundtrack to record labels. "It wasn't burlesque in the beginning," Steve said in a phone interview. "It was more go-go-ish."
The Pussycat Dolls' successful, multiyear run at the Viper Room eventually graduated to the Roxy in 2002 for a brief string of shows, which started drawing industry heavyweights, thanks, in part, to regular appearances by Carmen Electra. Chairman of Interscope/Geffen/A&M Jimmy Iovine, who was said to be unavailable for an interview, supposedly caught the show on the recommendation of Gwen Stefani.
Antin and Interscope struck a joint venture in 2003. The idea was to develop a Pussycat Dolls brand, and Iovine assigned the project to Fair. He and Antin began holding auditions for a group, one that would be without celebrity members such as Electra.
Antin said: "A lot of people told me to turn it into the Spice Girls. But it's become this thing that is just the Pussycat Dolls, and there might be different girls that you see in the group. I see the Pussycat Dolls living for a long time, if not forever."
To that effort, Antin is constantly re-imaging the act, right down to the color of the girls' hair.
"I'll say, 'I really believe this is going to be a good thing for you. Maybe you should go red or darker or put your hair in a Mohawk.' At first they might get squeamish, but I ask them to trust me, and sure enough, I start to shape them into how I see them. . . . You have to play by the rules. There are rules. It's like school."
The quest for relevance
Maintaining the relevance of a girl group is not easy. Scherzinger herself comes from a failed one, Eden's Crush, sprung from the WB series "Popstars."
And Fair has recently worked with a TV-inspired girl group gone bust. The CBS-affiliated "Slumber Party Girls" failed to resonate, its 2006 debut album selling only 14,000 copies in the U.S. "The Slumber Party Girls was the universe slapping us down hard and saying, 'No,' " Fair said. "That's that. Whoops."
"Girlicious," the show and the group, face a crowded market. The latest album from Danity Kane, sprung from MTV's "Making the Band 4," was released last week, and "Girlicious" is airing just as the king of all reality shows, and all television, " American Idol," is narrowing its field. Ratings reflect the challenge: according to Nielsen, "Girlicious" is down significantly compared with last season.
Steve Antin points to the writers strike and the lead-in of "Gossip Girl" reruns as the cause for the ratings dip, and not the fact that last year's "The Search for the Next Doll" failed in its mission. The winner, Asia Nitollano, never joined the group. The CW eventually announced that she had decided to pursue a solo career. She did some modeling for P. Diddy's clothing line, Sean John, but a spokeswoman for the company said it is no longer working with her. (Attempts to contact her through her MySpace page went unanswered.)
Additionally, the Interscope debut from Scherzinger, "Her Name Is Nicole," was pegged for an Oct. 16 release, then bumped to Nov. 20. Now it's not on the docket. Early songs released to Apple's iTunes store underperformed. Fair said, "We're going to revisit it, and change direction."
The plan for now is to release the next Pussycat Dolls album first. It's about five songs deep so far, Fair said, with production from such A-listers as Timbaland, Cee-Lo and Sean Garrett, among others. A release date has not been set.
As for Girlicious the group, that album is nearly done, and a single will be released immediately following the TV show's April 21 finale. Barring any last-minute changes, the Girlicious debut opens with a guest shot from rapper of the moment Flo Rida, who currently has two songs in the Top 40 on the U.S. pop chart.
Will fans be skeptical of Girlicious?
"Do you think we had it easy with all of our music getting out there?" Antin responded, sounding slightly defensive. "All of the press was saying, These girls are this, and these girls are that. You know what? They're great.
"Everyone is always going to say something," Antin said, gaining confidence as she continued. "But if you say no, I'm going to say yes. . . . If you say you don't like this, I'm going to give you a reason to like it."
todd.martens@latimes.com
---
Get our L.A. Goes Out newsletter, with the week's best events, to help you explore and experience our city.
You may occasionally receive promotional content from the Los Angeles Times.