16 Images
Hollywood thin then and now
Marilyn Monroe
Marilyn Monroe
What can we say? She filled out a dress.
(Matty Zimmerman / AP)
Jayne Mansfield
Jayne Mansfield
With those hips, would she even get a call-back for a love-interest role today?
(WireImage.com)
Julie Christie
Julie Christie
Heaven had plenty of room for her.
(WireImage.com)
Mary Tyler Moore
Mary Tyler Moore
Back then, a working girl could still eat lunch.
(Viacom / Mary Tyler Moore Show)
Kathleen Turner
Kathleen Turner
Her figure had more than enough kindling for body heat.
(Francois Duhamel / 20th Century Fox)
Goldie Hawn
Goldie Hawn
An icon of fun with realistic proportions.
(Scott Nelson / AFP)
Meryl Streep
Meryl Streep
The focus was always on her acting chops.
(Brian VanderBrug / LAT)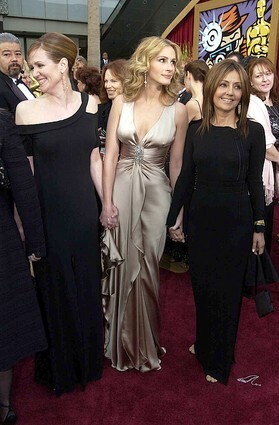 Julia Roberts
Julia Roberts
The last of the unemaciated romantic comediennes?
(Myung J. Chun / LAT)
Nicole Kidman
Nicole Kidman
A sometimes disturbingly ethereal body.
(Brian VanderBrug / LAT)
Cate Blanchett
Cate Blanchett
Shrinking as she racks up her Oscars.
(Damon Winter / LAT)
Kate Bosworth
Kate Bosworth
Has had more than a few scary-skinny moments.
(Ferdaus Shamim / WireImage.com)
Jessica Alba
Jessica Alba
Defines the new willowy-hot look.
(Lefteris Pitarakis / AP)
Ellen Pompeo
Ellen Pompeo
Even hospital scrubs don't add any pounds to her frame.
(Anne Cusack / LAT)
Teri Hatcher
Teri Hatcher
The lean and hungry look.
(Mark J. Terrill / AP)
Angelina Jolie
Angelina Jolie
Withering in the Brangelina glare.
(WireImage.com)
Mary-Kate and Ashley Olsen
Mary-Kate, left, and Ashley Olsen
Leaders of the pack of troubled, ultra-thin tabloid princesses.
(Mark Mainz / Getty Images)