'17 Again' is No. 1 at weekend box office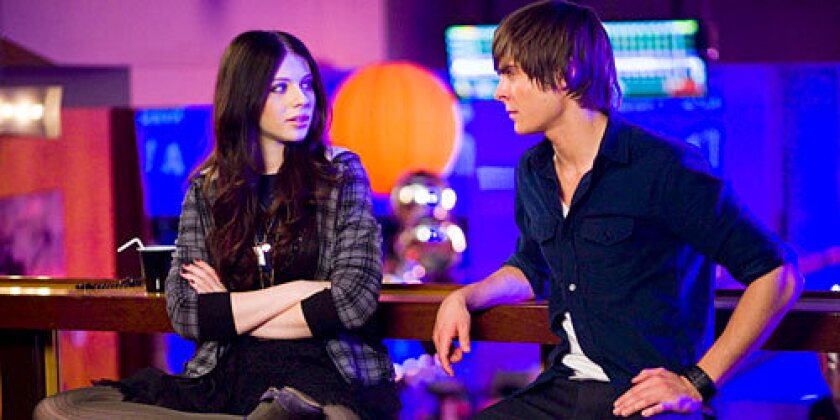 Zac Efron is the latest victor, and Russell Crowe the victim, of youngsters' dominance at the box office.
The Warner Bros. film "17 Again," starring "High School Musical" heartthrob Efron, was the decisive No. 1 this weekend with $24.1 million in movie ticket sales in the U.S. and Canada, while Universal Picture's "State of Play," starring Crowe, grossed $14.1 million.
The vast gap in the movies' receipts continues a trend of young-skewing films such as "Hannah Montana: The Movie," "Fast & Furious" and "Monsters vs. Aliens" lifting box-office totals to new heights in 2009, while more adult-oriented fare including "Duplicity," "Watchmen" and "The International" have proved to be disappointments.
The rebound in ticket sales though the first quarter comes at a time when DVD sales, which have supported the movie industry, have fallen sharply.
"The DVD business today is hurting a little, but it seems the films doing best [in theaters] are family films," said Dan Fellman, president of domestic distribution for Warner Bros.
Factor in their lower budgets and the advantage of pictures that aim younger is even more evident. "17 Again" cost just over $40 million, for instance, while "State of Play" cost $60 million.
The strength of movies targeted at those under 25 years old has helped push theater attendance up 16% in 2009 compared with a year earlier. This weekend's cinema receipts rose an impressive 20% from last year, according to box-office tracker Media by Numbers.
The strong opening for "17 Again" is the first proof that Efron, whose face on billboards and in other advertising was the film's main marketing tool, can open a movie that is not just based on a Disney Channel series, indicating that he will be highly sought for other roles.
It's clear that pedigree is still a big help, however, as "17 Again" came in well behind last weekends No. 1 movie "Hannah Montana," featuring Miley Cyrus, which opened with $32.3 million.
The PG-13-rated "17 Again" played a bit older than the G-rated "Hannah," with 21% of its ticket buyers ages 18 to 24 and 43% under 18. But in a development that won't surprise anyone with a teenage daughter, an overwhelming majority -- 76% -- who went to see Efron were female.
"State of Play" showed that it appealed to an older crowd: 75% of its audience was over 35. Universal executives seemed relieved that the film didn't perform as badly as surveys had indicated it might -- perhaps struggling to break $10 million -- but they acknowledged that the drama in which Crowe plays an investigative newspaper reporter faced significant barriers in the current market.
Older audiences are very discerning in what they go see and don't always get to it on opening weekends, said Nikki Rocco, president of Universal's domestic distribution.
"Adult films tend to play a little longer," she said, noting that "Duplicity," a crime thriller, still attracted an audience on its fifth weekend in theaters.
Just two weeks after driving "Fast & Furious" to a record opening, young men seemed bored by this weekend's offerings. The one new film aimed at them, Lionsgate's sequel "Crank: High Voltage," shorted out with a weak $6.5 million. The original Crank brought in $10.5 million in its first weekend. That demographic is expected to be out in full force in two weeks when the extended summer movie season kicks off with "X-Men Origins: Wolverine."
As expected with "17 Again" stealing girls' attention, "Hannah Montana" experienced a 61% drop, grossing $12.7 million on its second weekend. After some very strong weekday figures during spring break, the total domestic take for Disney's big-screen adaptation of its hit TV series is $56.1 million. Despite nearly identical opening weekends, it's now outpacing last year's "Hannah Montana/Miley Cyrus: Best of Both Worlds Concert Tour," indicating core Cyrus fans haven't faded.
Two films that premiered at last summer's Toronto International Film Festival opened to decent business in limited release this weekend. The documentary "Every Little Step," about auditions for a Broadway revival of "A Chorus Line," grossed $72,616 at eight theaters, while the British drama "Is Anybody There?," starring Michael Caine, made $45,112 from six locations.
---
The complete guide to home viewing
Get Screen Gab for weekly recommendations, analysis, interviews and irreverent discussion of the TV and streaming movies everyone's talking about.
You may occasionally receive promotional content from the Los Angeles Times.