Review: Redd Kross and the Melvins let some hair fly as the year flips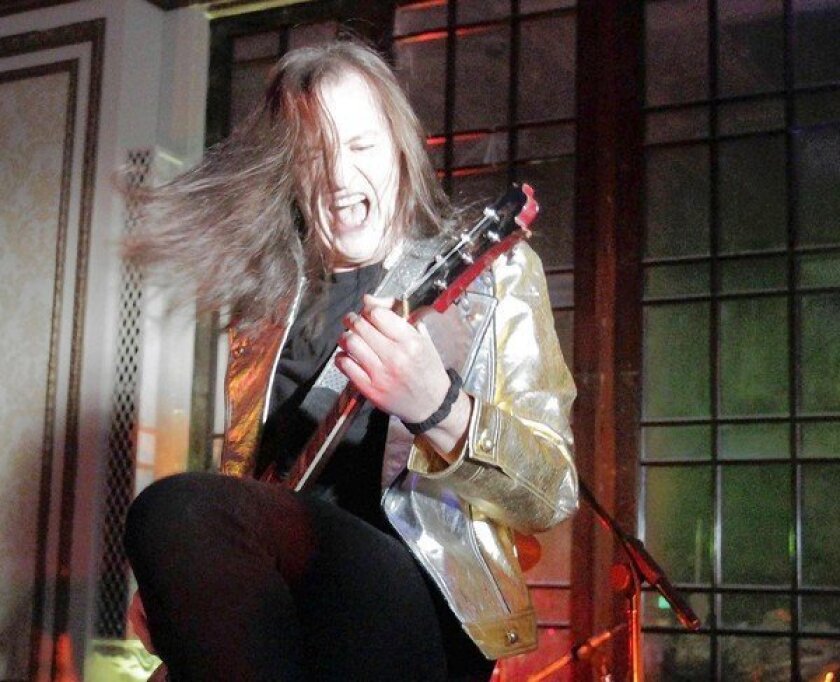 It was about a quarter past midnight — 2012 had just gone — when singer and guitarist Jeff McDonald of Los Angeles band Redd Kross burst out with a joyous, simple, one-word declaration that captured the mood at the storied Alexandria in downtown Los Angeles.
"Yes!" he shouted into the microphone after banging his head and guitar chords through "Blow You a Kiss in the Wind" on early Tuesday morning, well aware of the power that he and his brother Steve's band had just generated. Performing a double bill with fellow Los Angeles band (and long-ago Atlantic Records label-mates) the Melvins, Redd Kross greeted 2013 with long hair flying and the kind of big, distorted chords, singalong choruses and head-banging ditties that made them one of Los Angeles' greatest punk banks when they rose from Hawthorne in 1980 alongside kindred spirits Black Flag and Circle Jerks.
Though now in their 40s, the brothers, who formed when both were adolescents, still have the long, dangling hair that they flung to the beat on the stage of the King Eddie Ballroom, losing themselves within the chord progressions of songs like "Switchblade Sister," "Annie's Gone," "Frosted Flake" and "Secret Life."
GRAPHIC: Times music staff best of 2012 list
And, yes, the Melvins' co-founder Buzz Osborne still has his huge Sideshow Bob mop of hair, now black and gray like a dusty chalkboard, that he's been banging since the early 1980s, when, living in rural Washington, he slowed the fast hard-core punk tempos of the time to a crawl and shoveled into their distorted structures mounds of metal sludge. In doing so, the Melvins helped set the stage for a Seattle rock scene whose biggest icon, Kurt Cobain, once auditioned for the band's bassist slot.
Osborne and longtime partner-in-rock Dale Crover relocated to Los Angeles a few decades ago and, after running through a series of bassists, found renewed energy when in 2006 they added fellow two-man hard rock band Big Business (bassist Jared Warren and drummer Coady Willis) into the fold, thus forging a double-drummer machine whose two human engines on New Year's Eve worked eight appendages while barking out backing vocals.
Gigging in a hotel that in at its prime hosted luminaries including Marlene Dietrich, Charlie Chaplin, Clara Bow and the ballroom's namesake, King Edward VIII, the two bands, united in distorted riffs, nonetheless offered a lesson in polarities: Where Redd Kross, which closed the night, conveyed a love of melody, pop culture, glam rock and power pop through three- and four-minute verse-chorus-verse energy, the Melvins inhabited a swirling, structurally expansive musical world where well-built progressions and wildly complicated rhythms devolved, collapsed and/or rejiggered without much regard for top tapping melodies — only to rise from the ashes like mythical beasts.
The Melvins sang of despair and doom, of worms and "A Growing Disgust." The opening couplet of the first song, "Billy Fish," for example, was, "My eyes are needles/with eyes not so narrow." On "Hag Me," from their brilliant 1993 metallic cathedral, "Houdini," Osborne and bassist Warren poked along like a mastodon trudging through new snow — only to break into a brief gallop as Osborne groaned out the words, "I chrome the piston/I steal the rattle only."
Best of 2012: Movies | TV | Jazz | Video Games| Art | Theater | Dance | Classical music
And, at its epic best, the band hummed through the 10-minute mantra "Youth of America" like it was an early Kraftwerk jam as performed by punks, with a nonstop metallic groove that was equal parts metronome and Motorhead.
The McDonalds, by contrast, sang of lust for Lita Ford and Linda Blair, the latter of whom entered the band's first couplets with aplomb ("In the 'Exorcist,' baby/You were really insane/You got busted, you got dusted/You got busted for cocaine"). They bounced where the Melvins stomped. Performing selections from their typically smart and glam-rock inspired new record, "Researching the Blues," the band, which also featured Jason Shapiro (ex of Celebrity Skin) on guitar and Roy McDonald (no relation) on drums, welcomed the new year with the kind of musical exuberance required of such an occasion.
"Stay away from downtown," sang the McDonald brothers in a recent song of the same name, surely aware they were performing it in the place they were warning against, pushing forth huge riffs that echoed through King Eddie's Ballroom. They repeated it again, and again, with Jeff finally, one last time, punctuating it with an affirmation that captured the feeling of the evening.
It was just two perfectly stated words: "Yeah, yeah."
PHOTOS AND MORE
PHOTOS: Iconic rock guitars and their owners
The Envelope: Awards Insider
PHOTOS: Grammy top nominees
---
The complete guide to home viewing
Get Screen Gab for weekly recommendations, analysis, interviews and irreverent discussion of the TV and streaming movies everyone's talking about.
You may occasionally receive promotional content from the Los Angeles Times.