America's anxious times made it a banner year for villains and bad guys in movies and TV
One arm shot off and hat brim slanted low, Frank Griffin, an outlaw predisposed to frontier wisdom and Bible brandishing, rides with 30 hard men in a fury that can empty a town by sunset.
Played by Jeff Daniels in the new Netflix series "Godless," Griffin is an alluring villain, a man shaped by a boyhood tragedy he carries with him like a sin turned sacred. He is reflective and cruel, intelligent and brutal, a man of intricate and unfathomable parts who can kill the innocent one day and the next soothe strangers blistered with smallpox. He knows more intimately than a coyote the unforgiving land he roams.
"This here's the paradise of the locust, the lizard, the snake," he says. "It's the land of the blade and the rifle. It's godless country."
The Scripture-quoting Griffin is one of many standout villains in what has been a banner year for bad guys in movies and TV. In an era when men from Hollywood to Congress are being called to task for generations of discrimination, sexual harassment and holding power, our latest round of miscreants tend to be white, some born of privilege, others not. They mark a notable evolution from films of the past that featured tomahawk-wielding "Indians," shape-shifting Soviet spies, bandolier-laden Islamic terrorists and sharp-clawed aliens from distant galaxies.
Among the most resonant this year are Sam Rockwell's racist, homophobic cop in "Three Billboards Outside Ebbing, Missouri"; Michael Shannon's menacing researcher in the foreboding and fantastical "The Shape of Water"; Alexander Skarsgard's impeccably tailored, vicious husband in "Big Little Lies"; the council of men who imprison and impregnate women in "The Handmaid's Tale"; the ape-hating Colonel in "War for the Planet of the Apes"; and the liberals and racists in the satire turned horror film "Get Out."
Each has compelled audiences to reflect on the sins of these characters while also exploring what motivates them. How are notions of goodness — no matter how slight — blotted out by sinister impulses and pre-meditations that are the seeds of twisted spirits?
This recent group of tormented villains embodies a cultural war in an America anxious over its direction amid restive populations of women and people of color, and widening divides between liberals and conservatives and rich and poor. Frank Griffin, who perverts the Bible for his own malevolence, is emblematic of the toxic collusion of religion and politics. He's as mesmerizing as an evangelical preacher speaking in tongues and as corrupt as a senator tangled in graft.
And yet, as "Godless" creator Scott Frank notes, "you find yourself feeling strangely empathetic" toward the savage Griffin.
"He's charismatic, as a lot of narcissists can be," says Frank, an Oscar-nominated screenwriter who wrote and directed "Godless." "He's familiar to us, especially if you look at what's happening in the world right now. The notion that the ends justify the means has become extreme to a degree where you have religious figures back horrible human beings in order to accomplish what they see as pious goals. We've gone so tribal that way in religion and politics."
The villain resides in our imaginations like a piece of darkness, rousing the hushed things deep within, part human, part something we'd rather not contemplate. We revel in their cunning, recoil at their perniciousness and bloodlust. They are fallen angels who hold our fears and weaknesses to the light, coaxing us into accepting their vileness or granting them a measure of understanding.
Literature and film reach into our recesses to summon outsize and eerily accurate depictions of our world, which these days is a hyperdrive of suspicion and recrimination. News, depending on one's persuasion, has conjured many real and perceived villains from President Trump to Hillary Clinton, and from Harvey Weinstein to Matt Lauer to Roy Moore. Scheming in the distant wings are the ever-reliable bogeymen of Russian President Vladimir Putin and North Korean leader Kim Jong Un.
The flaw is what we most often remember in our malefactors. It makes their acts more heinous because they are in so many ways like us, the poison in our well. Shakespeare's conniving Richard III is "rudely stamped" with a hunchback, a metaphor for his deformities of flesh and spirit. Perry Smith, a killer in Truman Capote's "In Cold Blood," is an emotionally stunted man-child whose feet don't touch the floor when he sits in a chair. In the 2004 film "Downfall," Adolf Hitler, in one of the first times in German cinema, was not a caricature of evil but a scowling paranoid in a bunker trying to hide what was believed to have been Parkinson's disease.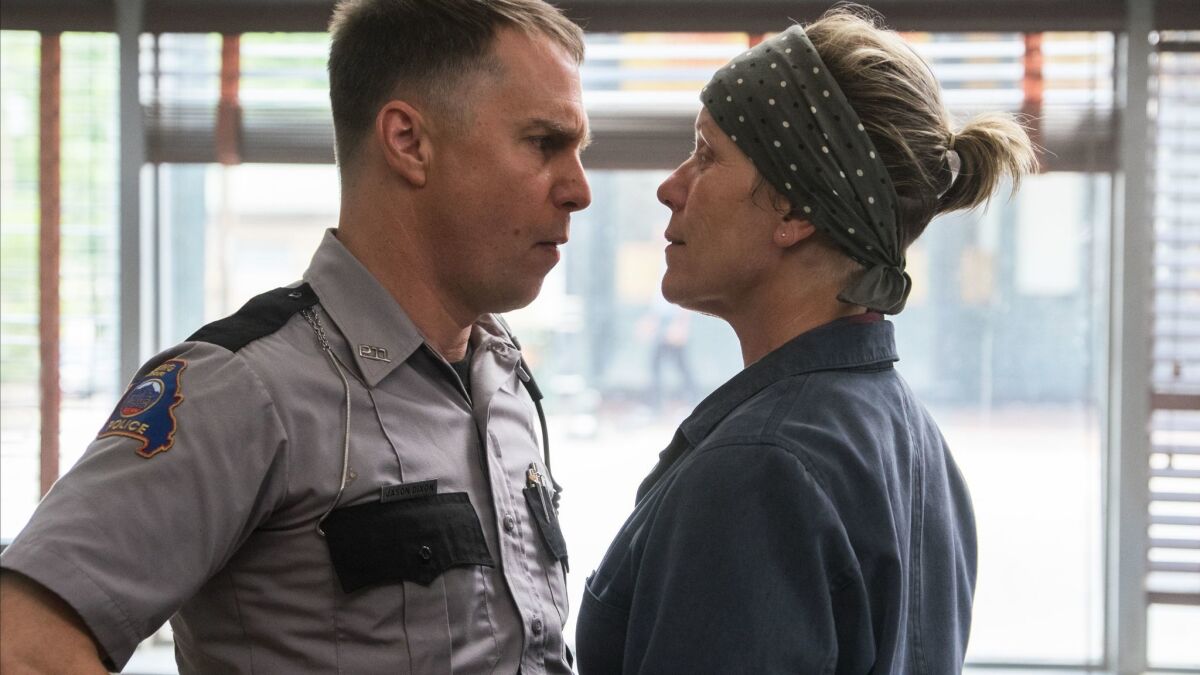 Rockwell's layered depiction of police officer Jason Dixon in "Three Billboards" is of an authoritarian buffoon who can explode into violence and then return home, sit on the couch, eat sandwiches and watch TV with his mother. He is the personification of the small-town cop with too much power. The vagaries and complexities of life elude, mystify and enrage him, but he is vulnerable and open for redemption, if only he could tame his baser instincts.
"I wanted to show all of the character's ignorance and hatred, but it was important not to judge Sam's character," says the film's writer-director Martin McDonagh. "I wanted to say there can be room for change and hope if you look at the humanity rather than the 'ism.' " He added that the tone of the film is "kind of the way I see the world. You see the darkness, the sadness or the bleakness, but you can't let it get you down, so you kind of laugh at it or with it or through it to get to a place, I don't know, that's cathartic or just livable."
Daniels thought of Griffin as someone "spinning in all kinds of directions. He doesn't know which way he's going. Frank just keeps going from [reciting] biblical verses to revenge to rage to loving his son. He has these moments that overtake him like a drug. So I just made the decision to not understand him and just ride the wave."
One glimpses little hope in Perry Wright (Skarsgard), the taut, vain, abusive husband of Celeste (Nicole Kidman) in "Big Little Lies." He has wealth and twin sons perched like Ralph Lauren models. But a speck of dust or a faint slight can set his fists alight. He beats Celeste (a gifted lawyer he will not let work) in their cloistered idyll by the sea, a home whose rage belies its sleek perfection. The cleverness of his character is that the animal fury that harms and bruises Celeste feeds in a perverse way their sexual passion.
Perry Wright was vilified on social media. He was evil in plain sight, the seducer, the perfect man with a heart of knives.
"People seem quite disturbed by it," Skarsgard says of his character. "I tried to avoid playing the stereotypical abusive husband and to find someone who's conflicted and tormented and who really struggles with this as opposed to playing a two-dimensional bad guy. … It was important to find that dynamic [between Celeste and Perry] that was toxic but there's also a lot of love there, a lot of desire. It's intense. That makes it more difficult for Celeste as well because she blames herself a bit at least in the beginning: 'Am I an instigator?' "
The instigators for the Colonel (Woody Harrelson) in "War for the Planet of the Apes" are past and present calamities. The maniacal Colonel is bent on exterminating apes and infected humans to stop the spread of a virus he believes will destroy mankind. He is a manifestation of war against "the other," a trope revealing how our fears can lead to divisive politics and anti-immigrant fervor.
Griffin has his own demons in "Godless." He is haunted by the rape of his sister and massacre of his family by a rampaging Mormon sect dressed up as Native Americans. He is raised by that clan and grows into a messianic leader of a band of killers, a gunman with a preacher's white collar but no sheen of redemption.
He has "been hiding behind the Bible and religion and doing all these terrible things and feeling justified in all he's doing," the show's creator says. "He doesn't realize it. He's so delusional like a lot of people like that are. They are motivated and blinded by their own righteousness. I didn't write him thinking of him as the bad guy. I wrote him as a seriously screwed-up good guy."
But his contradictions — he nearly weeps after massacring one family and feels broken and betrayed by the adopted son who fled him — make him skilled at looking into the wounded souls of others.
"I'm just wondering what it was took the life out of your face," Griffin asks a sheriff who is pursuing him. "Was it the weather like most men who live out this way or was it maybe things you've seen?"
See the most-read stories this hour »
"I'm just wondering what it was took the life out of you face. Was it the weather like most men who live out this way or was it maybe things you've seen?"
— Frank Griffin (Jeff Daniels) in "Godless"
Twitter: @JeffreyLAT
ALSO
Tweets, sexual abuse and racial divides shook the entertainment industry and beyond in 2017
Will Hollywood lawyer Martin Singer's pitbull tactics still work in a post-Weinstein era?
Voices of the City: Robin Coste Lewis' fierce and arresting poetry has its roots in Compton
---
Get our L.A. Goes Out newsletter, with the week's best events, to help you explore and experience our city.
You may occasionally receive promotional content from the Los Angeles Times.