IMDb file: Hugh Bonneville, the squire of 'Downton Abbey,' has a rich TV and film career, including the 'Paddington' movies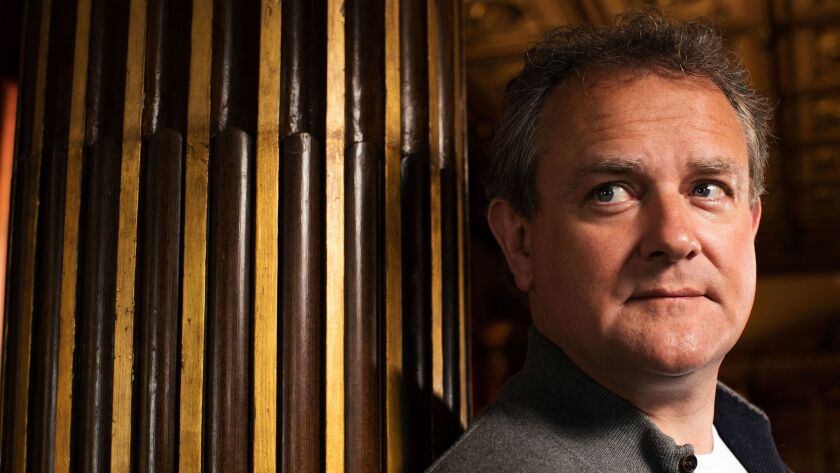 "We've all been a Paddington at some point in our lives," Hugh Bonneville says, explaining his decision to return for a sequel after the success of 2014's "Paddington."
"We've all been strangers in a strange land when we've arrived at a new school or a new town. And we've relied on the kindness of strangers. I identify with Paddington — and I really love seeing him get into a mess. He always resets the dial to positive. He never does anything out of malice. It's always about trying to help others out of the spirit of inquiry."
Bonneville, 54, returns as uptight patriarch Henry Brown in "Paddington 2," which came out earlier this month. In this one, Henry is slightly more daring, thanks to the kind-hearted bear who has now joined his family. "The first one was a delight," the London-born actor notes. . "It became a bit of a family on the first one. It was just lovely to be back with the gang, really."
The actor has come a long way since he got his start in films like "Mary Shelley's Frankenstein" and "Notting Hill" in the '90s. Bonneville's role as the loving but stern Lord Grantham in six seasons of "Downton Abbey" helped bring him international visibility, as has his work in "Paddington" and the new sequel. But Bonneville credits it all to good fortune, not some master plan for his career. "The only thing that threads them together is luck," he says. "I'm incredibly lucky to have avoided the tap on the shoulder for 30 years to go and get a proper job."
Here Bonneville discusses some of his most seminal roles, including Robert Crawley in "Downton Abbey" and Bernie from "Notting Hill."
"Paddington 2," Henry Brown (2017)
"There's a tiny, tiny moment in the film that brought home just how old I am. I had to do a bit of extreme yoga with all these yogis lined up next to me. This guy did this extraordinary thing with his legs and I can barely touch my toes. I just thought, 'This is embarrassing.' But luckily that was the whole point of the scene. It reminded me to get back down to the gym."
"Breathe," Teddy Hall (2017)
"I've known [director] Andy Serkis socially over the last 25 years or so. I'm very, very fond of him — as most of the profession is. The idea of him being behind the camera was a huge tick. This story is an extraordinary one. It's a very powerful tale of triumph in adversity, and to play a tiny part in that was a great privilege, really.
"Downton Abbey," Robert Crawley, Earl of Grantham (2010-2015)
"I wouldn't be playing with a furry bear if it weren't for 'Downton Abbey.' All of us have benefited hugely from it. But I think the most amazing thing is that after six seasons, we're all still friends. It was a very happy experience from start to finish. So many memories: From the thrill of meeting Shirley MacLaine and chatting about Jack Lemmon to sitting four feet from Dame Kiri Te Kanawa while she played the piano to us to making sure I was able to hit Elizabeth McGovern with my blood when my ulcer burst. That was my main objective with that scene, and I achieved it."
"Paddington," Henry Brown (2014)
"In the books, the satellite characters who are around Paddington in the family are not developed. They don't have strong character traits, so there was an open book on how we wanted to develop both Mr. and Mrs. Brown. We had a lot of fun improvising and developing the relationship and how it worked. Sally Hawkins is such an amazing actress to work with. We went down a lot of blind alleys and finally Paul said, 'Just go and watch "Manhattan Murder Mystery."' We did and that was a great gear change for us. It was a good benchmark of the tone."
"Doctor Who," Henry Avery (2011)
"It all came about because after a season of 'Downton,' where I had to get up every day and shave, I'd usually let myself go completely. I grew a beard and my agent called me up one day and said, 'Have you still got a beard? Don't shave it off — they want a pirate.' So I went and played with them for a couple of weeks down in Bristol and it was great. And I got to go in the Tardis. I mean, I didn't actually have any scenes in the Tardis, but I got to go and visit it, which was very exciting."
"Iris," Young John Bayley (2001)
"I had to audition for it at the read-through. [Director] Richard Eyre had wanted to cast me, but the other producers had never heard of me. I got this peculiar phone call from Richard saying, 'We're going to do the read-through at my house on Friday and I really want you to do the part. The producers want to see what I'm on about.' I asked to do some rehearsal with Kate Winslet, but she wasn't available. I asked to spend some time with Jim Broadbent to see how he was approaching the part, but he was flying in. I arrived early, sweating like a pig. Jim came down the stairs and I said, 'How are you playing John Bayley?' He said, 'Didn't you hear the tape?' I said, 'No!' I had to copy him as he started reading and sort of mimic him. It was a hair-raising experience, but I got the part."
"Notting Hill," Bernie (1999)
"I got a phone call from [director] Roger Michell saying, 'Really thrilled that you're going to do it, but we've got a problem and it's to do with your weight.' I said, 'I've been on a diet. I've been getting fit. I'm really going to work on it.' He said, 'No, no. The problem is you're too thin. The character is meant to be a bit porky.' So with the costume designer we started working on getting a bit of tummy padding. On the first day of filming, we got this padding fitted and showed Roger and he said, 'I'm sorry, I just don't quite believe it.' We went back to wardrobe and came back. Roger said, 'That's it! That's perfect. What have you done?' And I lifted my shirt and it was my own stomach. So they just kept bringing sandwiches my way and reminding me to stick my stomach out."
"Tomorrow Never Dies," Air Warfare Officer — HMS Bedford (1997)
"When your agent calls and says, 'Do you want to go and audition for this little part in a Bond movie?'," you say, 'Of course.' It turned out to be two days in a simulator in Portsmouth with all these naval cadets, who are hopeless actors at fumbling out a line. But if you look closely at that movie, you'll see half the cast of 'Downton Abbey.' It's a who's who with everyone looking about 12 years old."
---
From the Emmys to the Oscars.
Get our revamped Envelope newsletter, sent twice a week, for exclusive awards season coverage, behind-the-scenes insights and columnist Glenn Whipp's commentary.
You may occasionally receive promotional content from the Los Angeles Times.