L.A. movie openings, Feb. 13-15: 'Isn't It Romantic' with Rebel Wilson, 'Alita: Battle Angel' and more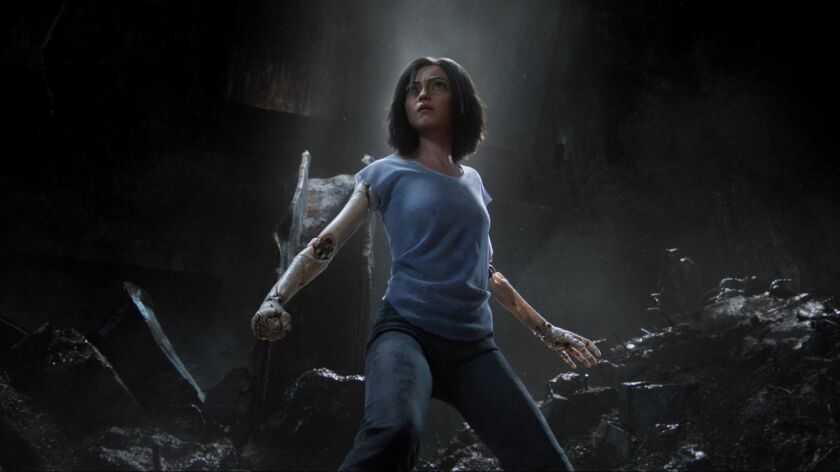 Feb. 13
Isn't It Romantic
A cynical woman gets knocked unconscious then wakes up in the world of a romantic comedy. With Rebel Wilson, Liam Hemsworth, Adam Devine, Priyanka Chopra. Written by Erin Cardillo, Dana Fox, Katie Silberman; story by Cardillo. Directed by Todd Strauss-Schulson. (1:28) PG-13.
Feb. 14
Alita: Battle Angel
A young female cyborg fights to unlock the secrets of her past. With Rosa Salazar, Christoph Waltz, Jennifer Connelly, Michelle Rodriguez, Jeff Fahey, Mahershala Ali, Ed Skrein, Jackie Earle Haley. Written by James Cameron, Laeta Kalogridis, Robert Rodriguez; based on a graphic novel by Yukito Kishiro. Directed by Robert Rodriguez. (2:02) PG-13.
Fighting With My Family
British siblings try to break into the world of professional wrestling. With Florence Pugh, Lena Headey, Nick Frost, Jack Lowden, Vince Vaughn, Dwayne "The Rock" Johnson. Written and directed by Stephen Merchant. (1:48) R.
Parkland: Inside Building 12
Documentary by Charlie Minn tells the stories of survivors of last year's mass shooting at Marjory Stoneman Douglas High School in Florida. (1:59) NR.
Feb. 15
The Bellwether
A woman is held captive by an all-knowing conspiracy in this thriller. With Alex Reid. Written and directed by Christopher Morrison. NR.
Birds of Passage
An indigenous family in Colombia becomes involved in the marijuana trade. With Carmiña Martínez, José Acosta, Natalia Reyes. Written by Maria Camila Arias, Jacques Toulemonde Vidal; based on an idea by and directed by Cristina Gallego, Ciro Guerra. In Wayuu, Spanish and English with English subtitles. (2:05) NR.
Donnybrook
Desperate brawlers compete in an underground tournament. With Jamie Bell, Frank Grillo, Margaret Qualley, James Badge Dale. Written and directed by Tim Sutton; based on a novel by Frank Bill. (1:41) R.
Happy Death Day 2U
Sequel to the 2017 horror thriller about a college coed reliving the day of her own murder. With Jessica Rothe, Israel Broussard, Ruby Modine. Written by Christopher Landon; based on characters created by Scott Lobdell. Directed by Landon. (1:40) PG-13.
The Image Book
Legendary filmmaker Jean-Luc Godard examines iconic images in film, photography, art and culture in this visual essay. (1:24) NR.
Lords of Chaos
Fact-based drama about violence and vandalism in Norway's black-metal music scene. With Rory Culkin, Emory Cohen, Sky Ferreira. Written by Dennis Magnusson, Jonas Åkerlund; based on the book by Michael Moynihan, Didrik Søderlind. Directed by Åkerlund. (1:58) R.
The Maestro
Biographical drama about unsung movie composer Mario Castelnuovo-Tedesco. With Xander Berkeley, Sarah Clarke, Leo Marks, Jon Polito. Written by C.V. Herst. Directed by Adam Cushman. (1:34) NR.
Patrick
A young woman whose life is a mess inherits her grandmother's spoiled pug. With Jennifer Saunders, Beattie Edmondson, Ed Skrein. Written by Vanessa Davies, Mandie Fletcher, Paul de Vos. Directed by Fletcher. (1:34) NR.
Pig
A blacklisted filmmaker faces personal and professional challenges in this dark comedy from Iran. With Hasan Majuni, Leila Hatami. Written and directed by Mani Haghighi. In Farsi with English subtitles. (1:48) NR.
To Dust
A Hasidic cantor seeks solace in science after his wife's untimely demise. With Géza Röhrig, Matthew Broderick. Written by Jason Begue, Shawn Snyder. Directed by Snyder. (1:45) R.
A Tuba to Cuba
New Orleans' venerable Preservation Hall Jazz Band visits the island nation in this music doc. Directed by T.G. Herrington, Danny Clinch (1:22) NR.
Virginia Minnesota
Two young women revisit a shared tragedy from their childhood. With Aurora Perrineau, Rachel Hendrix, Susan Walters, Harold Perrineau. Written and directed by Daniel Stine. (1:38) NR.
---
From the Emmys to the Oscars.
Get our revamped Envelope newsletter, sent twice a week, for exclusive awards season coverage, behind-the-scenes insights and columnist Glenn Whipp's commentary.
You may occasionally receive promotional content from the Los Angeles Times.