SoCal movie events and revivals, March 10-17: 'Attack the Block,' 'Blazing Saddles' and more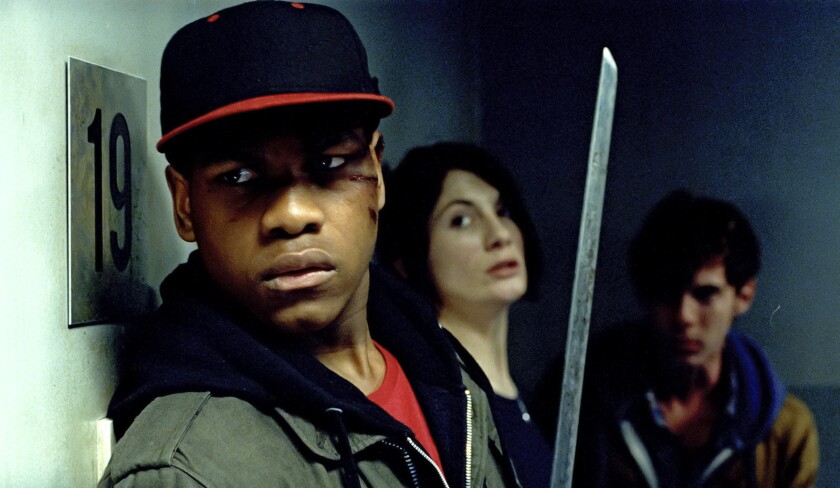 Disney in Concert: A Silly Symphony Celebration Classic animated shorts with live accompaniment by CSUN Symphony Orchestra. Younes and Soraya Nazarian Center for the Performing Arts, 18111 Nordhoff St., Northridge. Sun., 3 p.m. $30 and up. www.TheSoraya.org.
Beyond the Valley of the Dolls Russ Meyer's campy 1970 cult classic, written by film critic Roger Ebert, about an all-girl band partying hard in Hollywood. LACMA, Bing Theater, 5905 Wilshire Blvd., L.A. Tue., 1 p.m. $2, $4. www.lacma.org.
Grease Rooftop screening of the 1978 adaptation of the Broadway musical about the romance between two 1950s high schoolers from very different backgrounds; with John Travolta and Olivia Newton-John. The Montalbán, 1615 Vine St., Hollywood. Tue., 8 p.m. $18. www.ArenaCinelounge.com
Hillbilly New documentary examines daily life in present-day rural Appalachia; a panel discussion follows. Musco Center for the Arts, Chapman University, 415 N. Glassell St., Orange. Tue., 7:30 p.m. Free. www.muscocenter.org.
Finding Shelter This new documentary tracks the creation of a fact-based 2016 play about unaccompanied minors from Central America making the perilous trek to the U.S. The Sotomayor School for Science and Art, 2050 N. San Fernando Road, L.A. Wed., 7:30 p.m. Free. www.centerfornewperformance.org.
Blazing Saddles Cleavon Little and Gene Wilder costar in director Mel Brooks' raunchy, riotous 1974 western spoof; with Brooks, Harvey Korman, Madeline Kahn, Slim Pickens. Laemmle NoHo 7, 5240 Lankershim Blvd., North Hollywood. Thu., 7:30 p.m. $9-$12. www.laemmle.com.
Attack the Block Young toughs defend their London apartment complex against invaders from space in this sci-fi/comedy mashup directed by Joe Cornish; with John Boyega, Jodie Whittaker, Nick Frost; presented by Secret Movie Club. The Vista Theatre, 4473 Sunset Dr., L.A. Fri., 11:59 p.m. $11-$54. www.eventbrite.com.
Birdman or (The Unexpected Virtue of Ignorance) Drummer-composer Antonio Sánchez performs his Grammy-winning original score to accompany a screening of Alejandro González Iñarittu's Oscar-winning 2014 fable; with Michael Keaton, Zach Galifianakis, Edward Norton, Emma Stone, Naomi Watts. Carpenter Performing Arts Center, 6200 E. Atherton St., Long Beach. Fri., 8 p.m. $40. www.CarpenterArts.org
A Week of French Language Cinema 10th annual festival includes short films, features and animated works from France, Switzerland, Cameroon, Canada, etc.; all films in French with English subtitles, Théâtre Raymond Kabbaz, Le Lycée Francais de Los Angeles, 10361 W. Pico Blvd., L.A. Starts Fri.; ends March 20. $5. www.theatreraymondkabbaz.com.
---
Get the Indie Focus newsletter, Mark Olsen's weekly guide to the world of cinema.
You may occasionally receive promotional content from the Los Angeles Times.