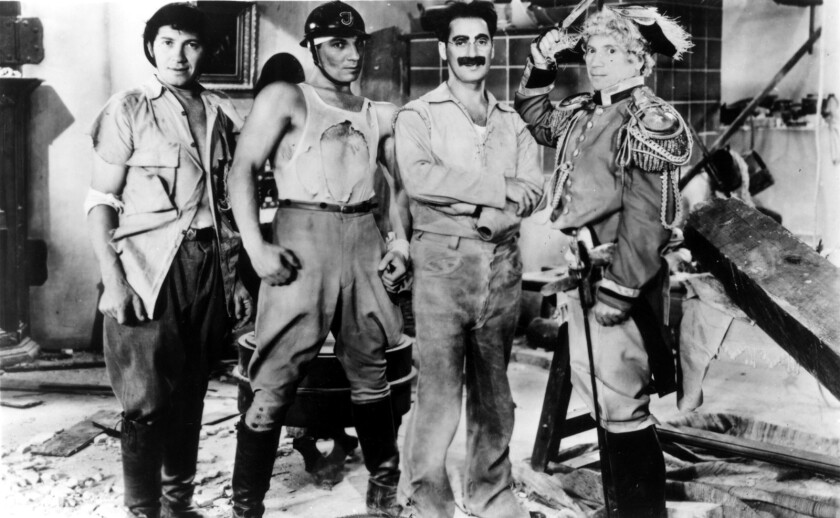 Mafia Movies Francis Ford Coppola's Oscar-winning 1972 crime family saga "The Godfather" starring Marlon Brando and Al Pacino screens with the 1972's "The Valachi Papers" starring Charles Bronson. New Beverly Cinema, 7165 Beverly Blvd., L.A. Sun.-Mon., 6 and 9:25 p.m. $10. www.thenewbev.com.
2001: A Space Odyssey Director Stanley Kubrick's effects-laden 1968 sci-fi fable, co-written by author Arthur C. Clarke; with Keir Dullea, Gary Lockwood, and Douglas Rain as the voice of the HAL 9000 computer. American Cinematheque, Egyptian Theatre, 6712 Hollywood Blvd., Hollywood. Sun., 7:30 p.m. $15. www.americancinematheque.com.
Marx Brothers Double Feature Groucho, Chico and Harpo costar in the classic 1933 farce "Duck Soup" and the 1937 romp "A Day at the Races." American Cinematheque, Aero Theatre, 1328 Montana Ave., Santa Monica. Tue., 2 p.m. $12. www.americancinematheque.com.
Akira All hell breaks loose in Neo-Tokyo in this visually stunning, post-apocalyptic 1988 anime tale. Landmark Nuart Theatre, 11272 Santa Monica Blvd., West L.A. Fri., midnight. $12. www.landmarktheatres.com.
William Goldman Month The Writers Guild of America West kicks off a four-film series celebrating the late screenwriter's work with the Oscar-winning 1969 western "Butch Cassidy and the Sundance Kid" starring Paul Newman and Robert Redford; with pre-show remarks by screenwriter Aaron Sorkin in person. Writers Guild Theater, 135 S. Doheny Drive, Beverly Hills. 7:30 p.m. Friday. Free. www.wga.org
---