20 years later, David O. Russell looks back on 'Flirting With Disaster'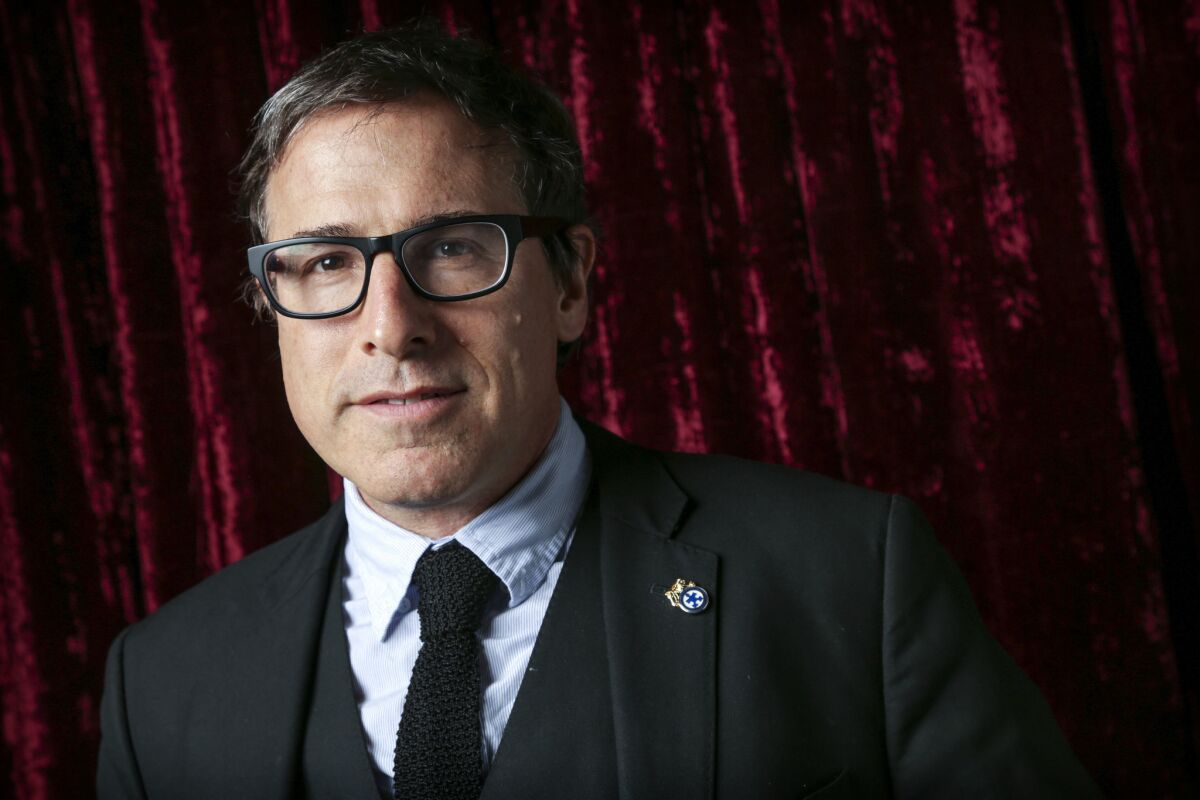 David O. Russell in 2016 is a five-time Oscar-nominated filmmaker known for such films as "The Fighter," "Silver Linings Playbook" and "American Hustle." David O. Russell in 1996 was a relatively little-known independent filmmaker seeing to the release of his second movie, "Flirting With Disaster."
AFI Fest will celebrate the 20th anniversary of "Flirting With Disaster" with a screening Friday night, followed by a Q&A with Russell.
The film weds a snowballing comedic momentum to concerns over identity and family, as Ben Stiller plays a new father suddenly anxious to find the birth parents who put him up for adoption as a child. The film's outrageous sensibility — LSD and armpit licking feature as plot points — nevertheless points the way toward the bristling energy of Russell's more recent work. The film has a staggering cast that also includes Patricia Arquette, Téa Leoni, Josh Brolin, Richard Jenkins, Mary Tyler Moore, George Segal, Alan Alda and Lily Tomlin.
In his review at the time, Times critic Kenneth Turan wrote of the film, " 'Flirting With Disaster' doesn't just begin, it irrepressibly erupts, like Champagne too impatient to stay in the glass. A beautifully balanced, frenetic comedy about searching for love in too many places, 'Flirting' thrusts you into a sexy, giddy maelstrom of confusion, mischance and misadventure that gets funnier and funnier as it goes along."
Russell got on the phone earlier this week to talk about his memories of the movie and how it led to the filmmaker he is today.
When was the last time you watched the movie?
I haven't watched it in a while. I've seen scenes from it. I'm looking forward to watching it, and I can say there are sections of it I've watched that crack me up, which was the entire undertaking, for the purpose of laughter. I just wanted to make a comedy at the time. I remember laughing when I was writing it.
Does it feel like 20 years have gone by?
It's definitely been a lifetime, because my oldest son was 1 year old when I was making the film and he's 22 now. And in 20 years, I've gone through quite a lot of chapters as a filmmaker and different transitions in my own life. When I made that picture, I was still a burgeoning filmmaker, it has a freshness and a fun to it. The last three or four films are when I really began to do more of the kind of work I had been wanting to do and everything else was a prelude to, in a way. It made sense when I arrived at "The Fighter" and "Silver Linings" and "American Hustle" that those felt like they were coming together. When you're young, you have things you want to do and sometimes you don't fully know what you want to say or how to say it. And I feel like that is something that changed in 20 years.
How do you look back on the filmmaker you were then?
Well, as I say, there is a way of seeing and feeling things that you don't even realize you're doing it because it's just kind of who you are. It's the way I seem to experience people and situations that simultaneously is emotional, strange and funny. It's all happening at the same time, it can be all these things at the same time. And sort of the kinetic-ness and an intensity to what happens that I think is always dramatic too. That's something I think I'm always drawn to, and having scenes with a lot of people in a room, they start gyroscoping.
It's embracing the dysfunctional... the movie was about having an idea in your head and life being something else.
— David O. Russell on "Flirting With Disaster"
Is that where that specific energy of your films comes from, just having a lot of people in the scenes?
But you have to orchestrate it. It's sort of like a song, those scenes. They're written and they're rehearsed, with a rhythm, and it's very particular how you create them. And you do them again and again and again and everybody gets the rhythm and gets what's happening. It's almost dance-like. That's what we do when we rehearse and then that's what we do when we're on set. That dinner table scene where Richard Jenkins is on acid is something that everybody really felt on the day, and there were things that people did that were surprises, like when Lily Tomlin lifted her leg up.
And "Flirting" in some ways was embracing gay marriage and gay adoption and all that stuff and exploding the myth of the dysfunctional family. It was having fun with it, and in a strange way, saying there's not some ideal thing that you're going to find, that's a journey without a destination. So the fantasy of an ideal, the movie is having fun with it and just keeps blowing it up.
Blowing up the trope of the dysfunctional family?
I think it takes the idea that you're going to find an ideal and blew that up. So, in a way, it's embracing the dysfunctional. It's sort of deconstructing the idea of dysfunction. It's saying, "Isn't all function in some way a perfectly imperfect thing?" Which is what "The Fighter" is in a way and "Silver Linings" in its own way. I was definitely aware that the movie was about having an idea in your head and life being something else.
SIGN UP for the free Indie Focus movies newsletter »
Follow on Twitter: @IndieFocus
---
Get the Indie Focus newsletter, Mark Olsen's weekly guide to the world of cinema.
You may occasionally receive promotional content from the Los Angeles Times.