Asghar Farhadi's new film goes deep into shame and vengeance in Iran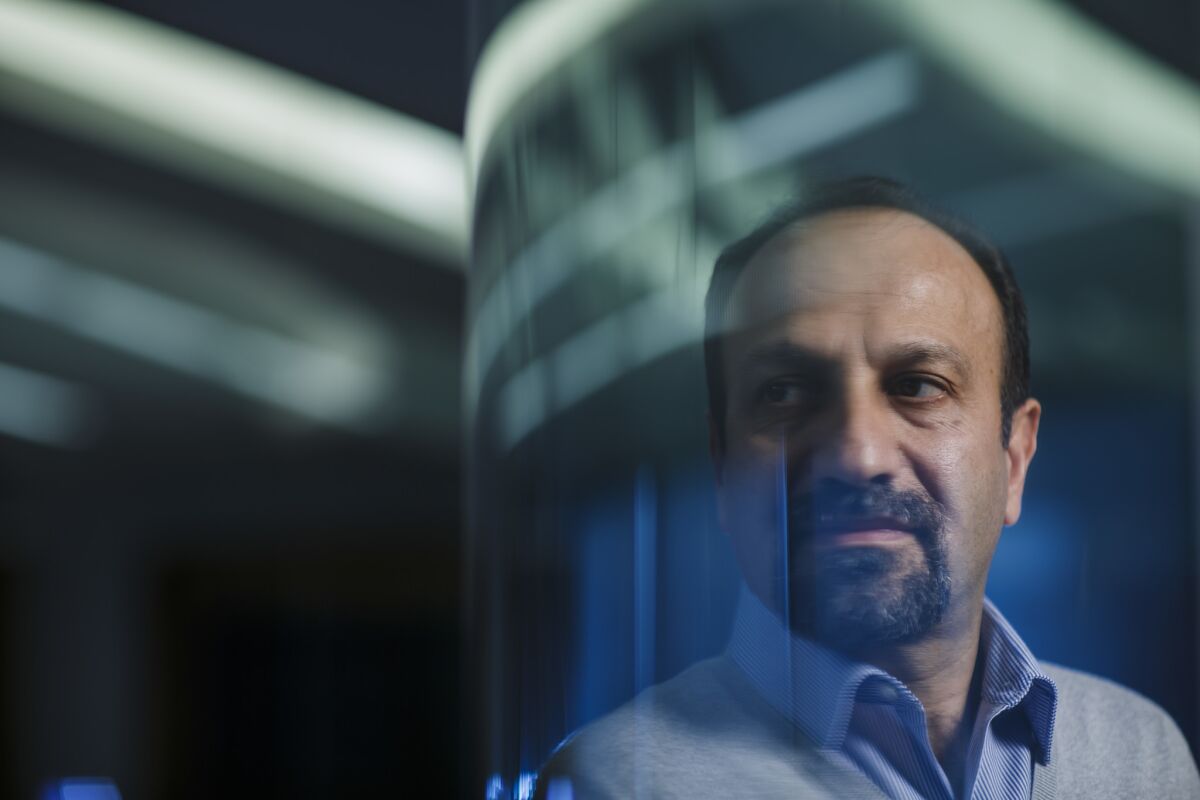 Iranian director Asghar Farhadi's films bristle with shattering moments: a woman vanishes, a baby is lost, a wife is violated, a husband is blinded by rage. We know their stories, they echo around us, the sins and shortcomings that scrape at our veneers and make us all too human.
Farhadi's new movie, "The Salesman," slips into the lives of Emad and Rana, husband and wife actors whose notions of each other are redrawn after a stranger enters their Tehran apartment and attacks Rana in the shower. The sacred has been spoiled. Rana grows withdrawn, Emad plots vengeance, and their sense of home — that delicately constructed illusion — turns from refuge to menace.
"It's in crisis that we reveal our true selves," Farhadi, whose 2011 "A Separation" won the Academy Award for foreign-language film, said in an interview. "Film to me is like a court trial. The spectator is the judge."
There is much to preside over in "The Salesman," which opens Friday and is nominated for this year's foreign-language Oscar. Emad and Rana struggle to hold things together while staging Arthur Miller's "Death of a Salesman," whose post-World War II New York of cultural change and capitalist cruelty plays like a metaphor for modern-day Iran. Even Rana's attacker is not the kind of bad guy we might expect.
It is a clever sleight of hand that turns tragic. But Farhadi is less concerned with tidiness and redemption than he is in the relativity of life, its shades and grays, and how its revelations offer deeper glimpses into the contradictions and imperfections that draw us to and tear us from one another. Once a crisis erupts, we see his characters in full: misunderstood, emotionally messy and so much like us, creatures needing succor despite their demons.
"I've never written a character that one could say one dislikes," Farhadi, a crisp man with a goatee, said through an interpreter as rain fell across West Hollywood. "If I would summarize all of my characters with one word it would be empathetic. Perhaps this is a reaction to the cinema of the world today. Filmmakers quickly divvy up characters into good guys and bad guys. But they don't give the bad guys an opportunity to defend themselves. It's a kind of dictatorship in filmmaking."
Farhadi's best films are layered collisions of conscience and consequence. "A Separation" is a morality tale in a struggle over past and present; "About Elly" (2009) explores the dangers of deception and the constraints of tradition; "The Past" (2013) shows how elusive truth is against jealousy, resentment and conflicting agendas. In each, as in "The Salesman," his characters are universal but also portraits of a young Iranian generation steeped in cosmopolitanism while navigating the confines of an ancient culture and a rigid Islam that adheres to blood money and arranged marriages.
Farhadi and other Iranian directors, including the late Abbas Kiarostami and Jafar Panahi, whose recent movie, "Taxi," was made secretly after he was accused of political dissent and placed under house arrest, have been praised in the West. But they are forced to either work within Iran's system of censors or leave the country. Farhadi, whose movies are not overtly political, has opted to stay, although "The Past" was shot in France.
He said censorship remains an issue — it's referred to in "The Salesman" — but "day by day it's growing more open." Others may disagree, but Farhadi is a man who does not want to complicate his career with an errant comment to a journalist. After discussing censors and his country's restrictive politics, including the recent death of former President Ali Akbar Hashemi Rafsanjani and the battle between conservatives and reformists, Farhadi looked up and remarked: "We've talked about sensitive topics. Please report exactly what I said."
But the Iran of his youth is changing. Despite years of economic sanctions, some of which were lifted after the nuclear agreement struck between Tehran and Washington in 2015, Farhadi said the country is feeling the ripple of globalization and the reach of capitalism. He compared it to the upheaval that buffeted Willy Loman, the tragic protagonist in "Death of a Salesman." It is another manifestation of the struggle between modernity and tradition in a society that has produced great poets and architecture along with terrorism and persistent intrigue.
An individual may appear to be modern, but in certain circumstances they reveal themselves as anything but.
— Asghar Farhadi
"I don't want to say the conditions in Iran are the same as those in New York at that time," he said. "But in appearance everything is becoming modern in Iran. Buildings and skyscrapers going up. Old buildings are being torn down. Arthur Miller is staged there. There's cinema. But once you push that back you see Iran's culture and tradition beneath. An individual may appear to be modern, but in certain circumstances they reveal themselves as anything but."
He added: "It is really a dispute between the past and the future. It's definitely resolvable, but the cost is high. Many people will be sacrificed in this change, in the same way Willy Loman's family was sacrificed at that time in New York."
There are other pressures too. Iran's political forces are plotting over the eventual successor to supreme leader Ayatollah Ali Khamenei. Donald Trump's election — Farhadi preferred Bernie Sanders — is likely to strain U.S.-Iran relations at a crucial time and could threaten the nuclear agreement. Trump has called the pact, which prevents Tehran from producing an atomic bomb, "the worst deal ever negotiated."
"What's happening now is a cause for concern," said Farhadi. The nuclear agreement, he added, "held great symbolic value. It stood for the idea that things could be discussed and resolved. This was a beginning. If the new president wants to cut off that beginning, it will take a very long time to reach that point again."
Farhadi's characters are less concerned with the world's political questions than dwelling in a realism driven by foibles and transgressions and marked by forgiveness and repudiation. They are small lives cast against big, often self-inflicted dramas that test love, friendship and force them to stand flawed and unadorned before one another, much like the cracks in Willy Loman's veneer. The attacker in "The Salesman," for example, ends up with both our sympathy and our condemnation.
Farhadi regards his films as local tales. They sweep like storms through rooms in houses and apartments, shaking the sanctuary and meaning of home. He says it's "still strange" to think his stories resonate with audiences outside Iran. That was the case with "A Separation," a fable set around a wife's attempt to divorce her husband. The film examines working class disdain for the elite and the passions — both petty and grand — that arise around religion, cosmopolitanism and the desire to seek a better life in a new place.
"My feeling was this was a film that would only be seen in Iran. My friends were, like, 'Isn't it a shame.' I remember we didn't even budget for subtitles because we thought this isn't a film that's going to make it abroad. But it turned out to be the opposite, and I came to realize the people the world over resemble each other far more than they differ from one another."
See the most-read stories this hour »
Twitter: @JeffreyLAT
---
Get the Indie Focus newsletter, Mark Olsen's weekly guide to the world of cinema.
You may occasionally receive promotional content from the Los Angeles Times.