The new book 'Into the Dark' illuminates the shadows of film noir classics
When Mark A. Vieira set out to write "Into the Dark: The Hidden World of Film Noir, 1941-1950," he was keenly aware that hundreds of books already existed on the subject.
Not only has noir been written about exhaustively but it is also the slipperiest of genres. There is "so much ground for disagreement," says Vieira. "The whole film noir realm is pretty much subjective. With pre-code [films], you have two dates — you have brackets. But with film noir, what is it? And nobody's going to agree."
The basic elements of what makes noir are fairly well established. A visual style emphasizing shadows and a variant use of angles; criminals, detectives and other habitués of the demimonde as protagonists; and, as film historian Alan K. Rode told Vieira, a world in which "a character makes a mistake and has to pay and pay and pay … "
The term "film noir" was not coined until 1946 by French critic Nino Frank and did not achieve common usage in the U.S. for another quarter century. Filmmakers of the 1940s did not set out to make film noirs; they were simply creating mysteries, thrillers and crime dramas that absorbed an evolving style influenced by pulp novels, German expressionism and Italian neorealism.
"I'm fascinated," Vieira says. "I wanted to know what people thought when these films were coming out. How were they regarded?" He dived into period newspapers, magazines and trade publications to gauge what audiences, exhibitors, filmmakers and critics were saying at the time.
The result is "Into the Dark," an entertaining, informative volume chock full of insightful quotes covering 82 films. With its lush pages of photographs, it's handsome enough to be considered a coffee table book – but one you will want to keep handy as a reference. Organized chronologically, it boasts thematic chapters titled "Shadowed," "Cynical," "Alienated," "Obsessed" and "Doomed," and places the thoughts of rural theater owners alongside those of filmmakers Orson Welles, John Huston and Billy Wilder.
Vieira, a photographer by trade, is also the author of books on Cecil B. DeMille, George Hurrell, the films of 1939, and Irving Thalberg, among others, so it's no surprise he took such care in curating the glorious, sometimes rare images that accompany the text. One of the challenges was tracking down photos, which in some cases influenced his choice of films. Ultimately, Vieira asked himself, "What kind of images did I want to include that hadn't been seen before or hadn't looked this good?" With his knowledge of Classic Hollywood lighting, Vieira worked on the vintage photos himself, restoring much of the fine detail.
The presentation of these films is also important to Vieira, and he has long held screenings at his Lafayette Park studio. On Aug. 13, he will team with the UCLA Film & Television Archive to present "Nitrate Noir," a double feature of "Leave Her to Heaven" (1945) — one of the few color films included in the book — and "Nightmare Alley" (1947).
In researching the voices of the era that would carry his story, Vieira found that the Los Angeles Times played a big part in the narrative. Staff writers such as Philip K. Scheuer and Edwin Schallert covered Hollywood thoroughly during the Golden Age, reporting, reviewing films and analyzing the industry. "They knew everybody at every level of the business," says Vieira. "It wasn't like Bosley Crowther in New York reviewing a film as an ex-theater critic, thinking, 'It's beneath me.'"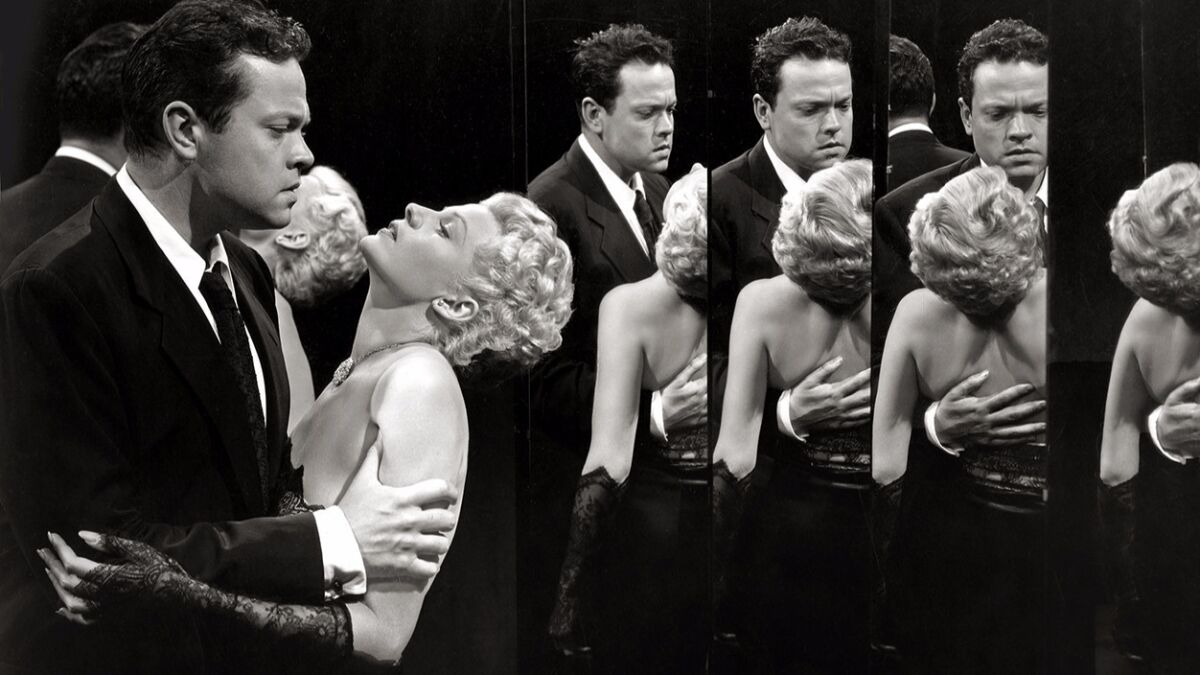 A question Vieira has been getting since the book's publication in May is why end with "Sunset Blvd." in 1950? The author gives two reasons, one practical — the book could be only so big — and one thematic.
"That cycle had pretty much completed itself," he says. "The films after '50 tend to be less about femme fatales and world-weary detectives and more about crime syndicates, communist infiltration, psychological problems. They really were different."
That said, most scholars conclude that film noir continued into the late 1950s, so Vieira doesn't rule out the alluring possibility of a sequel.
------------
"Into the Dark: The Hidden World of Film Noir, 1941-1950"
Mark A. Vieira
Running Press and Turner Classic Movies: 336 pp., $40
------------
"Nitrate Noir": "Leave Her to Heaven"/"Nightmare Alley"
Where: UCLA Film & Television Archive, Billy Wilder Theater, 10899 Wilshire Blvd., Los Angeles
When: Aug. 13
Tickets: $8-$9; free for UCLA students
Info: (310) 206-8013 www.cinema.ucla.edu/events/2016/08/13/nitrate-noir
ALSO:
As Kirk Douglas turns 100, a major UCLA retrospective looks at his amazing body of work
For the love of monsters: An insider tour of Guillermo del Toro's Bleak House before his LACMA show
Controversy, a first-time director and combustible stars: 'Who's Afraid of Virginia Woolf?' was hardly a sure thing
Get our L.A. Goes Out newsletter, with the week's best events, to help you explore and experience our city.
You may occasionally receive promotional content from the Los Angeles Times.