For the love of monsters: An insider tour of Guillermo del Toro's Bleak House before his LACMA show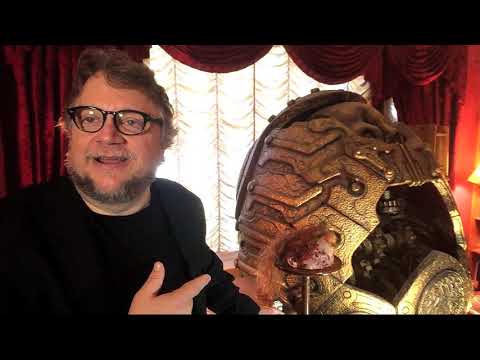 WATCH: Writer-director Guillermo del Toro takes us on a tour through Bleak House, his suburban L.A. home where he has amassed a formidable collection of art, books, horror movie props and other oddities that serve as inspiration for the filmmaker.
Guillermo del Toro is anxious. It's not the blue-faced vampire head baring a mouthful of mangled teeth that's making the filmmaker nervous. And he's hardly intimidated by the Frankenstein looming in the hallway.
Quite the contrary, these creatures inside the Los Angeles suburban home he calls Bleak House — the fairies in the corners, the aliens on the shelves, the monsters all around — are his companions, and he is their caretaker.
No, Del Toro is uncomfortable on this June morning because so many of his frightening friends are missing.
Just a day earlier, a crew of movers carted off some of his most beloved Bleak House creatures to the Los Angeles County Museum of Art, where a new exhibit, "Guillermo del Toro: At Home With Monsters," opens Monday.
"Yesterday was tough," Del Toro says, referring to the first of many packing days to come. "For me, this feels empty, you know?"
He gestures toward a red wall covered in vintage movie posters and elaborate horror-touched landscapes. Undetectable at first glance to the civilian eye is one bare patch on the wall with only a picture hanger remaining as evidence that something was taken.
For the first time, he says, he understands what his mother meant when they would have guests over in Mexico and she would protest that their perfectly tidy family home was in disarray. He thought she was crazy; now he gets it.
But even with some of Del Toro's most prized monsters and oddities swept off to LACMA, any movie buff worth her Criterion Collection "Cronos" DVD would gladly give her eye teeth to get inside Bleak House.
Sketches from Sir Arthur Conan Doyle's father? That's in Bleak House. Rare illustrations by artist Stephen Gammell from "Scary Stories to Tell in the Dark"? Del Toro's got nine. A historical text of the first time the phrase "fairy tale" was ever used in the English language? That's just one of the many relics that live in this extensive collection.
Life-size statues of author H.P. Lovecraft and Gothic poet Edgar Allan Poe hang out in the libraries (yes, there are multiple libraries at Bleak House, one solely dedicated to books on vampires and werewolves). Vintage posters, hidden rooms and all manner of odd objects transform Del Toro's home into a walk-through curiosity cabinet.
And that's not even taking into consideration the copious movie props, concept art and gargantuan statues that come straight off the sets of the director's own films.
It's a curated compilation of geeky delights and monstrous memorabilia large enough to shame the most avid collector. In fact, Del Toro's archive is now so vast that he bought his neighbor's house, which he lovingly refers to as Bleak 2, to display more objects. But despite the sheer enormity of his treasure trove, Bleak House is not cluttered. Del Toro knows where everything and anything lives.
"Do you want to see my first werewolf?" Del Toro asks, shaking off his initial anxiousness and seeming to find new energy from the objects around him. Just like that he's off into the garage, which is also a makeshift studio, and plucks up a furry little creature, holding it up proudly. This is the first monster he ever made, cobbled together from his grandmother's fake fur coat. Now the werewolf lives next to the Hugo Award he won for his 2006 film "Pan's Labyrinth."
"If a weird kid in America is weird, a weird kid in Guadalajara is super weird," Del Toro says of his childhood in Mexico. "I was out of place, out of time. When I found 'Famous Monsters of [Filmland],' I said, 'Oh, there are adults doing this. So, there is a model, a very strange model, but a model I can follow.' I hope someone somewhere sees the exhibit and says, 'OK, so, there's a weird guy that kind of has it together in some way.'"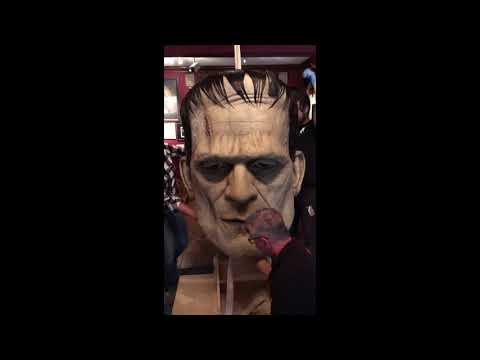 The 7-foot statue of Boris Karloff's head as Frankenstein's monster (created by artist Mike Hill) is delicately removed from Guillermo del Toro's Bleak House and shipped off for the Los Angeles County Museum of Art exhibit, "Guillermo del Toro: At H
Previously, the only way you could get into Bleak House was through a personal invite from the monster caretaker himself. Directors such as James Cameron, Jon Favreau and J.J. Abrams have all had a sneak peek inside. But Del Toro is the first to tell you that Bleak House wasn't built for the Hollywood elite. This is why he's taking his monsters to LACMA for four months. For all the little kids who had to make their own werewolf toys. Starting Monday, fans, moviephiles, horror hounds and those who just appreciate a good skeleton can see the curated items straight from Bleak House on display.
"We've wanted to work with him," LACMA director Michael Govan said earlier this year about del Toro to a small group of L.A. Times journalists. "The idea is for him to make it an installation work, with objects from his collection. It's not a chronology of his work, it's a teasing out of his interests." Next year, LACMA's Del Toro exhibit will travel to the Minneapolis Institute of Art and Toronto's Art Gallery of Ontario.
I'm not interested in the mechanics of the scary horror. I'm interested in the sort of kinship it has with fairy tales. The dark, magical beauty of horror."
— Guillermo del Toro
"I was attracted to monsters when I was in the crib," Del Toro says from the couch in his horror library. Surrounded by his ghosts and goblins, he likens sharing the contents of his spooky home to something evangelical. He has a higher calling to share the good word of monsters. Contrary to what some folks believe, it's not all dark.
"I love praising monsters," Del Toro says. "I love telling people how great and beautiful horror stories can be. I'm not interested in the mechanics of the scary horror. I'm interested in the sort of kinship it has with fairy tales. The dark, magical beauty of horror."
Sitting in his Bleak House, it's hard not to get swept up by the otherworldliness of it all. Even the twisted teeth of the blue-faced vampire bust from the Stephen King miniseries "Salem's Lot" appears to be smiling in Del Toro's world, not threatening. This is the feeling he hopes to project in his curated exhibit. The keeper of monsters wants to rejuvenate the often sullied name of horror, and show the people the beauty of the things that go bump in the night.
"It's a ministerial task. Most people identify fantasy genres, especially horror, with a sort of low-grade, B-movie effort, whose only purpose is to scare. What I want is to say is, 'Look, the creation of worlds like that is incredibly full of minutia and attention to detail, and it's a filigree.' In my case, I try to make it an incredibly Baroque endeavor of image arrangement."
Consider the centerpiece of Del Toro's exhibit, the 7-foot face of Boris Karloff as Frankenstein's monster sculpted by artist Mike Hill. The expression was selected with great care and intent. The artist hoped to re-create the excitement audiences felt in the theater the first time they saw Karloff's face coming out of the darkness in the 1931 film.
"[Hill] said Frankenstein's creatures had become so tame through appearing in cereals [and] toys that he wanted to recreate the original impact," Del Toro says. "That's a piece that I think has a beautiful impulse behind it."
It's apparent that everything in Bleak House has a greater significance to Del Toro. He almost winces while describing the first horror book he ever purchased, back in 1971. "It's called 'The World's Best Horror Stories,' and they are not," he says. "Some of them are OK. Some of them are good, but they are not the best." Even when being politely unkind to an inanimate object, the director doesn't like to cast shade on the genre.
A closer look at one shelf inside Bleak House shows that Del Toro practices what he preaches. Rare pieces of art from H.R. Giger or Zdzisław Beksiński share space with the crew logo patch from "Alien's" USCSS Nostromo or a plastic figurine from ABC's 1990s puppet sitcom "Dinosaurs." It's a pop culture collection of high and low.
And it's a collection Del Toro plans to keep going not only after the LACMA exhibit closes but long after he's gone.
"My goal, if I can afford it and I can set it up, which I'm trying to, is that these two houses stay put after I go," he says. "That I finance a writer-in-residence program that keeps them open for people in the fantasy and horror field to live in them free of charge for six months at a time — and just give us a little credit at the end of the novel or the book or whatever or the film."
This way the monster gospel can live on into the next generation.
---
'Guillermo del Toro: At Home With Monsters'
Where: Los Angeles County Museum of Art,
When: Aug. 1 to Nov. 27
Admission: $25 for adults, seniors and students; children and members are free.
Info: (323) 857-6010, lacma.org
MORE:
For Guillermo del Toro, home is where the horror is in 'Crimson Peak'
Brutal honesty marks Inarritu's bond with Cuaron, Del Toro
Guillermo del Toro: 'Crimson Peak' is 'the most carefully designed movie I've done'
Get our L.A. Goes Out newsletter, with the week's best events, to help you explore and experience our city.
You may occasionally receive promotional content from the Los Angeles Times.