Paul Thomas Anderson's 'Phantom Thread' is one in a long line of Hollywood films on obsessive love
Paul Thomas Anderson's latest film, "Phantom Thread," is a heady and often haunting examination of the dynamics of love — obsessive love, foolish love and the games couples play during the dance of love.
The film is set in 1950s London in the couture fashion world and stars Daniel Day-Lewis, who earned an Oscar for Anderson's 2007 masterpiece "There Will Be Blood," as Reynolds Woodcock, a fashion designer who expresses his passion more through his clothes than with people. But his ordered universe, run by his sister, Cyril (Lesley Manville), is turned on its head when he meets Alma (Vicky Krieps), a waitress at a seaside hotel restaurant who becomes his latest muse and lover.
In a recent interview with The Times' Mark Olsen, avid TCM fan Anderson explained that he watched the films of Michael Powell and Emeric Pressburger, David Lean's "Brief Encounter" from 1945 and "The Passionate Friends" (1949), and Alfred Hitchcock's "Rebecca" (1940) and "Vertigo" (1958) before he began production.
But there are other vintage movie stories that examine obsession, strange romances and unlikely love affairs. Here are a few:
"Pygmalion"/"My Fair Lady"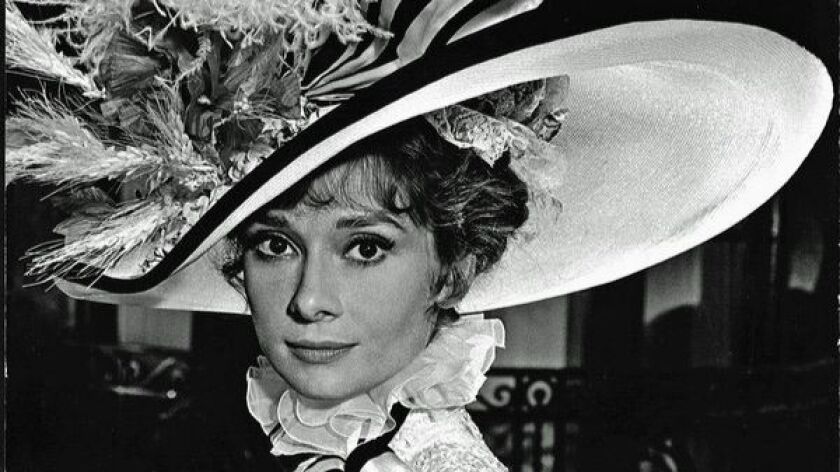 George Bernard Shaw's classic is based on the Greek myth of a sculptor who carves a statue of a woman and then falls in love with her. In some ways, Day-Lewis' Woodcock is cut from the same cloth as professor Henry Higgins (Leslie Howard), the snobbish British linguist who takes a Cockney flower girl, Eliza Doolittle (Wendy Hiller), off the streets and teaches her proper English so he can pass her off in high society. Both have ordered lives; they love their strong-willed mothers and don't have a clue how to treat a woman.
Higgins refers to himself as a "confirmed old bachelor," and Woodcock tells Alma: "I'm certain I was never meant to marry. I'm a confirmed bachelor. I'm incurable." Like Eliza, Alma is a bright and independent-minded; she bristles when Woodcock doesn't respect her.
"Pygmalion" was later overshadowed by the musical version of it, "My Fair Lady" — first on Broadway (starring Rex Harrison and Julie Andrews) and then as an Oscar-winning movie (with Harrison and Audrey Hepburn). There are key differences between the play and the musical: Shaw's play ends with Eliza leaving Higgins; in "My Fair Lady," they end up together. Though Shaw shared the screenplay Oscar with three other writers, he was never pleased that Eliza returned to Higgins.
"Lady in the Dark"
Jonny Greenwood has received acclaim for his lush score for "Phantom Thread." But the instrumentals of two other standards are also featured in the score, including Kurt Weill's "My Ship," which was introduced in the Weill-Ira Gershwin 1941 Broadway musical "Lady in the Dark," which starred Gertrude Lawrence.
The gorgeous Technicolor film adaptation of the stage musical stars Ginger Rogers as Liza, the no-nonsense editor of a New York fashion magazine who is seeking a shrink because she is beset by nightmares about her appearance and love life.
Liza's problems seem pretty sophomoric, but director Mitchell Leisen had a deft hand with fluffy material and Rogers seems to be enjoying herself, as is the rest of the cast, including Warner Baxter as her married lover, Ray Milland as her affable right-hand man, and Jon Hall as a handsome movie star.
"The Seventh Veil"
This superlative British romantic drama, which earned a screenplay Oscar, quite literally proves love can hurt — a lesson learned in "Phantom Thread" as well.
A luminous Ann Todd stars as Francesca, a gifted pianist turned mental patient who attempted suicide. Herbert Lom plays the doctor who hypnotizes her to find out what led her to want to end her life.
Enter James Mason, in one of his best and most complex performances, as her crippled second cousin Nicholas. He's jealous, distant, cruel — and has mother issues — but he is a great piano teacher. Francesca desperately tries to please the mysterious Nicholas, who cares for her deeply but doesn't know how to show it. With the help of her doctor, Francesca realizes with whom she's really in love.
"Duel in the Sun"
Producer David O. Selznick, who wanted to repeat his success of 1939's "Gone With the Wind," wrote and produced this overheated but highly entertaining western romance starring Jennifer Jones, with whom he was having an affair; the two would marry in 1949.
Jones won an Oscar for her first starring role as St. Bernadette in 1943's "The Song of Bernadette," and had played the good girl in her next two Oscar-nominated performances, in 1944's "Since You Went Away" and 1945's "Love Letters."
Selznick wanted "Duel in the Sun" to show that Jones could be more than the good girl. She goes full-throttle temptress, earning another Oscar nomination as Pearl Chavez, a seductive half-white/half-Native American. Pearl goes to live on the cattle ranch of her father's (Herbert Marshall) former lover, Laura Belle (an Oscar-nominated Lillian Gish), after he is executed for murdering her mother.
Pearl soon becomes the object of Laura Belle's two sons — the noble Jesse (Joseph Cotten) and the evil, womanizing, trigger-happy Lewt (Gregory Peck).
Her showdown with Lewt at the film's conclusion has to be seen to be believed. It's no wonder the film was nicknamed "Lust in the Dust."
Speaking of lust, the heightened sexuality of the piece stirred controversy so Selznick ended up creating his own distribution company. It was a smart bet — "Duel in the Sun" became the second-biggest box office film of the year.
"Letter From an Unknown Woman"
In Max Ophuls' heartbreaking "Letter From an Unknown Woman," it is Joan Fontaine's Lisa who is afflicted with — as Francois Truffaut described — amour fou. As a shy, young woman she becomes immediately obsessed with Stefan (Louis Jourdan), a dashing but callous concert pianist who moves into the apartment building where she lives with her family. They encounter each other over the years, though he never remembers who she is.
"Letter from an Unknown Woman" was not a hit (perhaps the drama was also ahead of its time), but it's a beautiful gem deftly directed by Ophuls and featuring Fontaine's gorgeously realized performance.
"Magnificent Obsession"
One can't talk about love and obsession without mentioning this glossy romantic melodrama directed by influential German emigre Douglas Sirk. He takes a romance that could be sappy and transforms it into an engrossing melodrama.
Rock Hudson, in one of his first big dramatic roles, plays a former playboy who loves a woman (Jane Wyman) whom he keeps unintentionally hurting.
Based on the novel by Lloyd C. Douglas — it was previously made in 1935 with Irene Dunne and Robert Taylor — this tale of redemption and the power of love features powerhouse performances by Hudson and Wyman, who earned an Oscar nomination, wrapped up in Russell Metty's gorgeous color cinematography and Frank Skinner's lush score.
---
The complete guide to home viewing
Get Screen Gab for weekly recommendations, analysis, interviews and irreverent discussion of the TV and streaming movies everyone's talking about.
You may occasionally receive promotional content from the Los Angeles Times.