Classic Hollywood: Nearly 50 years after 'Easy Rider,' Peter Fonda plays — what else? — a pothead in new film
Peter Fonda is a master storyteller. And having been born into the famous acting family including father Henry and big sister Jane, Fonda has plenty of tales to weave.
Here's one: his memories of the first day of shooting on the groundbreaking 1969 counterculture road flick "Easy Rider" in New Orleans on Feb. 23, 1968, which happened to be his 28th birthday.
The first day was intense thanks to the born-to-be-wild behavior of fellow star and director Dennis Hopper.
"We started at 6:30 in the morning with Hopper wagging his finger at all of us and yelling at the top of his voice, 'This is my ... movie. Don't mess with my … movie.' Over and over, almost two hours until his voice ran out."
He was in the shower "trying to wash the day off' when he realized it was his birthday. So after his shower he went to the room next door shared by co-stars Karen Black and Toni Basil.
" 'Guess what? It's my birthday," he told them. "Karen had a guitar and I play a right-handed guitar backward, so I sang 'Happy birthday to me.' Just having fun. There was a scream going off in the hall. Finally, this scream was getting a little louder, so I poked my head out of the room and there is Barry Feinstein — the No. 1 underground cameraman — and he's holding onto his Arriflex [camera package] that's about $40,000 worth of camera right there. Hopper's trying to hit him and take the camera and go out and shoot and Barry's not going to let Hopper take his $40,000 worth of camera and shoot."
The fight eventually fell into Black and Basil's room. Fonda picks up the story from there.
"Dennis picks up Karen's guitar and smashes it over Barry's head and then he's going for the television. By that time, we got enough people down there to get him calmed down and then they put him in the room I'm sharing with him."
Making "Easy Rider" was almost as crazy as what happened next: The film become a touchstone for a generation of young filmgoers and helped inspire the independent film movement of the 1970s.
Even at 78, Fonda is very much the icon of cool and doesn't look much older than his quintessential "Easy Rider" character, Captain America, replete with jeans, leather jacket and Ray-Ban aviators.
During a recent lunch at a Beverly Hills hotel restaurant, Fonda was charming, entertaining and surprisingly emotional.
"I knew I was nuts," said Fonda quietly. "I had no idea how to deal with it and it was getting in my way. In 2004, I found what was wrong. I had never heard the term PTSD. That's what I suffered since I was 6 years old."
That was when he was thrown out of a barn window and "landed 18 feet down on my chin by jealous kids at the boys school I had been sent to make a man out of me. I thought, 'Why couldn't I just be 6?' "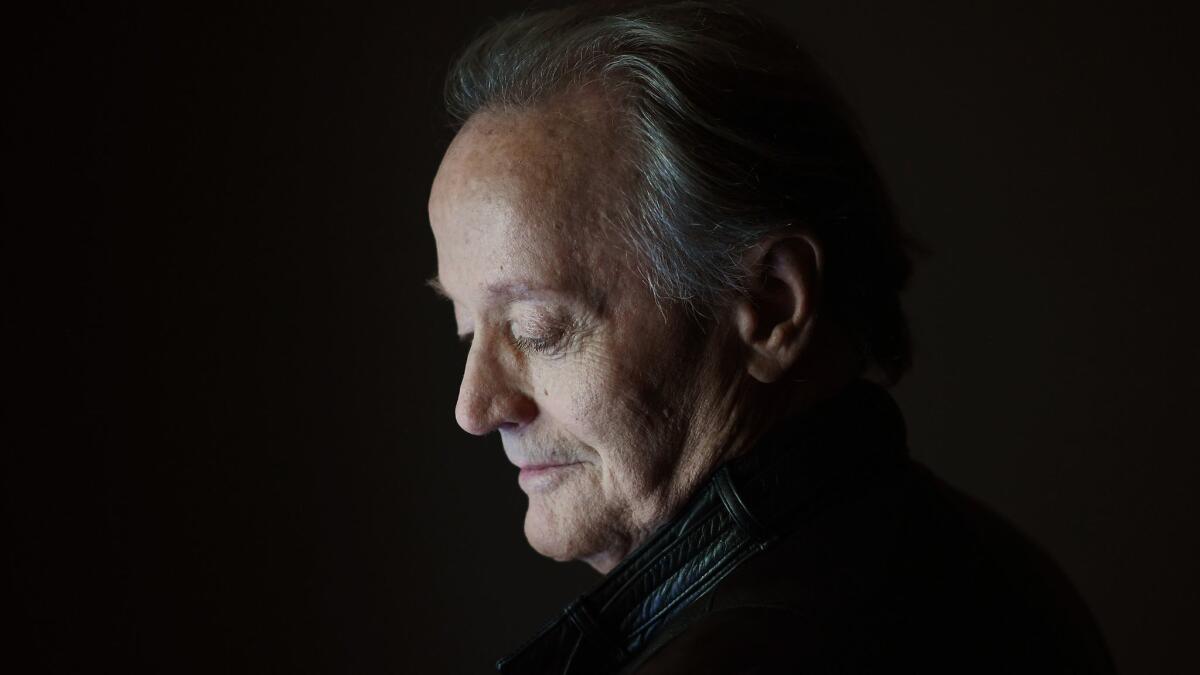 Sometimes I get hit by [PTSD]. I can see a commercial and there will be a certain tone to it and I really choke up.
— Peter Fonda
Fonda's mother, Frances, he believes, was afraid because his father "would hit me. He would slap me or cuff me if I didn't finish all my meal. All my food. Sometimes I get hit by [PTSD]. I can see a commercial and there will be a certain tone to it and I really choke up."
He paused. "I'm a lucky man. I'm alive."
And continuing to work.
His latest film, the dramedy "Boundaries," opens June 22. Written and directed by Shana Feste, the semiautobiographical film is about a divorced woman (Vera Farmiga) and her teenage son (Lewis MacDougall). They embark on a road trip with her pot-dealing rapscallion father (Christopher Plummer) from Portland, Ore., to her sister's home in Los Angeles after he's kicked out of his retirement home for bad behavior.
Fonda plays Jack, a former successful actor who is one of Plummer's character's clients. Think of it as Captain America meets Captain von Trapp.
Feste noted that her father was very different than the handsome, affable Plummer. "My father is covered with tattoos, was in and out of prison all of his life," she said. "When we realized that Christopher Plummer was going to play the role, I was like 'Oh, he needs some fancier friends. He needs a friend, like, he went to Cannes with and got into a bunch of trouble.' Peter Fonda's name came up and I thought, "Oh, my God, that would be so perfect, especially if he would wear the glasses.' "
Happily for Feste, Fonda and Plummer are good friends who have never had the chance to work together before. They met on the set of "Stage Struck," Sidney Lumet's 1958 remake of "Morning Glory," starring Henry Fonda, Susan Strasberg and Plummer in his feature debut.
Fonda said he and Plummer were able to use their real-life friendship to fuel their film friendship. "I've known this man forever,'" he said.
"They are very, very different actors, but they brought incredibly spontaneous chemistry," said Feste. "It was kind of magic watching them together. I think Peter Fonda brought out Christopher Plummer's really silly side, which was nice to see. He's not a pot smoker at all, but it was fun to see him relax into that opposite Peter and just kind of have fun with it."
Fonda enjoyed working with Feste. "We screened it up in San Francisco," he noted. "I think this was the first time we'd seen it with a big audience. We're waiting to do a Q&A afterward and we hear the audience laughing and laughing. I gave her a big hug and said, 'Shana, this is the good side. All that work is paying off.' "
Meanwhile, Fonda and Plummer reunited for another film scheduled for release this year, the drama "The Last Full Measure."
"I said, 'Christopher, we have to keep meeting this way because it means we're good actors."
Fonda has a lot of plans for the 50th anniversary next year for "Easy Rider," which earned Oscar nominations for him, Hopper and Terry Southern for screenplay and supporting actor for Jack Nicholson. One idea is for a concert featuring the rock anthems from the film such as Steppenwolf's "Born to Be Wild" and the Band's "The Weight."
"Easy Rider," which revolved around two drug dealing hippies biking from the California -Mexico border to New Orleans for Mardi Gras, connected with the young audience of the era in ways no other film had done. "That audience was not something that the establishment knew anything about or how to reach," noted Fonda.
"They thought it was a small little market. But it was a market that had never been played to. Nobody had sung their song to them. They had their poetry. They had their artwork. They had their music. They had their dress. They didn't have their movie."
So "Easy Rider" was "going right into that movement. It was their movie."
Get the Indie Focus newsletter, Mark Olsen's weekly guide to the world of cinema.
You may occasionally receive promotional content from the Los Angeles Times.