IMDb file: Andy Garcia goes from the darkness to the light — and gets to sing with Cher on 'Mamma Mia! Here We Go Again'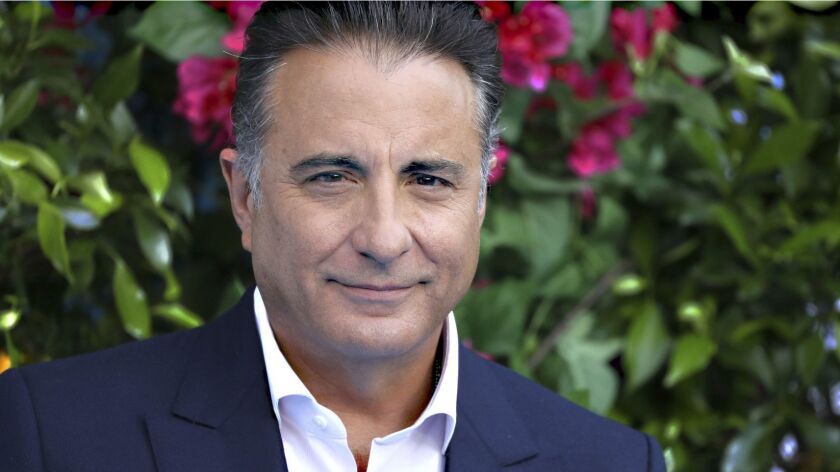 "It's been a real bucket list year for me," Andy Garcia says. "I got to work with Cher and Diane Keaton."
The actor, 62, is currently co-starring in "Mamma Mia! Here We Go Again," the sequel to the 2008 musical film, which opened Friday. He plays an innkeeper named Fernando, who duets with Cher on an iconic ABBA number.
Garcia, who is often known for his dramatic roles, enjoyed being part of a lighthearted production. "It was so easygoing," he notes. "[Director] Ol Parker created a great space to work in. Very loose, very supportive. We had a lot of freedom to explore. It was very positive, like the state of the movie itself."
Garcia, who was born in Havana, Cuba, has been acting for four decades. His breakout role was in the 1986 film "8 Million Ways to Die"; since then, Garcia has made a name for himself as a dynamic, adaptable actor who can handle the drama of a film like "The Godfather: Part III" or the levity of a comedy like "Let's Be Cops." For Garcia, the thing that ties all his work together is simply himself.
"The thread between all my parts, if you choose to look for that, is the inner life of the actor who plays them," he says. "The history and values and personal life of the actor comes through in what you play. My work is public. I have a very public life. And my personal life is very public in my work."
Here Garcia, who has several more films, including "Headlock" and "Ana" coming out this year, discusses some of his seminal projects, from "Ocean's Eleven" to "Book Club."
"Mamma Mia! Here We Go Again," Fernando (2018)
"I was a fan of the previous one — it had people in it that I admire. When I was told there was a sequel with this character, I was interested. And then it came up that Cher was going to play the part [opposite me]. My understanding is that they asked Cher who she wanted to work with and she picked me out of a list and I got the opportunity to play around with her. I've always admired her work, and the conceit of singing with her was the cherry on top. And it was everything that I expected."
Book Club," Mitchell (2018)
"I've known Diane [Keaton] for many years since 'The Godfather,' so we had a nice chemistry between us. Diane is always fun. She's a very spontaneous actress. She works very similar in style as I do. We both come from the same background and type of training. I was talking to the director and essentially said, 'I want to be of service to Diane where I can surprise her as much as possible.' I wanted to give her the opportunity to be as spontaneous as possible, so the more I could surprise her, the better the situation would be. The scenes could really come alive in that way. I like playing something differently, moment to moment and take to take. I think we achieved that, and I think that's why people responded to it in the way they did."
"Ocean's Eleven," Terry Benedict (2001)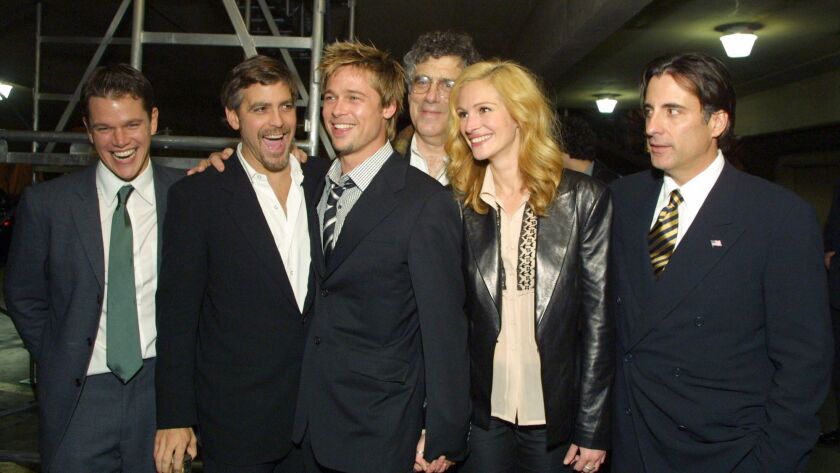 "When they approached me, there was already the assembly of that cast in place. Obviously, that was something that was pretty attractive to me. These were my peers — I was a little older than some of them — and they were people I admired. I always knew 'Ocean's Eleven' would make a good remake, even years before they announced it. When they approached me to play the villain, it was an easy 'yes.' I was a big admirer of Steven Soderbergh as well, so it was exciting to be part of that trilogy."
"For Love or Country: The Arturo Sandoval Story," Arturo Sandoval (2000)
"I knew Arturo prior to that. He plays a genre, jazz, that we should appreciate more. When they sent me this script they had developed I thought the idea was good, but the script wasn't up to what it could be. So I met with HBO and talked about the story from my point of view. We decided it was best for Arturo to tell the story to us. In the end, I think we got the film we wanted, and I'm really proud of it. And Arturo actually won the Emmy for the film's music.
"When a Man Loves a Woman," Michael Green (1994)
"This film was particularly difficult. It seemed to be, on the surface, a lighter approach to a mysterious subject matter. But as we got in it, I realized it was more difficult and much sadder. The more I thought about it, the longer we worked on it, the more I was saddened by the whole thing. I remember when the movie came out, I was at a restaurant in North Hollywood to have breakfast. The movie had come out the night before and as I walked in, there were about 40 people there, and they started clapping. They were a group of AA members who had gone to see the movie opening night and they wanted to show their appreciation. People still come up to me and talk about the movie, which is quite powerful."
"The Godfather: Part III," Vincent Mancini (1990)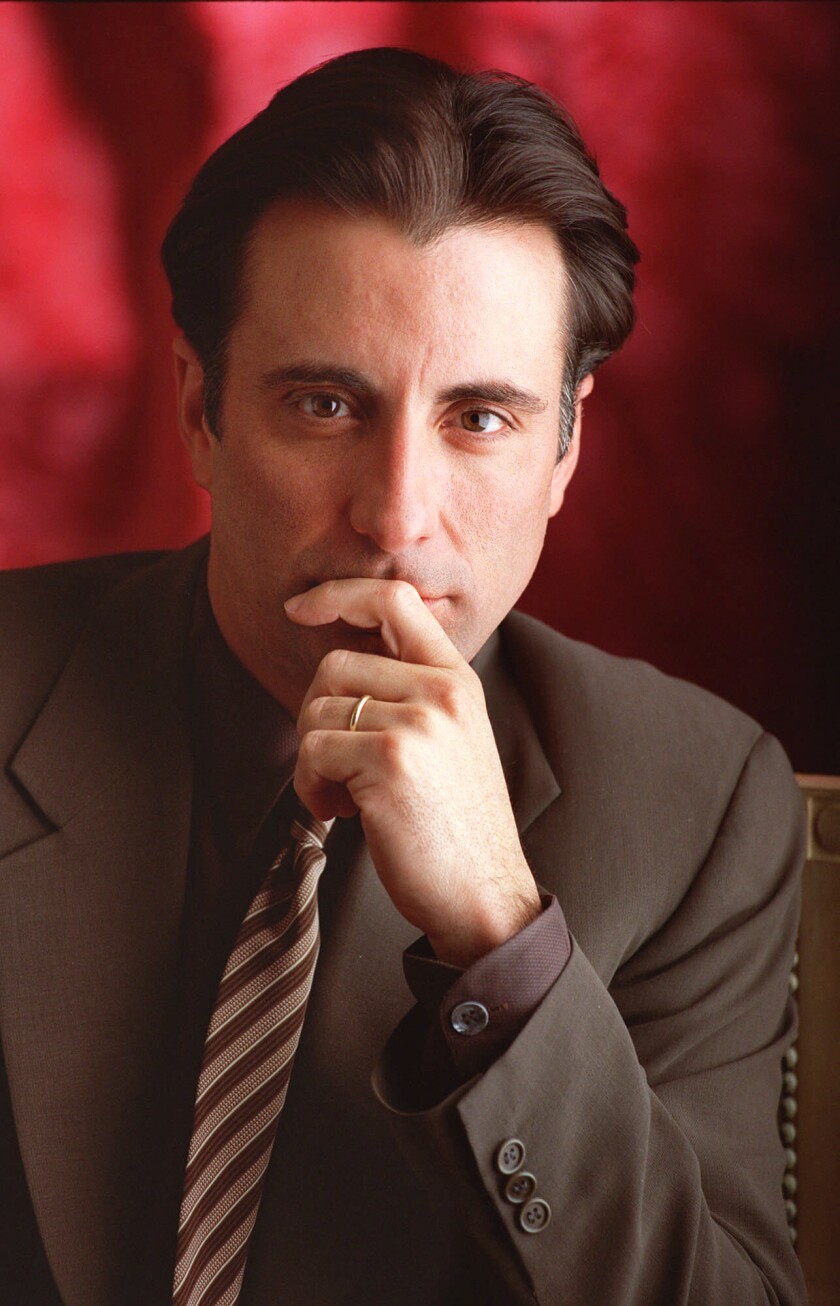 "That was a gift. 'The Godfather,' for me, was the movie that solidified my desire to be an actor. It's a movie that has given me so much over the years. So a chance to work with Francis [Ford Coppola] was amazing. It was extraordinary in every way, from cinematography to costumes. It was a master class, making that film. I'll be eternally grateful for the chance to do that."
"The Untouchables," Agent George Stone / Giuseppe Petri (1987)
"It was written by David Mamet, who was so precise in his narrative. That, combined with Brian De Palma and the cast he assembled, was attractive. When I was approached for the film, I had just done a film with Hal Ashby that had come out called '8 Million Ways to Die' where I played a crazy character opposite Jeff Bridges. He was an out-of8control character, and I got a lot of notice for it. I got a call that they wanted to see me for 'The Untouchables' for the role of Frank Nitti.
I read the material and I decided I wanted to play something else. I lobbied to play George Stone, and Brian acquiesced eventually. And I got to work with two of the actors I'd admired for years. First, Sean Connery, who I grew up in my childhood, and then very briefly I got a chance to work with Robert De Niro, who is an important actor to me."
---
Get the Indie Focus newsletter, Mark Olsen's weekly guide to the world of cinema.
You may occasionally receive promotional content from the Los Angeles Times.