Angela Bassett has always walked boldly into roles, including Ramonda in 'Black Panther'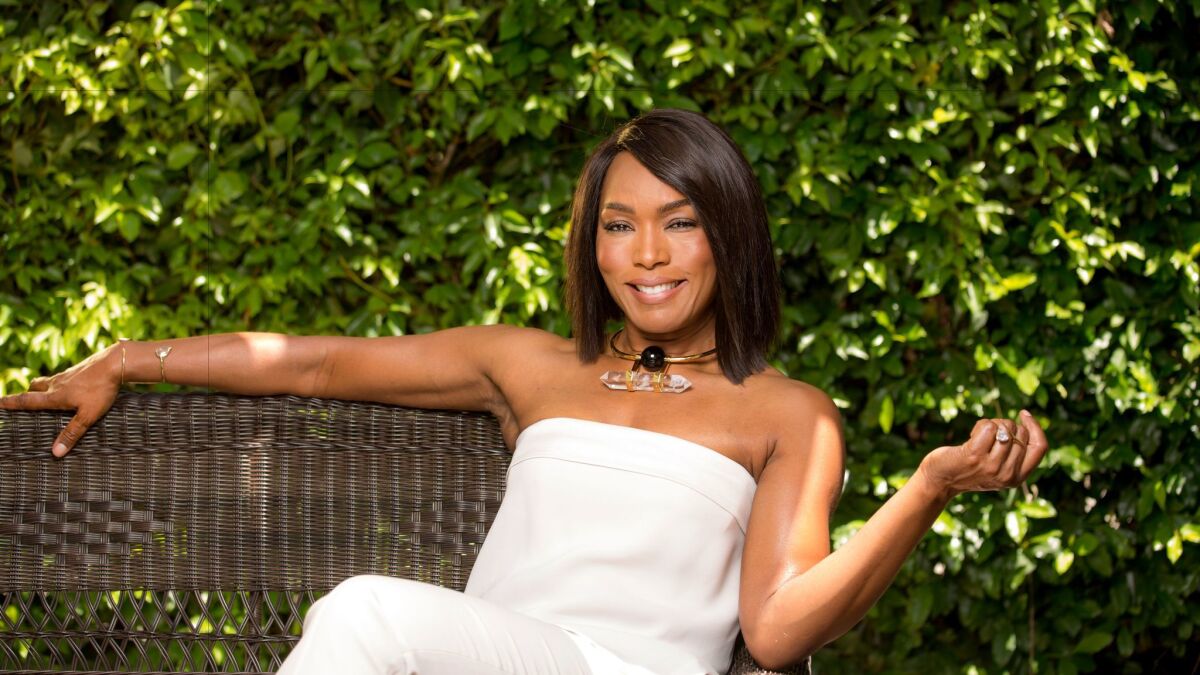 "I like showing up in different ways, in different places," Angela Bassett admits, reflecting on her truly varied acting career.
The New York-born actress, 59, has never really played roles by type. Instead, Bassett has taken on such varied figures as Tina Turner, Coretta Scott King and the freedom-finding title character from "How Stella Got Her Groove Back," and that's what suits her best.
"You don't become an actor so you can do 30 years and get the watch," Bassett says. "To be so bold as to choose this type of career you want to keep it interesting and keep walking out on the ledge. You don't know what you're doing next month or next year — if you have a job at all. But you can't not do it. You have to go for it."
Her latest bold move is taking on the role of Ramonda, queen of the fictional African nation Wakanda, as part of Marvel's latest endeavor, "Black Panther." It was a transformative experience for Bassett, who felt a real responsibility being part of the first African American superhero flick, which opens in theaters this week.
"Part of me had to rise to the idea that I would be portraying a queen," she says. "To see what it looks like in that form was interesting. Although historically, for us, we have considered our mothers our queens. Our heroines, our Rosa Parks, our Winnie Mandelas, our Tina Turners – in terms of their gifts, their resilience, their commitment to our culture and our community. They were our queens and now there's this new image of a queen. Even though in a comic-book fashion, she's so grounded. To finally have one of our own – I was really humbled by that."
Here Bassett discusses some of her most iconic projects, from "Waiting to Exhale" to "What's Love Got to Do With It."
"Black Panther," Ramonda (2018)
"It was a landmark opportunity to show Africa and black people and black culture in ways that had not been seen before up until this point. All the beauty and complexity and brilliance that we know, that we've heard about, that our mothers and fathers have tried to impress upon us, that we've been longing for and missing in terms of images on-screen. Here it was, finally. That was intriguing to me."
"American Horror Story," Marie Laveau; Desiree Dupree; Ramona Royale; Lee Harris/Monet Tumusiime (2013-16)
"I've had a great run on that – I was on for four seasons. Initially it was meant to be just the one season, "Coven." I stayed on for an additional three seasons and it's a wonderful community and home to be part of. They obviously adore women. They always get actresses who are looking for an opportunity to do something different and fresh, to do something meaningful, to do something extravagant, to do something quite trivial but a lot of fun, to do something ridiculous, to do something that breaks up who you may think we are. I mean, in "Freak Show" I had three breasts and a ding-a-ling."
"ER," Cate Banfield (2008-09)
"They came to me on the last season, the 15th year. I took it to be home and to work. And I knew there was an end. I was always a little wary about getting locked into a series. You can't do anything else. It felt like you might get into this rut. So this had an end date and I knew it would be challenging for the year. And I was excited for that year."
"The Rosa Parks Story," Rosa Louise McCauley Parks (2002)
"She was a very genteel and outwardly meek-appearing woman. But she is the embodiment of the phrase 'Don't mistake my kindness for weakness.' She was very kind-hearted and soft-spoken, but it needed that type of woman. That moment needed someone like Rosa. She was so strong internally that you couldn't shake her no matter what. She was another of our queens. She could not rise from that seat."
"How Stella Got Her Groove Back," Stella Payne (1998)
"After that movie aired I'm sure tourism in Jamaica rose exponentially. Black women felt a relief and a freedom of expressing themselves, of being appreciated by men maybe who were a little younger. And that's such a part of the lexicon now: 'I've got my groove on.'"
"Waiting to Exhale," Bernadine Harris (1995)
"Terry McMillan, the writer, really tapped into so many of the experiences African American women were dealing with. Being accomplished or being alone or searching for love. What does that look like? And it doesn't have to look like what you think it should look like. And then that sisterhood between the four girls who couldn't be more different. That book was on everyone's lap on the subways in New York – you knew it was going to be a big movie. And people did show up to that movie. We were at the forefront of the stories helmed by women about a group of women, even before Carrie Bradshaw. It was before 'Sex and the City' and 'First Wives Club.' It set the bar. It showed that there is a market for good films about women and specifically for African American women."
"What's Love Got to Do With It," Tina Turner (1993)
"Here was this simple woman and what she was able to make of herself with this tremendous talent was amazing. The personal trauma that was put upon her, but the resilience that resided in her spirit and hers alone. The strength it took to walk away from it and return more magnificent than she was previously. We all possess it if we tap into it."
"Kindergarten Cop," Stewardess (1990)
"That was one of my first gigs when I moved to L.A. I was so happy to be in anything since I'd been doing a lot of dramas. As an actor you're always trying to transition and sometimes folks won't let you transition, but I got in there under the radar. I was taking it so seriously. I had to maneuver that stewardess cart down the aisles and get it right where it was supposed to be on a certain line. I remember watching Arnold Schwarzenegger and how conscientious and professional he was. He was into his script and studying and quietly doing his thing. That was impressive to me. And that one day of work came in handy in terms of paying that rent!"
---
Get our L.A. Goes Out newsletter, with the week's best events, to help you explore and experience our city.
You may occasionally receive promotional content from the Los Angeles Times.