Oscar winner J.K. Simmons talks about his memorable roles, from 'Juno' to 'Whiplash'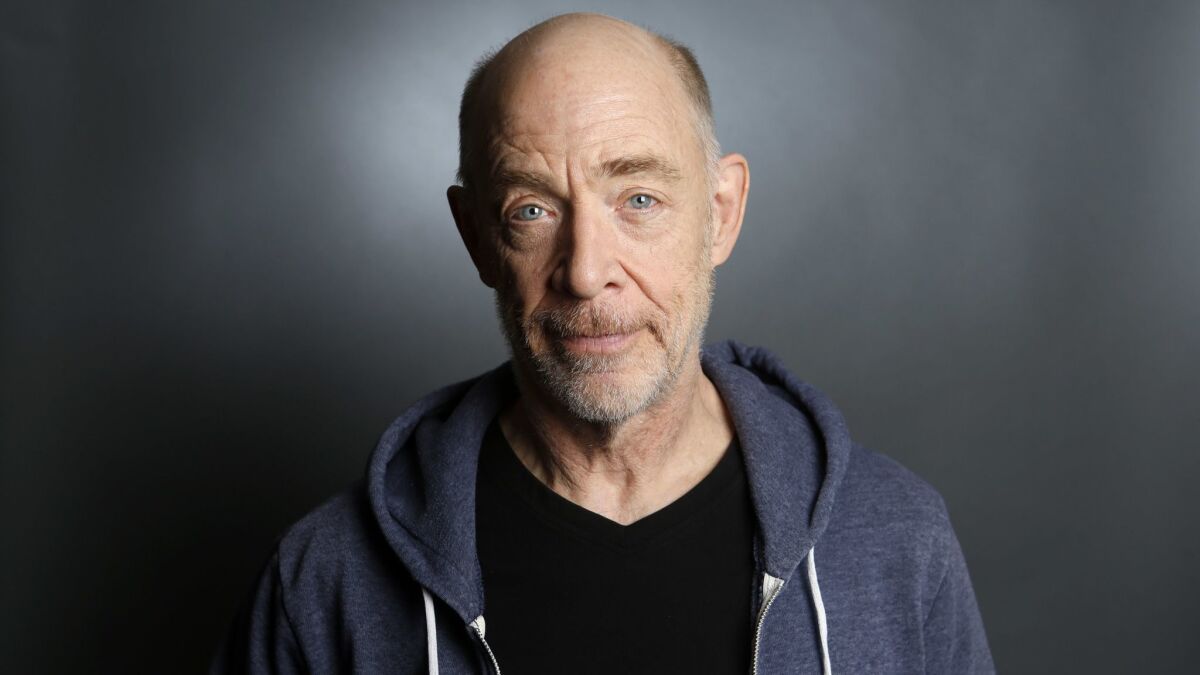 "What I say yes to has evolved over the years," says J.K. Simmons. "Most actors when they're starting out just want to act, so you say yes. I've gradually gotten to the position where I'm fortunate to be very choosy now.
"What I say yes to, honestly, in the last handful of years has to do with geography because of my family. Once I knew the mortgage was going to be paid, it became a bigger priority to work at home and not be around the world for long periods of time and be a husband and a father and have some semblance of a normal life."
The actor, 64, found himself at a turning point in his career in 2015 after winning the Oscar, Golden Globe and BAFTA for his role as a hyper-aggressive music teacher in "Whiplash." The accolades shifted things for Simmons, who now feels more inclined to pass on things that aren't right for him. Instead, he gets to work on movies like "I'm Not Here," a drama written, edited and directed by his wife Michelle Schumacher. The film, released earlier this month, follows Simmons' character through three periods of his life as he tries to reconcile his past.
"Every time I read something that I'm being offered I either respond to it or I don't," he notes. "It's not just based on whether I think it's good or not but whether I'm the right guy for it."
Here Simmons reflects on some of his most memorable projects, including "Oz," "Juno" and "Whiplash."
"I'm Not Here," Steve (2019)
"Aside from the obvious that the director is my lovely spouse, it was great to work on. I was around, of course, as she and [co-writer] Tony Cummings were writing, which they do on the phone, and, as has been the case when I've worked with her in the past, I prefer not to be part of that process until they're very far along. Once I saw the first draft I was very drawn in to the character of Steve and all three of the periods of his life we see. It's actually easier to work [with my wife] because of the relationship. There are always challenges in collaborating on a film, but there's an intrinsic level of faith and trust and love. That really simplifies the process."
"The Front Runner," Bill Dixon (2018)
"Second to my wife, I have the greatest comfort level with Jason [Reitman]. We worked together on his first feature and almost every film of his since then. I'm pretty much an apolitical person just because it helps keep my blood pressure low, but obviously I was around in the '80s when all of this happened with Gary Hart's campaign. I knew the story very well. I had not met Hugh [Jackman] before this and that turned out to be a real bonus. Working on this film showed me what a prince of a guy he is."
"Bojack Horseman," Lenny Turtletaub (2014- )
"It's great fun to be a part of that. Unfortunately because the schedules for most of the actors on the show are so busy we rarely get to work together. I just recorded another episode and they tried to see if I could come to a table read with the rest of the cast, but I was working on something else that day. So it would be even more fun if we could all be in the same room more often. But it's really a joy to do. And it's always great to work on anything smart."
"Whiplash," Fletcher (2014)
"The actual making of the movie was certainly a highlight of my career. [Director] Damien [Chazelle] went from boy wonder to self-assured filmmaker during that time period. It was only 19 days of shooting and it was just enjoyable. The numbers of offers [I got] definitely increased after that. I found myself in a position I never dreamed I would be in of not having to audition anymore and having offers come my way. That multiplied greatly after all the attention on 'Whiplash' and all the awards."
"The Closer," Will Pope (2005-12)
"There were two things that made [this] not feel like punching the clock at the dog food factory for me. One of them was that I was very much a supporting character and [costar] Jon Tenney and I joked about how seldom we actually had to show up to work. I coached my kid's Little League team for six years and I think I missed one practice during that time. The other thing was that [creator] James Duff and his writers continued to come up with intelligent, believable plot lines where we didn't feel like we were jumping the shark in Season 3 or veering into the ridiculous. I look back very fondly on that time."
"I Love You, Man," Oswald Klaven (2009)
"That is the most I have ever laughed on set in my career. All the hilarious actors in that movie – we just had a non-stop laugh fest. There was a scene that was in the shooting script that ended up never being shot, and Andy Samberg and I were whining and bitching and moaning – to no effect – about trying to get that scene back in. It was a scene with Andy and I, best pals, in a hotel suite watching a golf tournament on TV and joking and it was hilarious. There has been talk, off and on over the years, of resurrecting those characters in some kind of way, maybe a sequel. That would bring me great joy if I was able to work with those guys again."
"Juno," Mac MacGuff (2007)
"God bless Jason Reitman, once again. Once he was on board as the director, he said when he read the script he basically had the movie cast. He knew it was Ellen Page. He knew it was Michael Cera. He knew it was me. Of course, the producers didn't know who we were or didn't really know. They wanted really well-known actors to play all of these parts. Jason continued to fight for us, even going so far for Ellen and I to do a full-on, old-fashioned screen test so he could convince the powers that be that the only way to do this movie was with these actors. And it worked out and the movie turned out to be so good. It also really expanded my cast-ability, if that's a word."
"Oz," Vern Schillinger (1997-2003)
"That show put a lot of us on the map. It was a groundbreaking show from the twisted mind of Tom Fontana. It really changed the way people watch TV and films. It was seminal for many of us. And it was scary too, in some ways. We were really just a bunch of theater people pretending to be tough guys and it was test for a lot of us. It was hard to shake off at the end of the day sometimes. Once we realized we would be doing it for a while, after Season 2, we lightened up and it became a little more like summer camp or the locker room at a middle school football camp with a bunch of dumbasses who love goofing around and having fun."
"Spider-Man," J. Jonah Jameson (2002)
"That also felt like a real seminal film in the history of popular movies. That was my third movie in a row with Sam Raimi and he was the first big-time director I really had a continuing relationship with. Sam is such a wonderful director, but he's a great guy. The director dictates what kind of vibe you're going to have on set and Sam is good-natured, low-key, funny, smart, prepared. But at the same time he's open to actors who like to think on their feet and improvise. He really made that whole thing just an absolute joy. The first two [Spider-Man] films were really special."
Get our L.A. Goes Out newsletter, with the week's best events, to help you explore and experience our city.
You may occasionally receive promotional content from the Los Angeles Times.