Isla Fisher's ascension from unemployed, trained clown to 'Keeping Up With the Joneses' star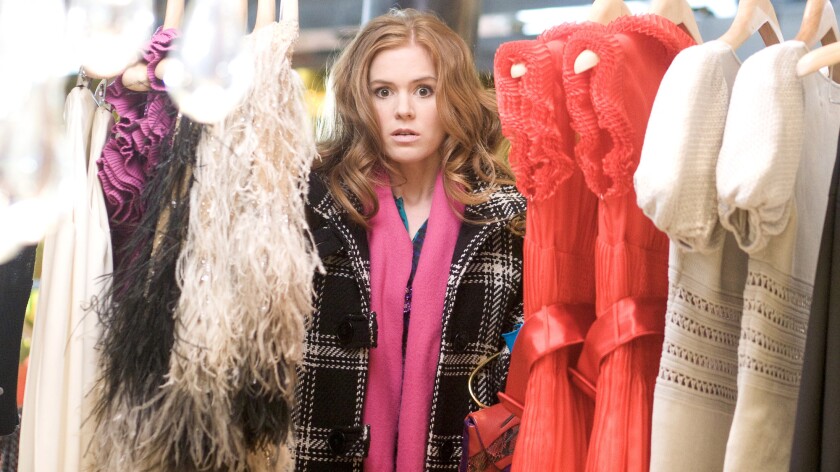 When "Wedding Crashers" came out in 2005 it was immediately clear that Isla Fisher was a comedic force. The British-Australian actress, who is married to fellow actor Sasha Baron Cohen, has a vivacious, good-spirited energy onscreen that has carried through all her films.
"Character-wise I'm always after somebody who I can find the humanity in easily," Fisher says. "I know it's fun to play an unlikeable character who may make different choices morally than you would, but I still have to find empathy and something within that person I want to explore within myself."
Fisher's latest project is comedy flick "Keeping Up With The Joneses," which just opened and she will also appear in next month's Tom Ford-directed drama "Nocturnal Animals." She was particularly excited to finally appear in a project with Amy Adams, an actress with whom Fisher is often confused. "It was like 'Finally, we can put the rumors that we're the same person to rest!'" Fisher laughs.
Gal Gadot, Isla Fisher, Jon Hamm and Zach Galifianakis star in "Keeping Up with the Joneses."
Fisher, who now also selects her projects on whether the shooting location is good for her family, feels she's grown a lot since those early days of "Wedding Crashers." "I used to be so hard on myself back then and overthink every scene," the actress says. "I'd always want to beg the director for another take and another take and another take. Now I suppose I'm better at it. I just feel more confident."
Here, Fisher discusses some of her most notable projects, from "I Heart Huckabees" to "Keeping Up With The Joneses."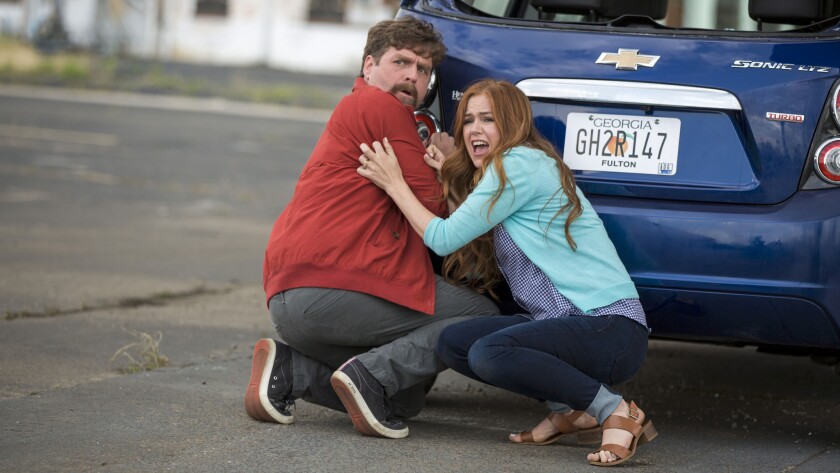 "Keeping Up With the Joneses," Karen Gaffney ( 2016)
"What I really loved about this movie is that I think there's a part of all of us that judges other people for how they look and how inaccurate that often is. How we often make assumptions about one another that often stops us from connecting. Karen is exactly that kind of person. And I loved working with Zach Galifianakis. What's great about Zach is that he doesn't use the movie as a comedy vehicle for himself like a lot of big comedy stars do. He's deeply collaborative and he laughs at other people's material."
"The Brothers Grimsby," Jodie Figgis (2016)
"I did work with my husband for the first time on this. I really enjoyed that experience. He's so funny and he's so great at improvising. I really loved the movie and I hoped it would reach a bigger audience. It's one of my favorite characters that he does."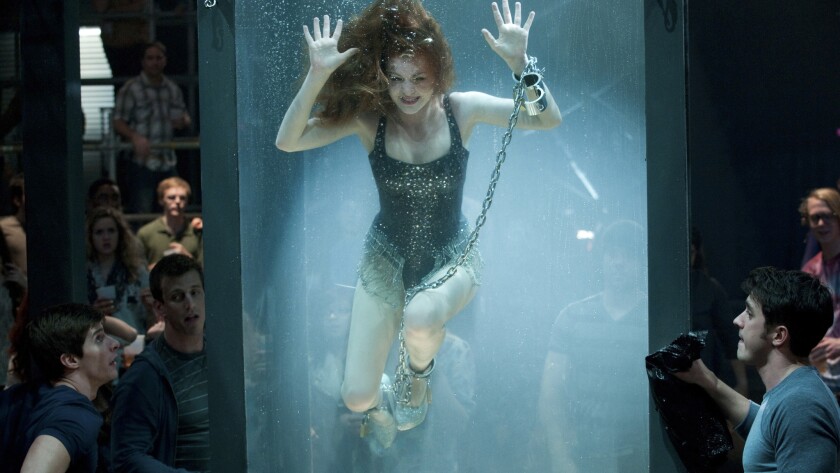 "Now You See Me," Henley Reeves (2013)
"I hadn't worked in a while and I was having that panicked feeling like, 'Am I unemployable?' You never know when you've done your last movie and everybody's sick of you. So I was a bit down in the dumps and I got the phone call that this was an offer. I read the material and the plot seemed quite anarchic and wild and my character was this ebullient lion tamer with all these men. It just really appealed to the kid in me because I've always loved magic."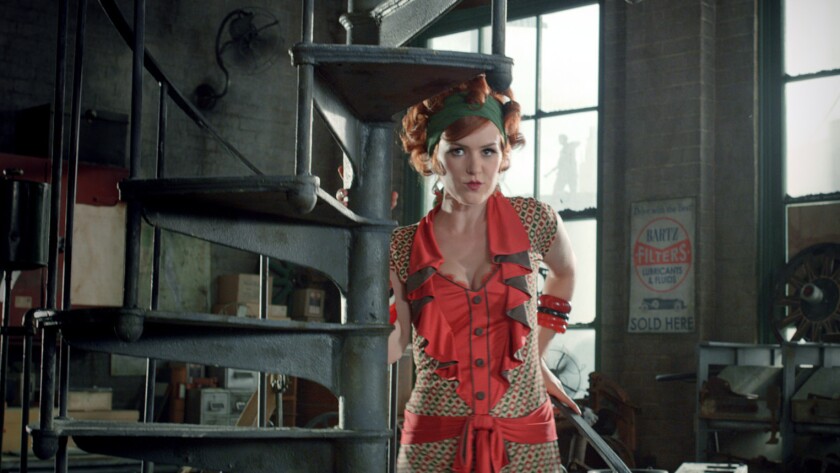 "The Great Gatsby," Myrtle Wilson (2013)
"To play Myrtle, who's such an integral part of the story and works on so many levels and represents a whole underclass of people, was a huge responsibility. Everyone has preconceived notions of who she is based on their experience reading it. It was a little nerve-wracking, but it was amazing and Baz Luhrmann is the ultimate gentleman. He's endless imaginative and patient. Some of the things he attempted were so ambitious. He has a saying for his company: 'A life lived in fear is a life half-lived,' and that sums up Baz Luhrmann."
"Confessions of a Shopaholic," Rebecca Bloomwood (2009)
"That was the first time I was the lead of a big studio movie. And Rebecca Bloomwood is the ideal character because she's an overconfident clown. When I began to become interested in film I began with Goldie Hawn. I loved Goldie Hawn movies. That kind of clueless, ditzy but enchanting and smart deep down female character that she does so effortlessly — this felt like a throwback to that. I had just had my first baby so there was a lot of making costumes boob-friendly in order to access the feeding supply for my infant."
It's not every day you get offered the role of a bipolar nymphomaniac.
Isla Fisher
"Wedding Crashers," Gloria Cleary (2005)
"That was my breakthrough performance. That was so much fun. I actually got an MTV Movie Award for that. It's not every day you get offered the role of a bipolar nymphomaniac. And it's obviously had amazing ramifications, just on a personal level. I'll go to the grocery store and someone will say, 'I'll find you!' That catchphrase gets quoted back to me so often. Every time I'm traveling, a TSA officer or an immigration officer will say, 'I'll find you!' Clearly I'm still more recognized for that performance than anything else."
"I Heart Huckabees," Heather (2004)
"I really love David O. Russell. He's so brilliant. It was only a few days. David had Naomi [Watts] and I do this whole improvised scene. He kept saying to me, 'Tell Naomi you're better looking and younger than her.' It was all improvised. It was to provoke a reaction from her or to provoke a reaction from me. It was so funny. I made very good friends with Naomi from that movie so I'll always treasure the experience."
"Scooby-Doo," Mary Jane (2002)
"It was my first ever film role. I was doing off-West End theater. I had trained to be a clown. I didn't get any kind of break. I was totally unemployed. 'Scooby-Doo' was such a wonderful experience. And I had a paycheck! I had a paycheck every week. I remember I went out to restaurants. People were teasing me for being in a movie with an animated dog and I was like, 'Are you crazy? I had a Thai meal for dinner.'"
---
Inside the business of entertainment
The Wide Shot brings you news, analysis and insights on everything from streaming wars to production — and what it all means for the future.
You may occasionally receive promotional content from the Los Angeles Times.