Joaquin Phoenix and Lynne Ramsay follow their instincts to find 'You Were Never Really Here'
Pairing two of international cinema's most determinedly idiosyncratic and creatively willful talents is a bit like introducing an unstoppable force to an immovable object; disaster could ensue. Instead, the collaboration between Scottish filmmaker Lynne Ramsay and American actor Joaquin Phoenix produced "You Were Never Really Here," a dynamic, emotionally complex crime thriller that depicts complicated inner emotions. And hammer attacks.
The film premiered at last year's Cannes Film Festival, with Ramsay scrambling to finish post-production after being invited when organizers saw a rough early version. (She has subsequently reworked the film slightly since the festival. The new version opens in theaters April 6.) Although it was the last title to play in the festival's prestigious main competition, usually something of a throwaway slot, "You Were Never Really Here" captured a best actor prize for Phoenix and the best screenplay award for Ramsay.
Adapted from the 2013 novel by Jonathan Ames, the film revolves around Joe (Phoenix), a military veteran who now works as a hitman-enforcer-freelance vigilante and spends his off hours with his aging, ailing mother (Judith Roberts). Hired to find a young girl (Ekaterina Samsonov), Joe is drawn into a deep political conspiracy that forces him to confront his own history of trauma and violence in search of something like a fresh start.
Ramsay was first sent Ames' stark novel by the French production company Why Not, known for its work with filmmaker Jacques Audiard. The slim, brutal crime story was perhaps not the most obvious fit for Ramsay, whose three previous features, 1999's "Ratcatcher," 2002's "Morvern Callar" and 2011's "We Need to Talk About Kevin," are all enigmatic explorations of interior emotional states.
"I just wanted to see what I could do with it," she said of taking on the project. "It's got a pulpy, B-noir thing, but it's got this really interesting character. I kind of wanted to challenge myself to do something super unexpected. I'm interested in genre in a way, I suppose because you have a framework of something and you can just twist it to explore the psychology or try different subversive ideas on something that feels familiar.
"And a lot of people were like, 'You? Doing this kind of movie? That's weird,' " she added. "And that made me want to do it more."
"And a lot of people were like, 'You? Doing this kind of movie? That's weird.' And that made me want to do it more."
— Filmmaker Lynne Ramsay on 'You Were Never Really Here'
Ramsay and Phoenix both looked a bit out of place while seated together in the restaurant lounge of a nouveau-chic luxury lodge in Park City, Utah, when the film played earlier this year as part of the Sundance Film Festival. They seemed fully at ease with each other, however, Phoenix brightening from his notorious reluctance to speak about his work, with Ramsay's own warm intensity drawing him out.
While she doesn't usually picture anyone specific as she is writing, for some reason the idea of Phoenix in the lead role came to Ramsay early and would not be shaken.
"It was a no-brainer for me," she said of Phoenix. "He was going to bring so many more dimensions to a character that could have been really 2-D."
Allowing that he can be choosy in deciding on roles, Phoenix, a three-time Oscar nominee, admitted his impulses often remain mysterious even to himself.
"It was the spaces, it was the potentials. It was that I didn't understand," he said of what drew him to the role. "It's usually what I find most appealing. I don't like scripts that most people, most producers read and they're like, 'Great script.' I read it and I'm just not interested. Everything is figured out. And this was like atmosphere, there were these areas that hadn't been defined and that seemed really exciting to me, to want to have that experience."
Which is not to say that making the film is in any way a process of solving those mysteries.
"Honestly, man, I feel like I want to do press and I want to say the things that good actors are supposed to say," Phoenix said. "And I want to sound like I'm a good actor, real professional, but the truth is that I really don't understand three-quarters of what happens in a movie or why it works or not. And I really like it that way."
In the period after "Morvern Callar," Ramsay was attached early on to adapt the novel "The Lovely Bones," but was bumped from the project after the book became a bestseller and hot property. In the years since "We Need to Talk About Kevin," she walked away from the western "Jane Got a Gun" as production was beginning over differences with the financiers. (Out of respect for those who ended up making the film and wary of the legal morass of lawsuits and counter-suits that enveloped the project, Ramsay declined to speak about it on the record.)
For Phoenix, Ramsay's difficulties were a source of inspiration.
"That was why I wanted to work with you," he said, turning toward Ramsay. "Can you believe how bold that is? I have wanted to walk off so many movies, and didn't have the … guts to do it. And I heard that and I had so much respect, that's very, very difficult. And I thought that's somebody who is moved by something more than just having a successful movie or people liking you or getting good reviews or anything. That's someone driven by something really special and they care deeply and passionately about it."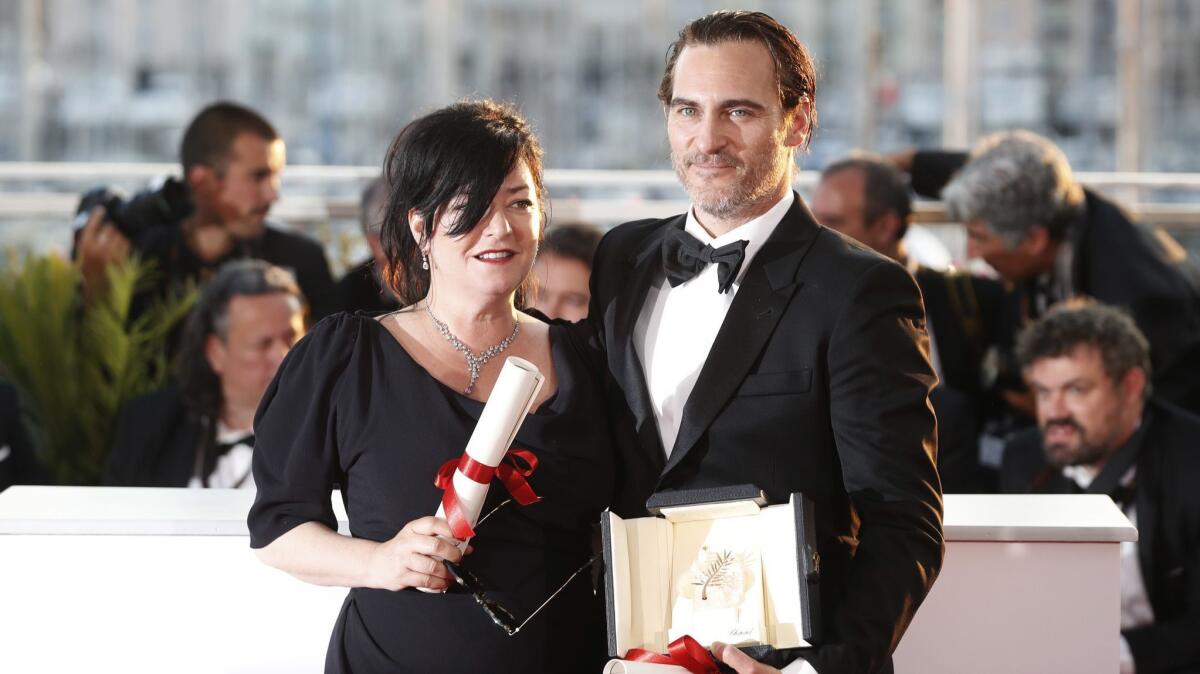 The impulses that drew them to the film, and one another, created a collaboration in which sensibilities and methods unexpectedly aligned, sparking each other and the imaginative possibilities of the moment.
"I've never seen anybody think on their feet or make such key important decisions under pressure as Lynne," said Phoenix. "The way that she reacts to things that came up in the environment, challenges that came up, was astonishing to me."
Ramsay gives special credit to her editor Joe Bini, cinematographer Thomas Townend, sound designer Paul Davies and composer Jonny Greenwood, a recent Oscar nominee for "Phantom Thread," for the film's jagged, disorienting atmosphere. But it is the relationship between the filmmaker and her star that truly makes "You Were Never Really Here" something extraordinary, a mix of instinct, emotions and decisive impulses that hits the viewer with a devastating impact.
"To me, that was a really interesting way of making a film," Ramsay said. "Lots of different things were more interesting than just joining the dots of the plot to a nice, obvious resolution. There is no resolution, and that's what violence is, that's what failure is.
"I always say," she added, "I thought I was making this exciting action movie but I actually always end up making character studies. Every single one."
SIGN UP for the free Indie Focus movies newsletter »
Follow on Twitter: @IndieFocus
Get our L.A. Goes Out newsletter, with the week's best events, to help you explore and experience our city.
You may occasionally receive promotional content from the Los Angeles Times.