New in home entertainment: 'Joy,' 'Sin Alas' and '10 That Changed America'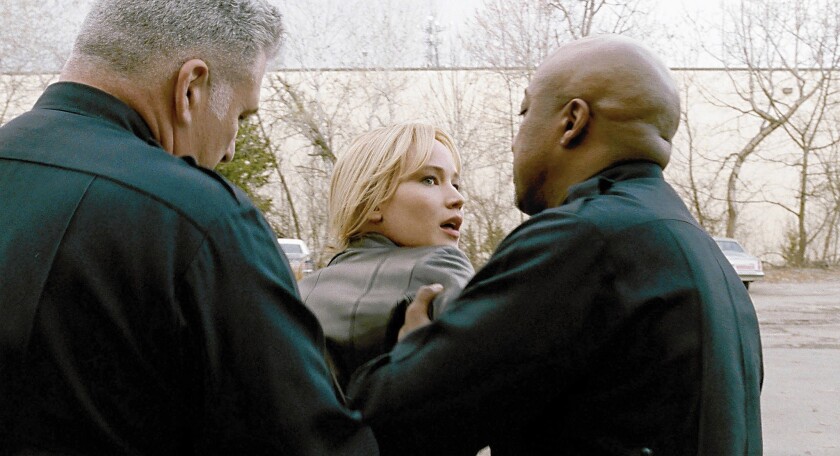 New on Blu-ray
"Joy" (20th Century Fox DVD, $29.98; Blu-ray, $39.99; also available on VOD)
Many awards-season pundits predicted that David O. Russell's "Joy" would be a major player in the best-of-the-year race last fall, though ultimately only star Jennifer Lawrence got much attention. There's undeniably a bit of an Oscar-bait quality to "Joy," which is pitched as an inspiring, clever, rags-to-riches story loosely based on the life of home-shopping entrepreneur and Miracle Mop inventor Joy Mangano. But the movie also sports some of the same loopy energy as Russell's earlier hits "Silver Linings Playbook" and "American Hustle," with offbeat supporting performances (by Russell regulars Robert De Niro and Bradley Cooper) bringing life to scenes that ramble on unpredictably. The movie's a mess, but it does have personality, as well as another winning performance by ever-watchable Lawrence.
Special features: a Lawrence-Russell interview; featurettes.
VOD
"Sin Alas" (available May 4 on iTunes and Amazon)
A hit at the Los Angeles Film Festival last year, Ben Chace's "Sin Alas" is a light, literary American independent drama shot on location in Cuba. Carlos Padrón plays an elderly writer who becomes haunted by the memory of a dancer he wooed in his younger days and distracted by the nagging melody she used to move to. Sean Price Williams, one of the best young cinematographers on the current New York art-film scene (best-known for "Listen Up Philip" and "Heaven Knows What") brings a warm, grainy, 1960s style to the picture, which is boosted also by a score that shifts easily from lyrical, melodramatic piano and violin to rhythmic, flute-driven Afro-Cuban music. The story is slight, but the performances are engaging, the local color is eye-catching, and the short running time (just over 80 minutes) allows "Sin Alas" to function as a poetic character sketch drawn by a couple of rising cinematic talents.
TV set of the week
"10 That Changed America" (PBS DVD, $24.99)
Pivoting off the special "10 Buildings That Changed America," PBS collects three new entries in the architecture-minded docuseries, covering the houses, parks and towns that influenced the way we think about domestic and civic design. These breezy, informative episodes — touching on such places as Monticello, Fallingwater, Central Park and Salt Lake City — consider the fusion of artistic expression, personal quirks and basic functionality that goes into constructing livable spaces.
From the archives
"Easy Rider" (Criterion Blu-ray, $39.95)
For most of the 1960s, Hollywood relied on skeptical, smirking, older screenwriters and disingenuously alarmist B-moviemakers to tell stories about the counterculture. Then the writer-director-producer-star team of Dennis Hopper and Peter Fonda drew huge crowds with their arty biker picture "Easy Rider," and studios rushed to hire more of these hairy upstarts, all of whom understood the language, music and convictions of America's youth from the inside. Besides sparking a generational revolution in cinema, "Easy Rider" remains a potent motion picture in and of itself, following two free-spirited drug dealers as they drive across the country, seeing the best and worst of their fellow citizens (and along the way meeting a sympathetic young lawyer played by Jack Nicholson). Though critics and audiences celebrated it as a celebration of hippie values, Hopper and Fonda's film is suffused with a poignant sense of disappointment, as though its creators already felt their moment passing before they'd accomplished all they intended.
Special features: Two commentary tracks; featurettes.
Three more to see
"Arabian Nights Trilogy" (Kino Lorber, $39.95; Blu-ray, $49.95); "The Choice" (Lionsgate, $29.95; Blu-ray, $39.99); "The Club" (Music Box, $29.95; Blu-ray, $34.95)
---