New video: 'If Beale Street Could Talk' is Barry Jenkins' bold adaptation of James Baldwin's powerful novel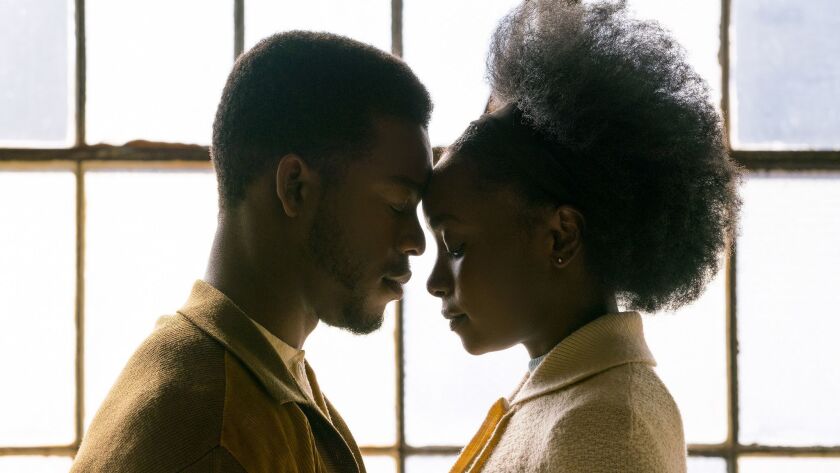 New on Blu-ray
"If Beale Street Could Talk" (20th Century Fox DVD, $29.98; Blu-ray, $34.99; also available on VOD)
Writer-director Barry Jenkins follows up his Oscar-winning "Moonlight" with another aesthetically bold literary adaptation, tackling James Baldwin's 1974 novel. Impressive newcomer KiKi Layne plays Tish Rivers, a young New Yorker whose boyfriend Alonzo (Stephan James) is imprisoned for a rape he didn't commit, not long after the couple learns they're about to have a baby. As Tish's parents (played by Regina King and Colman Domingo) exhaust their savings on a lawyer, Jenkins weaves in flashbacks and set pieces, exploring the visual, aural and emotional textures of early '70s New York, from the perspective of multiple generations of working-class black residents. Baldwin's race and class critiques underpin a moving story about how love and perseverance binds families, even when social institutions are determined to scatter them.
[Special features: Deleted scenes, a commentary track and a featurettes]
VOD
"The Highwaymen" (available March 29 on Netflix)
Kevin Costner and Woody Harrelson give appealingly lived-in performances in the old-fashioned buddy cop movie, a period piece about the real-life Texas Ranger who hunted down Bonnie Parker and Clyde Barrow in the 1930s. Costner plays that ranger, Frank Hamer, while Harrelson character is his former partner, who pitches in to help his friend bring down the bank-robbing folk heroes. Director John Lee Hancock (best-known for "The Rookie" and "The Blind Side") and screenwriter John Fusco (who wrote the "Young Guns" movies and created the TV series "Marco Polo") aim to create a kind of counter-myth to the '60s classic "Bonnie and Clyde," showing that law-abiding squares can be cool too.
TV set of the week
"Star Blazers 2202: Space Battleship Yamato — Part One" (Funimation Blu-ray, $84.98)
Along with "Astro Boy" and "Speed Racer," this 1970s Japanese animated series "Space Battleship Yamato" — retitled "Star Blazers" in the U.S. — helped American science-fiction and fantasy fans fall in love with anime. The intergalactic saga has spawned multiple sequels, movies and remakes since its debut. "Star Blazers 2202: Space Battleship Yamato" is one of the remakes: an extended retelling of the original series' second storyline, in which evacuees from a ravaged future Earth come back home from their first mission, only to face a fresh threat from beyond the stars. The new show attempts to smooth out some of the kinks of the '70s series, retaining the epic sweep while fleshing out the characters and story.
[Special features: A commentary track and an interview]
From the archives
"Perfect Blue" (Shout! Factory Blu-ray, $26.99)
A wholly original hybrid of stylish anime and Brian De Palma's over-the-top erotic thrillers, director Satoshi Kon's 1997 work is such a forward-thinking vision of what an animated film can be that it still feels like an anomaly all these years later. The story follows a pop star who takes a role on a pulpy TV series and soon finds that the show's violence and sexual situations are reflecting her own harried reality, where she's being harassed by a stalker and where people keep turning up dead. It's both surreal and sensual and filled with mysteries. Here's the biggest: Why are there so few movies like this?
[Special features: New and vintage featurettes]
Three more to see
"Aquaman" (Warner Bros. DVD, $28.98; Blu-ray, $35.99; 4K, $44.95; 3-D, $44.95; also available on VOD); "I Wanna Hold Your Hand" (Criterion DVD, $29.95; Blu-ray, $39.95); "Stan & Ollie" (Sony DVD, $25.99; Blu-ray, $24.99; also available on VOD)
---
From the Emmys to the Oscars.
Get our revamped Envelope newsletter, sent twice a week, for exclusive awards season coverage, behind-the-scenes insights and columnist Glenn Whipp's commentary.
You may occasionally receive promotional content from the Los Angeles Times.