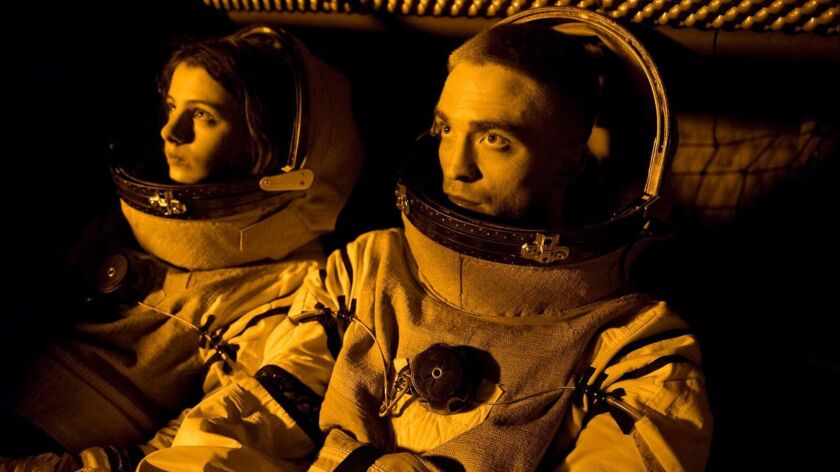 New on Blu-ray
"High Life" (Lionsgate DVD, $19.98; Blu-ray, $24.99; also available on VOD)
Acclaimed French art-film director Claire Denis tries her hand at science-fiction with this movie, her first in English. The story's set on a starship, and it stars Robert Pattinson as a criminal being treated like a guinea pig during an exploratory mission to a black hole; but don't expect some thrilling interstellar adventure — this is very much a Denis film, with a sometimes confounding, flashback-heavy narrative structure and an emphasis on hazy, poetic imagery over action. It's also preoccupied with the physical aspects of humanity: from the raw mechanics of sexual desire to the fragile bodies that keep people alive. This is a picture that will baffle many viewers, but it will beguile those who enjoy a cinematic challenge.
[Special features: A lengthy Denis interview]
VOD
"Cities of Last Things" (available July 11 on Netflix)
Three different actors play the same character in writer-director Ho Wi Ding's genre-bending experimental drama, which also uses three different styles to tell the story of a man named Zhang Dong Ling, on the verge of suicide. Working in reverse chronological order, the movie begins with Zhang toward the end of his life, living in a dystopian science-fiction future, and then jumps back to him as a young cop in a moody film-noir scenario, before concluding with Zhang as a character in a more realistic teen melodrama. Though unusual in its approach, the film is ultimately a thoughtful character study, covering the history of one troubled soul.
TV set of the week
"Broad City: The Complete Series" (Paramount/Comedy Central DVD, $55.98; also available on VOD)
Decades from now, fans of the recently completed Comedy Central series will look back on it as one of the 2010s' pop culture bright spots: a reliably hilarious and honestly insightful sitcom about life as a cash-strapped millennial in a New York City that can be a haven for young creative types and yet also cruelly demanding. Cocreators/costars Ilana Glazer and Abbi Jacobson always understood what was funny about their lead characters: two sexually adventurous, at times excessively open-minded best friends. But as the 50 episodes of the set make clear, they also understood that a long-running TV show needs entertaining stories and a cast likable enough to watch week after week.
[Special features: Extensive featurettes and commentaries on select episodes]
From the archives
"Dead of Night" (KL Studio Classics DVD, $19.95; Blu-ray, $29.95)
The ongoing popularity of the horror anthology film has its roots in this 1945 British hit, a movie many consider one of the scariest of all time, in which a group of guests at a country house swap strange and spooky tales. In the decades since its release, multiple motion pictures and TV series have borrowed not just its basic format and framing device but also even some of the segments' premises — like the concluding "haunted ventriloquist dummy" story. Equal parts chilling and artful, this movie is both historically significant and deeply disturbing.
[Special features: A scholarly commentary track and a feature-length retrospective documentary]
Three more to see
"Little" (Universal DVD, $29.98; Blu-ray, $34.98; also available on VOD); "Mojin: The Worm Valley" (Well Go USA DVD, $24.98; Blu-ray, $29.98); "Pet Sematary (2019)" (Paramount DVD, $29.98; Blu-ray, $39.99; also available on VOD)
---