With 'Ocean's 8' and 'Crazy Rich Asians,' Awkwafina is the summer's comedy secret weapon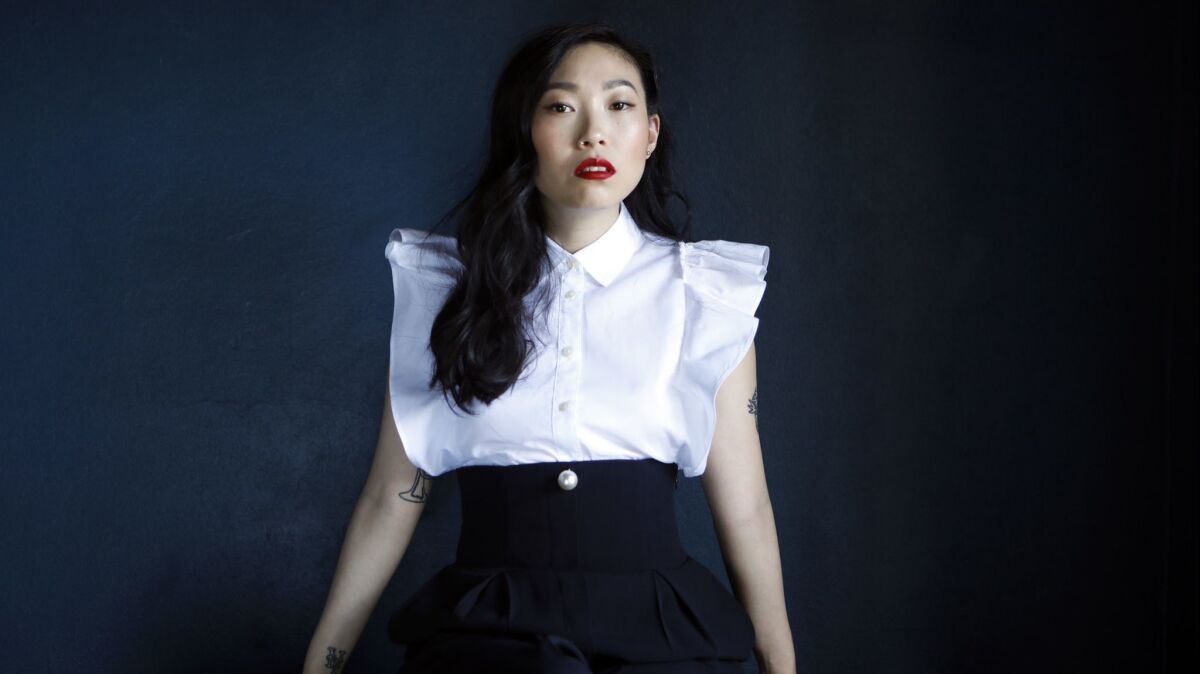 Queens native Awkwafina (a.k.a. Nora Lum) is everywhere these days as she charges her way through a banner year. This summer she lights up the multiplex with a slot on Sandra Bullock's squad of all-female thieves in heist sequel "Ocean's 8" (June 8) followed by a breakout turn in the highly anticipated literary adaptation "Crazy Rich Asians" (Aug. 17), both from Warner Bros.
Phoning from Barcelona, Spain, the rapper, comedian and actress reflected on her streak of projects, including the Netflix comedy "Dude" and a just-inked Comedy Central deal for a scripted series based on her life.
"I've been having this dream where I wake up from the dream that is my actual life," said Awkwafina, currently in Spain filming the sci-fi thriller "Paradise Hills" with Emma Roberts, Eiza Gonzales and Danielle MacDonald. "I have that dream maybe three times a week where I wake up and I'm just back in the vegan bodega, or at the book company. I can't believe that it's real and I don't think I ever will."
Happily, she no longer has to hustle those day jobs now that Hollywood has taken notice. Awkwafina, 29, brings the same swagger to the screen that made her rap career explode in 2012 when her deadpan feminist single "My Vag" announced the arrival of a fierce new talent equally unafraid to stunt in her lyrics and explode stereotypes and taboos.
FULL COVERAGE: 2018 Summer Movie Sneaks »
Leaning into acting, she scored a small role in "Neighbors 2," but landing a coveted spot in the all-female "Ocean's 8" lineup in a cast led by Sandra Bullock, Cate Blanchett and Anne Hathaway gave her Hollywood career a next-level bump.
"Constance is a person I've never seen on-screen before, ever," she said of the "Oceans" role director Gary Ross and co-writer Olivia Milch tailored to her. "'Asian' is not part of her character – she just is. She's a kind of New Yorker, this modernized, outer-borough, fast-talking three-card monte character, but she's real."
Another perk of being part of the "Ocean's 8" ensemble, which also includes Helena Bonham Carter, Mindy Kaling, Sarah Paulson and Rihanna? "We might have a group text," she teased. "Yes, there is a group text. It's hilarious. Constant laughter, always a joy. A lot of GIFs. I'm very talented at GIFs, I will say that. I'll find a GIF for any occasion."
In "Crazy Rich Asians," director Jon M. Chu's slick adaptation of Kevin Kwan's bestseller of the same name, Awkwafina brings the Singaporean new-money character of Peik Lin to life as a brash, blond-bewigged, human adrenaline shot draped in designer silk pajamas.
Peik Lin bridges the stark worlds of the film's Asian American heroine Rachel (Constance Wu) and the entitled, interconnected and snooty 1-percenters descended from dynastic generations on the wealthy island."I think that a lot of Americans don't understand the new-money class that is coming up in Asia. These are kids – kids! – that have five Lamborghinis, they shop at Supreme, they go to Louis Vuitton! In malls here, we have Orange Julius. In their malls they have Prada and Goyard and Gucci and Chanel."
"It's really cool when Asian people get to tell stories, because then instead of seeing one Asian character you get to see a world of Asian characters," she added, "and they become just characters at that point."
Chu cast Awkwafina and tweaked the character with inspiration from outre Asian fashion bloggers and Instagram celebrities. On set, Awkwafina's knack for improvisation made Peik Lin pop even more.
"She's so creative," he raved. "You can write a line but you really don't know how she'll deliver it until she does it. We let her riff a lot, and it raised everybody's game that she could be bold, and herself, and it could fit within this world."
Comedy and improvisation have always come easy to Awkwafina. But the hunger that keeps her pushing forward? That's the New Yorker in her.
"Growing up in Queens, you live 20 minutes away from the city so you realize it's also something you have to work for because Manhattan will never be yours," she said, "and I still don't feel that it's mine. It's just some beautiful gift that I was able to experience."
She's excited to rep for her city in "Crazy Rich Asians" ("One of Peik Lin's first lines in is, 'Is New York in the house?' Which is ironic because I'm playing a Singaporean, but that's still repping.")
And with a new EP on the horizon — one not mixed in her bedroom, like 2014's "Yellow Ranger" — music fans will soon see Awkwafina return to her rap roots.
"People think that I stopped music for the movies, and that was part of it, but a lot of it was that I wanted to find my voice," she said. "If I'm going to be in this genre I have to do it right, and I didn't feel that I was in a place where it was being done right. I had to find that again and that's what that project represents."
"But I think it's pretty dope that I don't have to file for unemployment," she quipped in her signature self-deprecating style. "The hustle will never end for me and I'll want to see what's coming next. I'm really grateful for what's happened. I would have never thought that it would."
READ MORE: See the full list of summer release dates »
Get our L.A. Goes Out newsletter, with the week's best events, to help you explore and experience our city.
You may occasionally receive promotional content from the Los Angeles Times.