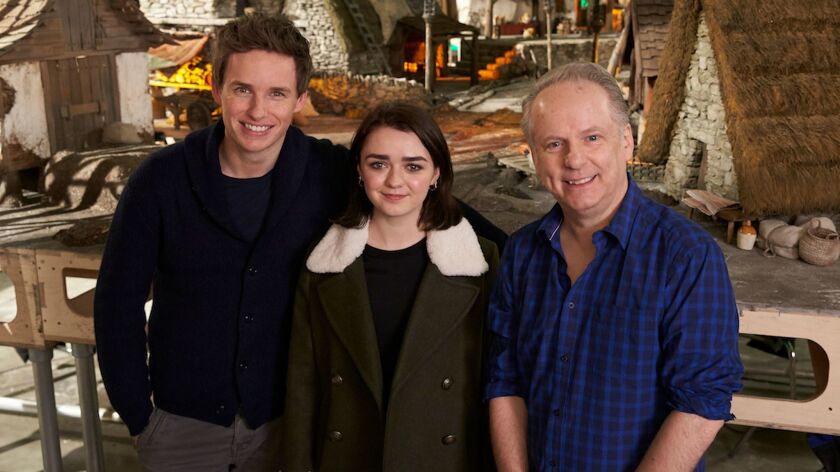 Reporting from Bristol, England —
Surrounded by body parts in a former aluminum warehouse on the outskirts of Bristol, in the southwest of England, Nigel Leach enthusiastically hands me an arm. "Feel that," he says, as I gingerly pinch the disembodied limb.
Rather than a grisly crime scene, I'm actually on a tour of the puppet-making department at Academy Award-winning Aardman Studios. The tiny, finger-sized bicep in my hands, which is made entirely of silicon, belongs to one of the characters from "Early Man," the latest animated stop-motion feature from Wallace and Gromit creator Nick Park.
"Nick likes the thumby texture," explains Leach, a team leader in the puppet-making department, gesturing to the silicon, which looks like clay and hides a wire armature underneath. "It means that the animator can move the arm and not have to sculpt every single stage in the plasticine."
Although stop-motion animation is often dismissed, somewhat unfairly, as kiddie fare, actually producing it is far from child's play. "Early Man" is Park's first directorial feature since 2005's "Wallace and Gromit: The Curse of the Were-Rabbit" and a wholly original concept. He describes it as a "prehistoric underdog sports movie," centered on a caveman, Dug (voiced by Academy Award-winner Eddie Redmayne), as he leads his tribe into battle against the impending Bronze Age through the somewhat anachronistic medium of soccer.
The plot required numerous stadium scenes featuring at least 22 characters on the pitch and thousands more in the bleachers, not to mention the technical challenges posed by trying to shoot a ball flying through mid-air, one painstaking frame at a time. "I've often thought to myself, 'Why? Why have I chosen this subject?'" Park chuckles. "Maybe golf would have been a better choice. Or ice-skating."
"There's no single shot in the film that's easy," admits animation director Will Becher as he guides me around one of the studio's forty-six units, each housing a detailed miniature film set. "So you'll look at the [story] boards and think 'That's great. That's going to be really quick,' but quite often the small, close-up ones just take forever."
The longest shot on "Early Man," Becher says, took one animator seven and a half weeks to complete, which produced just 38 seconds of footage. Another animator found herself shooting a scene with 78 individually moving parts, each of which had to be painstakingly micro-adjusted for every frame. "If you make a mistake in stop motion, you can't change it," Becher warns, "You have to go back and do it again, which is not good."
The project has been a longtime dream for Park. "I just always wanted to do something with cavemen," he explains. "I feel like clay animation lends itself to the earthiness."
However, the initial character sculpts, based on Park's two-dimensional sketches, were so cumbersome and used so much clay they were deemed unworkable. Even at the puppets' current scale, one of the film's largest sets — the entrance to the soccer stadium in the Bronze Age town — stands almost 10 feet tall. It's so large it even features trap doors for the animators so they can adjust their puppets without having to trample all over the scenery.
Redmayne, who has worked on large-scale productions including "Fantastic Beasts and Where to Find Them" and "Les Miserables," said the Bronze Age set "blew me away," when he visited the studio last year. "It was so vast and yet on such a tiny scale," he recalls via telephone call from London. "The intricacy of the model making — you could get lost in it."
While Dug, with his large hands, shaggy hair and fur tunic (the latter chosen because a naked clay torso would have made the already laborious animation process even longer) certainly looks the part of a caveman, he has more than a hint of Wallace about him too. "It's very much from Nick's design sensibilities," agrees animation director Merlin Crossingham. "Classic eyes, big teeth and kind of a nice chunky, solid feel to it. And yes, it's something that has sort of becoming the Aardman house [style] but really it's Nick's design style."
And, just like Wallace, Dug also has a pet-slash-sidekick in the form of Hognob, a prehistoric, ginger hog voiced by none other than Park himself, who insisted on recording Hognob's grunts and squeals clad in an orange fur gilet whipped up by the puppet-making department.
Although in person Park is soft-spoken and introverted — at one point he describes his directing style as "leading from the back" — he has a precise vision and likes to act out every character's lines in the studio's live-action video unit for his animators to use as a guide. He is equally fastidious about their voices, which, in "Early Man," are provided by a cast including Redmayne, Tom Hiddleston and "Game of Thrones" fan favorite Maisie Williams.
"So many times I see animation where the voices don't quite work or you don't feel are really coming out of the character," Park explains. "And with clay, you can be so accurate to how they say things and fashion the style of the mouth."
Williams, who accompanied Redmayne on the set tour, agrees the scale of the project was "crazy impressive." Having grown up not far from Aardman's headquarters in Bristol, her casting as Goona, a gifted soccer player who triumphs over gender discrimination, was a "dream come true," she says via phone.
One of her hopes for the film is that it will inspire a new generation of girls to pursue their dreams. "I think it's wonderful to see a woman prevailing in what seems to be quite a male-dominated world," she says of Goona. Williams, who recently announced she was starting her own production company, has plenty of experience when it comes to prevailing in a male-dominated industry. "I think we're so influenced as kids by what we see that it's important to bring these pretty serious issues to light, even in kids' films," she says.
One serious issue that might go over the heads of most kids in the audience — although not their parents' — is the tribe's struggle with impending technology. In "Early Man," the Bronze Age is depicted as brutal and mercenary, and it's hard not to draw a parallel between Dug's David and Goliath battle and Aardman's. After all, in an era dominated by CG, and with hand-drawn animation already almost extinct, how much longer can clay stop-motion survive?
"It's hard to compete, so [clay] gives us a trademark and a standout. A USP," Park says, although he points out that his films do use some CG, mainly for the backdrops. "But I do feel like we're the little guys competing and — a bit like in the film — we're using clubs and bows and arrows to fight a nuclear power."
---