How 'Mary Poppins Returns' star Emily Blunt and director Rob Marshall aimed to make a 'joybomb on the soul'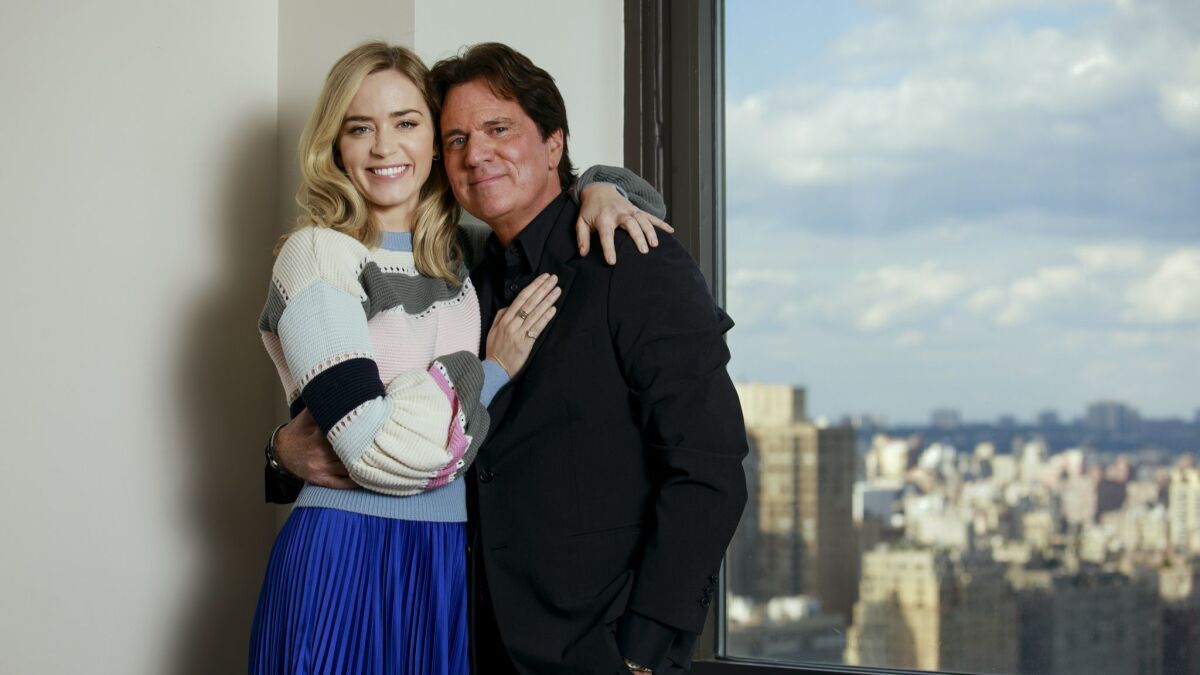 Reporting from New York —
The star and director of "Mary Poppins Returns" sit close together on a settee in a hotel suite high above Central Park, thick as thieves, and suddenly they're not Emily Blunt, Golden Globe-winning actress, and Rob Marshall, Hollywood's Oscar-nominated go-to musical man.
It's the "Em and Robbie" show.
There's an exceedingly warm mutual admiration and a shorthand between the pair after two films together, a rapport that first sparked years ago over lunch for a project that didn't pan out and blossomed when Blunt starred as the plucky baker's wife in Marshall's 2014 hit adaptation of Stephen Sondheim's "Into the Woods."
Marshall calls Blunt an old soul and "my favorite actress." She vows to lure him and his partner, John DeLuca, out of Manhattan and "convert them to Brooky-Brooks" — meaning Brooklyn, where she lives with husband John Krasinski.
The two are creatively simpatico, they say, which is a big part of how they found the confidence to attempt something as wildly ambitious as reviving one of the most beloved characters in cinematic history. Also, Marshall adds, it helps that they both like martinis.
Still, Blunt admits, she was surprised and terrified when Marshall called her one day after the success of "Into the Woods" to propose teaming up on a new project he wanted to make with Disney.
"He said, 'By far their most prized possession is Mary Poppins,' and I remember my hair blowing back from thrill and vague panic," Blunt said with a laugh. But she said yes immediately, and the massive undertaking began.
FULL COVERAGE: 2018 Holiday movie preview »
"Mary Poppins Returns," a Disney song-and-dance extravaganza in the vein of the studio's song-and-dance classics of yore, is a direct sequel to 1964's "Mary Poppins." The fantasy classic was based on P.L. Travers' book series about a magical nanny who floats out of the clouds to bring order and joy to the young Banks children in 1910 London.
Directed by Robert Stevenson and featuring over a dozen iconic earworms by the Sherman brothers, "Mary Poppins" was one of the year's highest-grossing films and scored 13 Oscar nominations and won five (including lead actress, original song and original score). Breathing life into its titular heroine, Julie Andrews served up a practically perfect screen performance that defined the character to generations of fans.
Arriving in theaters Dec. 19, "Mary Poppins Returns" is aiming for a supercalifragilisticexpialidocious repeat — and with handsome production design, impressive visuals seamlessly blending live action and animation, and brightly fanciful costumes by Oscar-winning designer Sandy Powell, it's well-positioned to take home some more hardware.
"Musicals are complicated to create because you have to find the rhythm. You have to know when there's a ballad, when there's an uptempo, what you need when," said Marshall, who made his feature directing debut with the 2002 Oscar-winning musical "Chicago," for which he was nominated for the Academy Award, and returned to the genre with 2009's "Nine." "Bad musicals are when you haven't earned a song. But in a good musical, you're unaware that they're singing."
"Mary Poppins Returns" was the most massive undertaking of his career, Marshall estimated, and that's coming from a filmmaker who also directed a "Pirates of the Caribbean" sequel.
Also difficult, added Blunt: "Paying homage without replicating."
Making the world of "Mary Poppins" both familiar and fresh to 2018 audiences began with connecting its threads to the original. A screenplay by David Magee sets Poppins' return to Cherry Tree Lane two decades after her last visit to the Banks family.
England is suffering under the gloom of the Great Depression, and a now-grown Michael Banks (Ben Whishaw) is a recent widower. Even with the help of his activist-unionizer sister, Jane (Emily Mortimer), he struggles to raise his three young children and keep bank lenders (including a villainous Colin Firth) from seizing the family home.
Bringing life and light once again in a time of darkness, Mary Poppins alights on a kite from the sky. And in Blunt's rendition, she isn't quite the same Mary Poppins you might remember. Revisiting Travers' expansive series of Mary Poppins books proved crucial for Blunt, since as soon as she signed on to play the legendary role she vowed not to watch the original film again.
"I didn't want any natural instinct I might have to be diluted by the brilliance of what [Andrews] did," she said. "I knew that I wanted to take quite a big swing with the character. No one can out-Julie Andrews Julie Andrews! You've got to do something else."
The Mary Poppins of the books, she found, presented new and different qualities than those seen in the 1964 film. "There's an eccentricity and a battiness to her. She's incredibly vain and rude and funny," grinned Blunt, "and weird, actually. Like this strange, rare bird. You can't get a read on where she's going. But I read the books quite fully, and it became clear to me where I wanted to go with her."
"I knew that I wanted to take quite a big swing with the character. No one can out-Julie Andrews Julie Andrews! You've got to do something else."
— Emily Blunt
The moment when Marshall knew Blunt had her character down pat came on the first day of rehearsal. It's a scene in which Michael and Jane Banks are visited by Mary Poppins for the first time in decades.
"You walked in and you were the character," he said, beaming at Blunt. "You clearly had a laser sensibility of who she was. We finished the scene, and I started crying. It was the beginning of rehearsals, and we had months to go, and she had already carved her own space from her own imagination and her own sensibility."
"You were so sweet," Blunt answered, admitting that she was wracked with nerves that day. "You said, 'And there she is.'"
The two had discussed infusing their Mary Poppins with tonal influences of the era in which "Mary Poppins Returns" takes place — specifically, the snappy, sassy clip of Rosalind Russell in "His Girl Friday." "I knew the pace and speed I wanted her to move; I wanted her to come in like a tornado," said Blunt.
But it wasn't just Mary Poppins' uniquely oblique persona that the actress had to find; carrying a bombastic Hollywood throwback musical, she embraced her inner Broadway hoofer … and vocalist.
"I still love singing in the shower or the car, love it — karaoke, if I'm drunk enough — but I have always, ever since I was a child, found it very nerve-wracking to sing in front of people," said Blunt, whose karaoke skills have indeed been documented on the internet. "But I think I am one of those people who, when I am nervous about something, I almost have to go all the way, because it combats the fear."
"She acts a song," nodded Marshall, who tapped the perfect comrade-in-arms to join Blunt's Poppins in some of the film's most memorable — and difficult — musical numbers.
After the meteoric success of "Hamilton," creator and star Lin-Manuel Miranda was the toast of Hollywood. He chose to do "Mary Poppins Returns" next, taking on the role of Jack, a warm-hearted lamplighter with ties to Mary Poppins and her old cohort, Bert.
"He walks into every room with great hope, and there's a natural exuberance and effervescence to him," raves Blunt. Jack is one of the few characters who truly sees Mary Poppins — and sporting a mouthy Cockney accent, brings vigor to numbers like "Trip the Light," a traditional staged number featuring a battalion of London lamplighters, and a vaudeville-styled duet with Blunt that proved one of the more challenging scenes to pull off.
In the film's hand-drawn animated sequence (a nod to the 1964 film), Mary Poppins and Jack have led the three young Banks children — Annabel (Pixie Davies), John (Nathanael Saleh) and Georgie (Joel Dawson) — into a magical china bowl that, of course, is merely the doorway to yet another fantastical world of its own.
There, the pair put on the ritz for "The Cover's Not the Book," dancing with animated animals up and down a staircase made out of enormous books. It was the first scene Marshall shot, playing co-choreographer with DeLuca and occasionally grabbing a cane to show his stars how it's done.
Lots of previz and storyboarding helped, as did Marshall and DeLuca's choreographer minds. The concept sprang out of the song by Marc Shaiman and Scott Wittman, "about this wonderful concept that what you see on the outside isn't necessarily what's on the inside," said Marshall, who directed Blunt and Miranda alongside dancers who would be transformed into animated penguins in post-production.
"Rob hired the shortest dancers he could find," laughed Blunt, who also revealed the most terrifying moment she had on set. "It's a green screen set of books, I'm in heels with a skirt, and I couldn't see the stairs. Rob is the nicest that there is — but also he does it till it's perfect. He's got the dancer's mentality of, 'You will do it until it's absolutely spectacular.'
"I remember I was about to do another take coming down the stairs and I went, 'I'm terrified!' and he said, 'I know honey, I can see it on your face – OK, Action!'"
RELATED: Virtually every film coming out this holiday season »
Blunt pulled it off without a hitch, of course. And the sequence, like every musical number in "Mary Poppins Returns," brings with it a salve of sorts to younger audiences; more than its predecessor, this "Mary Poppins" film seems to feel the weight of its own legacy, every song a musical spoonful of sugar delivering coping mechanisms for life in an oft-chaotic contemporary world.
"What I love about Mary Poppins the most is she recognizes what people need and she gives it to them," said Blunt, "but she gives it to them in a way that they can go on a voyage of self-discovery. She wants zero credit. There's nothing manipulative about her generosity, because she makes it all about you — and then she leaves. I love that she knows that life is full, it ebbs and it flows. She allows for the cracks in people, and ultimately the light shines through."
Recognizing that such a film might be what audiences need now — particularly the younger viewers — was something Marshall believes got so many talented cast members on board, including Blunt's "Devil Wears Prada" and "Into the Woods" co-star Meryl Streep.
"Meryl said yes within seconds," he said. "She called the film 'a gift to the world.' I think in a way, we were all aware of that."
"Among the acrimony and bitterness that is out there right now in the air, I think a film like this could actually be the great unifier, at Christmas, which would be nice, wouldn't it?" added Blunt. "As my husband puts it, it's a joybomb on the soul."
"If we can just bring a ray of hope to the world now … ," mused Marshall. "It is a fragile time, and a divided time. I think we all need hope that something better is coming."
---
Get our L.A. Goes Out newsletter, with the week's best events, to help you explore and experience our city.
You may occasionally receive promotional content from the Los Angeles Times.