'The Beguiled' continues a bond Kirsten Dunst and Sofia Coppola started with 'The Virgin Suicides'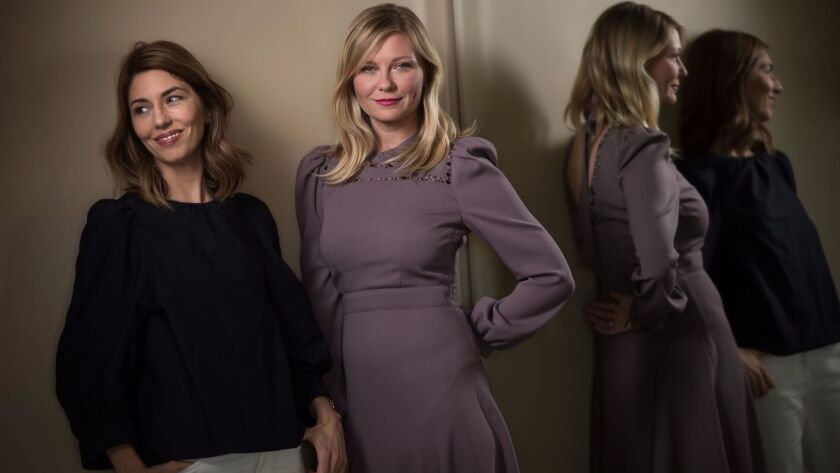 Kirsten Dunst didn't want to kiss anyone. She was 16 and had been playing a young innocent on-screen for a decade. Now, on the set of Sofia Coppola's "The Virgin Suicides," she was supposed to film a scene in which she made out with a handful of guys. And she was riddled with anxiety.
"But Sof was just like, 'Bury your face in your hair,'" Dunst, now 35, recalls. "So I didn't really have to make out with them. It was an older part for me — the first time I was seen in a sexual way. And I'm so happy that transition was in Sofia's hands, because it could have been really different with another director."
The experience instantly bonded the actress and the filmmaker, forging a connection so strong that the pair went on to make two more movies together. The latest, a remake of 1971's "The Beguiled," debuted at the Cannes Film Festival last month — where Coppola became the first woman to be named best director since 1961. Set in Virginia during the Civil War, the movie, which hits theaters June 23, tells the story of a group of women (played by Dunst, Nicole Kidman and Elle Fanning) who take a wounded Union soldier (Colin Farrell) into their sheltered boarding school. The arrival of the hunky soldier turns the house upside down, as the women begin vying for his attention and sneaking into his room to try to win his affection.
Though Dunst had a one-day cameo role in Coppola's 2013 film "The Bling Ring," "The Beguiled" marks the first time the two have really collaborated since 2006's "Marie Antoinette." In the new movie, Dunst plays Edwina, a chaste schoolteacher who is perhaps the most affected by the advent of the soldier.
"I liked the idea of seeing her play a character that's so different from her," says Coppola, 46. "The character is so innocent and vulnerable, really repressed — and Kirsten's not repressed at all."
In their friendship, at least, Dunst certainly appears to be the more gregarious. Coppola is not verbose. There's a gentleness to her speech, and she often swallows the ends of her sentences. Her style is also more conservative than Dunst's. She tends toward pants and high-neck blouses and carries quilted Chanel handbags. Dunst, meanwhile, usually opts for dresses and isn't afraid of showing decolletage on the red carpet.
"Kirsten is some sort of alter ego I connect to in myself," says the director, sharing a couch with Dunst. "Also, because you're so opposite. When I met her, she was this all-American, blond cheerleader. But there was something else going on that contrasted that. And yet we already shared a sensibility and sense of humor that helps a lot. Kirsten just gets me and what I'm trying to do. We don't even have to talk. I'll just look at her and she'll go, 'OK, got it.'"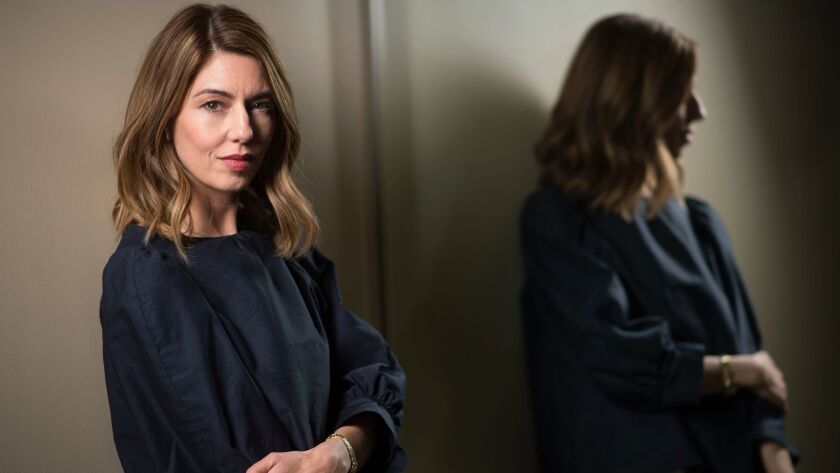 Youree Henley, a producer on "The Beguiled," says the kinship between the two became obvious the moment they showed up for an early costume fitting.
"There was a great shorthand and real appreciation between them, and that carried through into making the movie," he says. "Sofia likes to go back to things she trusts — like working with Kirsten, or Elle Fanning again after 'Somewhere.' Because she knows what she can do with them."
Beyond her trusted stars, there are other classic Coppola stamps on "The Beguiled" — namely its gauzy, pastel-heavy visual aesthetic. Filmed at a historic plantation house in Louisiana, the movie is filled with moody nature — Spanish moss and Southern live oaks. And the women are all meant to look delicate and ultra-feminine, with crown braids, corsets, bows and brooches.
"I've always been visually driven — that's how I relate to the world," Coppola says. "I think about how you fill the frame, and we wanted this to feel claustrophobic, so we picked a tighter aspect ratio. Everything is in service of the story, so that the audience is disarmed by this pretty, delicate world."
"You have impeccable taste, Sof, you do," Dunst says. She describes how beautiful Coppola's home is in New York's West Village, where the director lives with her husband, Phoenix frontman Thomas Mars, and their two children. "Though it was funny to go there after she had kids, because I was like, 'This is not Sofia's house.' I went to the bathroom and there's, like, explosions of toys. I think kids change the aesthetic quickly."
Dunst, who lives in the Valley with her fiancé, "Fargo" co-star Jesse Plemons, describes her own style as more relaxed. In her downtime, she says, she wears sweatpants and a little makeup, "but that's only because I don't like my skin tone. It's so red." On "The Beguiled," when Coppola mentioned that the characters should look like they were "dwindling away" due to a lack of food in the house, Dunst made it clear that she would have trouble looking like she "hadn't been fed."
"There were so many fast-food restaurants where we shot — Cane's Chicken, McDonald's — and no healthy options. So I was like, 'I can't, really.'"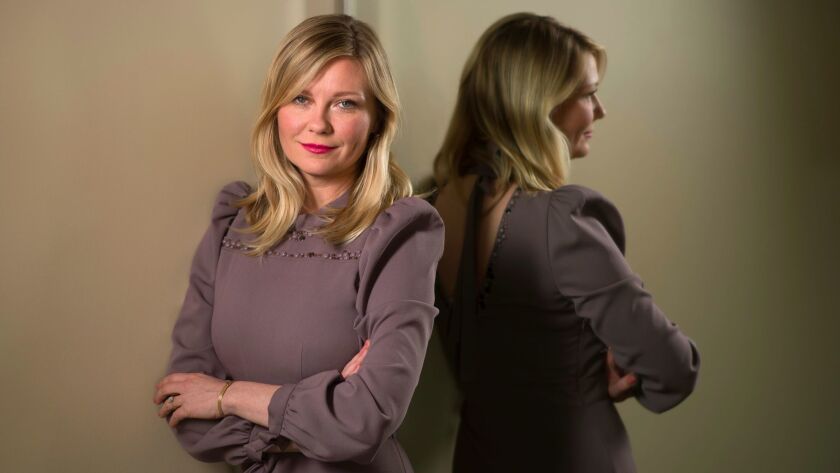 But Dunst values Coppola's opinion, and is planning on seeking her guidance when she directs her first film next year, an adaptation of Sylvia Plath's "The Bell Jar" starring Dakota Fanning.
"I like making low-budget films, just because I can have total control, and I wouldn't want to make a movie that I couldn't make exactly how I wanted," Coppola advises Dunst.
"I couldn't imagine not having final cut," the actress replies. "What would be the point?"
"Don't ever do that. Don't ever do that," the director insists. "I never have, but I almost did, and I'm so thankful I didn't do it. When I get input, I like being able to say, 'Oh, thank you,' but then do it the way I want."
Coppola seems to be referring to "The Little Mermaid," a live-action version of the classic Hans Christian Andersen fairy tale that she dropped out of due to creative differences in 2015. Instead, she went on to make "The Beguiled" — which, though not a massive studio film, still proved a challenge for the director. Unlike her previous work — sparse, dialogue-light movies like "Lost in Translation" and "Somewhere" — "The Beguiled" has more language and a propulsive plot line.
"This was kind of an experiment, and I liked trying a different style of filmmaking," Coppola says. "I've never used a lot of dialogue before, because in real life, people don't express themselves that way. They show things through gesture. Nobody can show their feelings. I try to make things based on my impression of how they are in life, which is not as tidy and organized. More impressionistic, to give you the feeling of something."
"I always think movies have too much dialogue. No one talks that much," Dunst agrees. "I like how your films allow you to have your own experience of things."
Farrell, who had never worked with Coppola before "The Beguiled" but was a longtime fan of her work, describes it as "emotional dislocation."
"She's a master of mood," the actor says. "She ran the most calm and relaxed set that I've ever been on in 20 years of making films. Her direction was very, very gentle — she'd have you leaning into her and nearly whispering."
Since winning the directing prize at Cannes, Coppola says she's been overwhelmed by the warm reaction from industry peers.
"Even in my neighborhood — when I walk my kids to school, strangers on the street will be like, 'Yes! Congratulations!'" she says.
"My mom was so proud of you," Dunst says. "She cried when she heard. I mean, it's a long legacy of us working together."
"Really? That's sweet," the director says. "I still haven't gotten the trophy. But Quentin [Tarantino] told me he was bummed he never got the director award, because it's actually bigger than the Palme d'Or. I'm excited for it. It can go in my house with all of those Calico Critters."
Follow me on Twitter @AmyKinLA
---
The complete guide to home viewing
Get Screen Gab for weekly recommendations, analysis, interviews and irreverent discussion of the TV and streaming movies everyone's talking about.
You may occasionally receive promotional content from the Los Angeles Times.