Usher's extracurricular film career gets serious with his role as Sugar Ray Leonard in 'Hands of Stone'
"Hands of Stone" stars Edgar Ramírez as Roberto Duran, Robert De Niro as Ray Arcel and Usher Raymond as Sugar Ray Leonard.
In the music industry, there are few modern artists as successful as Usher. At 37, he's won eight Grammy awards, sold over 65 million albums worldwide and served as a coach to aspiring singers on NBC's "The Voice."
But in Hollywood? His film career has been kind of a joke.
If that sounds harsh, consider his IMDB page, where most of his costars are '90s teen pinups like James Van Der Beek, Rachael Leigh Cook and Josh Hartnett. In the early 2000s -- when he was just coming to prominence as an R&B star -- Usher (born Usher Raymond IV) had supporting roles in a slew of films aimed at the under-18 set. He played the school DJ in "She's All That"; a football player in "The Faculty," about a high school filled with alien teachers; and an outlaw in "Texas Rangers," a movie you probably don't remember because it only grossed $623,374.
But Usher is hoping all that will change next weekend, when he adds a far more serious credit to his résumé: "Hands of Stone," a boxing drama that debuted at the Cannes Film Festival earlier this year. The film tells the story of Panamanian fighter Roberto Duran (Edgar Ramirez), a passionate but headstrong boxer who became a world champion with the help of legendary coach Ray Arcel (Robert De Niro). Duran's primary rival in the late 1970s was Sugar Ray Leonard, whom Usher plays in his first real acting performance in a decade. The movie follows two key matches between the opponents -- the final one, in 1980, ending when Duran abruptly walked out of the ring after saying "no más" ("no more" in Spanish).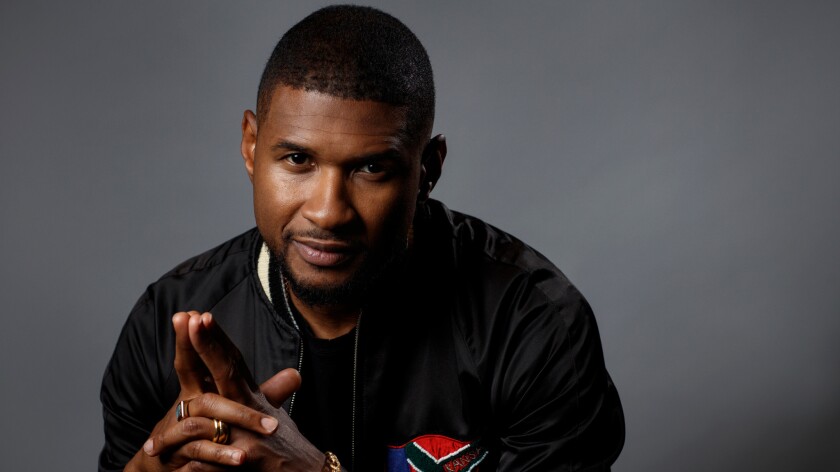 Though Usher bears a strong resemblance to Leonard in the film -- he's short (5 feet, 7 inches), and lost 15 pounds to play the role -- it was the musician's dancing ability that first got filmmakers to consider him. Freddie Roach, who trains Manny Pacquiao, told director Jonathan Jakubowicz that because Leonard was known for his fast feet and ring savvy it might actually be easier to train a dancer to fight like Leonard rather than someone who could throw a strong punch.
"So I went home and I thought, 'Who's the best dancer in the world? Usher,'" recalled Jakubowicz. "But everybody was like, 'Well, but he could be distracting.' He's too famous. He's bigger than famous. He's a guy who has been famous for a decade already."
So the director went directly to the source, reaching out to Leonard to see if he approved of Usher playing him.
"I started laughing and said 'Wow, Usher?'" Leonard said of the director's call. "But then I spoke to Usher and he told me how he really wanted to make me proud and wanted my assistance. So I said, 'Yeah, I can make you be me. I'm pretty good at that.'"
A few months later, Leonard went to visit Usher at his home in Atlanta and was surprised to find a full boxing gym in the singer's basement. He watched the aspiring athlete hit the speed bag and move around the ring. "And he was on balance," said Leonard. "This is something I've done for 50 years. For him to do this all of a sudden was fascinating."
Usher, meanwhile, had secretly been itching to return to acting. For years -- while his mother, Jonetta Patton was managing his career -- he would turn down roles that he still wishes he had taken: Playing Frankie Lymon in 1998's "Why Do Fools Fall in Love" or Jennifer Hudson's manager in 2006's "Dreamgirls."
"At the time, I wasn't managing my situation and was not in the position to make those decisions," said Usher, who is now managed by his wife, Grace Miguel. "But here you have a new day. I think it starts here. I think this film begins a new conversation and has allowed me to get into the creative space that renews who I am."
Usher was in Beverly Hills this week to promote "Hands of Stone," seated in a private dining room at the head of a table with about a dozen empty place settings, three of his handlers lingering outside. He was dressed in all black and was wearing a chain mail satchel his wife made for him to carry his crystals. Usher is a big fan of crystals: amethyst, labradorite, tiger's eye. On this day, he was wearing rose quartz, but he'll swap out different crystals based on what he feels he needs or wants. Many nights, he charges his collection under the moonlight, which he believes restores their energy.
Usher doesn't do much without intention. After just a couple of meetings with Jakubowicz, he began his transformation into Sugar Ray Leonard. He started working with acting coach Susan Batson, who counts Zac Efron, Oprah Winfrey and Nicole Kidman among her clients. He started growing out his hair so that it would match Leonard's period afro. He began boxing -- sometimes three times a day -- with a coach in Atlanta and checking in weekly with Leonard himself, sending the veteran athlete shirtless pictures of himself to show off his changing physique.
"I just said, 'Hey, man. You look a little bit too buff," Leonard said. "'You have an eight pack. I only had six.'"
This was all, mind you, before the film had any financing. Jakubowicz moved to Panama for a year to persuade local investors to participate in a movie about a homegrown Latino hero, after coming up empty with U.S. financiers. He was ultimately able to raise $24 million there, and when he returned to the States with the green light, he found Usher already in shape to do the movie.
Usher had made the decision to commit to the project early on, he said, after reading an interview with Halle Berry in which she talked about how her gamble on the independent film "Monster's Ball" ultimately resulted in her Oscar win.
"The point she was trying to make was that not every role has to be well paid out," said Usher, who has never met the actress. "Sometimes the back end is more rewarding because it leaves you honest. The conditions may not necessarily be the most comfortable, but that's good for your character."
Playing Leonard also held symbolic importance to Usher. In taking on the role, he said, he felt he was helping to preserve the legacy of one of the most iconic black athletes.
"There's too many people, as an African American, that I need to not be forgotten," he said. "It ain't even about who he was to me. It's who he is and what he represents to my people, who in my opinion are a misplaced culture of people. We're a nomadic culture of people. We don't speak our native tongue. We don't represent and celebrate our native religions. We've always been displaced. So it's important to make sure that these types of roles are executed right."
While working on his boxing ability, Usher also began researching what made Leonard tick: watching his famous fights on a loop, reading the boxer's memoir and recording phone conversations with him in which they discussed his past.
"After all of that, I made a conscious decision that I wanted to show the difference between macho and masculine," said Usher. "And though Sugar Ray Leonard was very poised -- as any Olympic medalist would be -- there's a certain manner and way that he presented himself in front of the camera. There's a different side to him, a very masculine side, that no one ever got to know."
To show off this aspect of Leonard's personality, Usher persuaded Jakubowicz to add a scene to the film in which the boxer has sex with his wife just a few days before his big rematch with Duran, an act traditionally shunned by boxers before a fight. It's a scene that was talked about a bit out of Cannes, because Usher reveals his derriere. "I didn't do all this work to not show it," he said with a laugh.
"It's not that I was just vying for a sex scene, but I thought it was so revealing for Sugar Ray Leonard to be seen in that way -- breaking the golden rule and committing the ultimate no-no."
On set, Usher offered other contributions -- frequently checking in with Jakubowicz to make sure the angles of the iconic matches between Leonard and Duran were shot accurately.
"He was so obsessed with every single move and every inch of Leonard's mannerisms -- to the degree that it could even be frustrating," acknowledged the director. "He's like, 'No, that happened a little bit more to the left of the ring.' And I'm like, 'Dude, but this angle is better.' And he's like, 'Well, move the angle, man. We've gotta do it the way it was.'"
Even though he insists he's adamant about continuing to pursue a serious acting career, Usher is still committed to his music: His eighth album, "Flawed," is set for release this fall. He also wrote the title song for "Hands of Stone," "Champions," with costar and musician Ruben Blades.
"I'm not going anywhere musically," he insisted. "I've actually even been able to nurture that through this film, placing a song within the movie. Everybody knows that licensing is a new business, and you have to try to take advantage of getting your music to play between two worlds. Trying to micromanage one part of your career is old. You really have to think of it 360. And I love it. It feels new for me. As a result of this movie, there's a rejuvenated sense of artistry that has happened for me."
Follow me on Twitter @AmyKinLA
ALSO
'The Big Bang Theory' star Simon Helberg freshens up his piano skills to work with Meryl Streep
How, exactly, did Dave Franco become our favorite Franco?
'I was terrified': Kristen Stewart on working with Nicholas Hoult on their new movie 'Equals'
---
The complete guide to home viewing
Get Screen Gab for weekly recommendations, analysis, interviews and irreverent discussion of the TV and streaming movies everyone's talking about.
You may occasionally receive promotional content from the Los Angeles Times.