Kenneth Turan's best films of 2017 include 'The Shape of Water' and 'The Post'
Film critic
The year grinding to a close was a paradoxical one for cinema. There was no lack of excellent films in all genres and from all corners of the world, with one notable exception: Hollywood USA.
Yes, the major studios that make up the nominal film capital of the world spent a lot of money and turned out a lot of films, but, with the exceptions noted below, very few of them were fated to grace 10-best lists, mine or anyone else's.
I don't mean this because they had mass popularity on their mind. Hollywood's legacy as a creator of popular entertainment is one I take seriously, and some of my favorite moments in cinema have been spent watching hugely popular movies I loved as much as anyone.
But it becomes more and more evident each year how little interest in or capacity to make films like "The Godfather" or "Jaws" remains within studio walls.
FULL COVERAGE: Year-end entertainment 2018 »
Owned by conglomerates and beholden to Wall Street, these once-proud institutions have sold themselves body and soul to sequels, superhero comic book movies and crass comedies.
Yes, Hollywood rouses itself and tries to turn out what it considers quality in time for the annual emergence of Oscar voters, but each year there are fewer of these and their quality can be suspect.
More adults these days seem to be excited by what they can see on premium cable and streaming services than what they can look forward to at the multiplex, and if you love the cinematic experience, that is not happy news.
But, hey, 10-best lists are supposed to be celebratory experiences, and I am in fact so eager to get with that program that I have expanded my list to include an even dozen films.
In this I am acting in the spirit of Greta Garbo, who's become the patron saint of this endeavor over the years because of her memorable quote in "Anna Christie": "Don't be stingy, baby." Words to live by.
Though I am following personal tradition by making this list unranked after my top choice, I am doing one thing differently. By some miracle, my choices broke quite easily into six themed double-bills, and I even found honorable mentions in each category easy to come by.
Exciters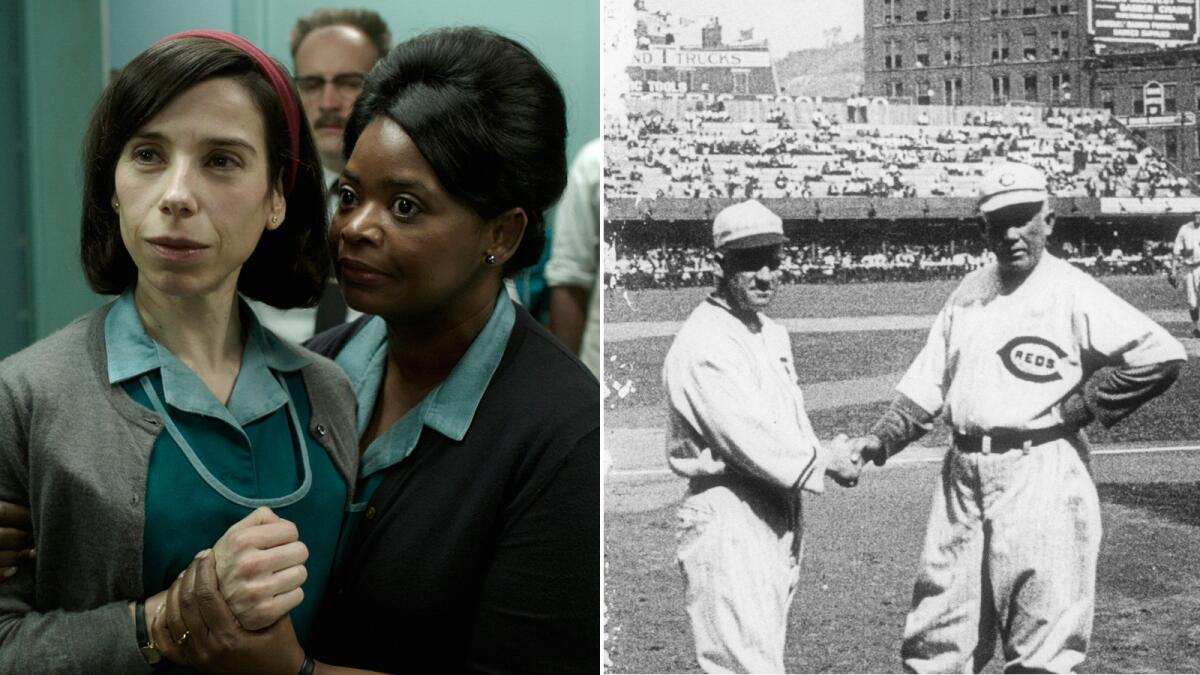 I call my top choice double-bill Exciters because seeing both these films completely electrified me. I so fell in love with Guillermo del Toro's wondrous fantasy "The Shape of Water" and Bill Morrison's thrilling documentary "Dawson City: Frozen Time" and that doesn't happen often enough.
Honorable mention: Bertrand Tavernier's passionate "My Journey Through French Cinema."
My other double-bills, listed in alphabetical order, were:
Canny veterans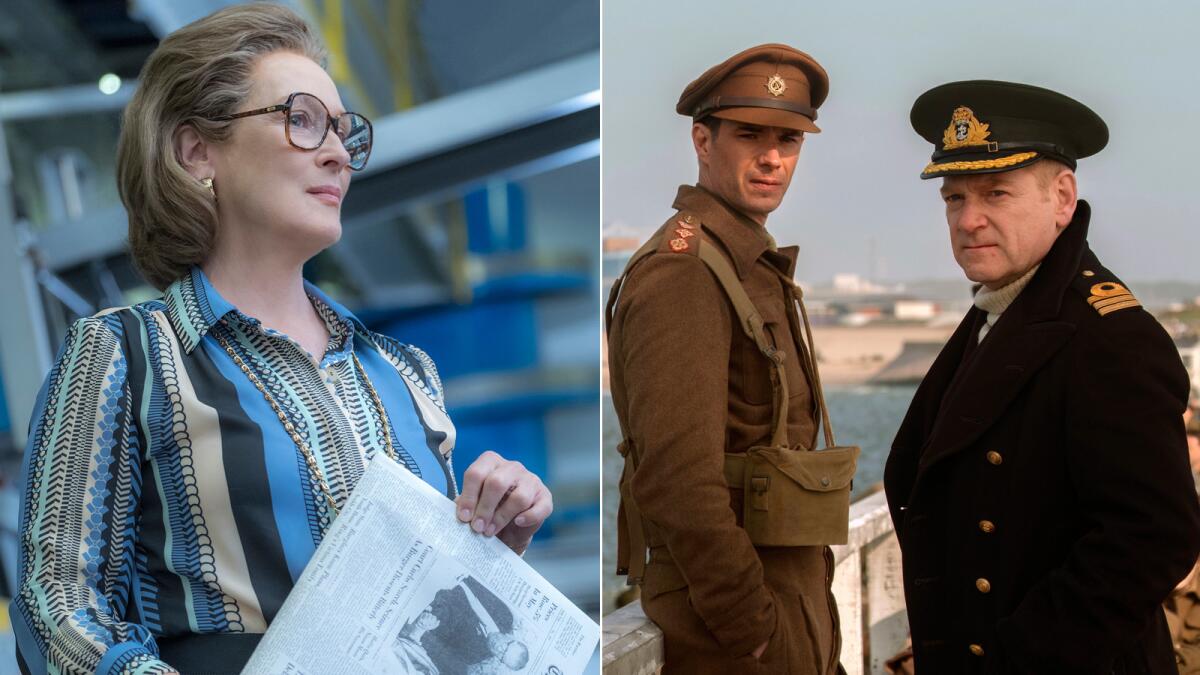 Christopher Nolan with his epic "Dunkirk" and Steven Spielberg with his ultra-timely "The Post," showed, to paraphrase Shakespeare, that age does not wither nor custom stale their infinite variety.
Honorable mention: Paul Thomas Anderson's polished and elegant fashion drama "Phantom Thread" starring the one-of-a-kind Daniel Day-Lewis.
Falling in love is wonderful
Romance is all and everything in Luca Guadagnino's lush and deeply felt "Call Me by Your Name" and it plays a key part in the Sacramento teen-hood brilliantly conveyed by Saoirse Ronan in Greta Gerwig's "Lady Bird."
Honorable mention: Finland's Cannes hit "The Happiest Day in the Life of Olli Maki."
Family matters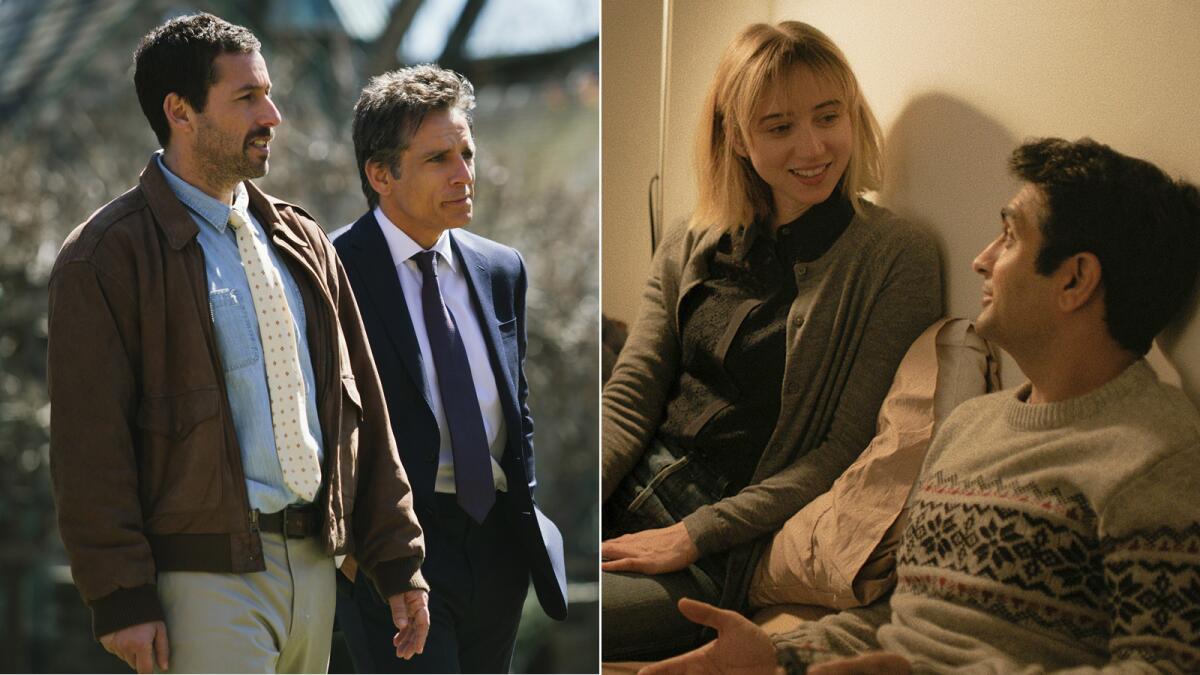 Noah Baumbach's psychologically complex "The Meyerowitz Stories (New and Selected)" and "The Big Sick," co-written by and starring Kumail Nanjiani, show how family connections can hurt and heal in equal measure.
Honorable mention: Andrew and Alex Smith's underrated father and son wilderness tale, "Walking Out."
Israeli connection
One of the richest of national cinemas offers two splendid films, Samuel Maoz's unsettling "Foxtrot" and Joseph Cedar's Richard Gere-starring "Norman: The Moderate Rise and Tragic Fall of a New York Fixer."
Honorable mention: The pitch-black comedy "One Week and a Day."
Westerns
A genre long left for dead has roared back to life, with Scott Cooper's traditional "Hostiles" and Taylor Sheridan's modern "Wind River" taking us along for the ride.
Honorable mention: "The Ballad of Lefty Brown," where filmmaker Jared Moshe and star Bill Pullman see to it that the long-suffering sidekick finally gets his due.
---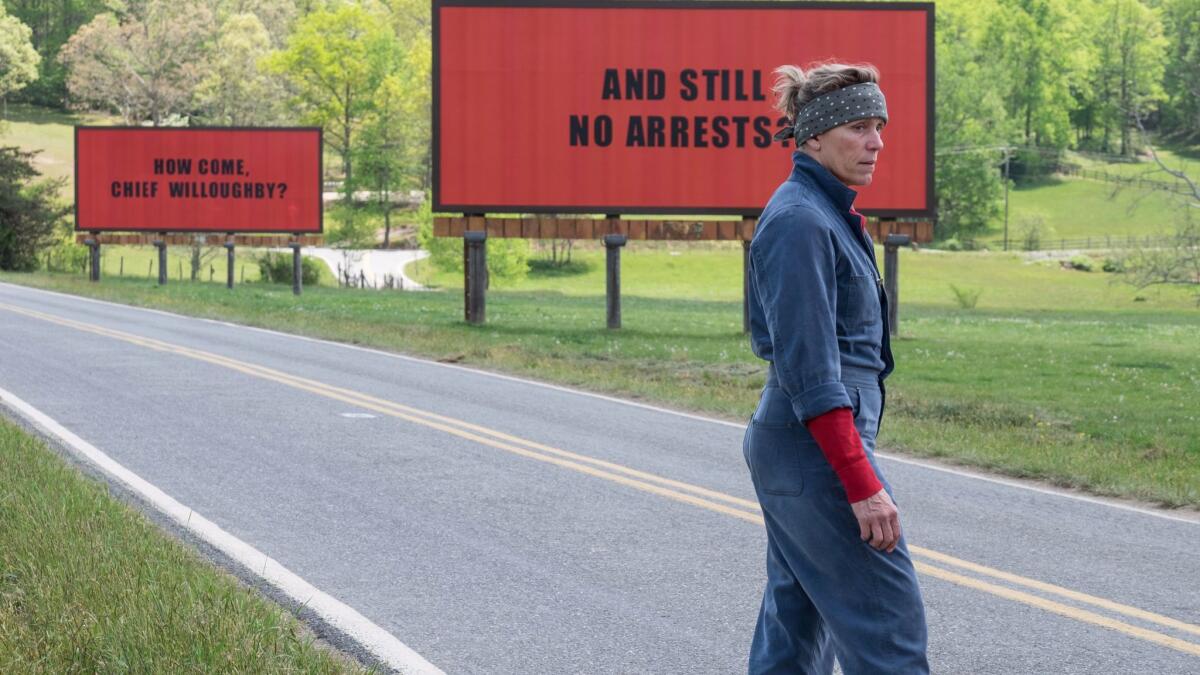 If I had room for one more movie, what could be more fitting than Martin McDonagh's stand-alone sensation, "Three Billboards Outside Ebbing, Missouri." This is a film that does not work and play well with others, and that is its charm.
The worst: As to the worst trend of the year, it would have to be, as noted above, Hollywood's continued indifference to the adult audience. If you care about film, there couldn't be anything worse than that.
ALSO
'Call Me by Your Name,' 'The Florida Project' lead Justin Chang's 12 best films of 2017
'Mudbound' tops Mark Olsen's 10 best films of 2017
Get our L.A. Goes Out newsletter, with the week's best events, to help you explore and experience our city.
You may occasionally receive promotional content from the Los Angeles Times.