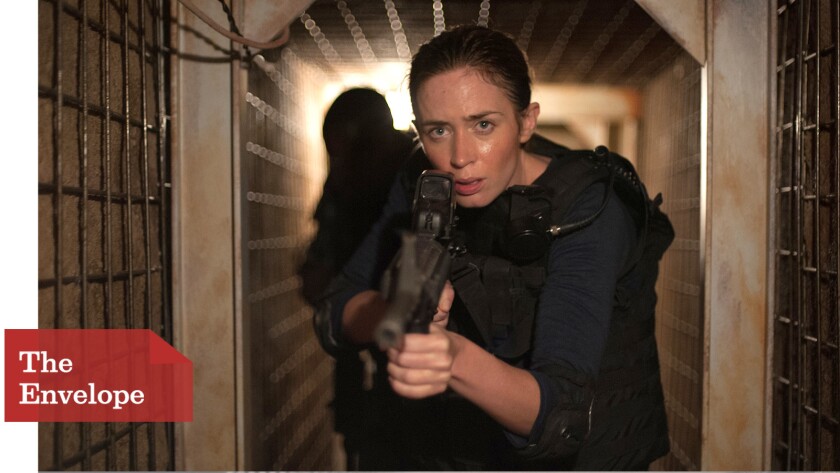 Denis Villeneuve's "Sicario" earned wide acclaim for its harrowing depiction of an idealistic FBI agent sucked into the dirtiest corners of the drug war. Among its laurels: Oscar nominations for the visceral score by Jóhann Jóhannsson (his second nomination, after last year's "The Theory of Everything") and the moody and frightening images by cinematographer Roger Deakins (his 13th nod).
Both Deakins and Jóhannsson had worked with Villeneuve before, on "Prisoners," and were eager for a return trip. This journey would be into the heart of darkness for protagonist Kate (Emily Blunt) as she followed a mysterious advisor (Benicio Del Toro) into morally murky territory in pursuit of some very bad bad guys.
Oscars 2016: Full Coverage | Complete list | Snubs, surprises and reactions | Top nominee photos

"One of the things Denis mentioned early on was he wanted music that affected you physically as well as aurally, that had an effect on the body. That's something I was really working with, producing music that was visceral.
"He also had this idea of creating 'subtle war music' — it's a contradiction in terms, but I ran with that idea of martial drums, very primal, marrying that to these more sophisticated and abstract ideas."
Jóhannsson's score is hardly traditional Oscar fare — no soaring strings in these scary tunnels. Even the opening sequence, with its view of an ordinary desert suburb, is underscored with distant drums and menacing swells. Deakins, who has shown off a flair for the visually spectacular in the likes of "Skyfall," makes the approach as spare as possible.
"We scouted for that location for a long time. Denis was adamant we needed a pretty anonymous tract house in the desert," he says.
From the ordinary facade of that tract house and the horrors within, the film's next major movement is to the city of Juarez, Mexico, as the task force enters "The Beast." Again presented visually in seemingly harmless fashion, the score approximates the sinking of Kate's stomach and pounding of her heart.
Jóhannsson says, "I wrote a few ideas I sent to Denis based on this scene, and there was one in particular that caught his attention — his and [editor] Joe Walker's. This was a very simple idea, a string bass glissando, a repetitive riff developed in the lower string section with an aggressive percussive element as well. It's this sort of slow crescendo that rises with the scene. It rises with the helicopter blades as well, so it's almost like the helicopter blades are part of the music.
"It became a template for the rest of the score."
Throughout, Deakins' use of available light lends a feeling of authenticity — a daytime meeting in which no one bothered to turn on a light in the windowed conference room; nighttime conversations illuminated only by found sources. But it's when the film's ideas coalesce into gut-wrenching action that Deakins' visuals and Jóhannsson's score really pay off. As Kate is dragged into a moral abyss, "Sicario" doesn't tell us about her personal journey; we see, hear and even feel it.
Deakins says, "That whole sequence, when they go from that dusk shot into the darkness. … Traditionally, you'd put up a fake moonlight or ambient light, you could see the landscape. That doesn't really work."
Toward the film's climax, the task force must cross through a desert tunnel to track down a cartel boss.
"The tunnel's meant to be pitch black. How does that work without lighting it traditionally, so you could see everything? I had a lot of fun with that. I agonized over that for a while."
They settled on a POV feeling, making use of the task force's night-vision and infrared goggles.
Jóhannsson says that, musically, "It was a very collaborative process in that scene, sending ideas back and forth, really trying to reduce rather than do something epic and strong."
Deakins wasn't done reducing light sources.
"The aftermath of that tunnel sequence — when Josh [Brolin] confronts Kate — Emily — outside that tunnel at night, I didn't want any of it to look like it was lit by moonlight. It was much more interesting to have little pools of light. So I thought, 'OK, they could have driven their SUVs into that canyon.' I could justify everything in the headlights of the SUVs."
But even in the film's coda, a benign soccer game, Jóhannsson's score signals the trouble hasn't gone away.
"That feels like something that works really well and has a kind of poignancy," he says. "That's another piece I didn't write for the ending; it came from something else. So Joe and Denis deserve the credit" for putting it there.
---