Critics disagree if Tim Burton's 'Peregrine' is a return to form or another overstuffed YA adaptation
The trailer for Tim Burton's "Miss Peregrine's Home For Peculiar Children," starring Eva Green.
It's a tale of two Tim Burtons at movie theaters this weekend as critics seem split down the middle on the director's latest film, "Miss Peregrine's Home for Peculiar Children."
Burton is the box office-friendly goth auteur who lent his eccentric, expressionistic style to more typical blockbuster aesthetics with great success in such early hits as "Pee Wee's Big Adventure," "Beetlejuice," and "Edward Scissorhands."
So far, however, his post-millennial work has been less well-received, despite some box office success. Is "Peregrine" a return to form for the director after a series of critical misfires? Or is it just another post-"Potter" YA adaptation, with any Burton-esque flourishes overshadowed by showy special effects and too-familiar mythology?
Based on the bestseller by Ransom Riggs, "Peregrine" centers on a loner named Jacob ("Hugo" star Asa Butterfield), who discovers the extra-dimensional institution of the title, where children with supernatural abilities are free to exist outside of normal society. Eva Green, an increasingly dominant presence in genre fare on both the big screen and TV, plays the school's strict headmistress, set on protecting the meta-human orphans from the outside world — and fantastic threats.
While expected to top fellow newcomer "Deepwater Horizon" at the box office this weekend, the film is earning mixed reviews, with a current "Rotten" score of 59% on the review aggregation site Rotten Tomatoes.
Here's what critics are saying:
The Times' Justin Chang seemed pleasantly surprised by the result, taking into account Burton's recent string of critically drubbed films, including "Alice in Wonderland" and "Dark Shadows."
Chang calls it "a Burton movie through and through," adding that it is "easily the director's finest work since his masterful 2007 screen adaptation of 'Sweeney Todd,' and a striking reminder of what an unfettered gothic imagination can achieve with the right focus and an infusion of discipline."
Michael O'Sullivan, writing for the Washington Post, agrees, and also reminds readers of Burton's most famous collaborator. "The very idea of this — at once gruesome and darkly funny — is perfectly suited to Burton's sensibility," he opines, "which also reveals itself in the casting of Butterfield, who has the quality of a young, slightly less freaky Johnny Depp."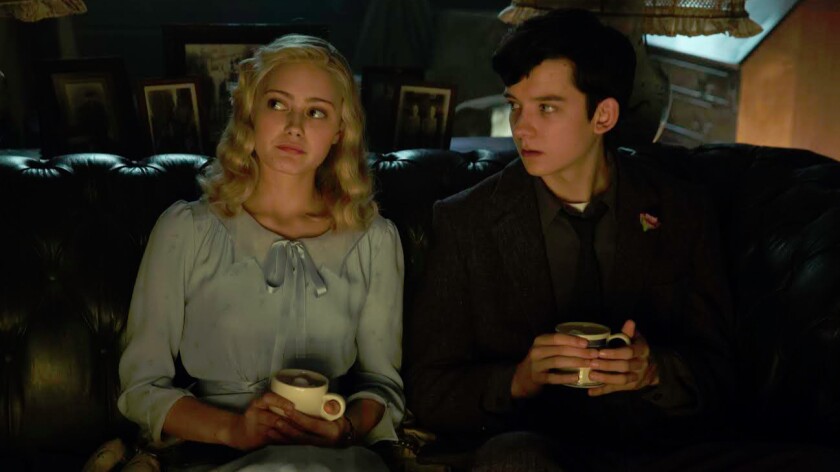 Variety's Peter Debruge finds praise for screenwriter Jane Goldman ("Kick-Ass," "Kingsman: Secret Service"), saying, "Goldman's frequently amusing script is the secret ingredient that makes 'Miss Peregrine' such an appropriate fit for Burton's peculiar sensibility, allowing the director to revisit and expand motifs and themes from his earlier work." He adds, however, that much of it may feel a bit too familiar for longtime Burton followers.
Writing for the Boston Globe, Tom Russo reports that, despite similarities to Xavier's School for the Gifted in the "X-Men" franchise, "Miss Peregrine" has more in common with such upscale period fantasies as "The Curious Case of Benjamin Button" and "Pan's Labyrinth" than any recent superhero fare. However, he adds, "the movie bogs down only toward the finish, when it turns into a meta-human free-for-all."
Other critics were less impressed:
Over at the AV Club, A.A. Dowd largely dismisses it as "a greatest-hits hodgepodge, mashing together 'X-Men,' 'Peter Pan,' 'Groundhog Day,' 'Harry Potter,' 'Back to The Future,' and the director's own 'Big Fish' and 'Beetlejuice,' " asking why he couldn't "have borrowed an actual ending?"
Michael Phillips, in the Chicago Tribune, dubs it an overstuffed "chore" with an "endless, excruciating action climax."
Across town at the Chicago Sun-Times, Richard Roeper agrees, adding, "This is a messy, confusing, uninvolving mishmash of old-school practical effects and CGI battles that feels … off nearly every misstep of the way."
Writing on Rogerebert.com, Christy Lemire describes it as "a convoluted slog" that confused her 6-year-old son.
Time's Stephanie Zacharek is more evenhanded, explaining that while the film is "less garish than some of his recent monstrosities" and contains some gorgeous imagery, Burton seems to have lost his storytelling abilities.
ALSO:
Every movie in theaters this October
'13th,' 'Billy Lynn,' and others add social awareness to the Oscar buzz at New York Film Festival
How 'Miss Peregrine' and 'X-Men' writer Jane Goldman became Hollywood's billion-dollar woman
---
Inside the business of entertainment
The Wide Shot brings you news, analysis and insights on everything from streaming wars to production — and what it all means for the future.
You may occasionally receive promotional content from the Los Angeles Times.