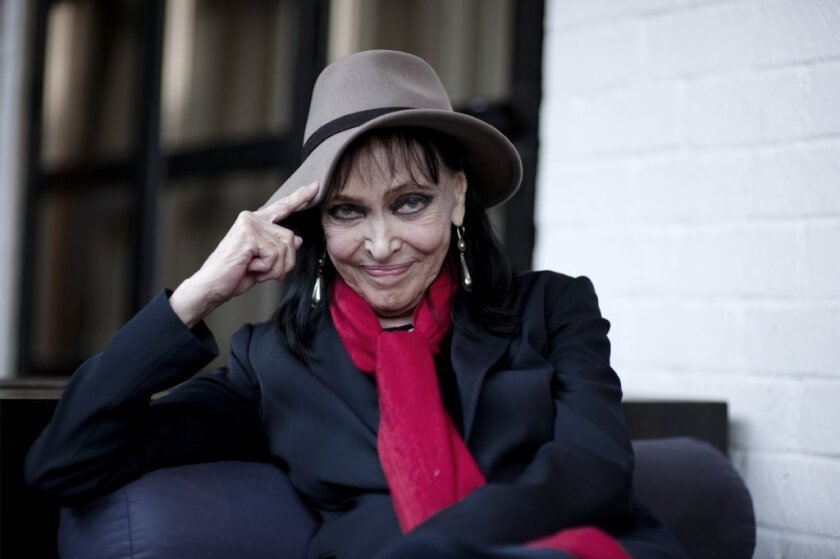 Even setting aside her acclaimed work in the 1960s with the filmmaker Jean-Luc Godard, actress Anna Karina has a formidable career that includes working with directors Luchino Visconti, George Cukor, Rainer Werner Fassbinder, Jacques Rivette, Tony Richardson and Jonathan Demme.
Yet it is the series of films she made in France with Godard that have long most captivated audiences, made during a time that also saw them falling in love, getting married and eventually divorced. From "The Little Soldier," made in 1960, to "Made In U.S.A." in 1966, Godard and Karina collaborated on a series of films that blended his formal audacity with her emotional vitality.
"I don't think we thought at the time that the films would still be [popular for] so many years afterwards," she said of the ongoing response to the films. "It's a kind of surprise every year, and the audiences are young people all over again. It means it's still very modern after so many years."
Karina, 75, made an extremely rare set of appearances in Los Angeles recently. She was present for a screening of "A Woman Is a Woman" at Cinefamily and the L.A. premiere of a new restoration of "Band of Outsiders" at the TCM Classic Film Festival ahead of a local theatrical run. At both events, she was greeted by multiple standing ovations.
Brie Larson, the recent best actress Oscar winner, was the surprise moderator for the event at Cinefamily. In an interview just before the event, Larson spoke of the direct influence Karina had on her as a performer. "I was really struggling with American cinema because everybody looked so perfect and everybody kind of had it together," Larson said. "And I discovered 'A Woman Is a Woman' and the Godard films with her, and seeing the depiction of a woman who was so complicated and yet you love her, it gave me hope.
"We don't have to look perfect. I can have a temper tantrum onscreen, I can have desires and wants that aren't met, I can show how frustrating that is and I am still captivating to watch," Larson said.
Born in Denmark, Karina made her way to Paris as a teenager to begin a modeling career that saw her soon slip into acting. "That's a pretty cool part you just skipped over!" Larson exclaimed in her Q&A when Karina elided how she first hitchhiked her way from Denmark to France.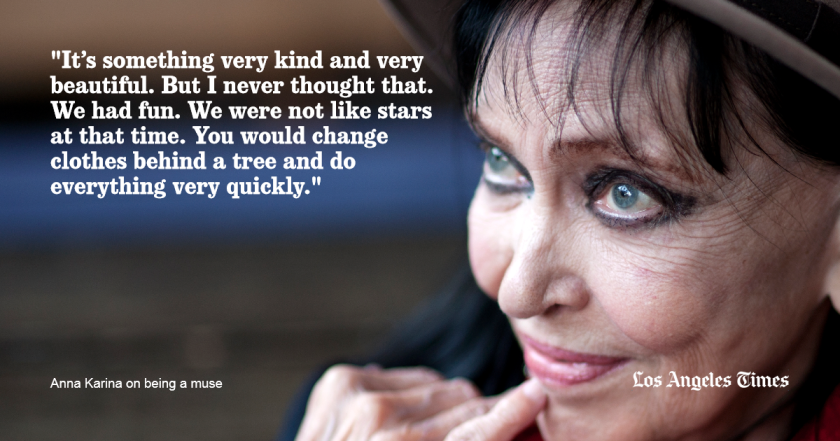 It was Karina's enigmatic mix of carefree insouciance, emotional transparency and chic style that made her such a good fit for Godard's distinctive blend of spontaneity and precision.
"He would give you the dialogue in the morning just before you're shooting. So you had to learn it," she said. "But also there was a lot of movements, you had to drink and talk at the same time, or light a cigarette and walk around. So that may be what people like today, because that's what you do in life. It's not the old fashioned cinema where people come in, close the door, sit down and then begin to talk. With Jean-Luc Godard, we did everything at the same time."
Many have long assumed that the relationship between Godard and Karina could in essence be charted via the trajectory of their films together, from the flirtatious "A Woman Is a Woman" and jazzy energy of "Band of Outsiders" to the tumultuous "Vivre sa Vie" and "Pierrot le Fou" to the finality and despondency of "Made in U.S.A."
But Karina said, "Our personal life never went into when he was doing his films. When we were doing the films, we were not together that much. He wanted to be alone to write. He was a very secret person at that time when we were doing the films."
As to whether she feels her work with Godard overshadows everything else she has done, including working with other directors, her musical recordings with Serge Gainsbourg, directing films of her own and writing novels, she said simply, "People will like what they like."
Karina is frequently referred to as the "muse" not only to Godard but to the spirit of the entire French New Wave of filmmakers, to which she said, "It's something very kind and very beautiful. But I never thought that. We had fun. We were not like stars at that time. You would change clothes behind a tree and do everything very quickly. We didn't have trailers like stars would today. We'd talk to people in the streets and say hello while we were shooting."
Also in attendance at the event at Cinefamily was Laura Mulleavy, co-founder with her sister Kate Mulleavy of the fashion label Rodarte.
"There are some people you just want to know more about," Mulleavy said of the continued appeal of Karina's screen presence. "Seeing people like that onscreen that maybe could have been your friends, but in that alternate universe where people are just so fantastic. They are just a person being a person in a moment and you're enraptured with them.
"It's so visceral, and you feel a part of it," Mulleavy added. "And I think that's why people feel connected with her."
Follow on Twitter: @IndieFocus
---