A critic remembers Agnès Varda, one of the lasting treasures of the cinema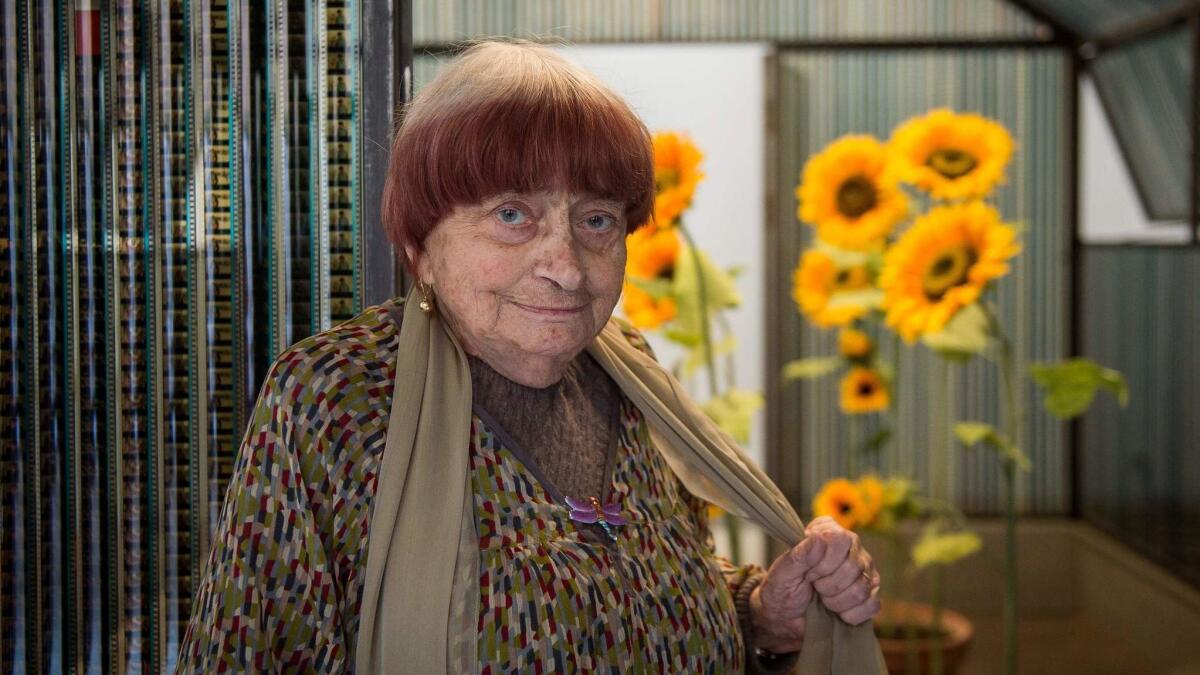 Film Critic
A pioneering woman of cinema, a pillar of the French New Wave, an experimenter, a master, a spiritual mentor, a bestower of joy: The miracle of Agnès Varda lay not merely in all that she accomplished, which was enormous, but also all that she succeeded in meaning to those who knew her.
And until her death Friday at 90, she managed, more than perhaps any other filmmaker of her stature, to convey the sense that we really did know her — that the warm, funny and brilliant voice surging through so many of her films wasn't just emanating from the screen, but was in fact right there in the room with us.
I was fortunate enough to see that illusion become reality just once, when I met with Varda in 2017 to talk about her career as well as "Faces Places," the marvelous road movie she had directed with the visual artist JR. Everything she said felt like a digression, which is to say that none of it did.
As she made clear in her 2000 documentary, "The Gleaners and I" — a movie that feels increasingly like a grand interpretive prism for her body of work, a statement of artistic and philosophical principles — Varda saw the significance in what most others might have overlooked.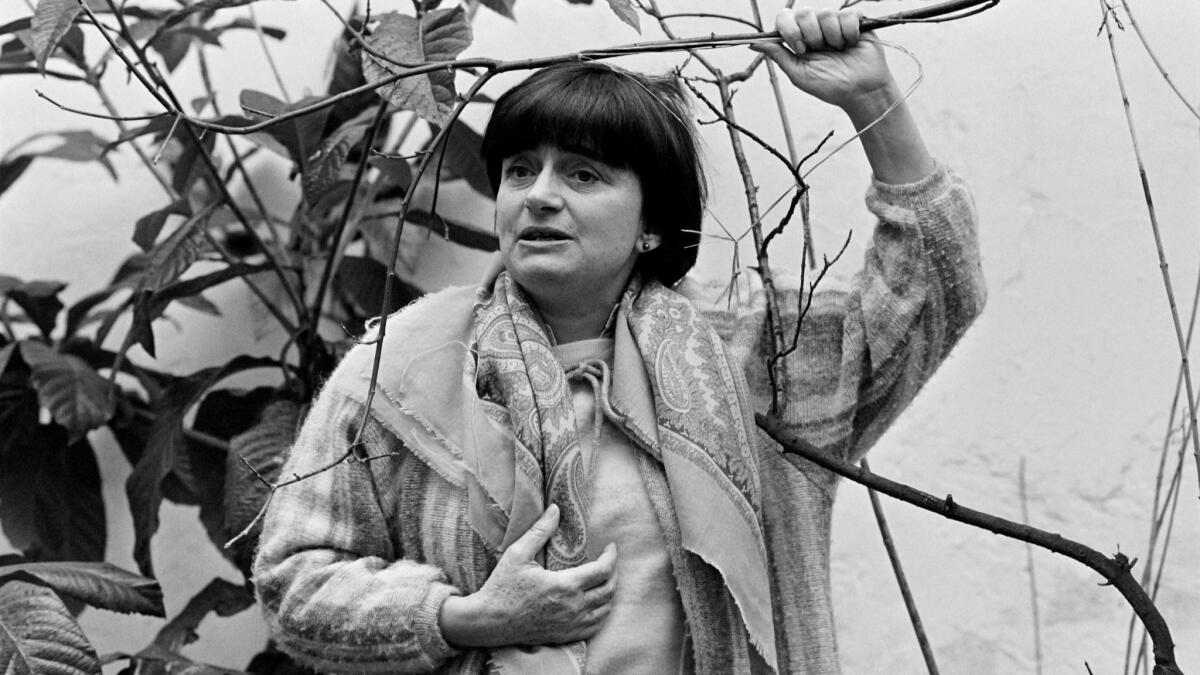 That extended to our conversation, which she approached as sharply and enthusiastically as if she were being interviewed for the first time. For 45 delightful minutes her voice flowed forth in a nearly uninterrupted cascade of memories, anecdotes and wickedly astute observations about her life and art.
She spoke of her great fondness for Los Angeles, which she had first visited in 1967 with her husband, the beloved filmmaker Jacques Demy, and whose public murals had provided such a vibrant artistic backdrop for her 1981 documentary, "Mur Murs." She also reserved a dig or two for Hollywood ("I don't belong to it"), specifically the fact that she was about to receive an honorary Oscar (or as she slyly put it, a "side Oscar") from the Academy of Motion Picture Arts & Sciences, which had until then never bothered to take notice of her work. (She would later receive a documentary feature nomination for "Faces Places.")
"It's like the academy is saying, 'That old lady has been working so continuously for cinema, at some point we should recognize that she worked,' " she said, before adding, "I feel like it's recognition of my decent work. … How could somebody think that one day I would be recognized by the Hollywood world?"
That little one-two punch, the droll anti-establishment jab followed by the instinctive rush of appreciation and humility, was pure Varda. It was the natural sensibility of a woman who gracefully and unassumingly changed the shape of her medium.
A Belgian-born artist who began her career as a still photographer, Varda has often been hailed as the sole woman to infiltrate the storied ranks of the French New Wave, though her cinematic innovations in fact preceded those of Jean-Luc Godard, François Truffaut and other New Wave auteurs. She began chipping away in earnest at classical conventions with her first feature, "La Pointe Courte" (1955), named for a small fisherman's village in Setè, the southern French town where she grew up. It began as the story of a troubled marriage and became, as so many of Varda's films did, a vital tour of a little-seen way of life.
Her justly celebrated second feature, "Cléo From 5 to 7" (1962), gave bold form and ambitious purpose to a notion of real-time cinema that has since been taken up by filmmakers the world over. Varda's camera charted two fraught, bustling hours in the life of a pop singer (Corinne Marchand) as she goes about her business while awaiting a possible diagnosis of cancer.
Thrilling in its mix of the momentous and the quotidian, the movie is a visual and musical love letter to 1960s Paris, as well as an existential masterpiece in which Marchand's life force, and that of her director, triumph at least temporarily over the looming specter of death.
That speaks to an optimism coursing through Varda's work that, in its earlier incarnations, was open to widespread (mis)interpretations and accusations of foolishness and frivolity — accusations, it's fair to say, that were all the harsher for being aimed at a woman. She stirred debate and controversy with her 1965 film, "Le Bonheur," a portrait of a happy husband and father whose affair with another woman both does and doesn't upset his family's curiously sunny equilibrium. Cheerful endorsement or stealthy damnation of free love? Few came to the same conclusion.
She courted a similarly polarized response with "One Sings, the Other Doesn't" (1977), a charmingly upbeat musical about two friends and their intersections with the post-1968 French women's movement. Many dismissed it as lyrical, propagandizing tripe, but for me the warmth, humor and serenity of Varda's storytelling are hard-earned and anything but simple-minded. Her utopian impulse, far from negating her moral and political seriousness, is in fact a testament to it. One of the slippery paradoxes of Varda's work is that she managed, often in the same instance, to make movies about the world both as it is and also as it should be.
She did this even when her experiments with form led her in the more despairing direction of "Vagabond," the harshly beautiful 1985 drama that earned her the top prize at that year's Venice International Film Festival. Starring Sandrine Bonnaire as a drifter named Mona, the movie blended a realist narrative with passages of pseudo-documentary. It also left it up to the viewer to determine whether this fierce, defiant young woman was a captive creature to be pitied or an enviable free spirit.
It is perhaps only logical that a filmmaker who so vigorously nurtured the medium's capacity for self-reinvention also became so effective at reinventing herself. The Agnès Varda who once matched wits and swapped techniques with Left Bank colleagues like Chris Marker and Alain Resnais, who gave so generously of her memories of her husband in "Jacquot de Nantes" (1991) and "The World of Jacques Demy" (1995), was not the same one who achieved renewed prominence in the 2000s, who greeted her later years not with the usual deceleration but with a resurgence of creative energy.
You may recognize and perhaps love that Agnès Varda even if you've never had the pleasure of experiencing her work: the petite woman with the two-tone hair and the funny smile who turned art into the most magical kind of play. She's the woman who rescued heart-shaped potatoes from piles of discarded produce in "The Gleaners and I" and sifted her memories like grains of sand in that movie's 2009 sequel, "The Beaches of Agnès." She's the collector of belated honorary film prizes the world over, who built houses out of old strips of celluloid, went on a wheelchair joyride through the Louvre and curated one hell of an Instagram account.
Many Vardas, many artists, many legends — all of them gone now and none likely to be forgotten soon.
Get the Indie Focus newsletter, Mark Olsen's weekly guide to the world of cinema.
You may occasionally receive promotional content from the Los Angeles Times.