Kenneth Branagh and Judi Dench continue a lifelong love affair with Shakespeare in 'All Is True'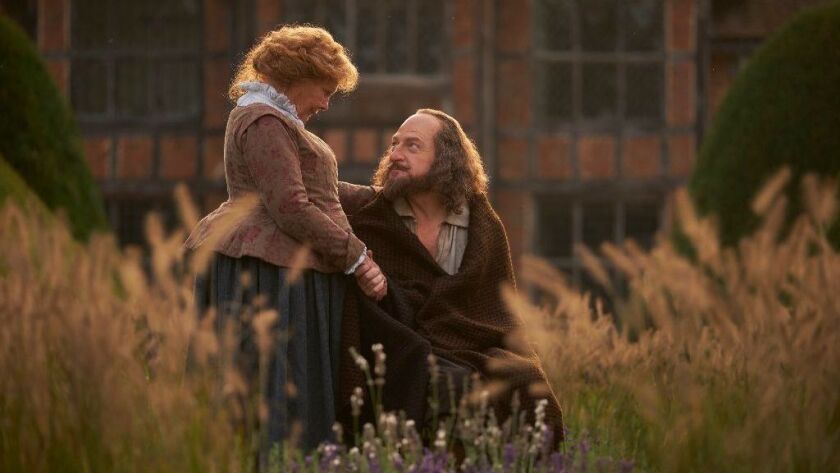 Reporting from London —
After decades of directing and acting in Shakespeare's plays onscreen and in the theater, Kenneth Branagh is finally doing the inevitable: playing William Shakespeare himself.
Branagh's career-long obsession with the Bard has led him to "All Is True," a bittersweet movie about the last years of Shakespeare's life in Stratford-upon-Avon, where the playwright struggled to find reconciliation with his wife and daughters before dying in 1616. Branagh came to the idea for the film almost accidentally and tapped writer Ben Elton to pen the screenplay.
"It started with being interested in making a Shakespeare garden," the director says, sitting in his office at Longcross Studios outside London, where he's putting the final touches on Disney's upcoming fantasy epic "Artemis Fowl." "I was trying to do that at home, unsuccessfully. And I'd always wondered about this period in his life where he returned to Stratford. What do you do? It made me think, 'What does a creative, prolific artist do to continue to express their creativity?' "
Branagh's interest in Shakespeare dates to his childhood, where he first saw one of the iconic works on television — sort of. "The first time I encountered Shakespeare was fifth-hand, watching Peter Sellers doing an impersonation of Laurence Olivier doing Richard III reciting the lyrics from the Beatles' song 'Hard Day's Night' on a Sunday night variety show," Branagh says.
"I was 7 or 8 years old, and in one instance I thought, 'How does all that add up? What is Shakespeare?' It nudged into my life and then I went looking for it."
His first experience with an actual Shakespeare play came a few years later, at age 13, when Branagh attended a production of "Romeo and Juliet" at St. George's Theatre in London's Tufnell Park with 1,000 other teenagers. He was instantly struck by the energy in the room and by the fact that the play opened with a fight, using real swords.
He recognized the real, relatable elements in the story, and from there Branagh began seeking Shakespeare out. At 17, he hitchhiked to Stratford-upon-Avon, home of the Royal Shakespeare Company, and camped out in a park, queuing for tickets to see as many plays as possible. The director recently discovered that Ian McKellen, who stars in "All Is True" as the Earl of Southampton, did the same thing 20 years earlier.
"For me, finding Shakespeare has always been associated with that assertion of independence," Branagh notes. "I wasn't a very bold youth. I wanted to go and see what this was all about. I wanted to find out where he came from and where he lived. It was putting the two things together, really."
Although "All Is True" was filmed at Windsor's Dorney Court rather than in Stratford-upon-Avon, Branagh returned to Shakespeare's home to do research ahead of production. It's a place with real meaning for him, as well as for Judi Dench, a long-time Branagh collaborator who stars in the film as Shakespeare's wife Anne Hathaway (and who will appear in "Artemis Fowl").
Dench, whose first Shakespeare role was Ophelia in "Hamlet" at the Old Vic in 1957, was part of the Royal Shakespeare Company for years, performing in Stratford-upon-Avon for several seasons. Although Dench was aware of Shakespeare's biography and how he was forced to return home after the Globe Theater burned down, she had never considered the story from the perspective of his wife.
"It made me think about their home life and the amount of life she had without him," the actress says, calling from her home outside London. "I'd known it, but it had never impinged on me. When [the script] arrived and there was a kind of resentment in it I thought, 'I can understand this.' "
Branagh and Dench, a kindred spirit obsessed with Shakespeare since childhood, first met in 1987 while working on a TV production of Ibsen's "Ghosts" alongside Michael Gambon and Natasha Richardson. They immediately connected over a wry sense of humor that continues to shine through their work together.
"It was a very, very tense scene where nobody said anything," Dench remembers. "Michael Gambon said something very silly, like 'Pass the potatoes.' It sent us off. Ken and I went completely to pieces and we were told to leave the studio. And then we knew."
She adds, "I just run to work with him. With most directors you get to have a shorthand, but we had a shorthand very, very quickly. He can say something and I know what he means, and likewise. It's just lovely to do it. I've directed him, been in plays with him, been directed by him – we've done a lot of things together. Ten or 11, I think. It's lucky."
For Branagh, bringing in actors like Dench and McKellen — who counts this as his first time working with the director — allows "All Is True" to feel accessible to viewers who might be put off by the idea of Shakespeare, even though the film isn't technically Shakespeare.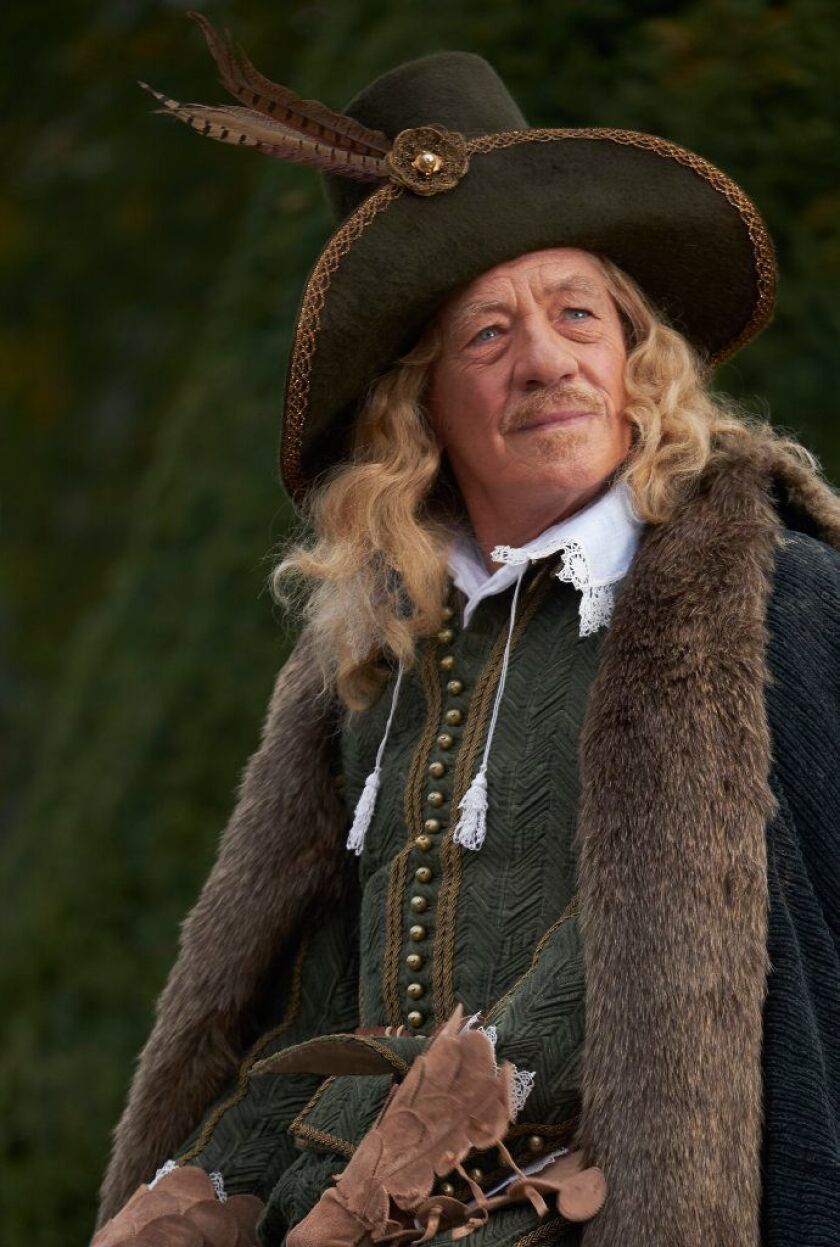 Branagh is aware that not everyone shares his desire to read the Bard's works for fun on the weekends and his film adaptations of plays including "Much Ado About Nothing" and "Hamlet" have been very much about opening a door into his own passion.
"Shakespeare means a great deal to me and is very meaningful to me, but he's not for everyone," Branagh says. "What allows for an open opinion about that is when it's performed at its very best and [these actors] can do that. They don't have these suddenly funny Shakespeare voices. They're very real. They stay as human beings. When well done Shakespeare expresses this in characters and situations we recognize. Judi and Ian ... have that honest quality with Shakespeare. You've got to keep earning the right to ask an audience to come and see this work, I think."
Dench continues to perform Shakespeare onstage — she was directed by Branagh in "The Winter's Tale" at the Garrick Theater in 2015 — but the 84-year-old actress is hesitant to say a specific play or role she still covets. "I don't know," she considers. "I'm too old for them now. I've done the dreams. The thought of doing it again is just so lovely if I ever get the chance. I hope I do, somewhere."
Of course, that might change if Branagh comes calling again, which he inevitably will. "He knows that I would run to be there," the actress laughs.
As for Branagh, who is set to start production on 2020's "Death on the Nile" — a follow-up to the global box office hit "Murder on the Orient Express" — later this year, the director is never sure whether audiences are still open to Shakespeare. Which, of course, won't stop him from bringing more of the playwright's works to the stage or the screen.
"It seems to be a part of my life," he says. "I feel as though there is still so much to learn about how to do it in the modern age that is meaningful, without being gimmicky and without being retro or traditional. That's a big living question if you're a creator and an artist — and you care about it.
"But it's an exciting thing to do if you live in a world where the resounding answer might be 'No.' That's always been a word I like when it comes to creating things. It's a good spur."
---
Get the Indie Focus newsletter, Mark Olsen's weekly guide to the world of cinema.
You may occasionally receive promotional content from the Los Angeles Times.