From the Archives: Anton Yelchin is ready to launch; Never heard of him? After 'Star Trek' and 'Terminator Salvation,' that should change
In 2009, Anton Yelchin had two huge franchise movies that were about to debut. Nicolas White talked to the actor, who died early Sunday.
Sipping hot tea on a recent morning in Studio City, the Russian-born actor Anton Yelchin could have passed for one of the thousands of scruffy, out-of-work musicians who roam the Valley with unruly hair, an aura of angst and their "Repo Man" wardrobes. Yelchin, still eager to prove himself after almost a decade making feature films, was a practiced study in low-profile excitement.
"These two movies," he said, "are special."
Special indeed. This month, Yelchin has an appointment with fanboy-film destiny. On Friday, he will be unveiled as Pavel Chekov, the "Star Trek" crew member first brought to life by Walter Koenig on the 1960s television series, and then on May 21 he'll be seen playing memorable freedom fighter Kyle Reese in "Terminator Salvation," the dark revival of the killer-robot franchise.
The early buzz on both films is strong and either may finish among the year's highest-grossing films. That fact is not lost on the actor who, despite his growing filmography, is just a few weeks removed from his 20th birthday. The confessed movie nerd logged plenty of hours watching Michael Biehn portray Reese in the original "Terminator" film and also made an intense study of "Trek" in its many permutations.
"I got really lucky, and I am very happy to do them, but I look at it as getting better each time," Yelchin says. "There is a sense of responsibility, but it's just in capturing what people appreciate about the character. No one wants to lose what made ['Trek'] last for 40 years. But then again, it might go away right now if it's not rejuvenated. . . .
"Watching ['Terminator'] over and over now, it's fascinating, very intense, vulnerable. It's a layered character work that Michael Biehn did. It's an interesting character to take and adopt to say, 'How did they act when they were younger?' There are different paths to the same person."
Yelchin was sitting in a gelato store, but none of the passersby gave him a second look; that's really no surprise considering his released work to date has plenty of blink-and-you-missed-it projects, among them "Charlie Bartlett," "Fierce People" and the panned David Duchovny-directed "House of D," a trio of films with a cumulative domestic box-office return of $4.4 million. Even a cameraman stalking the sidewalk with a paparazzo's photo lens ignored Yelchin.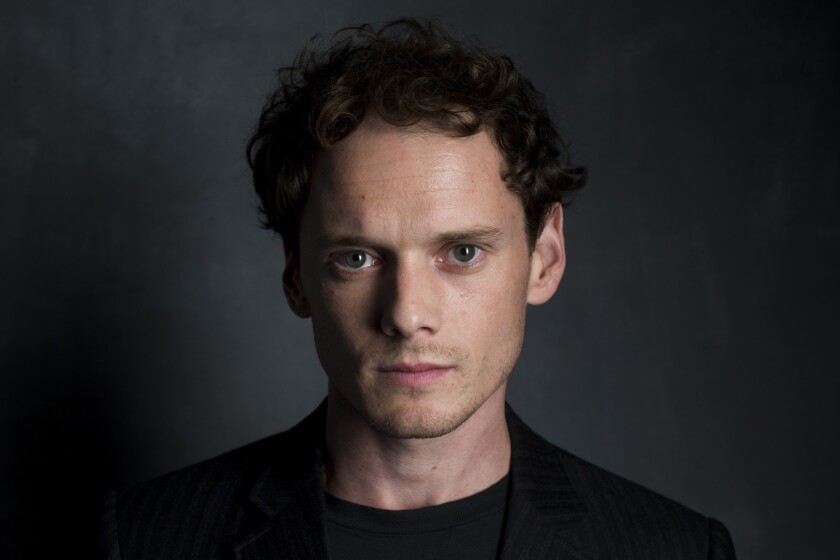 Actor Anton Yelchin in 2015.
(Jay L. Clendenin / Los Angeles Times)
Yelchin made his foray into acting in the 2001 film adaptation of Stephen King's best seller, "Hearts in Atlantis." Yelchin performed alongside Anthony Hopkins in the Scott Hicks-directed mystery drama.
(Phil Bray / Castle Rock/ Village Roadshow)
In 2004, Yelchin co-starred in 'House of D' alongside Robin Williams. The comedy-drama written and directed by David Duchovny follows the life of Tom Warshaw (played by Yelchin), an American artist living in Paris.
(Larry Watson / Lions Gate Films)
Yelchin played the title role in "Charlie Bartlett," which won Best Feauture Film at Boulder International Film Festival in 2008. Yelchin starred alongside Robert Downey Jr. as a wealthy yet troubled high-schooler.
(Ken Woroner / Associated Press)
Yelchin is pictured with co-stars Chris Pine, Simon Pegg, Karl Urban and John Cho in his best-known role playing Chekhov in the 2009 Star Trek reboot.
(Industrial Light & Magic / Associated Press)
Yelchin starred alongside Christian Bale in "Terminator Salvation," a Warner Bros. Pictures release. Yelchin played Kyle Reese.
(Warner Bros. / Warner Bros.)
Anton Yelchin plays Jacob and Felicity Jones plays Anna in the 2011 romance "Like Crazy." The Drake Doremus-directed film won nine film awards and received six nominations.rush.
(Fred Hayes / Paramount Pictures)
"I just don't think there is any reason for them to follow me," he said with a shrug. "I haven't really done anything for them to follow me. I really think that's it."
After taking a run at USC (he says he was accepted but had to change his plans because of the shooting schedule for "Terminator" and "Star Trek"), Yelchin is now a full-time actor. If the roles dry up, it's back to school for him, he says: "Honestly, if I didn't have this job, [my parents] would be kicking my butt right now. I would be working, taking tons of classes, and I would have to be doing well, or there would be punishments. They would make sure I wasn't a slacker."
Yelchin's big break came opposite Anthony Hopkins in 2001's "Hearts in Atlantis." It was the Oscar-winning British elder who had the biggest influence on Yelchin's nascent career.
"He's incredible to witness," he says. "It's a presence when he does something, because you're consumed by him. For a moment, he creates something insane. It's captured on film. I have had a pretty short career. I wish I could say the milestones. Everything is important to me. . . . But then working with Anthony Hopkins is huge."
Yelchin was born in 1989 in St. Petersburg (then still called Leningrad), where he said he rarely returns, although he did make it back during the filming of "You and I" with Mischa Barton, directed by Roland Joffe. His mother, Irina Korina, and father, Viktor Yelchin, were champion figure skaters for the Leningrad Ice Ballet. The pair qualified for the 1972 Winter Olympics but did not find a place on the Soviet team. They moved to Southern California in the late '80s. They continue to work in figure skating; Viktor is a trainer, and Irina is a choreographer.
In his free time, Yelchin doubles as a musician with a band of local friends in L.A. and has been recruited for DJ duty around town. He considers himself a cinema geek, watching old movies at the Egyptian and Nuart theaters. After his Summer of the Fanboy, Yelchin is looking through scripts for, ideally, a small drama.
His aspirations may delve into the absurd: "It would be nice to live off the land and fix cars," Yelchin says. Instead of visions of Hollywood glamour, he waxes on about hiking the steep hills in Tarzana, playing music, taking pictures and writing. The serious young man even has a notion that would make him look even more serious.
"I want," he said, "a Tolstoy beard."
calendar@latimes.com
MORE:
Five notable Anton Yelchin roles, from 'Like Crazy' and 'Star Trek' to 'Smurfs'
From the Archives When Anton Yelchin met Anthony Hopkins: An Oscar winner becomes a mentor to a 12-year-old actor
From the Archives Anton Yelchin's work has been praised as he plays the crafty teen in 'Charlie Bartlett'
---
Get the Indie Focus newsletter, Mark Olsen's weekly guide to the world of cinema.
You may occasionally receive promotional content from the Los Angeles Times.