From the Archives: When Anton Yelchin met Anthony Hopkins: An Oscar winner becomes a mentor to a 12-year-old actor
In 2001, Anton Yelchin, who died early Sunday, co-starred in "Hearts of Atlantis" with Anthony Hopkins at the age of 12.
Anton Yelchin is trying to hold back his tears. But it's a losing battle. His blue eyes well up. His voice cracks. The 12-year-old has been reeling with pain and fear since the terrorist attacks on New York and the Pentagon and he wants to get his feelings off his chest.
"I can't believe somebody would do something to our country," says Yelchin, shaking his head in disbelief. "I am really proud to live here. I am proud to live in a country where people love their country so much. It is horrible what happened. I think those people should be punished. My mom picked me up from the gym [the day of the attack] and I was so scared and nervous. My dad was at work and I was really scared because somebody said that three of the [hijacked] planes were going to L.A., which, thank God, didn't happen."
Yelchin is sitting at the table on the conference room of his agent's office in Universal City. Sitting in on the interview are his agent and his mother. Yelchin's parents, Irina and Victor, were championship ice skaters in Russia when they emigrated to the United States in 1989. Yelchin, who was born in Russia, was six months old when his family came to L.A..
"I always knew America was the best country in the world," he says. "When something like this happens, you don't realize how proud to be where you are."
Yelchin's agent walks out of the office and brings back a small glass of water for the young actor. After a quick gulp, he begins to calm down. And at the mention of Anthony Hopkins, his eyes brighten and a smile begins to creep across his face.
The young actor appears opposite the Oscar winner in the new drama "Hearts in Atlantis," opening Friday. Based on the short story collection by Stephen King, "Hearts in Atlantis" focuses on the friendship that develops between 11-year-old Bobby Garfield and Ted Brautigan (Hopkins), a mysterious new lodger in the boarding house where Bobby lives with his self-obsessed and bitter mother, Liz (Hope Davis). Bobby's father had died several years earlier.
Because he is losing his sight, Ted enlists Bobby to read the daily paper to him. Ted also has strange powers to predict the future and is fearful that someone is after him. As the summer progresses, he becomes a father figure to Bobby and opens his eyes to the world. Scott Hicks ("Shine") directed the Castle Rock release, which also stars David Morse as the adult Bobby.
"I know a lot of people wouldn't want to come to movies at this time, but this is a movie that gives you a good feeling," Yelchin says. "It is a movie about a friendship and about people who love each other."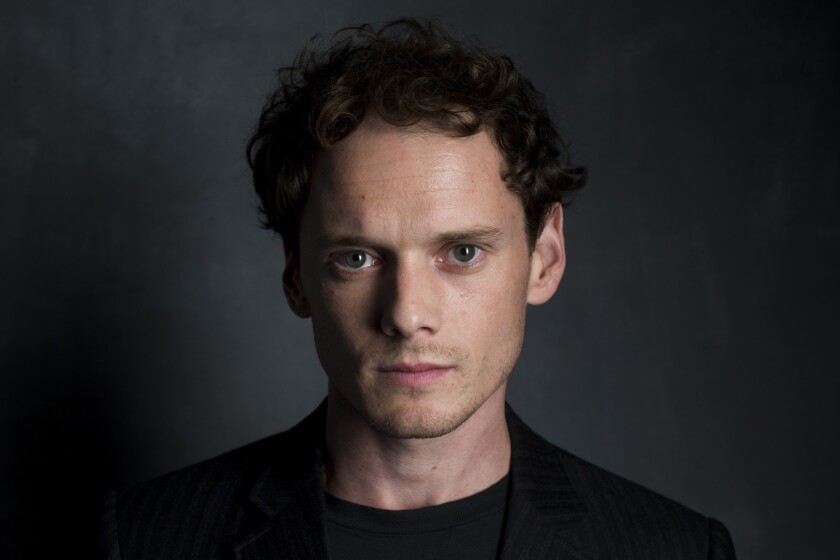 Actor Anton Yelchin in 2015.
(Jay L. Clendenin / Los Angeles Times)
Yelchin made his foray into acting in the 2001 film adaptation of Stephen King's best seller, "Hearts in Atlantis." Yelchin performed alongside Anthony Hopkins in the Scott Hicks-directed mystery drama.
(Phil Bray / Castle Rock/ Village Roadshow)
In 2004, Yelchin co-starred in 'House of D' alongside Robin Williams. The comedy-drama written and directed by David Duchovny follows the life of Tom Warshaw (played by Yelchin), an American artist living in Paris.
(Larry Watson / Lions Gate Films)
Yelchin played the title role in "Charlie Bartlett," which won Best Feauture Film at Boulder International Film Festival in 2008. Yelchin starred alongside Robert Downey Jr. as a wealthy yet troubled high-schooler.
(Ken Woroner / Associated Press)
Yelchin is pictured with co-stars Chris Pine, Simon Pegg, Karl Urban and John Cho in his best-known role playing Chekhov in the 2009 Star Trek reboot.
(Industrial Light & Magic / Associated Press)
Yelchin starred alongside Christian Bale in "Terminator Salvation," a Warner Bros. Pictures release. Yelchin played Kyle Reese.
(Warner Bros. / Warner Bros.)
Anton Yelchin plays Jacob and Felicity Jones plays Anna in the 2011 romance "Like Crazy." The Drake Doremus-directed film won nine film awards and received six nominations.rush.
(Fred Hayes / Paramount Pictures)
Though Hopkins insisted that Yelchin call him Tony, the young actor refused. Yelchin always addressed him as Sir Anthony. "Because of who he is, it's like I can't call somebody that I have seen ever since I was [young] 'Tony."'
"The wonderful thing about Anton is he is so talented in what he does, but he is totally self-effacing," says Hicks. "He was just humbled at being in the presence of Sir Anthony. But when it came to doing the job, he just stepped into another gear and he became the part. He wasn't sort of overwhelmed by what he was doing because he could believe Bobby Garfield's situation."
Off screen, Hicks reports, Yelchin and Hopkins had long conversations.
"Anton is a remarkably intelligent boy and very well-read," Hicks says. "It was wonderful to overhear snips of conversation. They would be talking about 'Hamlet' and swapping quotes. It was quite remarkable and somehow reflected to me in a little way what was happening between Ted and Bobby on screen."
Yelchin learned a lot about his craft from Hopkins, though he finds it difficult to articulate exactly what the veteran actor taught him. "I learned everything," Yelchin stresses. "I didn't learn it consciously. I didn't go home and say, 'I know what I learned.' I would feel it inside that I had learned a lot."
In an interview with the Los Angeles Times in December 1989, Irina Yelchin said that her infant son Anton was already getting attention: "A woman came up to me, saw Anton, and said, 'He's beautiful. He will be actor."'
Anton has been acting only for the past three years.
"I was over at a friend's house and one of the people there was an actor," he relates. "He said I would be good [as an actor]. I went over to an acting class and an acting coach said that I should go on auditions. I started going on auditions a lot and started doing commercials."
Currently in the seventh grade, Yelchin's favorite subject is math. "I love English, but we don't have a permanent teacher yet," he says. "Today, we had four substitutes."
"You have a teacher on the set who is the best," pipes up his mother.
"Richard," Yelchin says with a smile. "He is my very good friend."
Yelchin tried his luck at ice skating but he didn't inherit his parents' talent. "I hate ice skating. I am the most unathletic person in the world."
But he has been playing the guitar for two years and the piano ever since "Sir Anthony" taught him "Moonlight Sonata."
An avid reader, he adds that "while I am in school, I learn as much as I can. Then when I am out of classes, I try to enhance my social life which is really down there. I am part of the dork group. I am proud of that. I never want to be part of the popular group. They are obsessed with their clothes and their music."
Yelchin admits he is obsessed with the Beatles.
"Albert Finney [whom Yelchin co-starred with in the yet-to-be-released "Delivering Milo"], he got me all of the Beatles CDs. For the premiere [of "Hearts in Atlantis"], I will be wearing Ringo Starr's outfit from Abbey Road. I am even going to have the boots!"
MORE:
From the Archives: Anton Yelchin's work has been praised as he plays the crafty teen in 'Charlie Bartlett'
From the Archives: Anton Yelchin is ready to launch; Never heard of him? After 'Star Trek' and 'Terminator Salvation,' that should change
---
Get the Indie Focus newsletter, Mark Olsen's weekly guide to the world of cinema.
You may occasionally receive promotional content from the Los Angeles Times.