Anton Yelchin, actor in 'Star Trek' films, dies in freak car accident at age 27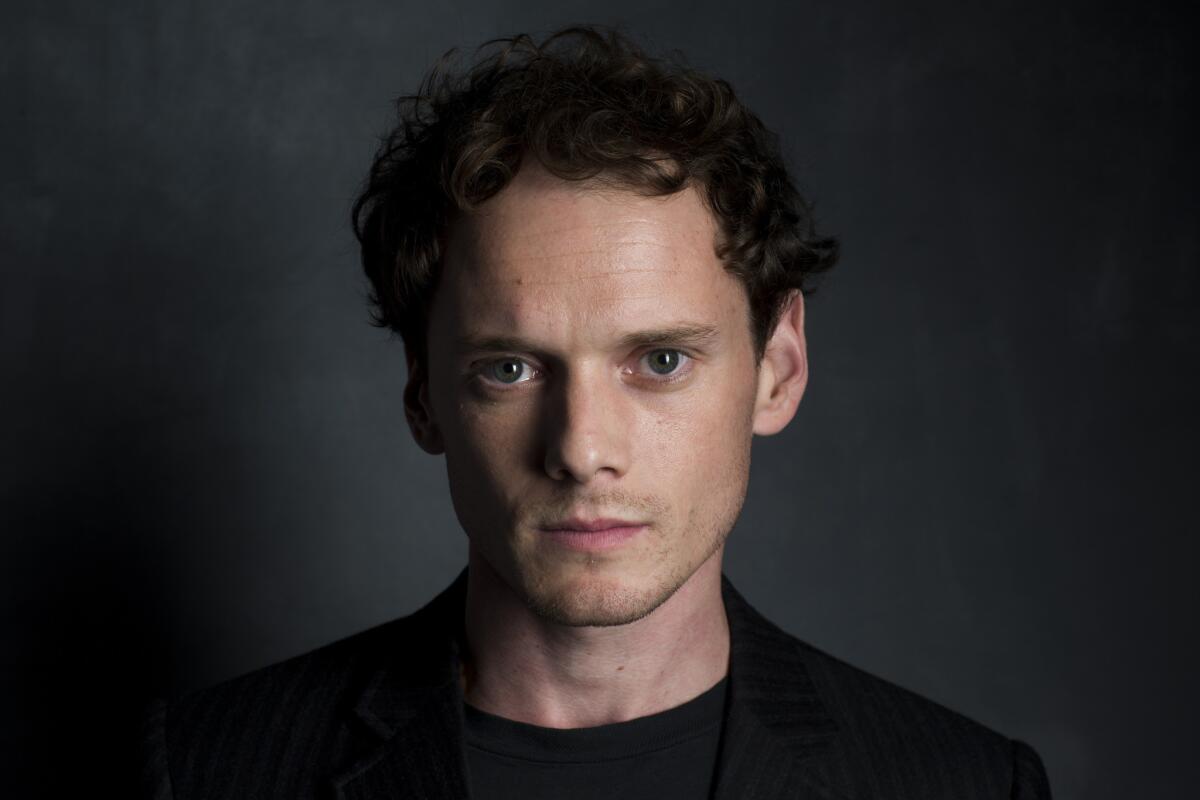 Actor Anton Yelchin, perhaps best known for his role in the new "Star Trek" films, died early Sunday after his vehicle rolled down his Studio City driveway and trapped the actor against a brick post, authorities confirmed.
Friends went to the 27-year-old actor's gated hillside home shortly after 1 a.m. Sunday, when he didn't show up for a rehearsal as expected, L.A. police Officer Jenny Houser told The Times.
Authorities believe Yelchin's vehicle rolled backward down the steep driveway, Houser said, pinning him against a brick column and security gate.
Investigators with the Los Angeles County coroner's office concluded that Yelchin's death was an accident caused by blunt traumatic asphyxia, Lt. Larry Dietz said. It appeared that Yelchin had not properly put his car in park, Dietz added.
Actor Anton Yelchin in 2015.
(Jay L. Clendenin / Los Angeles Times)
Yelchin played the title role in "Charlie Bartlett," which won Best Feauture Film at Boulder International Film Festival in 2008. Yelchin starred alongside Robert Downey Jr. as a wealthy yet troubled high-schooler.
(Ken Woroner / Associated Press)
Yelchin is pictured with co-stars Chris Pine, Simon Pegg, Karl Urban and John Cho in his best-known role playing Chekhov in the 2009 Star Trek reboot.
(Industrial Light & Magic / Associated Press)
Selena Barros, an investigator with the coroner's office, said there were "no obvious suspicious circumstances involved."
Former classmates and local media gathered Sunday afternoon outside Yelchin's English-style three-bedroom home, which is partly shielded by mature trees and tucked below a winding hillside street above Ventura Boulevard.
The black metal gate that blocked the home's sloping driveway appeared bent and damaged.
The publicist Jennifer Allen also confirmed Yelchin's death and said the actor's family has asked for privacy.
Yelchin was born March 11, 1989, in Russia, the only son of Viktor Yelchin and Irina Korina. His parents were celebrity figure skaters in the former Soviet Union, but when their son was six months old, they fled to the U.S. and settled in Los Angeles.
"We were afraid for our son," Viktor Yelchin told The Times in 1989. "It is a very bad situation over there. I would get angry, too--I'd say, 'Why should we have to buy things on the black market? Why should we have to stand in line?'"
Yelchin's parents initially shared an apartment with family but later moved to West Hollywood, an enclave of Russian emigres. His mother's remarks in 1989 about her young son's future proved prescient.
"Everyone here wants to make movies," Irina Korina said. "A woman came up, saw Anton, and said, 'He's beautiful. He will be actor.'"
Yelchin began acting as a child, picking up roles on television shows and independent films. He starred in the 2007 crime thriller "Alpha Dog" and was in the teen comedy "Charlie Bartlett."
But his biggest role to date was in the rebooted "Star Trek" films as the character Chekov. The third installment in the series, "Star Trek Beyond," comes out in July.
While pursuing an acting career, he also attended a public magnet school in the San Fernando Valley, Sherman Oaks Center for Enriched Studies, from 4th through 12th grade, according to two former classmates who paid tribute Sunday afternoon outside Yelchin's home.
"He didn't really like the business, but he loved acting," said the former classmate who spoke on the condition of anonymity. Yelchin, he said, admired global cinema and valued intellectually stimulating discussions on politics and philosophy.
"It was not about celebrity. He was about acting," the friend said.
Drake Doremus, who directed Yelchin in the 2011 film "Like Crazy," praised the late actor for his humor and charm and offered condolences to his family.
"Anton was one of a kind. Such an old soul who was one of the most sincere but also funniest people I have ever met," Doremus said in a statement. "He taught me what being a humble and hard working artist is all about."
Doremus added: "His laugh was the best sound in the world, it was so contagious and comforting. He was always up to something to make you laugh especially if you were getting frustrated or being too serious."
Justin Lin, director of the "Star Trek Beyond," due out next month, tweeted: "Still in shock. Rest in peace, Anton. Your passion and enthusiasm will live on with everyone that had the pleasure of knowing you."
J.J. Abrams, who directed Yelchin in 2009's "Star Trek" and 2013's "Star Trek Into Darkness," tweeted a photo of a handwritten note that reads: "You were brilliant. You were kind. You were funny as hell. And you weren't here nearly long enough. Missing you, JJ."
MORE:
'Star Trek' actor Anton Yelchin's SUV was recalled in April over rollaway risk
Anton Yelchin's talent went far beyond 'Star Trek'
Hollywood reacts to death of 'Star Trek' star Anton Yelchin
When Anton Yelchin met Anthony Hopkins: An Oscar winner becomes a mentor to a 12-year-old actor
From the Archives - Anton Yelchin is ready to launch; Never heard of him? After 'Star Trek' and 'Terminator Salvation,' that should change
From the Archives - Anton Yelchin's work has been praised as he plays the crafty teen in 'Charlie Bartlett'
Times staff writer Tre'vell Anderson contributed to this report.
---
UPDATES:
12:07 p.m.: This article was updated with more background.
11:35 a.m.: This article was updated with staff reporting.
This article was originally published with Associated Press reporting at 11 a.m.
Get the Indie Focus newsletter, Mark Olsen's weekly guide to the world of cinema.
You may occasionally receive promotional content from the Los Angeles Times.