Yes, Nat Turner had a wife. 'Birth of a Nation's Aja Naomi King on the challenge of telling her story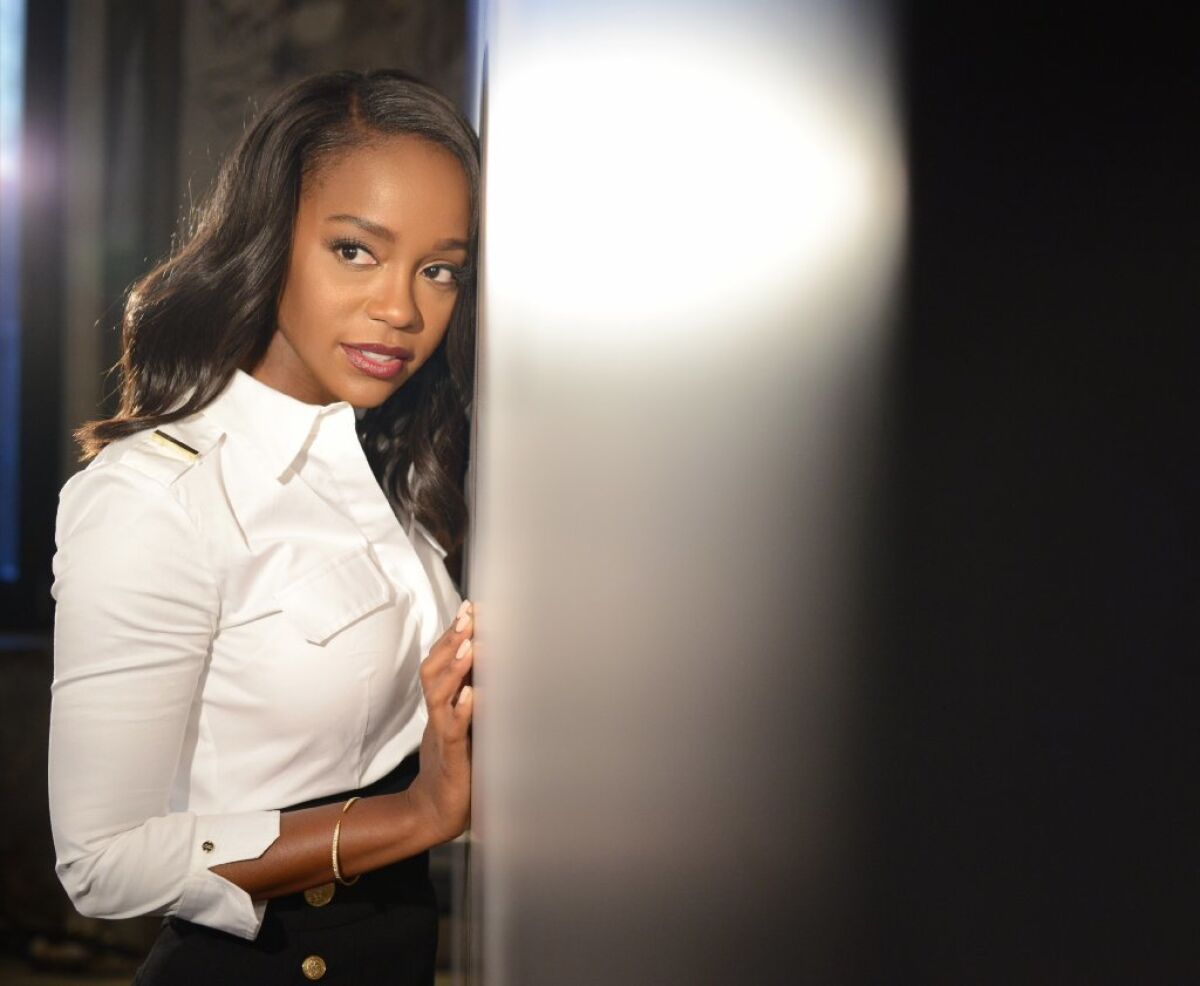 While researching her role as Nat Turner's wife in the new film "The Birth of a Nation," actress Aja Naomi King found a small but crucial sentence in an 1831 Richmond, Va., newspaper clipping.
"I have in my possession some papers given up by his wife under the lash," the newspaper reporter wrote.

For the record:
4:57 a.m. Jan. 29, 2023An earlier version of this article incorrectly dated the event that possibly led to Nat Turner waging an insurrection as 1931. The correct date is 1831.
For King, who plays Cherry Turner, the wife of the leader of a 19th century slave rebellion, that sentence is the clearest proof she has that such a woman ever existed. "The Birth of a Nation," which arrived in theaters Friday, depicts Cherry as a slave on a neighboring plantation who marries Turner, bears his child and urges him on to rebellion.
Information about Turner's real wife is murky — he never mentioned her in a lengthy interview with his attorney shortly before his execution, perhaps to protect her, some historians speculate. When novelist William Styron fictionalized that interview in his controversial, Pulitzer Prize-winning 1968 novel "The Confessions of Nat Turner," he imagined Turner as an eccentric lonely prophet, an image that became pervasive, despite being contested by many black writers at the time.
See the most-read stories in Entertainment this hour »
"I gave myself the liberty to create a history for Cherry," King said. "And to imagine what kind of woman you would have to be in order for these two people to have this type of relationship. It's such a big deal, the notion that these enslaved Africans had marriages and children ... because therein lies our humanity, our capacity for love."
The role of women in the film — specifically the implication that both Cherry and a character played by Gabrielle Union are raped — has come under new scrutiny after revelations about a rape case in the filmmakers' past. Nate Parker, who wrote, directed and stars in the film as Nat Turner, was accused of rape in 1999, as was a close friend, Jean Celestin, who co-wrote "The Birth of a Nation." Parker was acquitted and Celestin was convicted but successfully appealed. Their accuser committed suicide in 2012, a detail that first became public in August.
King, who regards the experience of shooting the movie on a Georgia plantation in 2015 as transformative in her own life, referring to a kind of "blood memory" it stirred in her, said she did not know about Parker's past until news reports surfaced in August.
"I found out with the rest of the world," King said. "It's been disturbing, to say the least."
Writing in Variety, the sister of Parker's accuser took issue with the inclusion of rape in the film.
"The thing that pains me most of all is that in retelling the story of the Nat Turner slave revolt, they invented a rape scene," she wrote. "The rape of Turner's wife is used as a reason to justify Turner's rebellion. This is fiction. I find it creepy and perverse that Parker and Celestin would put a fictional rape at the center of their film, and that Parker would portray himself as a hero avenging that rape."
(Most historians consider an atmospheric disturbance in August of 1831 that made the sun appear bluish-green the event that incited Turner to wage the insurrection. Driven by spiritual belief that slavery was wrong, he took the event as his final signal from God to rebel.)
With such little evidence in the historical record about Turner's wife, it's unknown whether she was raped or not. With black women legally regarded as property, King said, it is unlikely any contemporary view of consent would have applied.
"If you were a black woman and you were enslaved, the probability of your being raped by your master was extremely high," King said.
Watch the trailer for "The Birth of a Nation."
If the rapes happened, there likely would not have been an evidentiary record of them, according to Patrick Breen, an associate professor of history at Providence College and author of "The Land Shall Be Deluged With Blood: A New History of the Nat Turner Revolt."
Because of one account that says Turner's wife lived on a plantation owned by a man named Giles, historians have narrowed her identity down to three likely women, named Cherry, Mariah and Fanny. She did have his child, a son named Riddick. The revelation that Turner's wife had her husband's papers in her possession is significant, Breen said, because it reveals that she likely knew about the rebellion in its planning stages, and was a trusted confidante.
"Having papers is very unusual," Breen said. "This means she was in the inner circle. The revolt was run by men. They did not recruit women."
That historians can construct only a vague biography of Mrs. Nat Turner speaks to a challenge storytellers working in African American history often face: a dearth of real documents to mine. For every filmmaker who has a text like "12 Years a Slave" to read, there are many others who are forced to invent narratives and characters, as in Alex Haley's "Roots."
"Most of the contemporary sources were produced by whites," Breen said. "Tax records, court records, documents that treat blacks as property. Whites weren't particularly interested in documenting how blacks actually lived."
For King, learning about her character and spending time on a plantation meant opening a window to an era of history. A Los Angeles native who attended drama school at Yale, King, 31, is best known for her role as an ambitious student on ABC's "How to Get Away With Murder." For "The Birth of a Nation," she assembled a character study of Nat Turner's wife by reading slave narratives and interview transcripts of black women living in slavery. She was struck by one interview transcript in which a woman talked nonchalantly about hating her mistress for killing her baby sister.
"I wouldn't know how to have that fit inside of me and continue living," King said. "Especially when it comes to black women, we understand so well this notion of the strong black woman who holds the family together. But we also need to see them as vulnerable. That's part of what makes the character so complicated and so layered. Strength doesn't mean an absence of pain."
Some, including feminist writer Roxane Gay, have said they will not see the film because of the revelations about Parker's past. Asked how she would respond to moviegoers who share that sentiment, King said, "I don't want to diminish anyone's feelings."
She continued: "At the end of the day, seeing the film or not seeing the film is not going to change the world. Changing the world is going to change the world. The film was meant to start a conversation."
Follow me on Twitter for more movie news: @thatrebecca
ALSO
'Birth of a Nation' actress Gabrielle Union: I cannot take Nate Parker rape allegations lightly
Separating the art from the artist: A critic takes a second look at Nate Parker's 'The Birth of a Nation'
The complicated, ugly legacy of the 1915 'Birth of a Nation'
---
Get our L.A. Goes Out newsletter, with the week's best events, to help you explore and experience our city.
You may occasionally receive promotional content from the Los Angeles Times.