Record-breaking box office, traditional African garb and more as 'Black Panther' fever takes over L.A.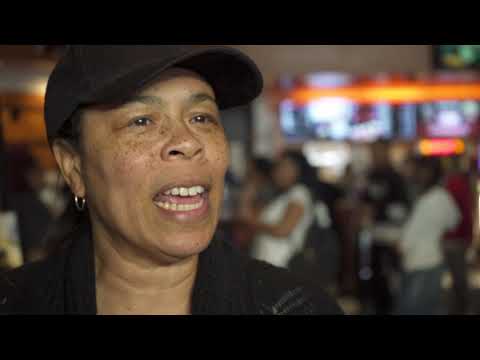 The Times spoke to fans who attended opening day screenings of "Black Panther" in Los Angeles to discuss what the film meant to them.
"Black Panther" fever took over Los Angeles and beyond this weekend as the highly anticipated Disney film opened to the kind of fervor typically reserved for the latest offering in the "Star Wars" franchise.
The Marvel Entertainment release took in an estimated $192 million over the weekend domestically, making it the highest February film debut ever. Its fortunes are expected to rise to $218 million through the Presidents Day holiday, according to figures from measurement firm comScore, which would make it one of the top 5 opening weekends of all time. The previous February record had been held by "Deadpool," which grossed $152.2 million over the long Presidents Day weekend in 2016.
Internationally the movie has already grossed $169 million among 69% of the market reporting, for an estimated global debut of $361 million. That figure is poised to climb dramatically when the picture is released in China, Japan and Russia — major film markets.
With an A-plus rating from audiences on CinemaScore and a 97% "fresh" rating on review aggregation site Rotten Tomatoes, it currently stands as the most well-received superhero film ever, Marvel or otherwise. And audiences are visibly showing their support.
In lieu of the traditional cosplay of capes and Spandex, moviegoers this weekend evoked the spirit of Wakanda by wearing colorful African-inspired dashikis to theater.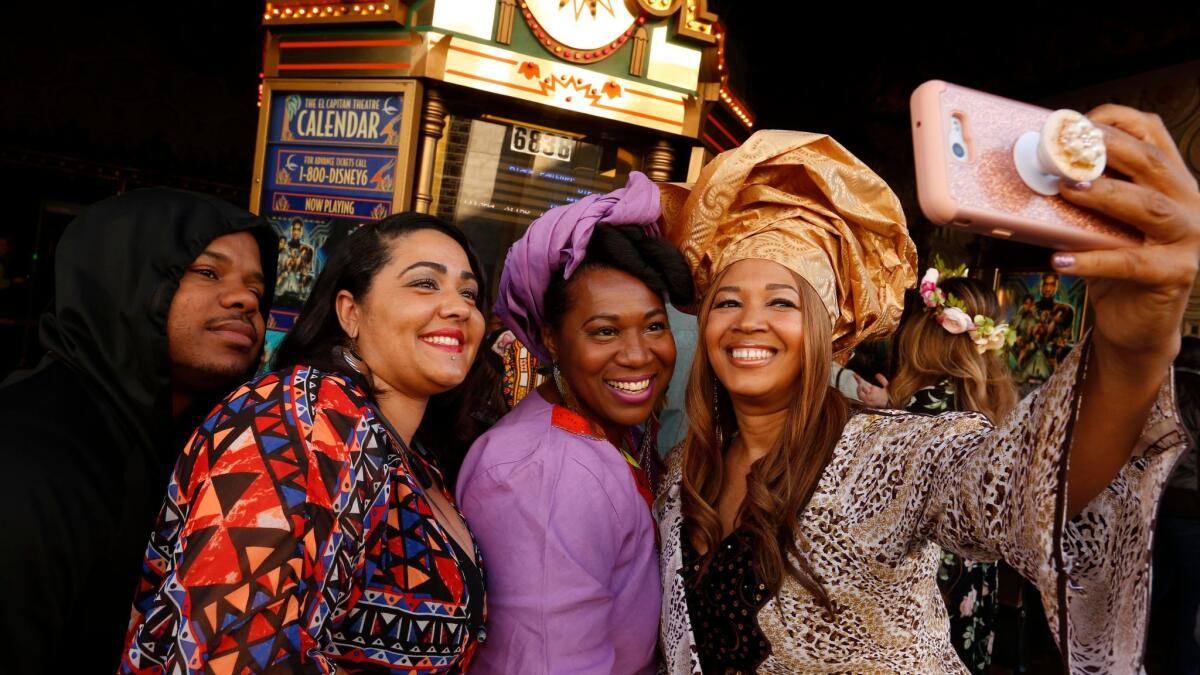 "This is the first time. I never dress up," said New York native Christian Prince. In town for the NBA's All-Star weekend, he went to see the film at Rave Cinemas Baldwin Hills with his friend Michael Cutrer on Friday afternoon.
"I just felt the spirit and the energy," Prince said. "People were joking around like, 'Are we going to dress up to go see it?' And I was like, 'Yeah, why not? It'll be fun… We asked his parents if they had kente cloth and they had some."
Westchester natives Nakiah Cherry Chinchilla and her son, August, who'd already seen the film twice by Friday afternoon, got their dashikis specially made by an Inglewood-based West African designer. They plan to see the movie four times in four different theaters.
"We have four different African-inspired outfits for each showing," Nakiah Chinchilla noted. "We really just went out of our way to make sure that we are representing what the movie is about.
"Last night, when we saw it in Culver City, there were so many people there dressed just like us. And even though none of us knew each other, we were all just smiling at each other as if to say, 'Yeah, we all had the same feeling.' It really made me feel good inside."
"Black Panther" is the 18th consecutive Marvel Cinematic Universe film to debut at No. 1. The movie, starring Chadwick Boseman as King T'Challa, a.k.a. the superhero Black Panther, and Michael B. Jordan as the villain Erik Killmonger, is set in the fictional African land of Wakanda, where a special mineral called vibranium has opened up their world to incredible technological and social advances. The picture, directed by Ryan Coogler, has been heralded as a cultural milestone with its nearly all-black cast and contingent of strong women, and perhaps will put to rest the longstanding Hollywood belief that black-led movies don't perform at the box office.
Costar Letitia Wright certainly hopes so. "It's going to open up a lot of doors for many more films like this to be made," she said in a recent Times interview.
For Chinchilla, that positive representation of black characters in an overwhelmingly white comic universe was a crucial draw of the picture.
"Representation matters," she said. "Just like when they had the first black stormtrooper in 'Star Wars.' My son really identified with that and … now he wants to be Black Panther. He wanted to move to Wakanda — I had to explain to him that it's not a real place," she said, looking at him with a smile.
"This movie kind of represents something that's within us as a people," said artist Brother Israel. "But we don't draw our power from some technology [like the vibranium in the film].
"These kinds of positive and powerful and noble images are something that's long been needed. A lot of the stuff that [Hollywood has] shown, like Blaxploitation movies, makes a mockery of us as a people. Everyone wants to see themselves in a positive light. But for a long time, certain people have been held back."
Review: 'Black Panther' is a royally imaginative standout in the Marvel Cinematic Universe »
Prince echoed these sentiments and suggested that the onus is now on audiences to prove that black stories do sell.
"We have to support the movie and show that it matters," he said. "If we don't support it, they might not make another movie like this. So I thought it was really important to come out and make sure it makes as much money as possible on the first weekend so [studios] are like, 'Wow, let's make another one.'"
L.A. native Pamela Jackson, who wore a bright red dashiki to the theater, already has plans to see the movie again as well, this time with her 17-year-old son.
"This is the first film like this that I've ever seen," she said. "And today is my birthday. I'm not going to say how old I am, but in all of my years, I've never seen anything like this. I have never seen any black superheroes… any black characters that are this positive. It was off the map, it really was."
New York native Mira Gandy also gushed about the film, calling it "profound" and "breathtaking."
"I felt so inspired and on the edge of my seat the whole time," she said. "And I just feel really proud.
It's so timely. Especially… [in the post-credits scene] when they were speaking at the United Nations about how we all need to come together.
— New York native Mira Gandy
"It's so timely. Especially… [in the post-credits scene] when they were speaking at the United Nations about how we all need to come together and be together as a human race, it's just profound. I think every child should see this. It's hopeful and beautiful."
"You can feel the strength from everybody [in the film]," said L.A. native Debra Barner. "The strength that's coming from the motherland, and trying to protect the motherland as well as being supportive of other nations outside of [Wakanda]. I was just mesmerized by the acting, everybody's acting. I just love the movie."
Fans cited the strong female characters, technological advancements and the scene-stealing performance by breakout star Wright (who plays T'Challa's younger sister and techno-whiz, Shuri) as major highlights. For others, like 11-year-old Jaydea Traylor, Jordan's portrayal of Killmonger was most compelling.
"He played a really good villain, and his motives were awesome," said Traylor. "And to be honest, if I were him, I would've taken the same road as he did." When asked how many more times he planned to see the film, Traylor was modest.
"Ten or 20," he said. "Especially when it comes out on DVD or Blu-ray."
Times staff writers Mark Potts and Jen Yamato contributed to this report.
follow me on twitter @sonaiyak
Get the Indie Focus newsletter, Mark Olsen's weekly guide to the world of cinema.
You may occasionally receive promotional content from the Los Angeles Times.