'Maze Runner' trilogy ends with a box office win; Oscar contenders continue to perform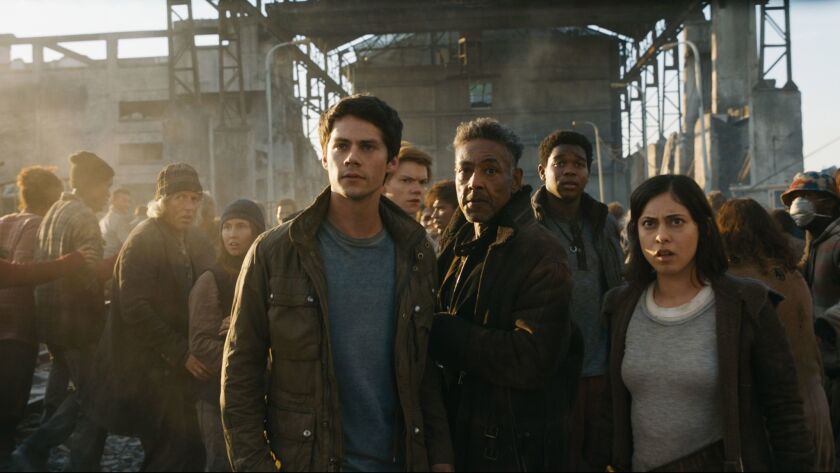 Fox dominated the box office chart this weekend with three vastly different films placing among the top five: "Maze Runner: The Death Cure," "The Greatest Showman" and "The Post."
"I think it's a testament to the diverse types of films that Fox is known for and having the ability to appeal to so many different segments of the moviegoing audience," said Chris Aronson, the studio's president of domestic distribution.
The only new wide release among the top five, "Maze Runner: The Death Cure" debuted at No. 1 and performed at the high end of analysts' predictions, bringing in an estimated $23.5 million, according to figures from measurement firm ComScore.
The release of the final installment in the "Maze Runner" trilogy was delayed a year following an on-set injury suffered by star Dylan O'Brien.
"I give a lot of credit to Wes Ball who has directed all three of these films, and his ability," Aronson said, "to keep the fan base engaged even through the production delays that everyone is aware of."
"Death Cure" earned a B+ rating on CinemaScore and a 44% "rotten" rating on review aggregation site Rotten Tomatoes. The original "Maze Runner" opened with $32.5 million in 2014 and its sequel, "Maze Runner: The Scorch Trials," premiered with $30.6 million the following year.
After spending four weeks at the top of the box office chart, Sony's "Jumanji: Welcome to the Jungle" dropped to second place, raking in $16.4 million (a 16% decline) for a cumulative total of $338 million.
In third place, Entertainment Studio Motion Pictures' "Hostiles" added 2,697 locations and $10.2 million to its earnings in its first wide-release weekend for a cumulative $12 million.
"The reason we saw such a huge uptick is because of that increase from 119 theaters last week to a wide release this weekend," said senior media analyst Paul Dergarabedian. "And that's why we saw it jump so dramatically on the chart from outside of the top 20 way up into the third-place spot."
"I knew the movie would do well once we put it in theaters across the country," said Byron Allen, the studio's founder and CEO. "America is that country that's in between L.A. and New York. And what I always knew was that when we got this quality, unbelievable western to the American people, you would hear them roar."
The western drama, which stars Christian Bale, Rosamund Pike, Ben Foster and Timothée Chamalet, outperformed low expectations despite failing to secure a single nomination during awards season.
"Nonetheless they're getting love from audiences that are not Oscar," said Dergarabedian. "So it definitely paid off for them to expand the movie this weekend. Unfortunately westerns in general have a tough time connecting with mainstream audiences, though when they're really good (as this one is), they do find an audience."
"I have a hard time believing the Academy members took a look at this film," said Allen. "I always said, 'This movie will get zero nominations or five plus.' And zero would be because they didn't watch it."
"With such a really strong crop of movies this year there were definitely going to be some films left out of that [Oscar] mix that a lot of people thought should've been included," said Dergarabedian. "At least 'Hostiles' can find solace in a very solid expansion in its first weekend of wide release."
The film earned a B rating on CinemaScore and a 72% "fresh" rating on Rotten Tomatoes.
Rounding out the top five were two more Fox films in their sixth weeks: In fourth place, "The Greatest Showman" added $9.5 million (an 11% decline) for a cumulative $126.5 million. And in fifth, "The Post," a best picture nominee for the upcoming Oscars, added $8.8 million for a cumulative $58.5 million.
Among the other Oscar contenders, which were announced Tuesday, Fox Searchlight's "The Shape of Water" (which led the nominations with 13) added 1,001 theaters and $5.6 million in earnings, boosting its cumulative earnings to $37.7 million.
"Our widest expansion [until this weekend] had been 853 theaters so we didn't quite have the outreach theater-wise, but now we do," said Frank Rodriguez, the studio's distribution chief. "But there's no doubt that getting 13 nominations tore down any resistance, if there had been any at all, with going to see a film described as a [love story between a] cleaning lady and a fish creature. Obviously now with those noms it validated the picture and I think that resistance is being knocked down."
The studio also added 503 engagements to seven-time Oscar nominee and SAG ensemble award winner "Three Billboards Outside Ebbing, Missouri," which took in $3.6 million for a cumulative of $37 million.
Up for six Academy Awards each, Focus Features' "Phantom Thread" and "Darkest Hour" also continue to do well.
"Phantom Thread" added 125 theaters in its fifth weekend and $2.9 million to its earnings, for a total of $10.6 million. "Darkest Hour," in its 10th weekend, earned $2.9 million for a total of $45.2 million.
Up for four Oscars, A24's "Lady Bird" added 497 theaters in reaction to its five Oscar nominations, bringing in $1.9 million in its 13th weekend for $41.6 million in total box office earnings. Sony Classic's "Call Me By Your Name" brought in $1.3 million in its 10th weekend across 815 locations for cumulative earnings of $11.3 million.
While "Get Out" and "Dunkirk" were bona fide box office phenomena earlier in 2017, none of the year's fall contenders are on track to top 2016's "La La Land." That best picture-nominated film had already grossed $90 million by the time Oscar nods were announced; it ended at $151 million. However, most of this year's contenders are already ahead of the $27.9-million final domestic gross of the eventual winner, "Moonlight."
Next week, Lionsgate opens the Helen Mirren-led horror film "Winchester."
follow me on twitter @sonaiyak
---
UPDATES:
2:35 p.m.: This story was updated with comments on the weekend's box office results from studio and box office experts.
The article was originally published at 9:50 a.m.
---
Get the Indie Focus newsletter, Mark Olsen's weekly guide to the world of cinema.
You may occasionally receive promotional content from the Los Angeles Times.