'Star Wars: The Last Jedi' dominates the box office with second-largest opening — ever
A passenger on the upper deck of a tour bus is silhoutted against the marquee of the El Capitan Theater in Hollywood, where "Star Wars: The Last Jedi" was screened.
(Luis Sinco / Los Angeles Times)
"Star Wars" fans line up to view "The Last Jedi" at El Capitan Theater in Hollywood.
(Luis Sinco / Los Angeles Times)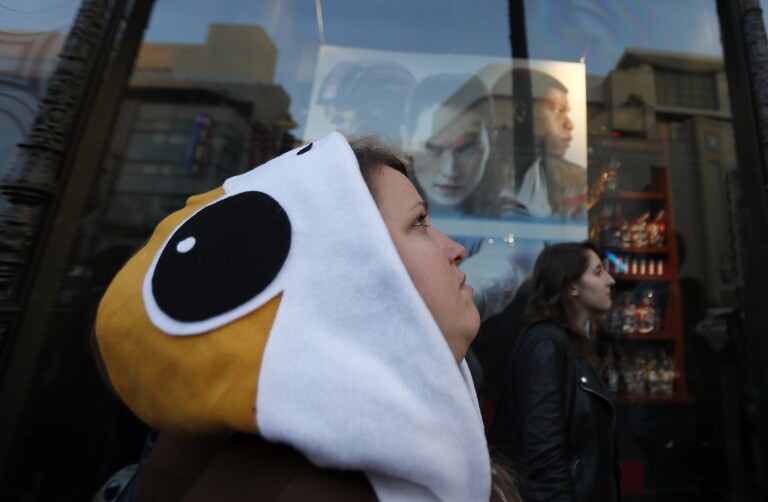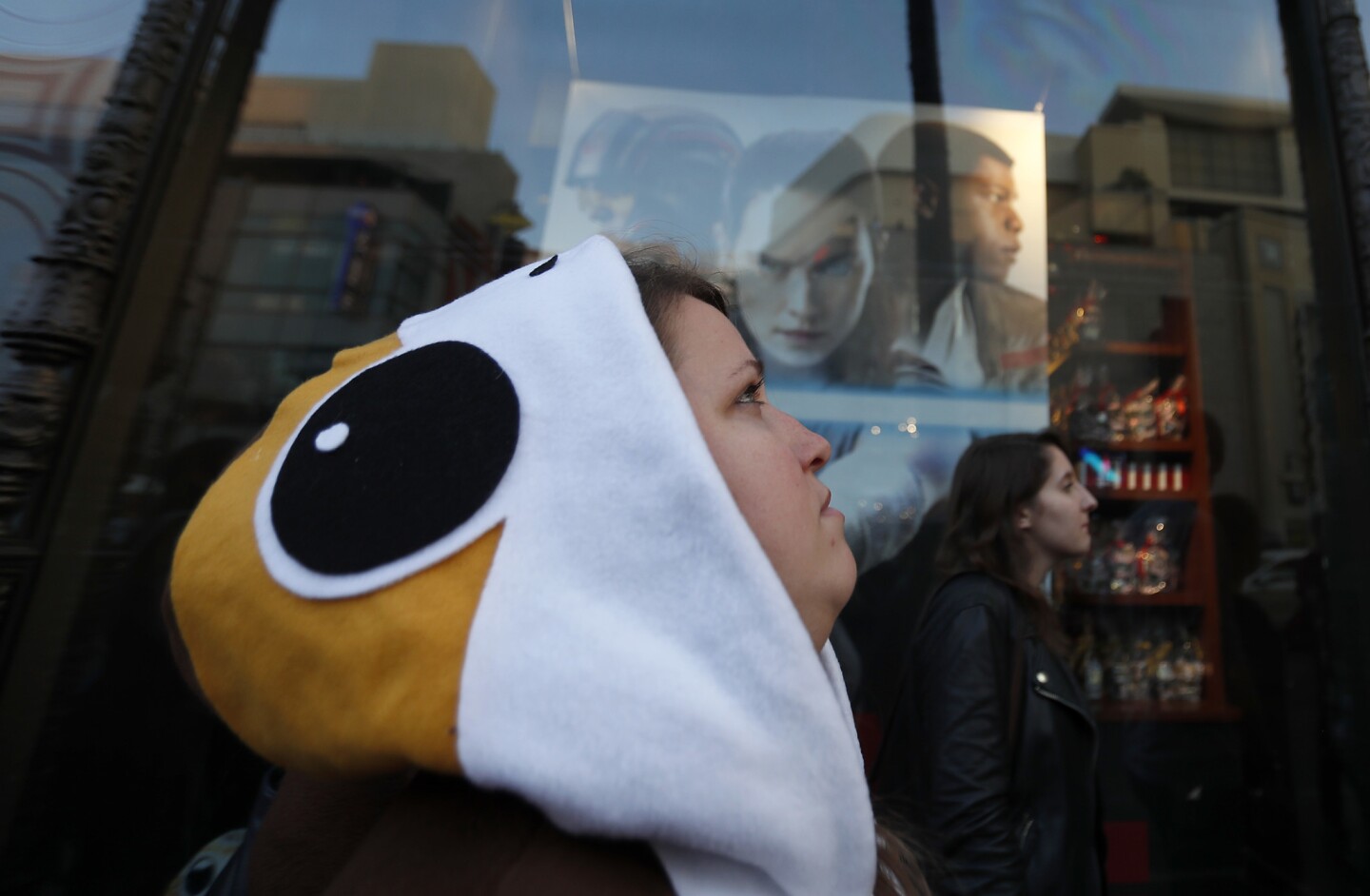 "Star Wars" fan Alyssa Graul waits in line to view "The Last Jedi" at El Capitan Theater.
(Luis Sinco / Los Angeles Times)
A "Star Wars" fan with a Kylo Ren helmet on walks out of the El Capitan Theater.
(Luis Sinco / Los Angeles Times)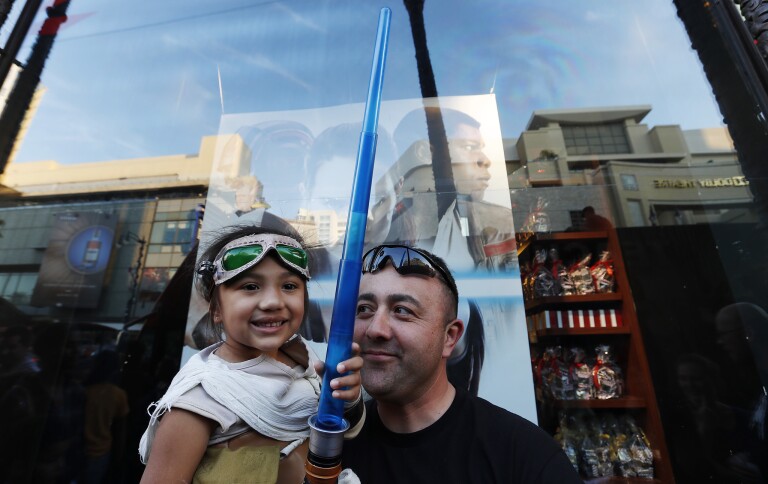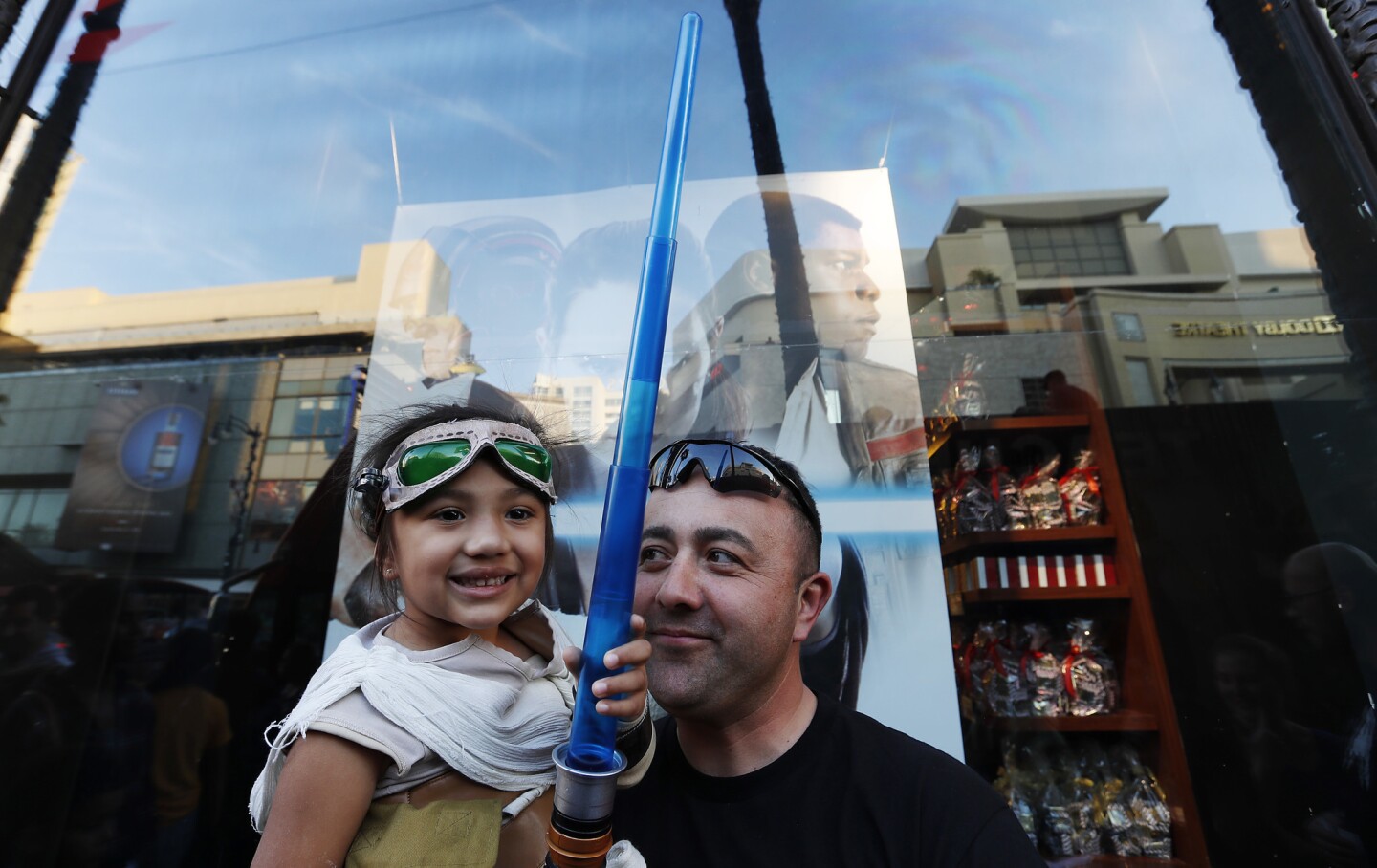 "Star Wars" fans Edgar Deleon and his daughter Arianna drove from San Diego to see "The Last Jedi" at El Capitan Theater in Hollywood.
(Luis Sinco / Los Angeles Times)
"Star Wars" fans line up to view "The Last Jedi."
(Luis Sinco / Los Angeles Times)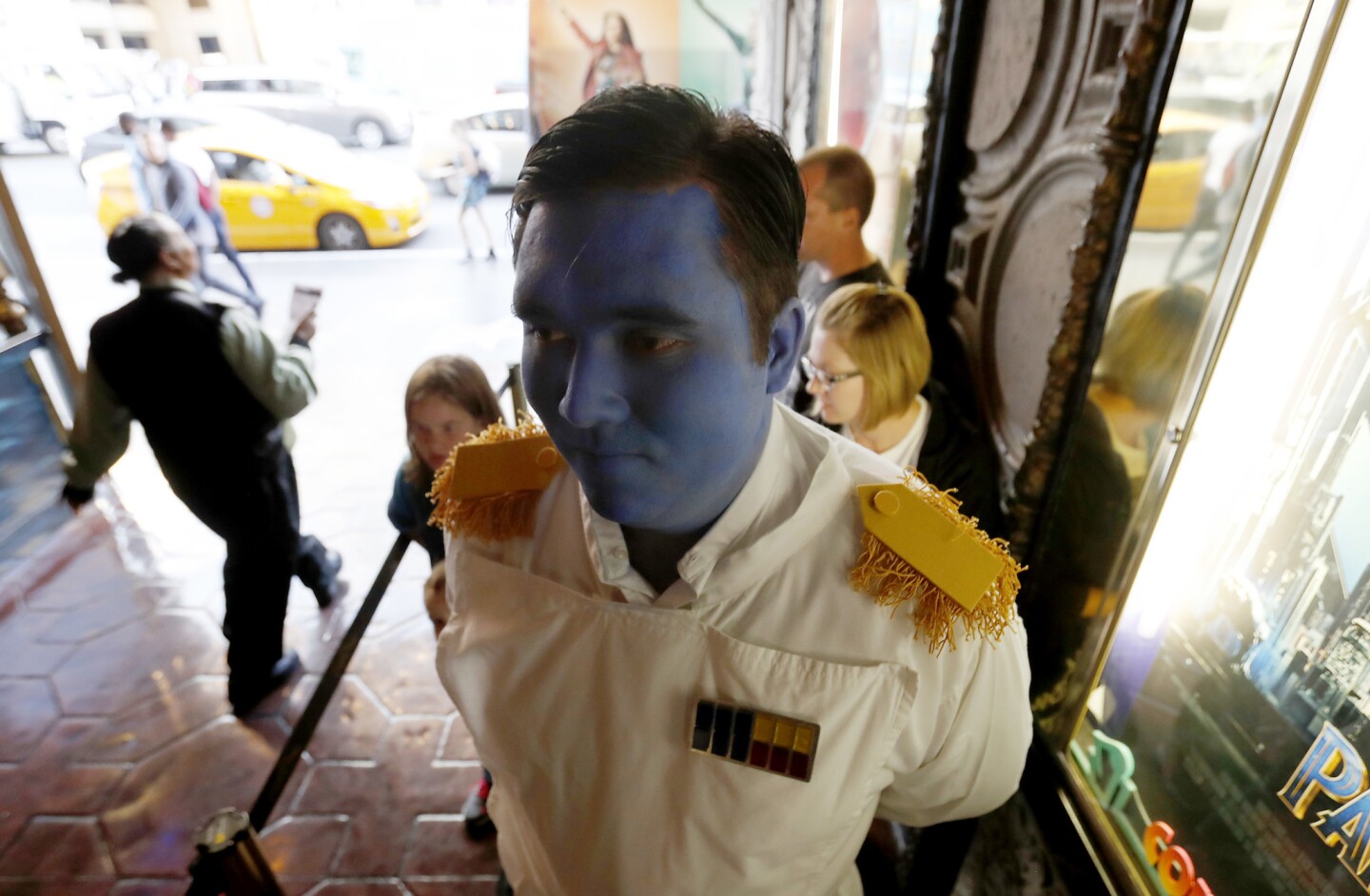 "Star Wars" fan Nathan Ross is first in line to catch an early showing of "The Last Jedi."
(Luis Sinco / Los Angeles Times)
"Star Wars: The Last Jedi" dominated the weekend's box office with force, debuting with $220 million domestically, according to estimates from measurement firm ComScore.
That makes the film the No. 1 debut of 2017, the second-best opening of all time and the cornerstone of what is expected to be the third-best overall weekend at the U.S. box office of all time. It also managed to scrape together an impressive $450 million globally.
As projected, the Rian Johnson-directed sequel could not top "Star Wars: The Force Awakens," which holds the record for biggest opening with a 2015 debut weekend gross of $248 million. That film, with J.J. Abrams at the helm, was powered by years of anticipation for a new "Star Wars" movie featuring fan favorites such as Han Solo, played by Harrison Ford, and Princess Leia, portrayed by Carrie Fisher.
"'The Force Awakens' had some very important advantages," said Dave Hollis, president of theatrical distribution at Disney. "Most notably, massive pent-up demand, because of it being the first 'Star Wars' film in a decade."
"We came in with high expectations both in following the work that 'The Force Awakens' did in 2015 but also just the high expectations that fans of the franchise have when it comes to these movies," Hollis said. "To have this reception to the film is unbelievably satisfying."
Star Wars fans camp out at TCL Chinese Theatre ahead of opening of "The Last Jedi."
Fans at Disney's El Capitan Theater on Saturday night showed up in all manner of "Star Wars" gear, twirling lightsabers and donning capes, with one person even sporting a furry Chewbacca onesie. L.A. resident Destini Bryant dressed as Princess Leia with the requisite side buns and signature white dress that the late Fisher made famous.
"I just love Carrie Fisher a lot," she said. "So all of our friends, we're dressed up … in homage to the originals. Especially this year, it's our first movie without her, so we had to pay a little tribute."
Bryant and three cos-playing friends were seeing the movie at El Capitan as part of a larger group of 75 "friends of friends of friends." San Fernando Valley resident Kacee Forte also showed up with a large group, about 20 friends. Saturday night marked the third time the group gathered to see a new "Star Wars" movie.
"It was hilarious," said Forte, who wore a "Star Wars" T-shirt. "I was shocked, I was screaming. It was amazing."
At El Capitan Theater for The Last Jedi
Men 25 and older made up 42% of the opening weekend audience, according to PostTrak polling, and 89% rated "Last Jedi" positively. Women younger than 25 represented the smallest segment of the audience at just 10%; women 25 and older were 23% of the audience, and men under 25 accounted for 25%.
About 62% of all ticket buyers were white; 15% were Latino, 10% Asian and 9% black, according to PostTrak.
The film was a hit with audiences and critics, garnering a rare five out of five star audience rating on PostTrak, a 93% "fresh" rating on Rotten Tomatoes and an A rating on CinemaScore.
Also new this week, Fox's "Ferdinand" premiered at No. 2 with $13.3 million, below analysts' expectations of $15 million to $20 million.
"I'll always take No. 2 against the second-biggest opening in history," said Chris Aronson, president of domestic distribution at 20th Century Fox. "It's all good. This was a very calculated move on our part and we're thrilled with the result. We know that 'Star Wars' is a juggernaut, no one will deny that, but it's a PG-13 film and we think that we have a very satisfying movie for the younger crowd and their parents."
The film debuted on the low end of wide-release animated films this year, ahead of disappointments like "The Star" and "My Little Pony: The Movie" but far behind middling performers like "The Emoji Movie" and "The Lego Ninjago Movie." Fox hopes the A rating on CinemaScore is a sign the film will have stronger legs over the holiday season.
"We're just starting to pick up momentum," said Aronson. "You'll start to see it Monday. You're going to see a huge multiple on this movie."
"Ferdinand" is based on a beloved children's book about a bull that would rather sniff flowers than fight in the ring. It was produced by Fox's computer animation unit Blue Sky Studios.
Following the announcement last week that Walt Disney Co. will buy film and TV assets owned by 21st Century Fox, it's worth noting that the two studios were responsible for more than 93% of the weekend's total gross from the top 10 films.
"They have the top movies in the marketplace," said Paul Dergarabedian, senior media analyst at ComScore. "Three out of the top five films are from Disney or Fox. Even if you look at the top 10, five out of the top 10 movies are from Disney or Fox. That's a pretty clear metric of how strong those two brands are, particularly in this marketplace at this moment. That merger is a very powerful one, though how it all plays out in the long term remains to be seen."
The week's Golden Globes and SAG Award nominations seemed to have had negligible impact on the box office, as grosses for awards season contenders including "Lady Bird" and "The Shape of Water" rose or fell based more on whether they gained or lost screens.
"The Disaster Artist" plunged 59% despite adding 170 theaters after a strong performance last weekend. A24's comedy earned $2.6 million in its third week, for a cumulative total of $12.9 million. The drop suggests James Franco's film about the making of "the worst movie ever made" will remain a niche player instead of a breakout hit.
Fox's musical biopic "The Greatest Showman" and Sony's reimagined sequel "Jumanji: Welcome to the Jungle" open Wednesday. On Friday, Paramount premieres the comedy-drama "Downsizing," Warner Bros.' opens the comedy "Father Figures" and Universal debuts the comedy "Pitch Perfect 3." Fox also opens awards season contender "The Post" in limited release.
follow me on twitter @sonaiyak
---
UPDATES:
12:15 p.m. This article was expanded with studio comments, audience reaction, discussion of the Disney-21st Century Fox deal and other details.
---
Get the Indie Focus newsletter, Mark Olsen's weekly guide to the world of cinema.
You may occasionally receive promotional content from the Los Angeles Times.