'Brigsby Bear' celebrates friendship, creativity, weird kids' TV. Meet the childhood friends who made it
It is an unusual path for a movie to play at the Sundance and Cannes film festivals and make a stop at Comic-Con International's storied Hall H in San Diego. Which simply confirms "Brigsby Bear" as an unusual movie, a playful story about friendship and creativity while also serving as a painful look at isolation and the struggle toward maturity.
The movie is co-written by and stars Kyle Mooney, best known from his current run on "Saturday Night Live," where he frequently plays the face of beleaguered, bewildered youth. "Brigsby Bear" also marks the feature directing debut of Dave McCary, who works alongside Mooney at "SNL." Now both in their 30s, the pair have been friends since fifth grade.
Kyle Mooney, Claire Danes and Mark Hamill star in the "Brigsby Bear" trailer.
In the movie Mooney plays a young man named James, whose isolated life is brightened by an obsession with the children's show "Brigsby Bear." When James is suddenly reintroduced to the larger world, and learns the truth about his own circumstances and the origins of the show, he becomes determined to make his own movie to complete the convoluted internal mythologies of the show.
The film also stars Mark Hamill, Jane Adams, Matt Walsh, Michaela Watkins, Claire Danes, Greg Kinnear, Andy Samberg and Kate Lyn Sheil. Perhaps speaking to Mooney and McCary's place in the current comedy world, the movie boasts an impressive behind-the-scenes producing team that includes filmmakers Phil Lord and Chris Miller and the Lonely Island team of Samberg, Jorma Taccone and Akiva Schaffer.
Mooney and McCary sat for a recent interview on a beer garden patio just a few blocks away from Mooney's old school, USC. With Mooney wearing a vintage baseball T-shirt and shorts and McCary in a casual button-down and pants, the two looked liked a pair of grad students. The group at the next table were too engrossed in their board game to notice the rising stars in their midst.
The pair don't so much finish each other's sentences as pick up the thread from one to the other, filling in details or backing up for extra information. Mooney seems far more focused than the space-cases he often portrays on-screen, with a self-awareness missing from the uncomfortable earnestness he often brings to his performances.
"I never think in terms of what will make somebody comfortable or uncomfortable," said Mooney. "But I have noticed a lot of the stuff I do is [characters] who portray confidence. There might be some emotion underneath that, but they're lying to the world and it's obvious in some way or another. But in terms of sincerity, that's generally always the goal. We always want them to be honest, as if the person was real. A lot of thought goes into whether a person would really do this or not."
Our approach from Day 1 was always, 'how can we tell the most earnest version of this story?'
— Dave McCary, director of 'Brigsby Bear'
The sincere tone of the movie is one of its most disarming qualities, as it lacks the distanced irony one might expect from a film that traffics in nostalgia and fandom.
"Tonally throughout the film, every time a scene feels like it's reaching for a joke it would take away from the realism we were trying to capture and the emotional journey of James," said McCary. "With any fish out of water story, it's so easy to pile on, 'what sort of high jinks can he get in?' And naturally we hopefully found some more subtle moments of humor, but with the understanding that our approach from Day 1 was always, 'how can we tell the most earnest version of this story?'"
Part of the inspiration for "Brigsby Bear" came from Mooney's extensive collection of VHS tapes. The duo rattle off a head-spinning list of bears on children's shows — Prayer Bear, Teddy Ruxpin, Country Bears, Berenstain Bears, Yogi Bear, Gummi Bears, Care Bears — that prove they've done their research.
The pair somewhat reluctantly launch into their own origin story, in part because once they start they seemingly can't stop, adding on detail after detail. Once they get going, they have a shared ebullience that makes it seem they are still finding new contours to the story and even still surprising each other.
Review: 'Brigsby Bear' is a charming, affectionate tribute to the joys of amateur filmmaking »
Growing up in San Diego, they were aware of each other but had not yet really spoken. One day at school — McCary says after, Mooney says before — McCary was telling a funny story, playing a character to a small group of friends.
"In essence there's a circle surrounding Dave, and I approach the circle to hear Dave's story," recalled Mooney, "and he's just like, 'Kyle, you can't listen to this.'"
The two became friends and stayed friends, even when McCary moved away from California for a bit before coming back. But it was when Mooney was at USC and McCary at another school in the area — "I don't need to name names but I hated it," McCary said — that their creative collaboration really took off. McCary would spend weekends crashing in Mooney's dorm room and stealthily use the school's equipment.
"I got a lot of my film education from sneaking into media labs at USC. I probably owe USC a lot of money," said McCary.
With some other friends, including Beck Bennett, who has a small role in "Brigsby Bear" and is also a regular on "Saturday Night Live," Mooney and McCary formed a comedy group and began making short videos and posting them online. As the videos gained in notoriety, they eventually came to the attention of "SNL" producers and things took off from there.
The "Brigsby Bear" idea actually predated their arrival at "SNL." The movie's co-writer Kevin Costello, another childhood friend, worked on the screenplay in Los Angeles while Mooney and McCary were in New York working on the show. They eventually shot the film last summer, and McCary handled postproduction in the fall to make the deadlines for Sundance while simultaneously working on "Saturday Night Live."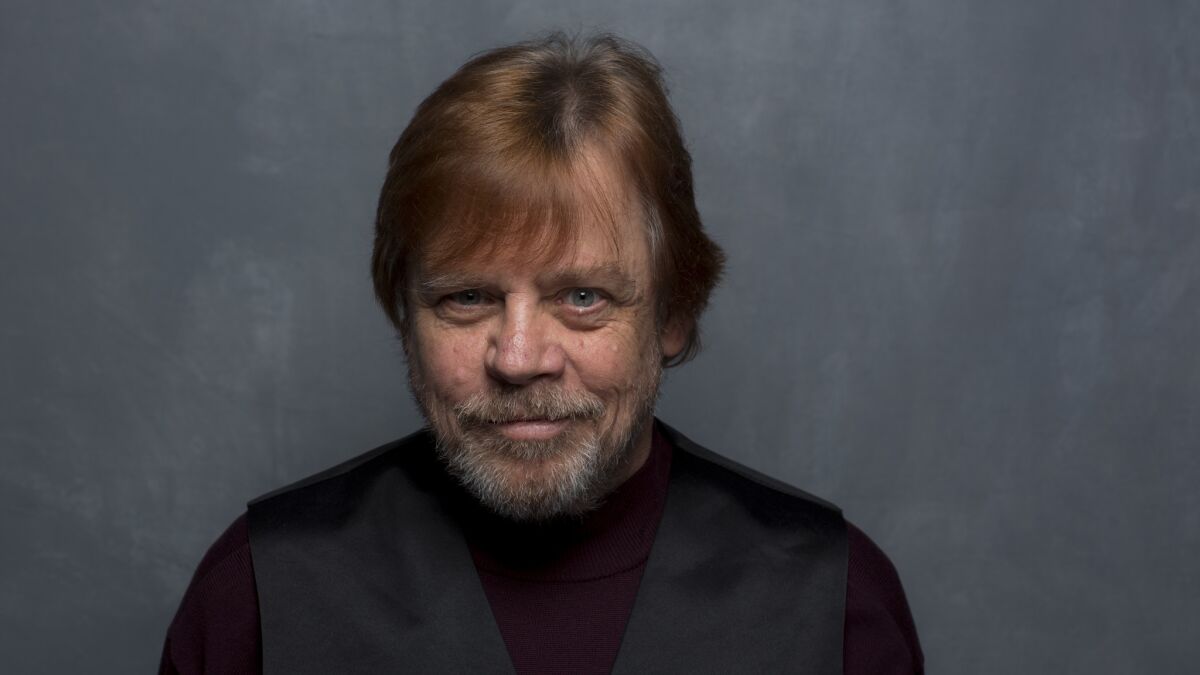 When it came to casting the part of Ted, the troubled father figure who creates the "Brigsby Bear" show, "Star Wars" star Mark Hamill was not the first name to come to mind. In fact, McCary and Mooney say his name only came up late in the casting process, but felt right as soon as he was mentioned.
The very fact that Hamill was not an actor they even thought of made him that much more perfect for the role's off-the-radar qualities. His extensive background doing voice work for animated shows was a bonus in creating the "Brigsby" show within the movie.
"I always felt confident that role was so interesting that we would land on someone good. But it was so insane," said McCary. "Truly I can't imagine a better person in the world for that part, in particular because of the voice acting and how incredible he is and how accomplished. He just fit every single thing we envisioned."
In a separate interview, Hamill recalled how he was immediately drawn to the project. As he said, "When I read it, usually you say what's it like and you say, '"The Sting" but set in the frontier days,' '"Die Hard" in a shopping center,' '"Animal House" but set in a convent,' you always have to compare it to other films. And in this case I thought, 'I've never read anything like this ever before, it's so unique.'"
Hamill obviously is someone who knows something about the long-term effects of devoted fandom. So it has added meaning when he declared that "Brigsby Bear" "appeals to dreamers and people that love movies and just have a passion for whatever it is. This is a love letter to them."
For Mooney and McCary, the movie feels like a further step in their creative evolution, moving from Internet videos to "SNL" shorts and now a feature film. But, as in the movie itself, there is a swell of genuine emotions to go along with it.
McCary said the film's premiere at Sundance felt like "the best day of my life," adding, "Emotionally, that premiere was so meta and so surreal. We're sitting there watching the movie as the James character is watching the premiere of his movie that he made with his best friend who he discovered his love of filmmaking with, as I'm sitting next to my best friend who I discovered my love of filmmaking with. I was in shock pretty much the whole time how truly unbelievable that was."
SIGN UP for the free Indie Focus movies newsletter »
Follow on Twitter: @IndieFocus
ALSO
Creating a bold world for the Cold War thriller 'Atomic Blonde'
On sisters and snacks with Jenny Slate and the team behind 'Landline'
In 'Lady Macbeth,' Florence Pugh is a powerful, placid dynamo
---
Get our L.A. Goes Out newsletter, with the week's best events, to help you explore and experience our city.
You may occasionally receive promotional content from the Los Angeles Times.