Why is an $895 ice cream cooler being celebrated at Cannes?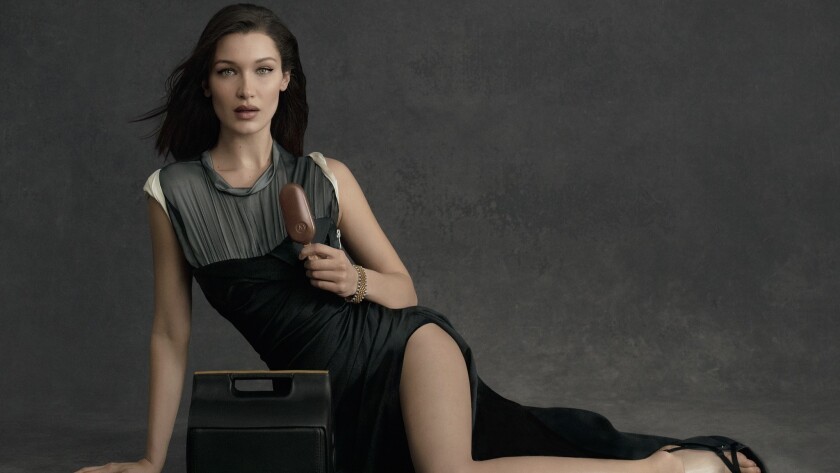 The Cannes Film Festival has always celebrated excess — women dripping in diamonds, buckets of rosé, multimillion-dollar yachts.
But extravagance in the south of France reached a whole new level on Thursday, when Magnum announced it was launching a new product during the two-week event: An $895 leather-covered cooler bag.
Yes, you read that correctly. Magnum, the ice cream brand more well known in Europe than America, partnered with fashion designer Alexander Wang to create a chic way to tote one's dessert. "Fashionably carrying ice cream just became a reality," the press release announcing the collaboration declared, also revealing that the cooler would be feted at a bash on the Croisette that evening with Bella Hadid, the model at the center of the new campaign.
Clearly, I had to attend. Because when you are invited to a party celebrating an $895 ice cream cooler, you do not refuse that invitation. And also because I needed to find out how an $895 ice cream cooler had anything remotely to do with a film festival that screens artsy foreign films.
The party was set to commence at 9 p.m., so I called an Uber at 10 p.m., figuring the whole fashionably late principle must definitely apply here. The UberX ended up being — what else? — a Jaguar.
When I arrived outside the party, I was dismayed to find a scrum of well-dressed, would-be partygoers elbowing one another to get to the front of the line. As it turned out, the party was already at capacity, and I was told no one would be allowed admittance for 30 minutes. Though the idea of waiting in line to get into a party honoring an $895 ice cream cooler was mildly soul-sucking, I had already committed to the cause and took my place in line. Gentlemen wearing tuxedos continuously barged to the front of the line, confidently telling the doorman that they were on the list, only to be relegated to the back of the queue. "But I'm on the list," so many muttered in French, cursing their fates.
Thirty minutes passed, then 40, and after an hour, I was reaching my limit. I had watched Hadid fly past security to pose for shutterbugs near the entrance, followed 20 minutes later by her on-again boyfriend, The Weeknd. I wondered what they were doing inside. Probably being beautiful and eating ice cream. I wanted to do that too.
Finally, sometime after 11, a magical Magnum representative helped pull me through the crowd and into the party. Immediately, my eye was drawn to what was clearly the highlight of this event: A customizable ice cream bar — well — bar. Brand reps were stationed here with plain vanilla ice cream bars that could be dipped in either white chocolate or black chocolate, which was actually just white chocolate mixed with charcoal to make it look extra dark. Then you selected toppings from a gold-and-black array of goodies to coat your bar with: gold crystals, gold flakes, gold stars, gold popping candy, black sesame seeds, poppy seeds. (I didn't see one person select poppy seeds.)
Guys, I'm embarrassed to tell you that I waited 45 minutes in another line inside the party to get one of these ice cream bars. Yes, it tasted extremely good. But now I have no pride.
Fortunately, there were plenty of things to observe while I waited for my fancy ice cream, like the actual $895 cooler itself. I was surprised to find it in a dark corner of the room, ensconced in a plastic case so no guests could mar its delicate beauty. As I was contemplating how many ice cream bars could actually fit inside the cooler — I'd guesstimate about six — silver confetti began to rain down from the ceiling. Suddenly, women dressed in black latex cat suits emerged from all sides of the room. They were toting "M" balloons and each had a different version of hair "art" — faux hair pieces molded into different shapes, like lips and, you guessed it, an ice cream bar. Other beautiful women handed out pre-packaged ice cream bars on trays with sparklers.
It was so chaotic that I made my way toward the outside portion of the party, which was literally on the sandy beach, overlooking the yachts docked miles off shore. One boat was lit up with electric neon. I wondered if Hadid and The Weeknd, who were cordoned off in a VIP area in the center of the room kissing, were staying on a yacht.
I took in the view for a while until Jonathan Jones, Magnum's brand manager in the U.S, came to greet me on the beach. I asked him why the company had decided to launch an $895 ice cream cooler at Cannes.
"We have a strong history in fashion, film and lifestyle, and Cannes is a great intersection of all those things," he told me. "We're about the lifestyle of indulgence -- the mentality of taking pleasure seriously — and so is Cannes."
He said the idea for the cooler emerged organically. Magnum has partnered with fashion designers before — last year, Moschino's Jeremy Scott created a colorful line of bags for the brand — and only requested Wang come up with a "fashion item" that was "true to him."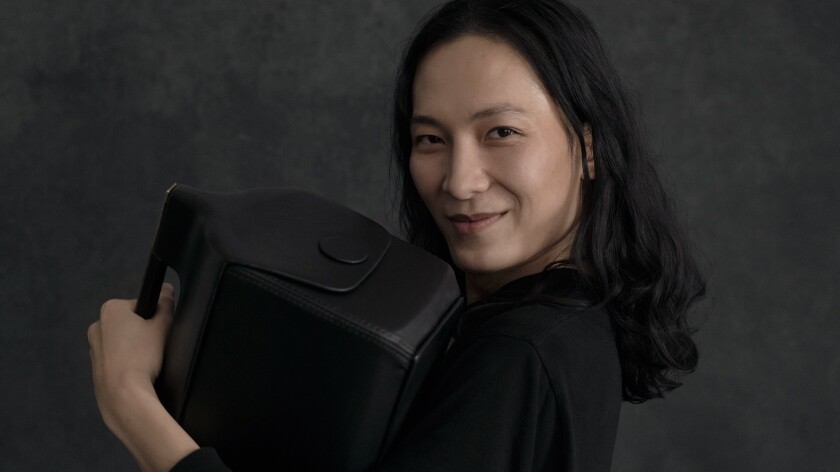 We're about the lifestyle of indulgence — the mentality of taking pleasure seriously — and so is Cannes.
Jonathan Jones, Magnum brand manager
"The prompt was 'How do you take pleasure seriously?' and he came up with the cooler," Jones explained of the limited-edition item, which he expects will sell out. "And Bella just embraces that attitude as well — she knows how to take pleasure seriously."
OK, sure. But many of us who know how to "take pleasure seriously" cannot afford an $895 cooler. Isn't it a bit over-the-top?
"Magnum is an indulgence that is accessible to you," Jones said, referring to the actual ice cream bars, which retail for under $5 a pop. "There are times when after a long day, you deserve a little bit of indulgence. This is just exhibiting how a fashion designer can embrace that mentality."
It was nearly 1 a.m., and Hadid and The Weekend had already departed the party, probably heading off to the imaginary yacht I had created for them in my mind. Confident I had taken pleasure seriously enough, I headed for the door, where dozens were still clamoring to be let past the velvet rope.
Follow me on Twitter @AmyKinLA
---
Inside the business of entertainment
The Wide Shot brings you news, analysis and insights on everything from streaming wars to production — and what it all means for the future.
You may occasionally receive promotional content from the Los Angeles Times.