John Travolta's 'Gotti' had a rocky road to the Cannes Film Festival and the challenges aren't over yet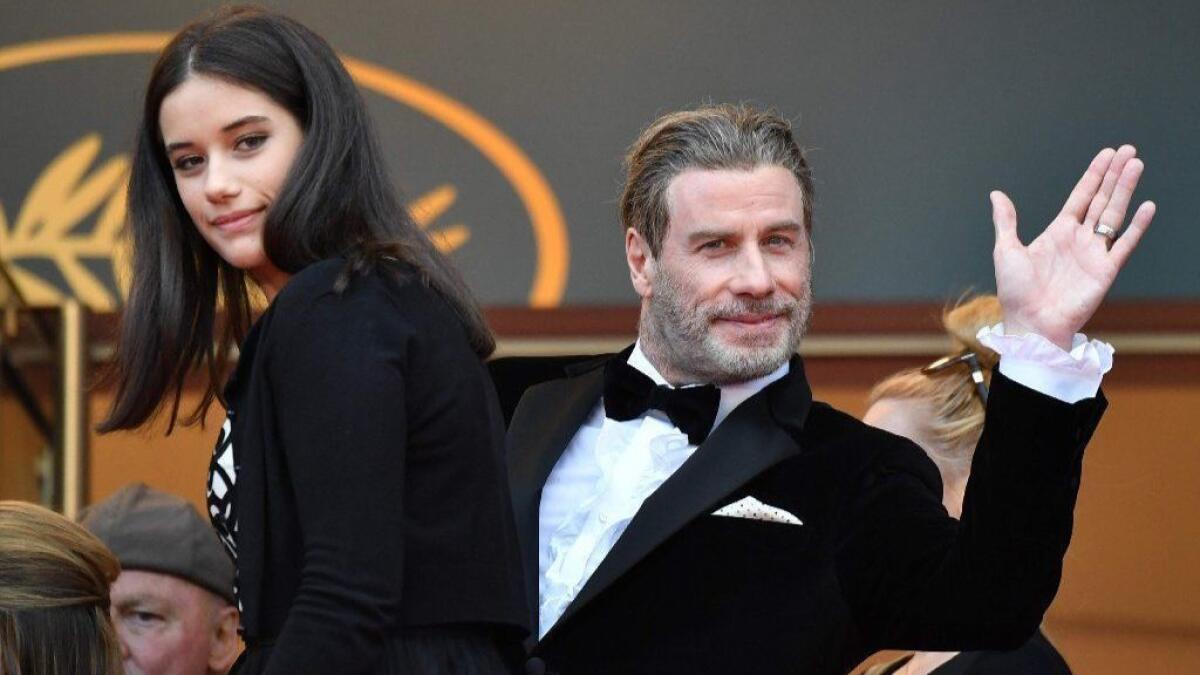 Reporting from Cannes, France —
The soiree had all the trappings of an ultra-luxe affair: Guests, dressed in tuxedos and evening gowns, wandered the grounds of one of the most expensive hotels in the world, the du Cap-Eden-Roc. Overlooking the Mediterranean Sea, partygoers sipped champagne until 50 Cent — who had been flown in to perform a twenty-minute set — took to the stage.
It would have been an extravagant celebration for any movie, let alone one that was nearly released on video-on-demand last December.
But nothing about mobster biopic "Gotti," the John Travolta film that premiered at the Cannes Film Festival Tuesday, has been traditional. The film, which boasts no less than 29 executive producers on its final cut, has been in the works for nearly a decade, sparking so many casting headlines that it was almost comical — at one point, Lindsay Lohan was even attached.
Travolta, 64, came aboard the project more than six years ago, and principal photography finally began almost two years ago, in July 2016 in Cincinnati. (A few scenes were also shot in New York in 2017.) Distributor Lionsgate Premiere, which specializes in video-on-demand titles, slated the film for a miniscule theatrical release Dec. 15, but when the production team learned that the studio did not plan to distribute the movie widely in theaters, a last-ditch effort was made to buy the film rights back just 10 days before its planned VOD release.
Edward Walson, the owner of New Jersey-based cable company Service Electric Broadband Cable TV who produces and finances films such as "Blue Jasmine" through his Sunrider Productions, was largely responsible for reclaiming the film from Lionsgate. At the "Gotti" premiere, he said he was so moved by an emotional father-son scene between John Gotti Sr. (Travolta) and Jr. (Spencer Rocco Lofranco) in prison that he decided to buy the film.
"I thought, 'This movie has so much potential,' and it was originally gonna go straight to video," he said at the party. "Shortly after I bought the movie, I decided: We must bring it to the greatest festival in the world here in Cannes."
With the rights back in its hands, the filmmaking team spent about six weeks recutting "Gotti," which follows John Gotti Sr.'s rise to notoriety in the New York crime world, painting him as a loving father and husband who just happened to orchestrate murders on the side. The film is based on a book by John Gotti Jr., who also traveled to Cannes. The Latin artist Pitbull, who had been scheduled to appear in Cannes but did not, was recruited to provide an original song and score the film, which also makes use of his existing tracks such as "Don't Stop the Party."
It's this version of "Gotti" that U.S. audiences will be able to see in theaters beginning June 15 via new distributor Vertical Entertainment, in what is expected to be the first significant theatrical release for a film Travolta has appeared in since Oliver Stone's "Savages" in 2012. (The movie ticket subscription service MoviePass has also come aboard as an equity partner and will promote "Gotti" to its subscribers.)
When the reworked film was submitted to Cannes, artistic director Thierry Frémaux agreed to a "private screening" in one of the Palais' smaller venues, the Salle Buñuel — a rare situation in which a film is not part of the official selection (either in or out of competition) but receives a festival sanctioned gala premiere and red carpet.
"Thierry, we wouldn't be here without you," Travolta said at the party. "Thank you from the bottom of my heart, because your admiring our film will boost our film like you did with 'Pulp Fiction.' There's nothing like the Cannes Film Festival to give a rocket under a film globally, so I thank you for that."
Indeed, Travolta knows the power of Cannes firsthand. It was here in 1994, when Quentin Tarantino's landmark indie "Pulp Fiction" scored the festival's Palme d'Or, that Travolta's then-moribund career was surprisingly reinvigorated.
He returned to the south of France with Nick Cassavetes' "She's So Lovely" three years later and celebrated the 20th anniversary of "Pulp Fiction" at the festival in 2014.
But this time around — in a year notably light on star power — Travolta was inescapable. In a pair of official festival events, he attended a 40th anniversary celebration of "Grease" on the beach alongside director Randal Kleiser and spent two hours speaking to aspiring filmmakers during a master class session. (Actor Gary Oldman and directors Christopher Nolan and Ryan Coogler also participated in master class events this year.)
At the "Gotti" party, Travolta received a Cinema Icon award from Variety magazine, and a highlight reel was played that included loving messages from the likes of Oprah Winfrey, Tony Bennett and Barbra Streisand.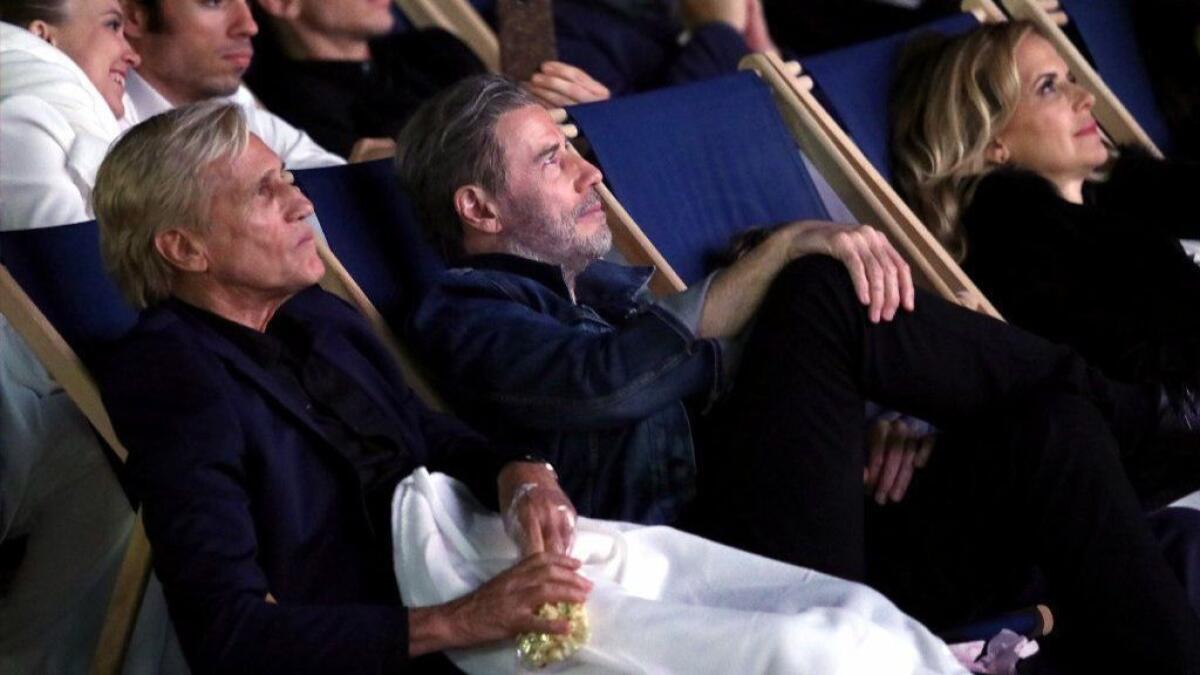 "It's an extraordinary week. I don't think it's ever been done," Travolta's wife, Kelly Preston — who co-stars in "Gotti" as the mafia don's spouse, Victoria — said in an interview. "They wanted to do this. The powers that be, the president of Cannes and everyone, set this up. And it's just amazing. We're pinching ourselves and just trying to soak up every moment."
Kevin Connolly, the actor-turned-director who made "Gotti," was so thankful to be playing at Cannes that a personalized note he wrote addressed to the media was distributed at the film's press junket here.
"I really appreciate you taking time out of your busy schedules to watch my film 'Gotti,'" he wrote. "It's been a long journey, and to have the film premiere at the Cannes Film Festival is quite an honor. To say it is a dream come true would be an understatement."
And he knows how instrumental his star was in making that dream happen.
"I saw 'Grease' at a drive-in movie theater when I was a kid," Connolly told The Times. "When you really think about it, how many of him are there left? He's a dying breed, an old-school movie star. They don't make him like that anymore. He deserves [the celebration]."
But despite the festival's pomp and circumstance, Connolly, best known for playing the talent manager E on HBO's "Entourage," also seemed bothered by the dark cloud of negativity that has followed his film.
"There's hundreds and hundreds of very successful movies that had their challenges getting made," he said. "'Gangs of New York' took Scorsese 25 years to make. It's just the nature of the business. It's not uncommon. I'm not really quite sure why this movie has gotten that kind of thing, because it happens all the time."
Preston said the time she spent attached to the film made her feel more passionately that it "deserved" a theatrical release.
"I'm really proud of this film, and I really want people to see it," she said. "And there was such high interest. Wherever you go, people are fascinated by John Gotti, and having John Travolta play John Gotti is really interesting. It's a step above."
Preston said she hopes that Cannes can help lend "credibility" to the film. Travolta knows firsthand the effect the festival can have on a film. During his Wednesday master class, the actor — who was not made available for one-on-one print interviews — spoke of how the Palme d'Or changed the conversation for "Pulp Fiction."
"I don't think anyone had any clue to the magnitude that the Cannes Film Festival would launch that particular film," he said. "I think we thought of it as a small kind of art film that would have a limited audience, not a global audience, but a limited audience, and when we were here and won the Palme d'Or, it exploded at a new level to the tune of changing film history and changing my history."
But "Gotti" looks to have a rockier road ahead. Since the film is not playing in competition, it has no chance at any festival awards. And based on the strongly negative reviews from the few outlets that sent critics to the premiere, those odds would be rather low anyway.
Indiewire wrote, "This isn't really one of those movies where 'things' make 'sense,'" while The Hollywood Reporter bluntly stated, "The film is pretty terrible: poorly written, devoid of tension, ridiculous in spots and just plain dull in others."
Still, Travolta remains proud of the film. At the "Gotti" party, he told the crowd that "seeing that film for the first time on a giant screen blew me away — I just couldn't get over how good it came to fruition."
Besides, perhaps because of the many ups and downs his career has weathered, the actor isn't one for regrets. When asked how he feels today about the notorious sci-fi flop "Battlefield Earth," which was released in 2000 and put a significant dent in the actor's post-"Pulp Fiction" momentum, Travolta insisted he measures success his own way.
"I don't believe in regret," he said at his master class. "Picasso had sketches he didn't sell and weren't as popular as other things. Every artist has an audience for different things they do, so there's no fixed idea of what success is."
Follow me on Twitter @AmyKinLA
Get our L.A. Goes Out newsletter, with the week's best events, to help you explore and experience our city.
You may occasionally receive promotional content from the Los Angeles Times.