Spike Lee and David Robert Mitchell films will compete in the most surprising Cannes lineup in years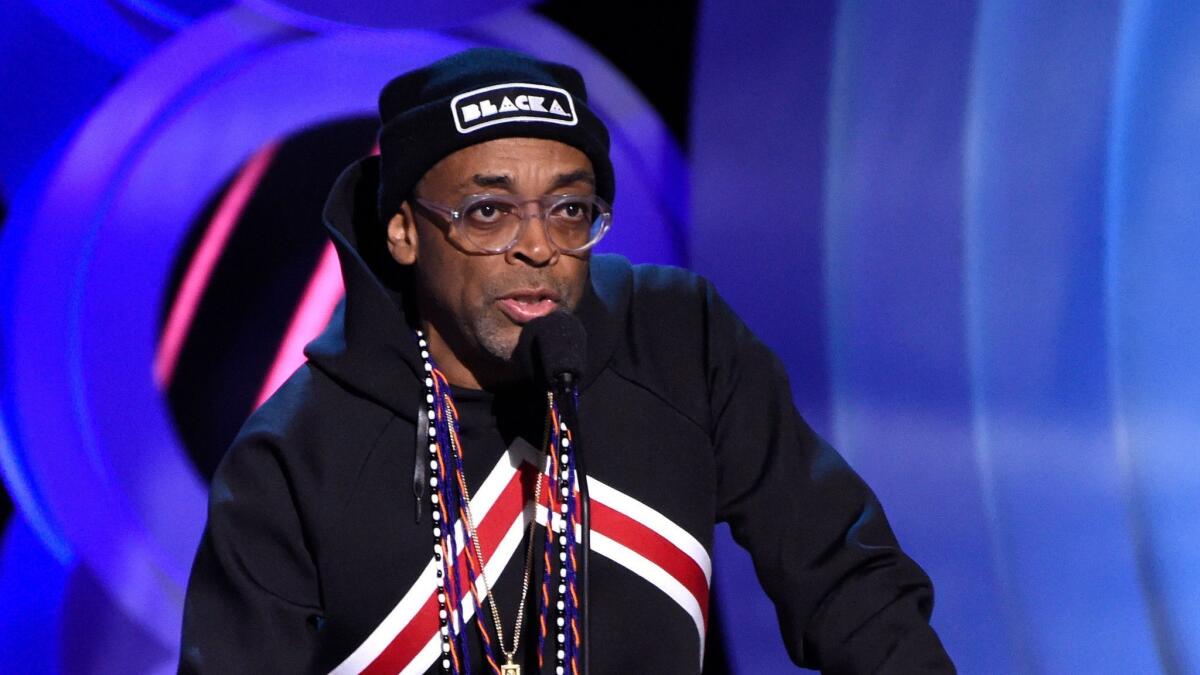 Film Critic
With the banning of red-carpet selfies, a bitter renewal of last year's heated Netflix debate and more intense discussion than usual over how many female directors would be selected for competition, it was shaping up to be a dramatic year for the Festival de Cannes even before its official selection lineup was announced.
For those who hoped Cannes would shake things up further still with its freshest, nerviest, most unpredictable slate in years, the festival did not disappoint.
Spike Lee's "BlacKkKlansman" and David Robert Mitchell's "Under the Silver Lake" will lead a relatively slim American presence in the main competition, for which selections were unveiled Thursday morning in Paris by festival general delegate Thierry Frémaux and President Pierre Lescure.
The festival's lone major studio title was already announced last week: "Solo: A Star Wars Story," directed by Ron Howard (who took over the troubled production from Phil Lord and Chris Miller) and starring Alden Ehrenreich as the young Han Solo, will receive its out-of-competition world premiere at Cannes the weekend before its May 25 release. (The festival runs May 8-19.)
Lee's "BlacKkKlansman," which Focus Features will release in the United States in August, stars John David Washington as Ron Stallworth, an African American police officer in Colorado Springs, Colo., who infiltrated the Ku Klux Klan in 1979. It will be Lee's first film to compete for the Palme d'Or since "Jungle Fever" 27 years ago.
"Under the Silver Lake," an A24 release set to open in June, is a Los Angeles neo-noir starring Andrew Garfield, Riley Keough and Topher Grace. (Grace, as it happens, also has a role in "BlacKkKlansman.") It will mark Mitchell's first appearance in competition, though he was previously at Cannes with two well-received indies, "It Follows" and "The Myth of the American Sleepover," both of which played in Critics' Week, a program that runs parallel to the official selection.
The number of American directors and Hollywood stars tends to fluctuate at Cannes from year to year. The 2017 edition, for example, featured a more robust U.S. showing, with new films from Sofia Coppola, Josh and Benny Safdie, Noah Baumbach, Todd Haynes, John Cameron Mitchell and Taylor Sheridan in the official selection. A smaller American contingent is nothing new at Cannes, which remains world cinema's most prestigious annual showcase.
The more startling development at this year's 71st annual edition is the absence of new films from heavyweight European auteurs — among this year's possibilities were France's Olivier Assayas, Italy's Paolo Sorrentino and Britain's Mike Leigh — who are often seen as competition mainstays. The annual inclusion of usual suspects has led many to dismiss Cannes as a perpetual old boys' club, resistant to change.
Not this year. In what Frémaux hailed as "a great renewal" for the festival, the competition is teeming with new names and unknown quantities. Eight directors, including Mitchell, will compete for the Palme d'Or for the first time, a bumper crop without recent precedent.
Two of those newcomers are women: France's Eva Husson with "Girls of the Sun," starring Iranian actress Golshifteh Farahani as a Kurdish fighter trying to take back her hometown from extremists, and Lebanon's Nadine Labaki with "Capernaum," a political fable set somewhere in the Middle East, about a rebellious child who pursues a lawsuit. Labaki was previously at Cannes with "Where Do We Go Now?," which screened in the festival's Un Certain Regard program in 2011.
Three of the 18 films in competition are directed by women: Husson, Labaki and the Italian filmmaker Alice Rohrwacher, who will follow "The Wonders," which won the Grand Prix (second prize) at Cannes in 2014, with a rural time-travel tale, "Lazzaro Felice." Cannes draws criticism annually for not featuring more female directors in competition, and it is likely to face continued scrutiny on the issue as the film industry confronts issues of representation and gender parity worldwide.
This year's number is neither the best nor the worst the competition has managed in recent years. Frémaux, who has often rebutted these criticisms by noting that he would never program a female-directed film simply for inclusiveness' sake, nonetheless said he deplores the fact that only one female director, Jane Campion, has won the Palme d'Or in the festival's seven-decade history. "Jane Campion would love to have another woman receive the Palme d'Or," he added.
One of the higher-profile competition newcomers is Poland's Pawel Pawlikowski, who won the foreign-language film Oscar for "Ida" (2014). His Cannes entry, "Cold War," a romance set across Europe in the 1950s, will be distributed by Amazon Studios — a fact that Frémaux couldn't resist drawing attention to at the news conference, in a possible dig at Amazon's high-profile rival Netflix.
Notably, two first-time competition entrants, Iran's Jafar Panahi and Russia's Kirill Serebrennikov, are under house arrest in their home countries, and Frémaux noted that special invitations will be sent to the relevant authorities requesting that the directors be allowed to attend the festival.
In 2010, Panahi was officially sentenced to a 20-year filmmaking ban for running afoul of the Iranian government, which hasn't stopped him from making movies, including "Taxi," which won the top prize at the 2015 Berlin International Film Festival, and "This Is Not a Film" (2011), which was famously smuggled into Cannes on a flash drive hidden inside a cake. His new picture, "Three Faces," tells the stories of three Iranian actresses.
Serebrennikov, a stage and screen director who was previously at Cannes with "The Student" (2016), stands accused of embezzling funds from the Russian government, though his allies have alleged that the charges are politically motivated. It remains to be seen if Serebrennikov will be allowed to leave Moscow and attend Cannes with "Leto," a music-heavy portrait of Leningrad's underground rock scene during the summer of 1981.
Rounding out the competition newbies are Japan's Ryûsuke Hamaguchi with "Netemo Sametemo (Asako I & II)," a love story adapted from a novel by Tomoka Shibasaki, and Egypt's A.B. Shawky with "Yomeddine," a road-trip comedy about two outcasts who leave behind the leper colony where they've spent their entire lives. "Yomeddine" is a debut feature — another competition rarity — and will thus be eligible for the Camera d'Or, awarded annually to the best first feature in the entire festival.
The Palme d'Or competition isn't entirely devoid of familiar faces. The French master Jean-Luc Godard hasn't attended the festival in years, but has been consistently represented in the lineup, most recently winning a prize for 2014's "Goodbye to Language." His new competition entry, "The Image Book," is a five-part essay film exploring the modern Arab world. Its presentation coincides with the 50th anniversary of the tumultuous events in France of May 1968, when Godard and his fellow revolutionaries brought that year's Cannes festival to a screeching halt.
Other significant auteurs returning to competition this year are South Korea's Lee Chang-dong ("Poetry") with his Haruki Murakami adaptation, "Burning"; China's Jia Zhangke ("A Touch of Sin") with the gangland love story "Ash Is Purest White"; and Japan's ever-prolific Hirokazu Kore-eda with "Shoplifters," about a family of small-time crooks who take in an orphan child. Along with the Panahi and Hamaguchi selections, it's an especially strong year for Asian directors in competition.
Other returning Cannes competition alumni include Italy's Mateo Garrone ("Reality"), back with the revenge western-thriller "Dogman," and two French filmmakers: Stéphane Brizé ("The Measure of a Man") with "At War," a drama about a revolt by factory workers, and Christophe Honoré ("Love Songs") with "Sorry Angel," about the relationship between a cynical writer and an optimistic student.
And as previously announced, Iran's Asghar Farhadi, a double Oscar winner for "A Separation" and "The Salesman," will open the festival in competition with the Spanish-language psychological drama "Everybody Knows," starring Penélope Cruz, Javier Bardem and Ricardo Darín.
Announced alongside the competition lineup were the titles selected for Un Certain Regard, a sidebar for new and established voices, and several films that would be holding special screenings, including Wim Wender's documentary "Pope Francis: A Man of His Word." (The pope, Frémaux noted, would not be attending.)
Asian filmmakers are well represented across the board: South Korea's Yoon Jong-bing will receive a midnight screening of his thriller "The Spy Gone North"; Thai directors Apichatpong Weerasethakul, Aditya Assarat, Wisit Sasanatieng and Chulayarnon Sriphol will get a special screening of their compilation film "10 Years in Thailand"; China's Bi Gan will bring his noirish thriller "Long Day's Journey Into Night" to Un Certain Regard; and his countryman Wang Bing will get a special screening for the eight-hour-plus documentary "Dead Souls."
Among other notable trends and precedents, Wanuri Kahiu's Certain Regard entry, "Rafiki," is billed as the first Kenyan feature to play Cannes. Also premiering in that program is the South-Africa-set "The Harvesters," Etienne Kallos' drama about a sheltered Afrikaans teenager whose parents bring home an orphan.
Although Frémaux noted that more films would be added to the lineup in the coming days, Thursday's announcement was as interesting for what didn't make it in as for what did. Several new works by past Palme winners didn't make the cut, including "The Sisters Brothers," a western starring John C. Reilly and Joaquin Phoenix, from France's Jacques Audiard; Leigh's "Peterloo," an epic reconstruction of a 19th century massacre in Manchester, England; "The Wild Pear Tree," a drama about an aspiring writer, from Turkey's Nuri Bilge Ceylan; and "The House That Jack Built," the latest from Denmark's Lars von Trier, starring Matt Dillon as a serial killer.
Frémaux hinted that he would hopefully have an answer on "The House That Jack Built" in a few days, suggesting it might still make the cut. If so, it would mark Von Trier's long-awaited return to Cannes since 2011, when his especially ill-considered remarks at a press conference for "Melancholia" spurred the festival to declare him "persona non grata."
Other films that had been hotly tipped for Cannes, but were not announced Thursday, include "High Life," a science-fiction drama starring Robert Pattinson and Juliette Binoche, from France's Claire Denis; "Domino," a thriller starring Nikolaj Coster-Waldau and Christina Hendricks, from the United States' Brian De Palma; "Sunset," a pre-World War I drama from Hungary's Laszlo Nemes, who won the festival's Grand Prix and a foreign-language film Oscar for "Son of Saul" (2015); "Suspiria," a remake of the Dario Argento horror classic from Italy's Luca Guadagnino ("Call Me by Your Name"); and "Loro," a two-part portrait of Silvio Berlusconi from Italy's Paolo Sorrentino.
Some of these films could still be added to the official selection; others might pop up in Directors' Fortnight, a parallel program that often competes with the official selection for titles. Still others might hold out for a slot at one of the major fall festivals, such as Venice, Telluride and/or Toronto.
No discussion of no-shows would be complete without a mention of Netflix, which on Wednesday announced that it would be withdrawing from the festival altogether, rather than face the perceived indignity of screening out of competition. Although Netflix had two competing movies last year, Bong Joon-ho's "Okja" and Noah Baumbach's "The Meyerowitz Stories (New and Selected)," the ensuing controversy led Cannes to reassert an old rule that requires all competition titles to have French theatrical distribution — a rule that disqualified Netflix, owing to France's strict three-year window separating theatrical and streaming releases.
At Thursday's press conference, Frémaux opened up about two Netflix titles he wanted in the festival: a completed version of Orson Welles' never-finished 1970s project, "The Other Side of the Wind," which would have played out of competition; and one unnamed film that would have been in competition, had Netflix abided by the rules.
"We have a fruitful dialogue with Netflix," Frémaux said, noting that the festival's conversations with the company were still ongoing. His closing words on the matter — "Netflix is welcome to Cannes" — were inviting and diplomatic, but also made clear his feeling that the ball was very much in Netflix's court.
Here are the films chosen for the Cannes Film Festival's 2018 official selection:
COMPETITION"Ash Is Purest White" (Jia Zhangke)"At War" (Stéphane Brizé)"BlacKkKlansman" (Spike Lee)"Burning" (Lee Chang-dong)"Capernaum" (Nadine Labaki)"Cold War" (Pawel Pawlikowski)"Dogman" (Matteo Garrone)"Everybody Knows" (Asghar Farhadi, opening night)"Girls of the Sun" (Eva Husson)"The Image Book" (Jean-Luc Godard)"Lazzaro Felice" (Alice Rohrwacher)"Leto" (Kirill Serebrennikov)"Netemo Sametemo (Asako I & II)" (Ryûsuke Hamaguchi)"Shoplifters" (Hirokazu Kore-eda)"Sorry Angel" (Christophe Honoré)"Three Faces" (Jafar Panahi)"Under the Silver Lake" (David Robert Mitchell)"Yomeddine" (A.B. Shawky)
OUT OF COMPETITION"Le Grand Bain" (Gilles Lellouche)"Solo: A Star Wars Story" (Ron Howard)
UN CERTAIN REGARD"Angel Face" (Vanessa Filho)"Border" (Ali Abbasi)"El Angel" (Luis Ortega)"Euphoria" (Valeria Golino)"The Gentle Indifference of the World" (Adilkhan Yerzhanov)"Girl" (Lukas Dhont)"The Harvesters" (Etienne Kallos)"In My Room" (Ulrich Köhler)"Little Tickles" (Andréa Bescond, Eric Métayer)"Long Day's Journey Into Night" (Bi Gan)"Manto" (Nandita Das)"My Favorite Fabric" (Gaya Jiji)"Rafiki" (Wanuri Kahiu)"Sextape" (Antoine Desrosières)"Sofia" (Meyem Benm'Barek)
MIDNIGHT SCREENINGS"Arctic" (Joe Penna)"The Spy Gone North" (Yoon Jong-bing)
SPECIAL SCREENINGS"10 Years in Thailand" (Aditya Assarat, Wisit Sasanatieng, Chulayarnon Sriphol, Apichatpong Weerasethakul)"The Circus Mystique" (Carlo Diegues)"Crossing" (Romain Goupil)"Dead Souls" (Michel Toesca)"Pope Francis: A Man of His Word" (Wim Wenders)"The State Against Mandela and the Others" (Nicolas Champeaux, Gilles Porte)
Twitter: @justincchang
Get the Indie Focus newsletter, Mark Olsen's weekly guide to the world of cinema.
You may occasionally receive promotional content from the Los Angeles Times.